We love Moroccan food! We had just finished a whirlwind adventure exploring the bustling city of Marrakech and journeying into the Merzouga desert. Now, our sights were set on arriving in the sleepy seaside village of Taghazout and spending the next few days surfing and just kicking it. Little did we know that Morocco had a sneaky surprise up its sleeve – food poisoning. We learned a valuable lesson from Morrocan food that day, one that we'd love to share with you.
* Just to let you know that this article may contain affiliate links. If you click on them we might receive a small commission, at no extra cost to you.
If you want to see more of our adventures in Morocco, check out our blog on sightseeing in Marrakech. Every day we returned to our riad and just crashed into bed. If you plan on visiting Marrakech, make sure that you pick your riad very carefully. Here's our list of some of the best riads in Marrakech!
What To Expect
Before we jump into the terrible experience that left us scarred and brought us closer as a couple, we just want to outline a few expectations.
Taghazout
Taghazout is a small Moroccan village that is home to several epic surf spots. You can access about 20 different surf spots within a 15-minute drive of the village. A quick scan on Magicseaweed's Taghazout surf report will highlight which of these spots are best for the day.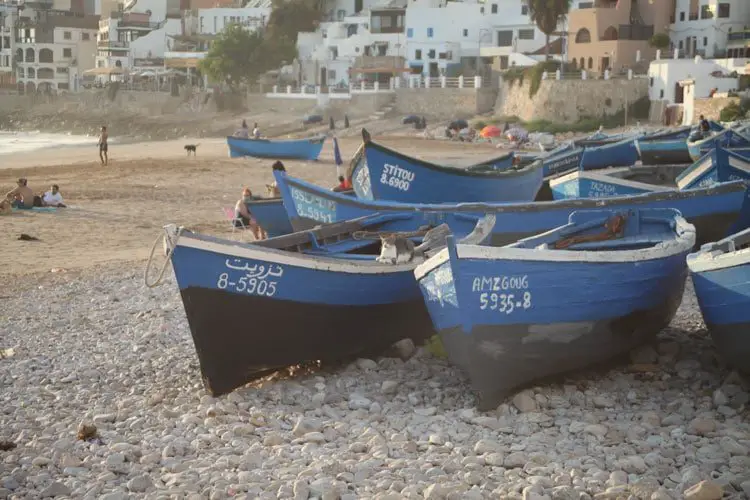 The village is very small but has everything that you need. We stayed in a really special riad right on the beach. Our hosts were incredible and went out of their way to make sure that we were comfortable. There was a local laundromat, a variety of restaurants, a butcher (ominous hint number one) and several "supermarkets" scattered throughout.
The bus stop is on the main street and the taxis hover around for emergencies (ominous hint number two) for those who prefer private transport.
Overall, Taghazout has a lot to offer those looking for a relaxing, rustic getaway by the sea.
If you have a little bit of money to spend and want to experience Taghazout from the lap of luxury, then check out Hyatt Place Taghazout Bay. Alternatively, if you are on a budget like us, then Tayhout Surf House is a great budget option.
Moroccan Food
In general, Moroccan food is great! They have so many tasty flavors and different dishes to try, that you're sure to find something that explodes on your tastebuds. Morocco offers a gastronomical treat for all tastes, with a variety of different spices and combination of ingredients.
In Marrakech, you'll find an immersive and almost overwhelming market in Jemaa el-Fna. For me, caution was first raised when I noticed how the meat sat in trays out in the open, waiting for someone to order it to the fire. I was very careful to only eat vegetarian dishes in these instances, not entirely trusting the chain of custody.
On the other hand, Ollie had no reservations and dived right into whatever dish piqued his interest. And so far so good. The only thing that either of received was a belly full of tasty Moroccan food!
Some of our favorite dishes include the tagines, tangias and couscous dishes!
Insider tip: Be aware that many people struggle with stomach bugs when visiting Morocco, especially those with sensitive stomachs. The water is not drinkable, and all meals should be carefully considered before indulging. 
When The Sh*t Hit The Fan (Or Rather, The Porcelain)
Our time in Taghazout started off well. We arrived early in the morning, grabbed a kip and rented a surfboard. The next day, we spent a full day in the sea, under the sun. It was Heritage Day in South Africa and we decided to celebrate by having a traditional South African braai (or barbeque for some).
A Moroccan Braai
Our host rigged up the Moroccan version of a braai. We headed on down to the butcher downstairs and picked a chicken for the fire. With the help of our host, we cooked the chicken "true Moroccan style". The mood was good as we sipped on gin and tonic, watching the sun dip behind the horizon.
Feeling Under The Weather
The next morning, we went surfing again, but I felt incredibly fatigued. Ollie remembers looking back and watching me bopping in the ocean on my board – in the impact zone. We caught the bus home and I went straight to bed.
Despite the incredibly warm temperature, I was piling several blankets on top of me, desperate for warmth. Ollie knew that something was wrong and helped me through an intense 12 hours of fever and gastro. My head was pounding, fever dreams infiltrated my sleep and the toilet became my new best friend.
Ollie was a champ and supported me wherever he could – and then the roles switched. The previous caregiver became the sickling after waking up in sweats during the night. He got hit significantly harder by the bug and within a couple of hours, we were on our way to the nearest hospital in Agadir.
The entire experience lasted approximately four days, and it took our stomachs another month or two to fully recover. I don't want to scare you with the details, but it wasn't pretty and I highly recommend that you consider the following tips to avoid the same experience.
Tips on Preventing Food Poisoning in Morocco
This experience taught us a few unforgettable lessons. We laugh about it now, re-enacting our embarrassing stories, humbling ourselves once again to the powerful force of nature.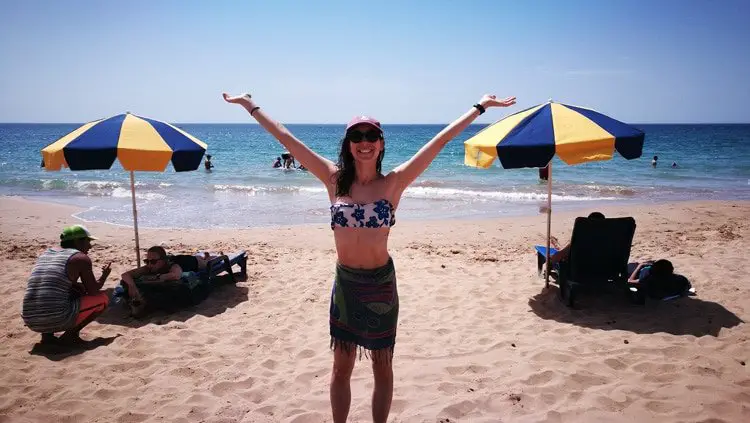 With that being said, here are a few tips to help you avoid the same situation.
Cook your meat properly. It goes without saying, but we think that this is what actually caused us to be sick. We followed the directions from our friendly host on how to cook the meat "Moroccan style", but we really should have just followed our gut, and our gut wouldn't have rebelled.
Wash your hands. Another seemingly obvious suggestion, but one that becomes increasingly important when you are in an area where bacteria can spread very easily.
Avoid certain dishes. If you have a sensitive stomach, steer clear of certain dishes that will be pushing your comfort zone. The medical infrastructure in Morocco is not worth the risk of getting sick.
Don't drink tap water. Seriously. Don't do it. Locals can get away with sipping from a running tap, but their stomachs are conditioned to the local bacteria. To be safe, always buy bottled water.
Be wary of street food. There are so many tasty treats to choose to try – from traditional cookies to fruit and meat dishes. Always be cautious when buying this food as you never know how long they've been standing out in the sun.
Wash fruit and vegetables. The fruit and veg in Morocco are super tasty! However, when taking your pick of the produce, make sure that the food is washed, peeled or properly cooked before consumption.
If concerned, avoid meat. I avoided meat because the sight of them out in the open made me nervous. As it turns out, I was right. The only time that I ate meat, I got sick!
What To Do If You Get Sick From Moroccan Food
We found ourselves in a rather precarious position, paying for an overpriced taxi to take us to a very rudimentary hospital. These are our key takeaways from the Agadir hospital:
Nobody speaks English – thank goodness for our taxi driver who came in and spoke on our behalf while Ollie huddled in pain in a corner.
A visit to the hospital typically involves a short consultation made up of sign language communication concluding what we already knew – and nothing more.
There were three toilets. Two of which didn't have doors, one of which had no seat and the other which had a broken toilet bowl – none of which had toilet paper. None of these were convenient given the circumstances.
The process is: you get a slip (you need ID for this), you take the slip to a payment counter to pay for the consultation, and then come back to the queue with proof of payment to see the doctor.
From here, the doctor wrote us a slip for over the counter medication and sent us on our way to a nearby pharmacy. We bought a bunch of medication that we couldn't understand and began the (very) slow journey to recovery.

Prevention Is Key
The best thing that you can do is prepare for the worst. Make sure that you pack essentials such as paracetamol, rehydrate, Valium and Immodium. These little trinkets could be your lifesaver. If you know that you have a sensitive stomach, speak to your doctor about getting probiotics before your trip.
Another great prevention tip is to take the recommended vaccines for Morocco. These include, but are not limited to, Typhoid Fever, Tuberculosis, and Hepatitis A and B.
Pack wet wipes and hygienic liquids to help clean your food and your hands when needed.  A little goes a long way, and this may just be your best preventative measure!
Final Thoughts On Moroccan Food
Overall, we had an incredible time in Morocco. It opened our eyes to new cultures, unique tastes, and fascinating views.
You can find out more about our trip to the Merzouga Desert and the Ouzoud Waterfalls in our other blogs. We highly recommend that you visit Morocco – it will blow your mind!