Chania is known and loved for its Venetian port, access to stunning nature, and delicious food – but it's so much more than that! Working remotely in Chania, Crete, as a digital nomad will open up a world of culture and inspiration.
Greece is full of incredible digital nomad destinations, including Athens. Check out our guide to being a digital nomad in Athens here.
The digital nomad community in Greece is growing. As a cost-effective destination with sublime weather and vibrant culture, it's easy to understand why so many people choose to include Chania as a stop on their remote work journey. 
If you're one of these people, then begin your research here!
* Just to let you know that this article may contain affiliate links. If you click on them we might receive a small commission, at no extra cost to you.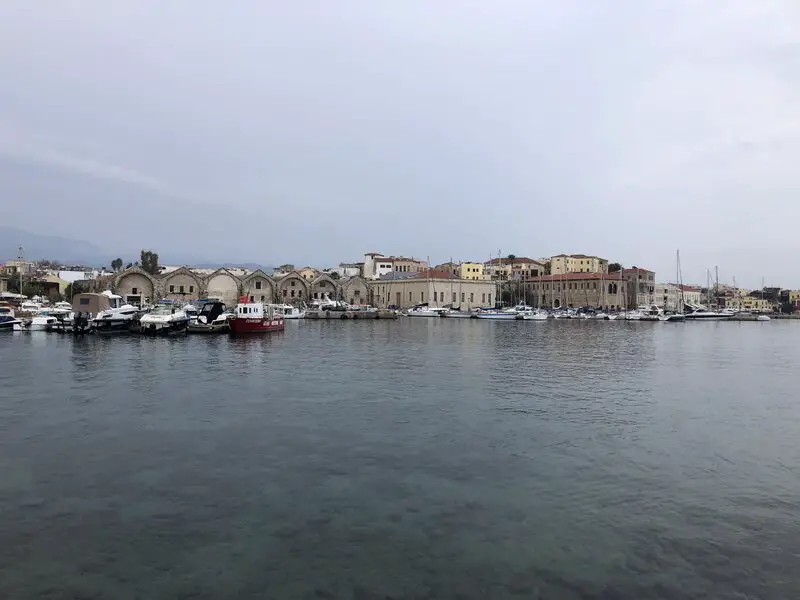 Benefits of Living and Working Chania
Working remotely from Crete offers many benefits. Not only is the city a gorgeous destination, but there is also plenty to do when you're not grinding to make the dream a reality. The city is located on the northwest coast of the Greek island of Crete and is easily accessible from popular cities such as Athens (a short-hour flight costing as little as $50 USD).
There are a few specific perks that attract digital nomads to the bustling city of Chania, such as the following.
Great weather, especially in the summer months

Affordable cost of living (especially when compared to other European Union cities)

Delicious food (it's rumored that the Cretans save the best food for themselves and export the rest)

Decent connectivity – and WiFi is readily available at cafes and public spaces

Choice of working spaces

Friendly, English-speaking locals
Greek Visa for Digital Nomads
Greece is part of the European Union and follows the same visa requirements as other countries in the EU. As it stands, American and UK citizens can travel to Greece (and other Schengen regions) for up to 90 days without a visa. 
If you're traveling from another country, you may need to apply for a Schengen visa to travel to Greece. With the Schengen visa, nationals from required countries can travel to Greece for up to 90 days during a six-month period. 
Find out if you need a Schengen visa here.
In an effort to attract digital nomads, Greece is also implementing a Greek digital nomad visa that is valid for up to 12 months. The visa will enable nomads to work for their employer (or their own business registered internationally) while living in Greece. In addition, the remote worker will benefit from a tax cut for the first seven years. 
There are some more countries that have a specific digital nomad visa. Check them out here.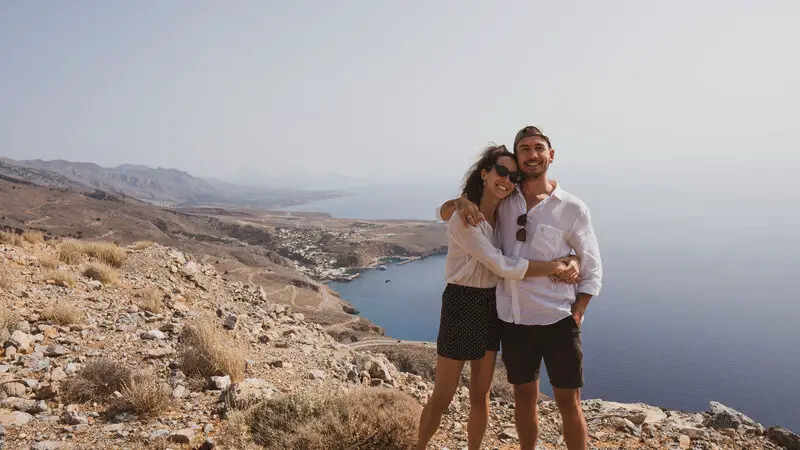 Best Time to Visit Chania
Chania boasts a magnificent Mediterranean climate so you can expect hot and dry summers (June to September) and very mild winters (December to March). The best time to visit Chania will depend on what you hope to achieve from your experience. 
Summer is best for beach-goers who love to be in the thick of the action. Winter is better for those who enjoy quiet, relaxed settings. We recommend the shoulder seasons as the weather is pleasant, streets are less crowded, and the seasonal costs are slightly deflated.
Best Place to Live in Chania
Chania is a city, but it's also a region in Crete. The island has several rural areas that are incredibly beautiful but also isolated. We recommend staying in one of the following areas that are full of activity and close to everything that you'll need (including coworking, public transport, and fun times).
Old Town
Also known as Splantzia, the Old Town is one of the most beautiful and charming areas in the city. The cobblestone streets will take you back a few centuries to when the town was initially founded. There are plenty of cafes, restaurants, shops, and stunning buildings.
Browse places to stay in Chania Old Town here.
Koum Kapi 
Koum Kapi is another historical area in Chania that encapsulates the beauty of the city. The picturesque area is near the Old Town, perfectly perched on the coast. It's also close to Halepa Quarter which is gorgeous in its own right.
Browse places to stay in Koum Kapi here.
Kasteli
Kastelli is adjacent to the Old Town but flaunts a slightly different atmosphere. While it still features the same, historical presence as the Old Town, it's also known for its bustling nightlife. The area is popular among visitors, while still upholding its authentic charm.
Where to Work Remotely in Chania
Chania has several work-friendly coffee shops that are perfect to fire up the laptop and get in a few productive work hours – while sipping on a delicious frappe and snacking on skalotsounia. 
If you prefer working in a designated office space, then we recommend Workhub Chania. The venue is conveniently located in Dikastiria and offers a multifunctional workspace to suit a variety of needs. Including hot desks, private offices, and meeting rooms.
Struggling to choose a coworking space? Read our guide to picking the best coworking space here.
Cost of Living in Chania, Crete
We've already mentioned that Chania is a cost-effective digital nomad destination, especially when compared to other European destinations. So, where can you expect to spend your bucks?
Accommodation
The cost of accommodation will largely depend on where you choose to stay. The above-mentioned areas are more expensive than other areas, such as Dikastiria, but they won't break the bank. As a guideline, you can expect to pay roughly $920 USD per month for a spacious, conveniently located apartment.
Food and Drink
Cretan cuisine deserves to be appreciated, so we encourage you to eat out when the time calls for it. The nightlife is also very festive, and bar hopping and jovial conversation are also encouraged. However, if you want to stretch your money, then we recommend cooking at home for the majority of your meals. Striking a balance between the two will cost you roughly $230 USD per month.
Working Space
We prefer to rent an apartment that has desk space to work. It saves money and time. Even so, setting up your laptop at a coffee shop will only cost you what you buy from the cafe (and if you use the venue as a workspace, then we encourage a generous tip). 
Workhub, the recommended coworking space in Chania, will cost you roughly $300 USD, depending on the space you choose.
Daily Living
The cost of daily living depends largely on how you choose to spend your time. For example, we've joined a local jiu-jitsu gym ($47 USD), rent a car on the weekends ($29 USD per day), and treat ourselves to drinks and activities on the weekends (included in our food and drink budget). 
There's so much natural beauty in the surrounding region, and so many charming streets to explore, that you don't need to empty your pockets to enjoy the city. 
Top tip: Don't be a scrooge when choosing your accommodation. Paying a fraction more to rent a fully-kitted kitchen with a washing machine and desk space can save you a lot of money in the long run.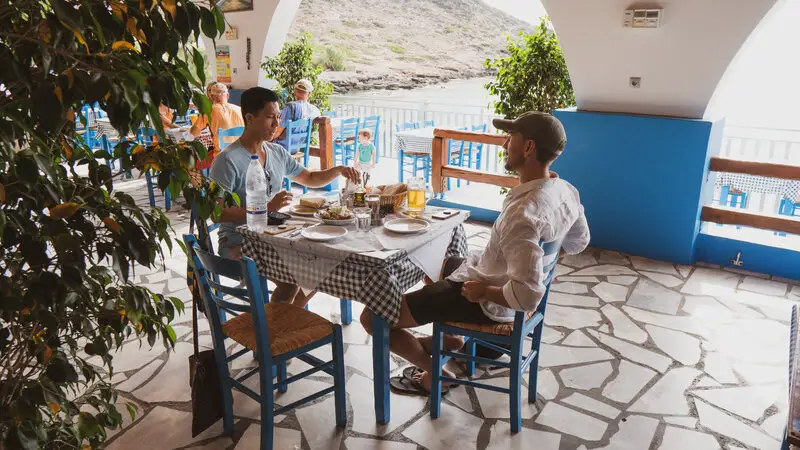 Living in Chania as a Digital Nomad
We've already mentioned that there are many beautiful spaces to explore when working remotely in Chania. As a starting point, you can add these spots to your itinerary.
Visit the Old Venetian port

Explore the Archaeological Museum of Chania

Wander through the Old Town

Go to the Botanic Park and Gardens of Crete

Take a drive to Balos beach

Spend the day at Elafonissi beach

Plan a day trip to Samaria Gorge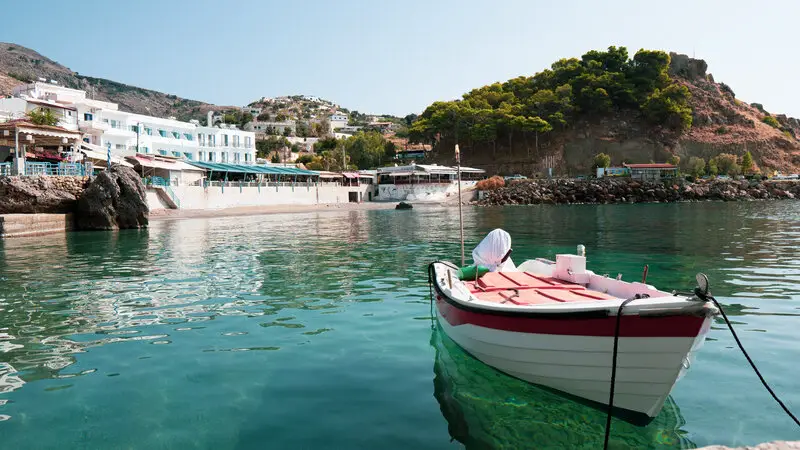 Chilling in Chania
Chania is a city on an island that offers the best of both. There are stunning beaches and gorgeous surroundings, with the infrastructure and history of an old city.
We had a wonderful time while living in Chania, and we encourage other digital nomads to plan a trip to working remotely in Chania.