Morocco is revered as Africa's surfing Mecca, so it's no wonder that Rapture Surf Camp has opened a surf resort in Tamraght. If you're looking for a surf camp in Morocco, then Rapture's Banana Village is the perfect place to begin your search.  Let's explore more about the Rapture Surf Camp Morocco edition.
Located a stone's throw away from the renowned Taghazout surf break, Banana Village offers convenient access to some of the world's best surfing, and a comfortable place to stay. 
Need some help planning a surf trip to Taghazout? Read our blog here.
Everything is adorned in comfortable, traditional Moroccan style and the surf camp comes with all of the perks that you'd expect from a well-organized surf camp. If you're planning to join one of Morocco's surf camps, then look no further. 
* Just to let you know that this article may contain affiliate links. If you click on them we might receive a small commission, at no extra cost to you.
Rapture Surf Camp Morocco
Rapture Surf Camps have locations around the world and have recently added Morocco to the list. Their Banana Village surf camp is located in a prime position and offers guests a fantastic experience including the following perks;
Excellent location in front of Taghazout Bay

Consistent surf throughout the year 

Fantastic weather

A choice of different types of rooms 

Delicious food included in the package

Surf guiding available

WiFi available for nomads

Daily yoga class
Book your stay at Banana Village here
Surfing in Tamraght (Taghazout)
Morocco is one of the world's top surfing destinations, boasting consistent surf throughout the year. Beginners will love the Atlantic during the summer season (June, July, and August). Waves are slightly smaller and no wetsuit is needed.
In the winter season, during the months of December to February, the waves pick up in size with the strong swell rolling in. While the water is warm enough, it's recommended that you wear a wetsuit to stay comfortable for long periods of time.
The shoulder seasons are equally fun and boast a selection of different size waves. Whether you're looking for unbeatable right-hand point breaks or easy waves to learn to surf, you're in for a treat.
Check out the best surfing destinations in the world, at any given month of the year, over here!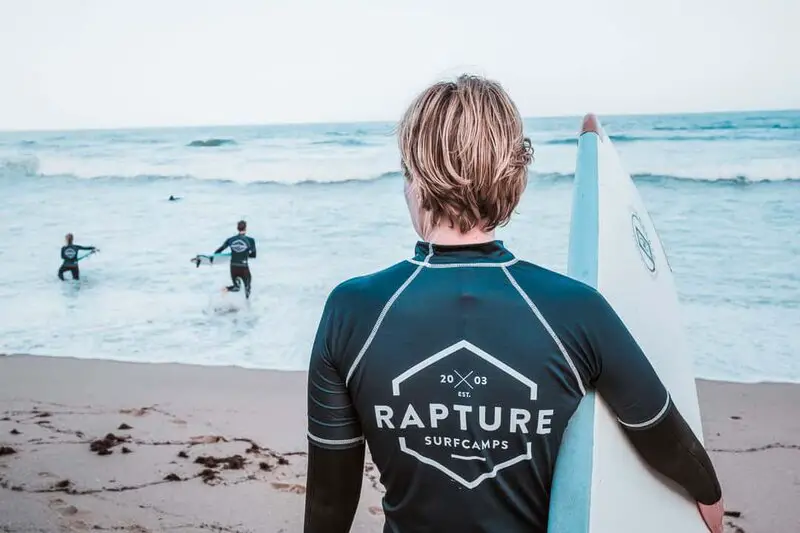 Rapture Camp Surf School
Banana Village is within walking distance of the incredible Banana Point break. Even so, the surf school offers transfers to other great spots in the area for lessons and rippable sessions alike.
Rapture Surf Camp offers surf lessons for all levels, with a selection of boards to hire, including twin fins, longboards, and thrusters. The surf lessons include;
Beginners Surf Course – Level 1

Intermediate Surf Course – Level 2

Advanced Surf Course – Level 3

Free Surf Guiding for experienced surfers – Level 4
Each of the local instructors is qualified and experienced, and they are passionate about sharing their love for the sport. 
Rooms in Banana Village
At the end of a salty day, Banana Village provides an incredibly comfortable and stylish place to rest your head. The restful oasis is beautifully decorated and incredibly comfortable. The camp is made up of an open residence including the main building and six apartments.
All accommodation options include surf guiding, a delicious breakfast, and dinners from Monday to Friday. Each room's rate includes a free flow supply of tea and coffee, WiFi, and a good vibe!
There are a variety of rooms available for all budgets and lifestyles, including the following.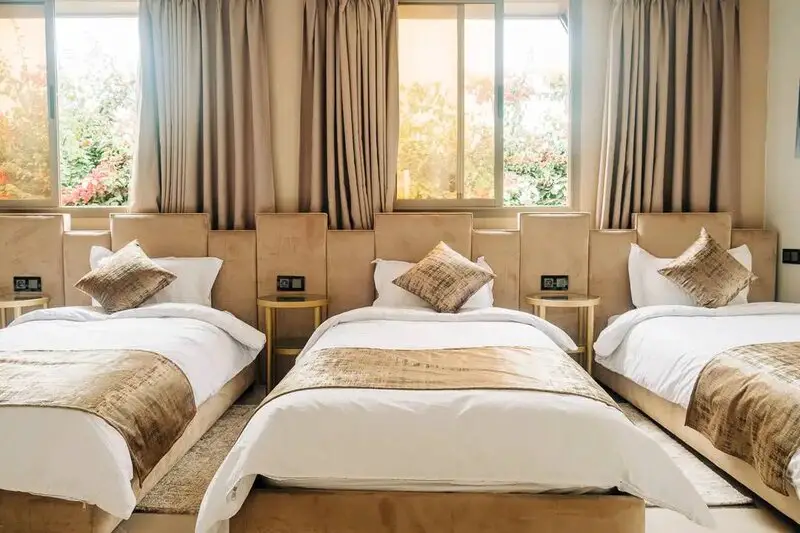 Banana Dorm: 4-Bedroom Dorm
The most affordable option at Banana Village, the Banana dorm, has four bedrooms. It's the perfect option for a group of friends, with four single beds and a shared bathroom. The earthy tones of the room encourage a grounding experience, and the TV and Moroccan art adds an elegant edge.
Croco Dorm: 3-Bedroom Dorm
Modern sophistication meets rustic surfing with Banana Village's three-bedroom dorm, the Croco dorm. The room includes three single beds and a shared bathroom, as well as a private balcony with an incredible view of the ocean.
Double Rooms
Are you looking for a little bit more privacy and space? Banana Village offers six spacious double rooms that offer comfort and convenience. Each double room has a TV and heating system for the winter, and all share a common balcony with an exquisite view.
Private Apartment Rooms
Banana Village boasts four modern and spacious apartment rooms, each with two double rooms. The double rooms share a bathroom with one another. It's a great option for groups of travelers and even solo adventurers looking to make friends.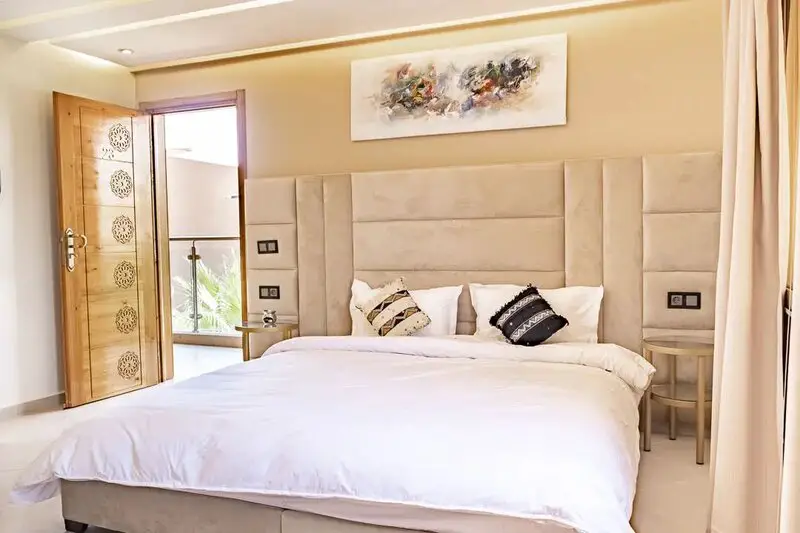 Living at Rapture Surf Camp
Rapture Surf Camp has common areas to relax and rub shoulders with fellow surfing nomads. The entire camp is set up to offer comfort, convenience, and community. To make your stay as memorable as possible, the camp has a restaurant with the tastiest dishes imaginable.
Are you ready to explore the beauty of Morocco's culture and surf until you can't move your arms? Allow Banana Village to be your home base, allowing you to surf, eat, sleep – and repeat!
Discover more surf camps around the world here