While it may not be the first place that pops into your mind when you think about the best places to surf, Europe has a lot to offer to surfers of all levels.
The European surfing scene is thriving around Portugal, Spain, and France, where you'll find some of the world's beach breaks that guarantee the perfect conditions for surfing. However, you will also find surfing spots in the UK, Norway, and other European countries with a coastline facing the Atlantic Ocean.
Below, check out the best places to surf in Europe. If you need any more help with surfing gear, surfing tips, or destination insight – we've got you covered in our surfing category!
The Algarve, Portugal
The Algarve is Portugal's stunning coastal region, famous for being one of Europe's best places for surfing. Its beaches are not only beautiful, but they are also full of fun waves. The vibe is welcoming and pretty chilled out, which makes for a relaxing surfing holiday. As a vast region, the Algarve has breaks for all levels of surfer, whether a first-timer or professional.
Sagres is the surf capital of the Algarve. It's a small coastal village sitting at the extreme western tip of the region. Two coastlines converge in Sagres, resulting in versatility and consistency in the breaks, where exposed areas perform well during summer. Tonel Beach is the swell magnet of Sagres, which lies below a cliff, facing directly west towards the Atlantic. It's not uncommon to find the coastline scattered with campervans, with enthusiastic surfers on the scout for the perfect wave. 
For beginners, the best place to surf in the Algarve is Arrifana Beach. In the summer season, when the Atlantic swell slacks off a bit, the area becomes a hotspot for surf camps. That's because the wave here is pretty forgiving, and there are several whitewashes for first-time surfers to hone their skills. When autumn comes, the waves in Arrifana get rougher, and the main beach break is prone to closing out, which can be a real chore to battle, making it more suitable for experts.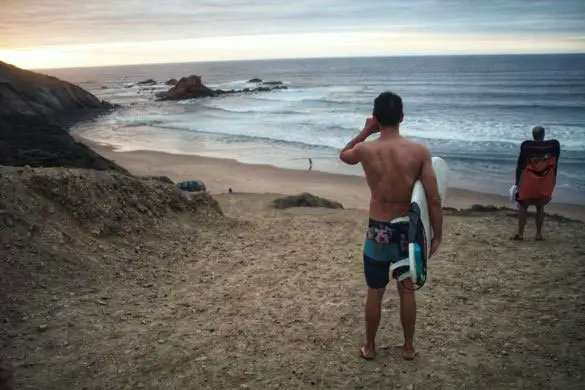 Cornwall, UK
Cornwall is a charming English county home to iconic surf towns like St Ives and Newquay. Offering a variety of waves, it appeals to surfers of all levels. Even non-surfers will find plenty to love about Cornwall, so feel free to bring your friends or family on your surf holiday and rent a cottage to accommodate the group. You will find that some of Cornwall's best cottage rentals are near the beach, the perfect place to surf and relax afterward.
Most of the surf spots in Cornwall are in the north, where you'll find famous surfing destinations like Newquay, Polzeath, and Bude. Newquay is a bustling little town with beautiful beaches, including Fistral Beach, the most popular beach for surfing in the UK. It offers superb swells, perfect for experts and pros. For beginners, Towan Beach is the place to be. It's long and sheltered, home to some of Cornwall's best surfing schools.
Polzeath is another hub for surfing in Cornwall. It also has many surfing schools run by pro surfers, offering lessons to beginners. You'll find nice waves, offering the perfect conditions for beginners to hone their skills.
Biarritz, France
When surfing in France, Biarritz is the best spot. It's a picturesque seaside town in southwestern France boasting a humid oceanic climate throughout the year. For intermediate surfers, Biarritz is a suitable destination all year round. Advanced surfers should come here in October when it has the best waves. 
Biarritz is home to two iconic beaches, La Cote des Basques and Grand Plage, which are great surf spots, producing excellent hollow waves. Beginners will find La Cote des Basques an ideal place to ride the waves. It's in the south of Biarritz and is one of Europe's best beaches to learn surfing. La Cote is more sheltered than most of the beaches in the area and offers mellow rides best suited for beginners. 
Further south of the town, you'll find multiple surf spots catered to beginners and experts. Hendaye is most suited for beginners, while the reef breaks in Guethary will be more suitable for experienced surfers. Biarritz is also home to some of Europe's best surf schools, managed by professional surfers and catering to surfers of all levels.
Hossegor is another fantastic surfing destination in France. Check out our surf guide to Hossegor here!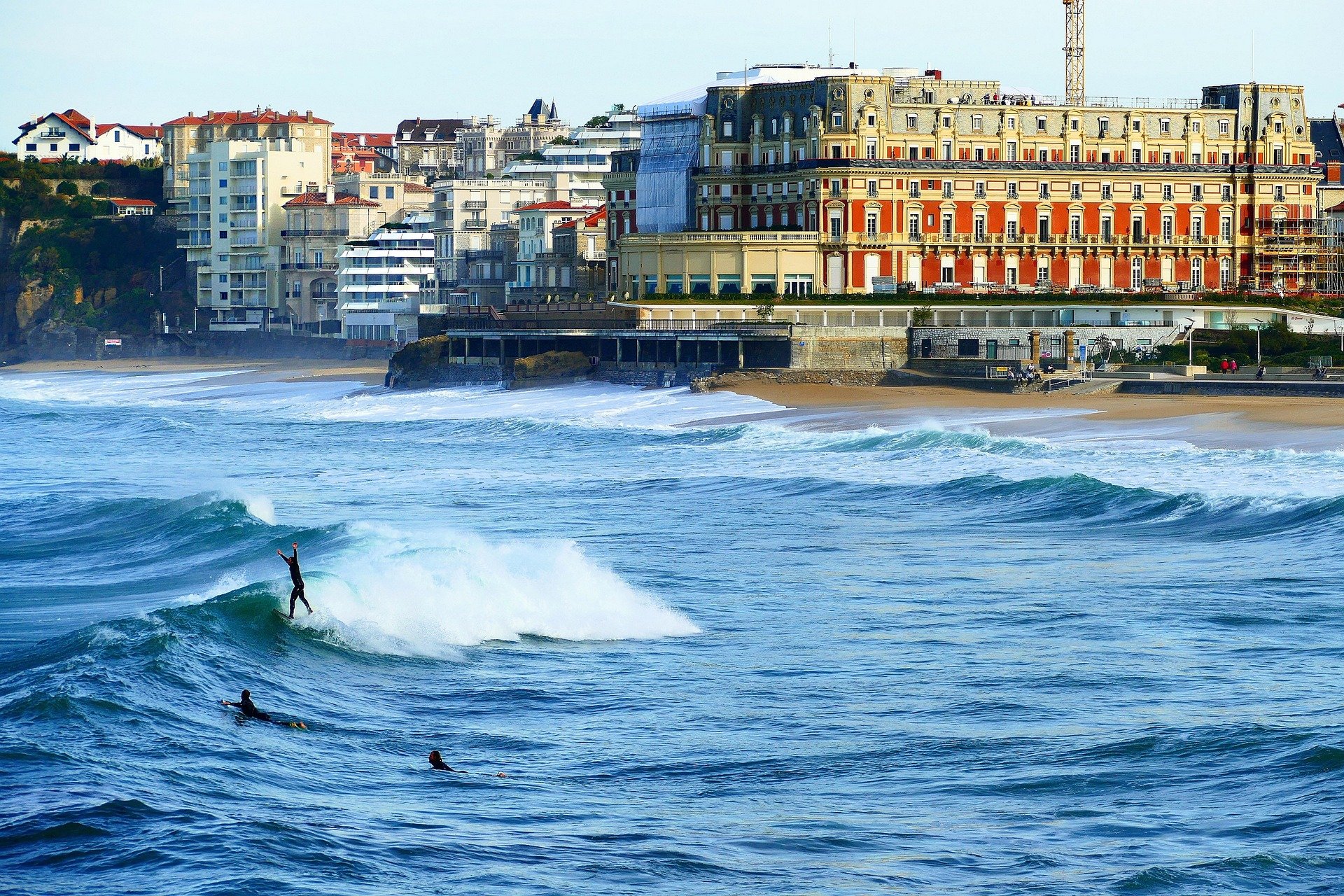 Naxos, Greece 
Naxos is the largest in the Cyclades group of islands. If you're going to Greece for a surf holiday, it's one of the nicest Greek Islands to visit, offering the perfect place to relax and surf. The two main surfing spots in Naxos are the Agios Georgios and Mikri Vigla, with both spots offering reliable wind in high summer. These places host many surf schools offering courses and equipment rental. You will also find a surf club on the beaches of Sahara and Plaka.
The wind on Naxos is steady and can get more powerful early afternoon, making it the best time to enjoy windsurfing. During this time, the conditions are mainly "bump and jump." Those looking for freestyle conditions can head to Laguna and Sahara beach. But if the wind came from the north, you'd be able to catch the best waves at Agios Georgios beach.
San Sebastian, Spain
If you're going on a surf holiday to Spain, you should head straight to San Sebastian, a lovely coastal city famous for its magnificent surfing spots. What's great about San Sebastian is that you can find great waves, even in the middle of the bustling city! It's home to three beautiful beaches that are all suitable for surfing.
If you are serious about catching great waves, visit Zurriola beach. As the best surfers' beach in San Sebastian, it's a favorite spot for every surfing enthusiast. Zurriola appeals to surfers of all levels, although beginners should try the area across the Kursaal conference center since it's more sheltered and has less intense waves. Meanwhile, Playa de La Concha and Playa de Ondarreta are more enclosed, featuring a shell-shaped curve along the coast. Although they are a bit more confined, they offer the perfect condition for riding great waves when the sea is rough.
Playa de Ondarreta is more sheltered than La Concha. Thus, surfing here is less popular, but you can still catch a wave or two on some days. You can surf in La Concha and Ondarreta at high tide when the water goes up.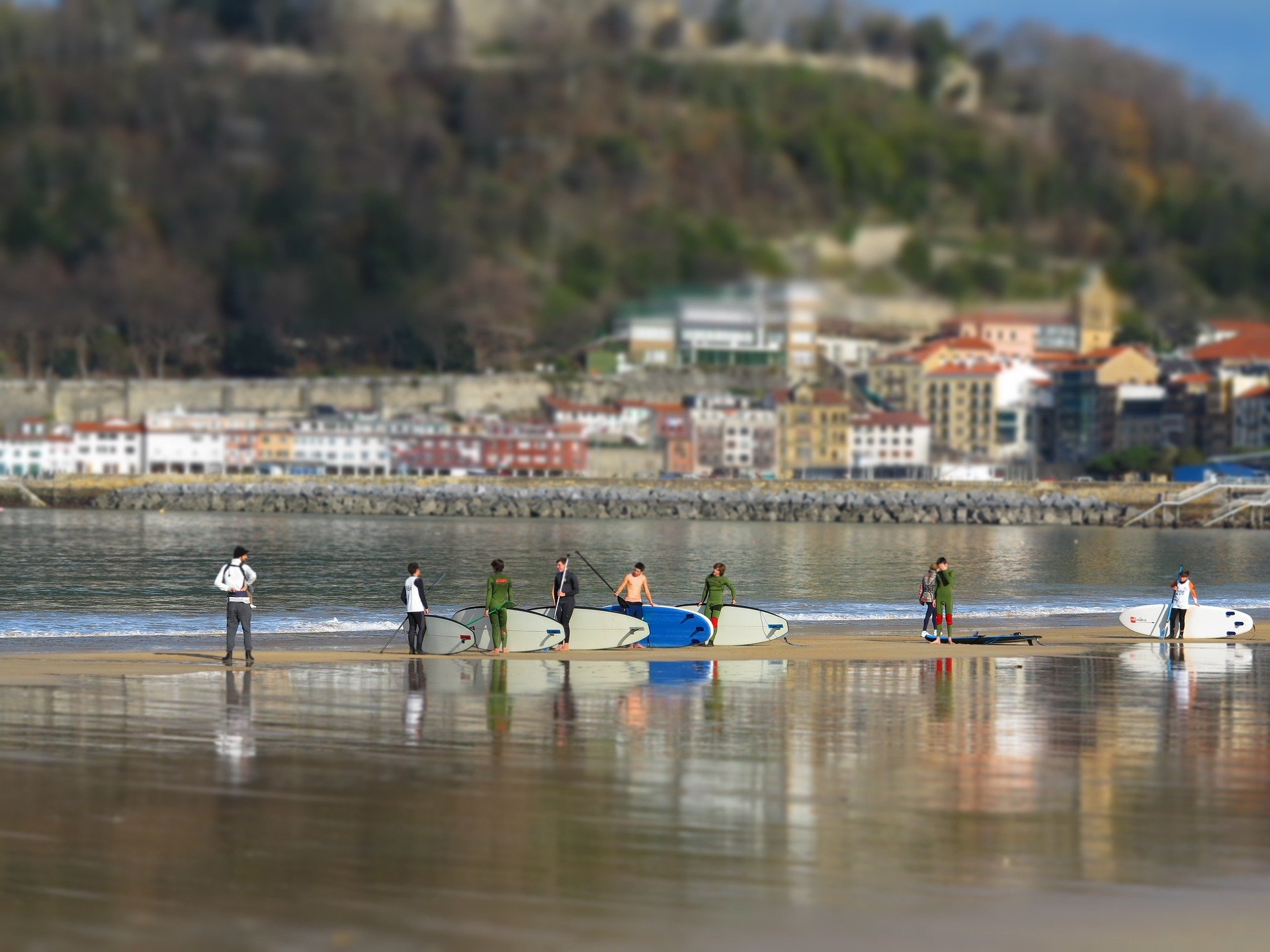 Whatever the Season, There's a Wave to Surf
The beauty of surfing as a sport is that there is always swell somewhere in the world. As the conditions normally ramp up in the winter, you can alternate between the northern and southern hemispheres.  When summer hits the south, you can be sure that the north is popping off.  Check out our month-by-month guide on the best places to surf around the world!