Working remotely has so many benefits, such as increased flexibility and enhanced productivity. It also has several challenges, one of which is building up the necessary equipment needed to get the job done. Mini portable printers are one of these gadgets that you don't realize how much you need – until you do. 
Everyone knows that luggage is limited when working remotely, and so each item needs to be considered before making it into your packing list. With the development of the small, compact portable printer, a mini portable printer allows digital nomads to work productively by printing the documents that they need at any given time. 
There's more where that came from! Discover our list of laptop accessories and essentials for digital nomads here.
It's difficult to believe that printing is made possible from such a small device, and it can be overwhelming to know where to begin. Let's explore five of the best mini portable printers for digital nomads, suited for a variety of needs.
* Just to let you know that this article may contain affiliate links. If you click on them we might receive a small commission, at no extra cost to you.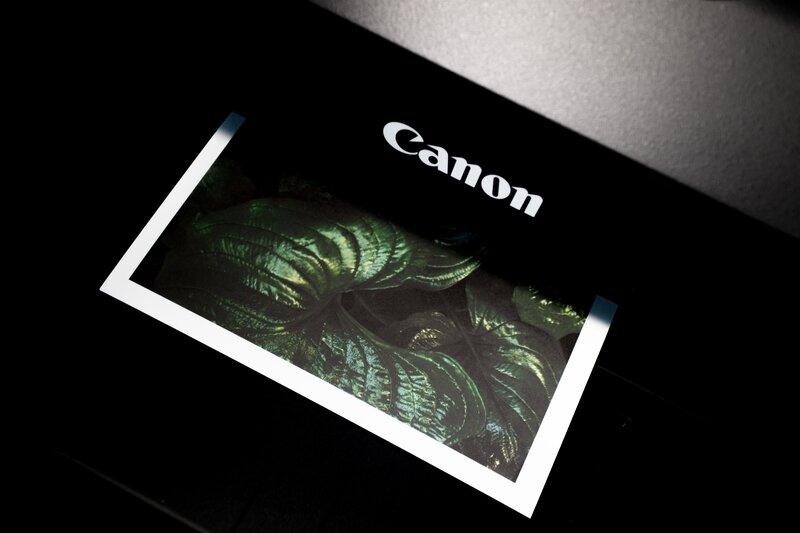 What to Look for in Travel Printers
Scrolling through a wide selection of printers can be overwhelming, especially if you don't know where to look. As a starting point, you should prioritize the following features. 
Size – the smaller the better, as long as it can do the job
Cost – while mobile printers are more expensive, it's worth shopping around
Performance

 

– speed and quality of the printed product needs to be considered
Connectivity and power – on the road, the printer needs to do the job without being plugged in, so consider the connectivity options as well as the power options
Paper size and weight

 

– as well as the availability
Durability – knowing that the printer will last on the road
A mobile printer should be compact, lightweight, durable, and efficient. Striking the balance between affordability and smart investment. Consider how the printer connects to the device, whether it's Bluetooth, WiFi, etc and how it keeps its charge.
Are you looking for a gift for travelers and digital nomads? Browse our awesome gift guide here.
Five Best Mini Printers for Nomads
To kickstart your hunt for the perfect printer, we've put together a shortlist of great options, suited for a variety of purposes. 
The Benecharm Bluetooth thermal printer can print both text and photos instantly. Feeling creative? There is also an app that offers a variety of fonts, filter effects, and themes. It's the perfect tool for creating fun memories, as well as using it for business needs, such as memos, meeting notes, and as an office assistant.
The printer has a built-in 1000mAh battery, and a full charge lasts one week with standby time. If the battery is running low, then the pocket mobile printer gives a warning by flashing red light.
Connection: Bluetooth for Android and IOS via an app
Size: Mini size (3.3 * 3.2 * 1.6 inch)
Paper: Ordinary, thermally paper such as shopping receipts, as well as adhesive paper
Travel memories are the best! Printing these pictures on a whim allows digital nomads to leave mementos with new friends, and make the memories last forever. The Phomemo M02 Bluetooth thermal pocket printer is our favorite instant photo printer, compatible with Android and IOS.
Despite having a convenient, compact size, the printer produces high-resolution prints. The printer is available in a range of colors, including black, white, pink, and green. The thermal technology means that there's no issue with ink, simply an easy-to-use connection.
Connection: Bluetooth for Android and IOS via an app
Size: 3.38 * 3.22 * 1.65 inch
Paper: Thermal paper sized to 53 mm
There's a range of reasons for needing a printer while working remotely. Depending on your job, you may need to print a lot of graphs and spreadsheets, or brainstorming notes. The HP OfficeJet 200 makes portable print easy breezy.
The power lasts throughout the workday, offering a quick, auto wireless connection. Staying up to date with your printing needs has never been easier, printing 20 black and white pages per minute, or 19 pages per minute in color. The durable printer is compact, making it easy to take from one wanderlust destination to another. 
Connection: Auto wireless connection
Size: 2.70 * 7.32 * 14.30 inch
Paper: Plain paper – to be printed on with ink
Running off of lithium-ion batteries, the Pooli travel printer is a top choice for study or business purposes. The nifty, compact printer allows users to scan, edit and print via the Pooli printer app (which is available for both Android and IOS).
The rechargeable battery can power up the printer for up to 26 hours, allowing you to print a variety of different paper sizes throughout the workday. It runs off of monochrome inkless technology, making it the perfect printer scanner to take on the road. 
Connection: Wireless Bluetooth connection
Size: 13.15 * 4.02 * 2.72 inch
Paper: Plain paper – to be printed on with ink – compatible with A4
Looking for a pocket-size portable photo printer? Canon has you covered. The established brand has launched the IVY mini photo printer for smartphones, available in rose gold, mint green, and slate gray. 
The printer produces 2 * 3 inch photos with peel and stick backing, simply by connecting the device to your mobile app. While this printer is most useful for printing photos of your favorite memories, it can also print photos of important information that you don't want to forget.
Connection: Bluetooth connection
Size: 4.7 * 3.2 * 0.7 inch
Paper: Canon Zink photo paper (sold separately)
Final Thoughts
With so many travel printers to choose from, it's important to consider what you plan to use the printer for, and how much strain it'll be under. Whether you need a mini printer to collect pictures or scan important documents – you're sure to find something to meet your needs.