Morocco is known (and loved) as a surfing haven. At the heart of its reputation is Taghazout. If you're planning a Taghazout surf trip, then you're in for a wild ride.
Morocco surf spots are plenty, extending from Essaouira to Agadir. Of all of these spots, Taghazout surfing takes the cake. The small, surfing town offers a variety of waves, for beginners and advanced riders alike.
However, a surf trip to Morocco is not for the faint-hearted. If you want to make the most of surfing in Morocco, then it's important to plan properly. Here's all that you need to know for an unforgettable surf trip.
If you're arriving in Marrakech before moving on to Taghazout, then read our guide on how to acclimatize here.
 * Just to let you know that this article contains affiliate links. If you click on them we might receive a small commission, at no extra cost to you.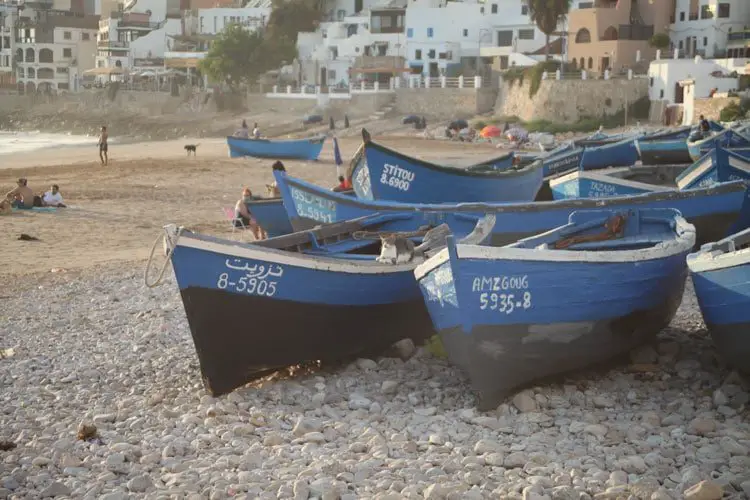 Overview of Taghazout Surfing
Taghazout is a small fishing (and surfing) village located on the southwest coast of Morocco. The Atlantic Ocean surf spot boasts unbeatable surf for riders of every level.
Taghazout Morocco Surf Season
The best swell arrives from the middle of September and continues to produce pearlers until April. During this time, you can expect near-perfect right-hand point breaks at Taghazout's renowned surfing spots.
Even though the atmospheric heat is heavy, the water isn't as warm. Make sure that you either pack a wetsuit or budget to rent one. A 2mm wetsuit or shorty should do just fine, depending on how you handle the chill.
During the rest of the year, the wind picks up and negatively affects the stellar break. Even so, the waves are still fun for beginners.
Looking for the best place to surf around the world, throughout the year? Read our blog here.
Best Taghazout Surf Breaks
Taghazout itself is a small village with only a few spots. However, if you travel a short few minutes in either direction of Taghazout, Morocco surfing spots will open up.
Anchor Point – right-hand point break with a sand bottom for experienced surfers
Killer Point- right-hand point break with flat rock bottom for experienced surfers
Boilers – right-hand point break with rocky reef bottom for experienced surfers
Slab – right-hand point break with rocky reef bottom for experienced surfers
La Source – left and right-hand beach break with rocky reef bottom for intermediate surfers
Mysteries – right-hand beach break with rocky reef bottom for intermediate surfers
Has Point – right-hand point break with a rocky sand bottom for intermediate surfers
Douze – K12 – left and right-hand beach break with rocky reef bottom for intermediate surfers
K11 – left and right-hand beach break with rocky reef bottom for intermediate surfers
Anza Placa – left and right-hand beach break with rocky reef bottom for intermediate surfers
Banana Point – right-hand point break with a sand bottom for beginner and intermediate surfers
Panoramas – right-hand point break with a sand bottom for beginner and intermediate surfers
Devil's Rock – beach break with a sand bottom for beginner and intermediate surfers
Crocodile Beach/Crocs – beach break with a sand bottom for beginner and intermediate surfers
Tamri – beach break with a sand bottom for beginner and intermediate surfers
Take note that the water surrounding Taghazout is not the cleanest. In fact, it made us (and many other surfers) very sick. Be prepared to monitor the water or choose a spot that is slightly out of the village.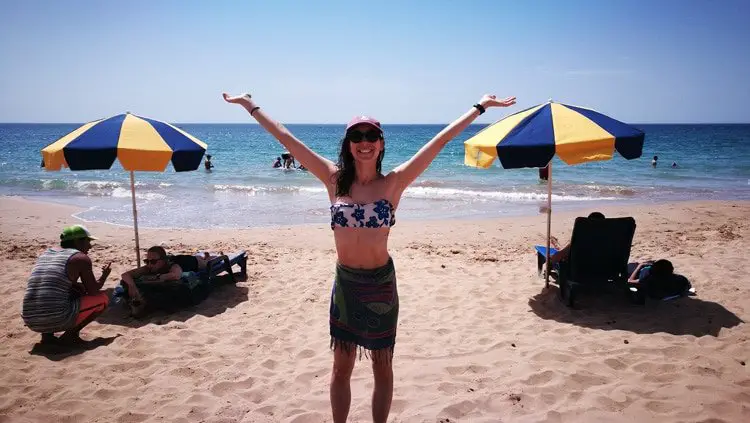 Taghazout Surf Schools and Camps
If you're looking for a surf school or surf camp experience, then the Taghazout surfing schools will have you covered. There are plenty to choose from – so take your pick!
Taghazout is one of the more affordable destinations to visit for a surf trip. The locals want you to enjoy the waters and so there are some that offer a budget surf camp for beginners. The self-proclaimed pocket-friendly surfing adventure includes six nights of accommodation, surf lessons, and meals.
Girls just wanna have fun – and Taghazout's surf spots are more than happy to oblige. The week-long surf camp for girls is appropriate for all difficulty levels and offers an intimate experience for no more than five participants.
Surfing and yoga go hand-in-hand, and Azrac Surf Morocco welcomes guests who want to enjoy both. The seven-day surf and yoga retreat includes daily yoga and surf sessions, a few meals, and accommodation. The experience is offered to surfers (and yogis) of all levels looking to enjoy Morocco in an active way.
Taghazout is an epic surfing destination for experienced shredders. The surf guide takes wave riders to all of the best spots, giving surfers the opportunity to shred up a storm in the water. Accommodation, meals, and transfer are all included – making the waves the only aspect that you need to focus on!
If you're new to the amazing sport, then there's no better place to learn than in Taghazout. A surf camp for beginners includes qualified and friendly guides providing lessons and surf equipment. As an added bonus, there will be a camera ready to snap the best surf moments.
Taghazout Board Rentals
It's possible to rent both surfboards and wetsuits in Taghazout. Most spots will try to convince you to get a lesson as well, however, it is possible to rent as you need.
On average, a surfboard rental will cost you approximately USD $12 per day, and wetsuits will cost an additional USD $6 per day. Costs are less when renting on a weekly basis.
Note that there is usually no insurance for boards in Morocco, so it's important to look after the equipment. Don't leave them on top of a car as theft is a threat, and avoid putting the boards in a position where they can get dinged.
Flights and Getting to Taghazout
As a small fishing village, it's no surprise that Taghazout doesn't have a thriving international airport.
The closest airport is in Agadir, a 30-minute drive away. Depending on the time of day that you arrive, you can get a taxi (USD $22 – $33) or catch the local bus (number 32 or 33). The bus leaves every 30 minutes and operates from 6 am to 8 pm. The bus takes slightly longer (45 minutes) but costs only USD $2.
It's also possible to fly to Marrakech Airport, which is located almost 300 kilometers from Taghazout. The cheapest way to get between the two points is to catch a bus from Marrakech to Taghazout (via Agadir). The trip will cost roughly USD $12 but take between five and six hours.
The cheapest time to fly to Morocco is in February, and there are several international airlines that offer the commute (either directly or via a stop).
Travelers from the European Union, United States, New Zealand, Australia, and several other nations don't require a visa to visit Morocco. The only condition is that the passport is valid for six months beyond the return date.
Getting Around Taghazout
Taghazout is very small and you'll be able to reach most places on foot. However, we recommend renting a car (or getting comfortable with a bus). Several of the best surf spots extend along the coast and a car will give you the flexibility that you crave.
Alternatively, the local bus is pretty reliable and super affordable. However, it is a bit awkward to travel with a surfboard and the taxis tend to take advantage of your foreign status.
Book a car rental in Agadir and drive to Taghazout here.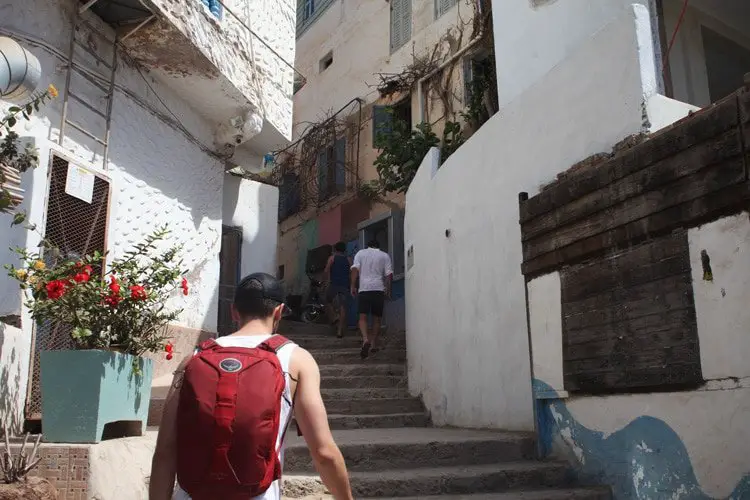 Surf Resorts in Taghazout
The place that you stay in Taghazout can make or break your experience. If possible, pay a little bit extra and secure a comfortable place to come back to at the end of each day.
Best Areas to Stay
As a village, Taghazout is small enough to be considered a single area. You may also recognize names of the surrounding areas such as Tamraght, Anza, and even Agadir.
Taghazout Surf Resorts
Moroccan riads and design are in a league of their own. These surf resorts are beautiful, comfortable, and close to the beach.
The Yogi Surfer is 800 meters from Banana Point and nearby other major surf spots. Located at the top of a small hill in Tamraght, the hotel offers stunning and cozy rooms, as well as surf lessons, surf guiding, and yoga.
Munga Guesthouse offers exquisite views, a comfortable setting, and a stylish interior to call your home away from home. Modeled off of a boutique concept, surfers can choose from mini-suites, suites, and magnums. The gorgeous spot also offers yoga lessons and a surf academy for those interested.
Hyatt Place Taghazout Bay is one of the best spots to stay with an ocean view. Dripping in luxury, the world-class establishment is a high-end option for those wanting extra comfort. As an added bonus, the establishment is well-suited for work retreats and business trips. Surfing nomads – could this be your next spot?
Dar Surf prioritizes the ultimate surfing and yoga experience. The warm and friendly environment is clean and comfortable, offering delicious home-cooked food and five-star service. Dar Surf offers an incredibly authentic experience and the opportunity to meet like-minded surfers.
Loca Beach is a relaxing, beachfront accommodation option that focuses on the needs of families traveling on a surf trip. The spot has a children's playground, a restaurant, and family rooms.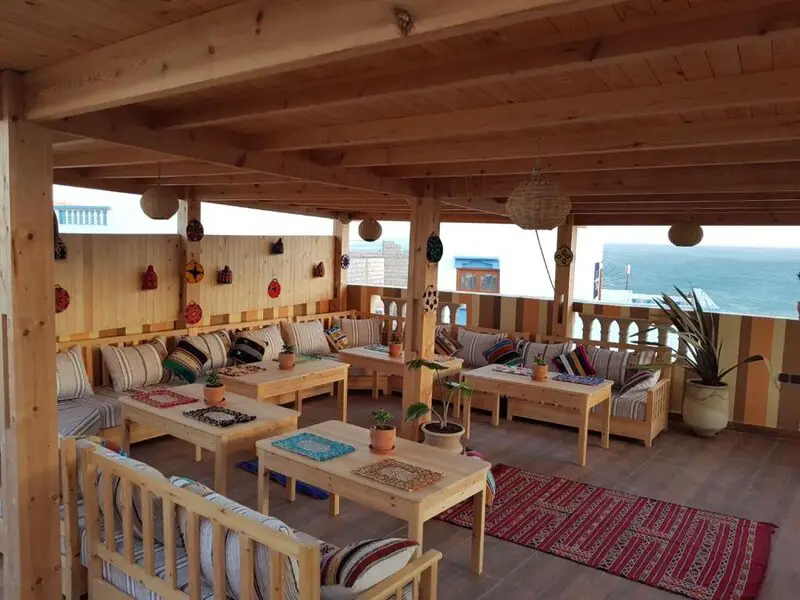 Coworking in Taghazout
While Morocco may not be known as the ultimate digital nomad destination – we bet it won't be long before it finds its way on the list!
If you walk through the small village, you'll find coffee shops with people sipping tea and tapping away on their laptops. There's also a highly-reviewed coworking space called Sun Desk that offers opportunities for surfing nomads to live the dream life.
There are several reasons that we highly rate Taghazout as a possible digital nomad destination for surfing enthusiasts.
Affordable cost of living
Epic surf on the doorstep
Facilities available for coworking
Decent wifi
High quality of life
Great community
What to Pack for a Surf Trip to Taghazout
Are you convinced to plan a Taghazout surf trip? Make sure that you pack everything that you need.
Essential Surfing Items
With surfing as the focus of your trip – make sure that you have the essentials.
Slipping on your board shortly after popping up on the wave of the day is heartbreaking. While you won't struggle to find surf wax in the village, the hunt could cost you a few seconds of valuable water time – so pack a cool water wax stick in advance!
Most waves in Taghazout and surrounds are right-hand breaks, but the conditions may vary from spot to spot. If you have a hybrid board, then it's a good idea to pack an extra set of fins to mix up your options.
Don't let a dinged board ruin your groove. A surfboard repair kit doesn't take up much space and can be a huge relief if someone drops in on you or you scrape a rock.
The sun in Morocco is lethal. While drinking (bottled) water can prevent sunstroke, a trusty sunblock can prevent sunburn. The last event you want to happen is to burn yourself silly on the first day of your trip.
As a rule, we pack a spare leash wherever we go. As a reward, we end up using it almost every time. It's worth the effort as you never know when your leash will snap or give up on life.
As mentioned, the water in Taghazout is chillier than you'd expect. While the air is warm, the water temperature seldom rises above 20℃. A 2mm long suit or shorty is a useful piece of attire to pack if you want to save some dosh.
General Items to Pack
Now that you have the important items out of the way, it's time to focus on the rest of your belongings.
First aid kit – Imodium!
Documentation
Boardshorts or costume
Sunglasses
Enough clothing
Swimming towel
Sun hat
Digital nomad gear if you plan on working
Time to Visit Taghazout!
We got really sick in Taghazout and weren't properly prepared. This negatively impacted our surfing experience – so hopefully this guide will help you get your ducks in a row.
Taghazout has a lot to offer, both in the water and out. With never-ending right-hand breaks, delicious food, and beautiful spaces – it's time to book your tickets!
If you're looking for a few other spots to plan a surf trip, explore here!