Mexico is home to some of the best surfing spots in the world. While most people put their focus on Puerto Escondido, San José del Cabo is a surfing haven. Those planning a surf trip to Baja California Sur stop in the rippable location – and many choose to stay at Cabo Surf Hotel. 
Cabo Surf Hotel focuses on offering guests ultimate comfort, convenience, and a groovy atmosphere. Laying its foundation on the environment, energy, and social responsibility, Cabo Surf Hotel comes highly reviewed and is a top spot to stay. 
Mexico is a destination that welcomes digital nomads. Browse our list of top ten destinations that have a digital nomad visa here.
Let's explore all that the accommodation offers, and how to use Cabo Surf Hotel as a base to explore the rest of the area. 
* Just to let you know that this article may contain affiliate links. If you click on them we might receive a small commission, at no extra cost to you.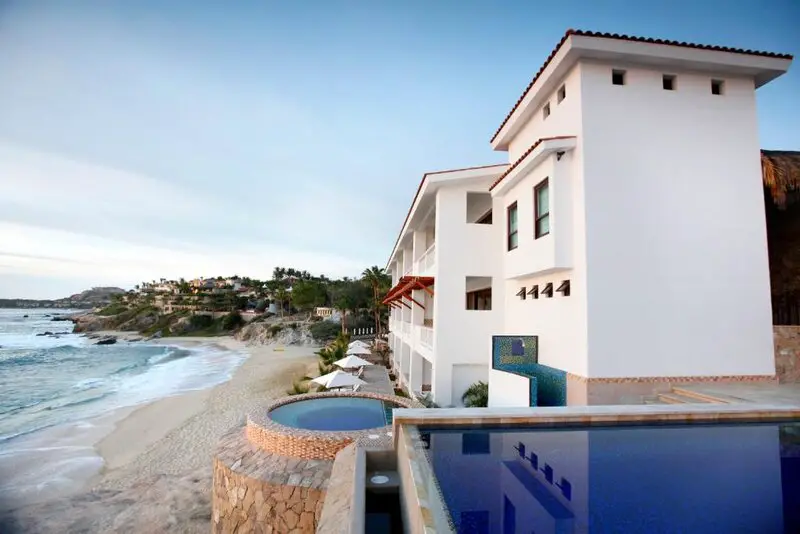 Highlights of Cabo Surf Hotel
Why choose this spot when presented with a selection of Cabo surf hotels? In addition to being the namesake of the area, Cabo Surf Hotel offers several benefits that simply can't be denied. 
Prime location to the beach
A selection of convenient and enjoyable amenities
Unbeatable view from the balcony rooms
Exquisite decor and stylish interior
World-class service
Strong wifi for nomads working on the road
Eco-friendly focus
Two infinity pools and a hot tub
Mexico is one of our favorite destinations to work and surf. Check out more awesome digital nomad destinations for surfers here.
Surfing Near Cabo Surf Hotel
Cabo boasts a few world-renowned surf spots that are suitable for a variety of different levels - from kooks to experienced shredders. With that in mind, it's best to be wary of the unforgiving reef and rocks found in the surf break. While you're at it, keep an eye out for sea urchins too!
Zippers - a fast and challenging point break
The Rock - right point break with fast waves
Old Man's (Acapulquito) - on the doorstep of Cabo Surf Hotel, great for beginners
Nine Palms - suitable for surfers of all skill levels
La Pastora - an hour's drive north but worth the trip for fun right breaks
In normal circumstances, the surf spots in  San José del Cabo are decent. However, hurricane season (August to November) can introduce a bit of pollution. 
Overall, the best time to surf is between May and October when swell is delivered from the Southern hemisphere. During these months, you'll have the best time surfing in the Sea of Cortez. This is the area surrounding Cabo Surf Hotel
In the other half of the year, during the months of November to April, the break works best on the Pacific Oceanside. 
Getting to Cabo Surf Hotel
The closest international airport from Cabo Surf Hotel is none other than Los Cabos International Airport, a short 17-minute drive away. The easiest and most effective way to get to the hotel is to rent a private shuttle.
There is also a bus stop at the airport that can take you further away from the airport where you can rent a cheaper taxi. If you want added flexibility, then we recommend renting a car. That way, you can explore more of the area at your own pace. 
Book your flights to Los Cabos
Accommodation at Cabo Surf Hotel
There's no denying that the accommodation at Cabo Surf Hotel is a cut above the rest. The rooms are stylish in design and boast a fresh atmosphere. Visitors will have a choice of rooms to pick from, some of which have an ocean view, some that are perfect for families,  some with a garden view, and others that have a jacuzzi.
Regardless of the room that you pick, you can expect exceptional service. All rooms have fully functional AC, strong Wifi connection, a minibar, a spa, and luxury toiletries. 
The room options are as follows:
Elite ocean king bed - for two (+2) people with an oceanfront view
Elite ocean 2 queen beds - for four (+2) people with an oceanfront view and a jacuzzi on the terrace
Garden plus king bed - for two (+2) people boasting a kitchenette and a partial view of the ocean and the garden
Elite executive king bed - for two (+2) people with an oceanfront view, located on the third floor
Ocean master - for six (+2) people with an oceanfront view of Playa Acapulquito
Deluxe ocean king bed - for two (+2) people with a kitchenette and jacuzzi, and a garden and ocean view
Garden plus 2 queen beds - for four (+2) people with a kitchenette, a spacious balcony, and a hammock
Deluxe ocean 2 queen beds - for four (+2) people with a kitchenette and jacuzzi, and a garden and ocean view
Ocean king bed - for two people with the best view in the house of the ocean
Garden king bed - for two people, on the ground level with a private patio or an upper level with a balcony and hammock - all with a garden view
Garden 2 queen beds - for four people with a garden view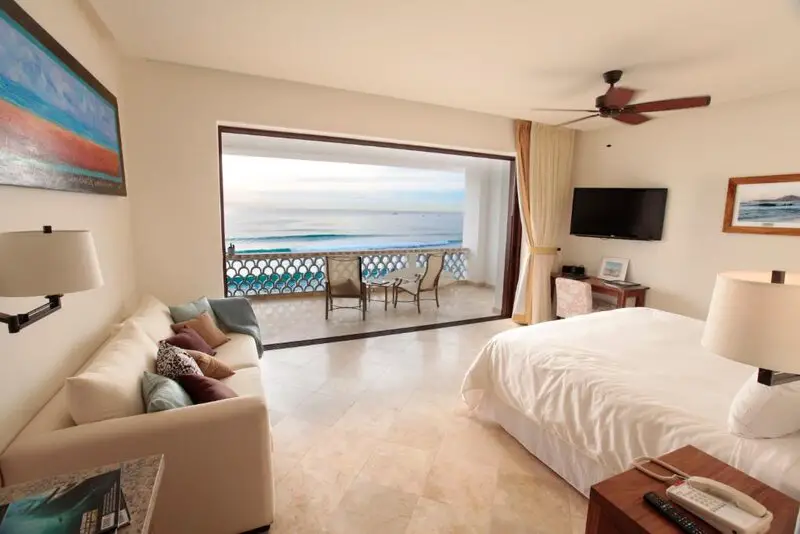 Amenities at Cabo Surf Hotel
While the rooms are outstanding, Cabo Surf Hotel boasts several other amenities that encourage people to come back after their initial stay.
Relaxation Areas
When you're not surfing in the ocean, then you most likely want to kick it and just relax. The hotel's two infinity pools and hot tubs allow you to do just that, transporting you to your happy place as you tap out from the real world. 
Restaurant

 
The food at the hotel's 7 Seas Seafood Grille is to die for. The fusion of Mexican, Mediterranean, and Asian cuisine leaves your taste buds tingling. It's no wonder that the ocean view spot is so popular among locals and visitors alike. 
Cabo Surf Camp
You don't need to be a pro surfer to take advantage of the surf break in front of Cabo Surf Hotel. Mike Doyle Surf School and the Cabo Surf Shop are based out of the hotel, giving enthusiastic surfers a convenient opportunity to ride a range of boards. 
Cabo Surf Hotel and Spa
The quiet and cozy spa on-site offers the perfect opportunity to indulge in some self-love. Offering a range of therapies and treatments, the facility is sure to astound you with its quality products and excellent pricing.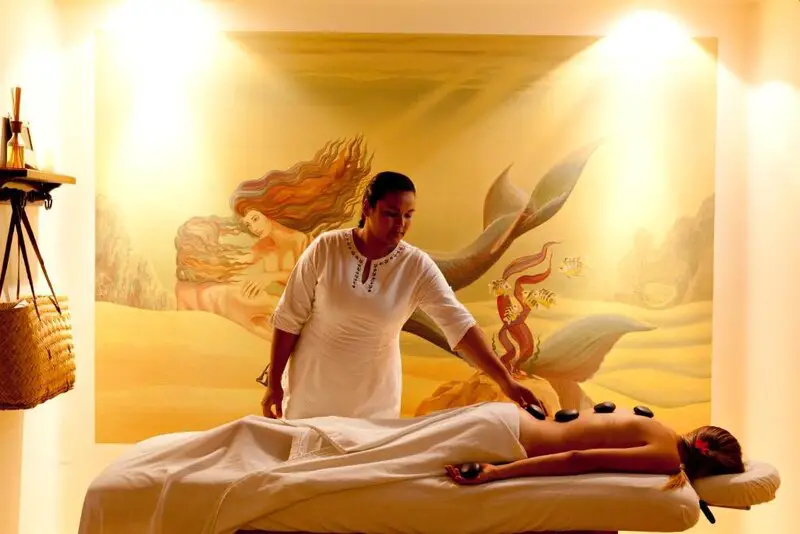 Things To Do In The Area
While the amenities of the hotel, the incredible surf, and the comfort of your room will no doubt leave you very busy, there are a few awesome Los Cabo attractions and activities to enjoy in your free time. 
Boat cruise from the hotel
ATV tour
Indulge in the local cuisine
Scuba dive
Embrace the nightlife
If you want to venture further into Mexican culture while working remotely, then check out our guide for Puerto Escondido here.
Book Your Spot At Cabo Surf Hotel
When in doubt, we always advise booking a spot at a place whose name indicates the offering. What better surf hotel to stay in when visiting San José del Cabo than a hotel so bold to claim the name? 
And if that doesn't win you over, then the comfortable rooms, excellent location, and extensive amenities will have you sold in no time!
Book your spot at Cabo Surf Hotel here
Looking for more inspiration? Read our Surf City Hotel review in Long Island here.