There are surf ponchos and there are surf ponchos. Some surfers prefer the flexibility of a changing towel and a dry mat, while other surfers want to stay dry and warm with a surf poncho.
Avoid the struggle of putting tight clothes on a wet body, and stay warm and toasty after the chilly water. Staying discreet and comfortable after the surf has never been so easy!
A changing robe is a cold-water surfing essential. Discover more gear that needs to be in your cold-water surfing bag!
We've compiled this list of what we think are the best surf ponchos for you to choose from based on your preferences and budget.
* Just to let you know that this article may contain affiliate links. If you click on them we might receive a small commission, at no extra cost to you.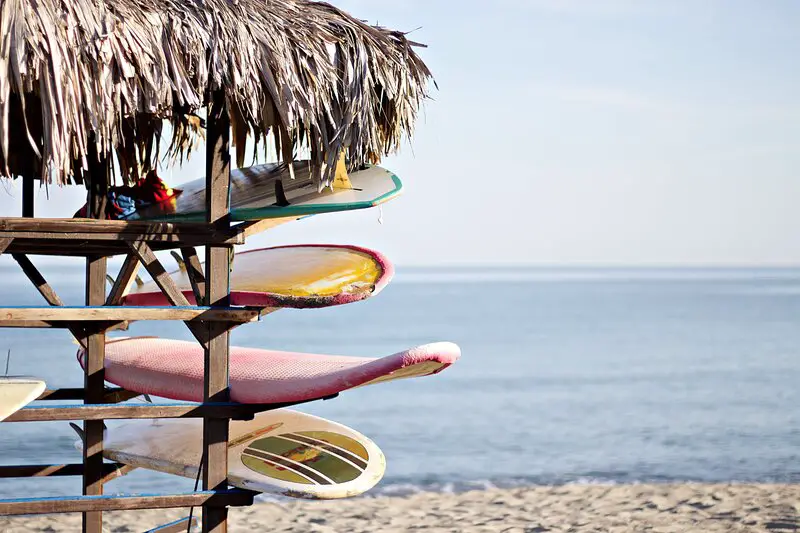 Benefits of a Towel Poncho
Surfers know the importance of having a good surf poncho-changing towel. Not only does it keep you warm after a surf, but it can also be used as a changing robe on the beach.
A surf poncho changing towel is perfect for those who want to keep their belongings and clothes dry while they change. It's also great for keeping sand and other debris off of your clothes.
Whether you prefer surfing the warm tropical water of Bali, or the frosty foam in Cape Town, a changing robe is a great asset for the following reasons.
Stay warm after surf

Keep belongings and clothes dry while changing

Used as a changing robe on the beach

Durable and multifunctional piece of clothing

Suitable for surfers of all levels, and all ages
What Makes a Quality Changing Poncho?
You surfers out there know how important it is to have a surf poncho.  It's the perfect way to keep yourself warm, dry, and cozy after surfing.
So, what makes a surf poncho worth buying?
Absorbing material

The right price for your budget

Represents personality in color and print

Covers all the necessary bits

Added features to your taste (hood and pockets)
In general, a surf poncho should be quick-drying and made of quality material that absorbs moisture. While one size typically fits all, you still need to make sure that the length covers as much as is needed.
A changing towel is a great gift for a surfer. Find more great surfer gift ideas here!
Five Best Surf Ponchos For All Surfers
When choosing a surf poncho, be sure to consider your needs and preferences. Some surfers prefer a changing towel that is more flexible and easier to move in, while others want the added warmth and protection of a surf poncho.
Looking for a surf poncho that will keep you warm and dry after a surf? Check out the Surf to Tan Towel Poncho. Made from 100% soft terry cotton, this surf poncho is sure to keep you comfortable while changing on the beach. With a weight of 400GSM, this towel poncho is perfect for keeping you warm and absorbent after a surf.
As an added bonus, this Motomy changing towel is environmentally friendly, made from microfiber and 100% cotton. The large, double-layer hood helps to keep you extra warm which is perfect for cooler climates. We especially love the side slit and spacious kangaroo pocket for storing all sorts of accessories.
Say goodbye to one-foot dancing in the car park after an epic surf!
Looking for a surf poncho towel robe that will keep your little one warm and dry after a surf? Check out the COR surf poncho changing towel robe with hood and front pocket for kids.
This surf poncho is made with a quick-dry microfiber material in tribal patterns. One size fits most 3 to 8-year-olds.
The towel is a versatile accessory that is perfect for the beach, helping your kid change in comfort. If you're looking for a great gift for the upcoming birthday or celebratory event – then this is it!
If you're especially creative and expressive, then this Nu-June Beach surf poncho changing robe is perfect for you. Made from quick-dry microfiber, the size is flexible and can fit women of varying sizes.
The comfortable and convenient changing towel is hooded with plenty of space to keep you cozy inside the tented material. The nifty front pocket is perfect for storing keys and some money for grabbing a coffee after a fun time in the water.
Changing out of your wetsuit is easy, private, and warm in this funky surf towel, with anti-UV material and the ability to block the wind.
For many, a surfing poncho is a luxury, but you don't have to break the bank to enjoy the comfort and convenience of a changing towel. The Calidaka poncho is an affordable, quality changing robe with a hood for added warmth.
The thick, quick-dry microfiber does a stellar job of getting all of the salty water off your skin while keeping you warm during outdoor sporting activities.
Available in a wide selection of colors, this budget surf poncho is easy to pack with you on any surfing trip – no fuss needed!
Did you know that microfiber can absorb up to eight times its weight in liquid? The high absorption rate is one of the factors that makes microfiber so advantageous when it comes to drying off and keeping warm.
The Hiturbo microfiber changing robe comes highly recommended for outdoor moments. They are soft and easy to carry while traveling. Quick to dry and compact in size, these towels are a fantastic addition to all surfing packs. The cherry on the top of these awesome towels is that they are available in a range of colors!
Stay Toasty!
Surfing ponchos are a surfer's best friend, and with so many surf poncho options available, it can be hard to pick the perfect surf changing robe.
Luckily for you, we've narrowed down the selection of surf robes to the top five surf ponchos on the market today.  
Here's what they have in common: all offer excellent protection from wind and rain without sacrificing mobility or style! So go ahead and hit up your favorite surfing spot knowing that you're decked out in the latest surf-changing towel trends.