While places like Chiang Mai, Barcelona, and Lisbon are some of the most popular destinations for the digital nomad communities, you will find destinations that appeal to nomads who prefer to venture somewhere more exciting and unique. From the incredible Galapagos Islands to the remote country of Mongolia, here are some inspirations for nomads looking for unique adventure destinations.
* Just to let you know that this article may contain affiliate links. If you click on them we might receive a small commission, at no extra cost to you.
1. The Galapagos Islands
The Galapagos Islands are some of the most remote islands on Earth, making it an ideal destination if you're looking for unique adventures. They are a chain of volcanic islands on the Pacific Ocean about 500 miles off Ecuador's coast. Because of its unique ecosystem and endemic animal species, it appeals the most to nomads who love wildlife.
Some of the major islands that make up the Galapagos are Isabela, Santa Cruz, and San Cristobal, and the perfect base for nomads since these islands are home to great hotels and guesthouses. Isabela has a good range of accommodations and an ideal base for nomads traveling with their families. There are numerous attractions on the island, including the Arnaldo Tupiza-Chamaidan Giant Tortoise Breeding Centre, where you can spot the famous giant tortoises.
If you base yourself in Santa Cruz, you will have plenty of activities to enjoy since the island has a lot to offer. You will also find several day trips to other islands coming from here. Nomads on a budget will find San Cristobal an ideal base since it has several budget-friendly hotels and guesthouses, and some even give discounts for long-term stays.
The Galapagos Islands also happen to be one of the most romantic destinations for a honeymoon!
2. India
Nomads who want a unique and exotic destination should visit India. Despite being a popular tourist destination, it's not like any other country you have visited. Traveling to India is a great way to discover unique cultures and renowned attractions, including the majestic Taj Mahal.
Indeed, India offers an adventure you won't ever forget. It will captivate and challenge you at the same time. Sure, it's not easy to navigate, but once you get used to the chaos and noise, you'll understand why this country has been luring thousands of travelers.
If you are not yet ready to discover the chaos of India's bustling streets, Goa would be an ideal place to visit. Famous for its beaches, Goa has a different vibe from the rest of India, owing to its Portuguese colonization, isolating the state from the rest of India for over 400 years. You'll likely find other digital nomads in Goa, making it a great place to network and make friends.
But if you want to discover authentic India and visit its famous temples and palaces, including the Taj Mahal, you should head to the Northern part of the country. Begin in New Delhi, the capital city. Spend a few days before traveling to Agra, where you'll find the Taj.
3. Antarctica
Lying on the southernmost tip of the planet, Antarctica is one of the world's most mysterious places. The vast expanse of frozen land occupies over 14 million square kilometers, making it one of the world's largest continents. Nomads looking for unique adventures should consider visiting Antarctica. While its landscape may seem somewhat bleak, it's actually one of the most stunning places on Earth.
The extreme climate of Antarctica is not fit for humans to live in, making it one of the least inhabited continents on Earth. Most of the people who live here are scientists who are here for work purposes. Another interesting thing about Antarctica is that it's home to fascinating wildlife species, including the Antarctic Blue Whale, considered the biggest animal on the planet.
Nowadays, you will have plenty of options to get to Antarctica. The most common is on a boat, where you'll sail through the Drake Passage from South America and into the Antarctic Peninsula, which should take around 48 hours. If you don't mind splurging, you can consider flying to Antarctica, which should take two hours.
4. Indonesia
While Indonesia may be a popular tourist destination, especially the island of Bali, the country has some interesting places offering unique adventures. For instance, there are many remote islands in the country, which you can visit on a cruise. You will find many great cruises around Indonesia, and it's an ideal way to explore the country, home to thousands of islands.
Of all the island cruises in Indonesia, the route to Komodo Island is the most exciting. The island is called as such since it's home to the Komodo dragons, the world's biggest monitor lizard. It covers an entire region and consists of volcanic hills, lush forests, and savannahs that have become the shelter for over 4,000 Komodo dragons.
You can book a cruise from the island of Lombok or Bali to the Komodo National Park. These cruises could take several days and include fun activities like snorkeling and hiking to some of the most iconic spots.
You will spend several days on the boat with cabins and other facilities for a more comfortable journey. Another great thing about cruising is the opportunity to see incredible sunrises and sunsets from various locations while on the sea. There's a reason that Bali, Indonesia, is one of the top digital nomad destinations!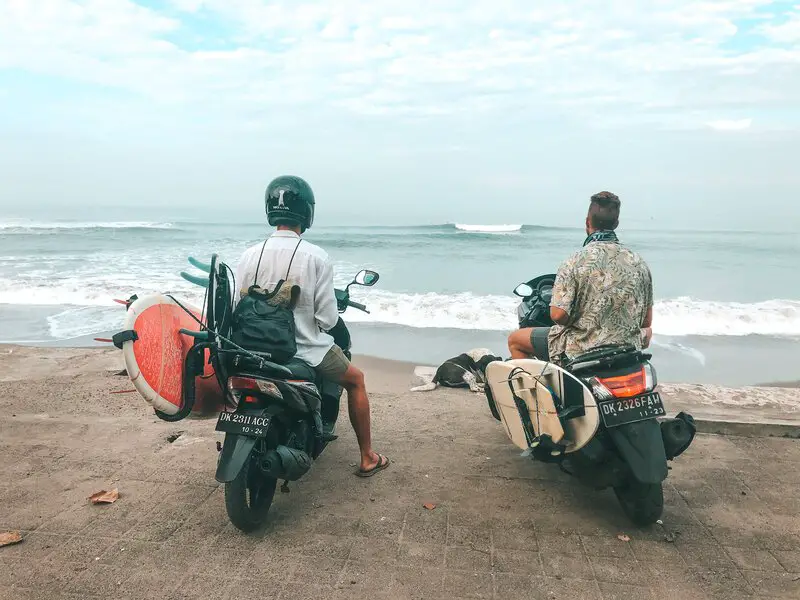 5. Mongolia
Nomads seeking unique adventures will find Mongolia a fascinating place to visit. Despite its incredibly stunning landscapes, it's a shame that only a few tourists come here. If you're looking for an off-the-beaten-path destination where you can explore nature away from the crowds of tourists, Mongolia is the destination for you.
Mongolia's Gobi Desert is a vast expanse of land lying in the shadow of the mighty Himalayas. Unlike other desert lands, it has abundant plant and animal life. When you visit Mongolia, you'll have the opportunity to explore this vast region on horseback, similar to what the nomadic tribes did. You could encounter fascinating animals during your journey, from camels to gazelles and snow leopards.
One of the most interesting things about Mongolia is that it's home to the last remaining nomadic cultures in the world. During your horseback riding expedition, you will learn more about them and even get the chance to live in a traditional Mongolian yurt assembled in the centuries-old style.