The world is full of gorgeous beaches that are prime for surfing, and we're not only talking about tropical havens such as Bali. Cornwall is a legendary surfing destination in the United Kingdom and Europe, offering incredible waves for surfers of all levels.  So, what are the best beaches in Cornwall?
Are you looking for a nifty travel accessory for your surfboard? Browse our travel surfboard bags in our guide here.
Even if you don't enjoy surfing, Cornwall has incredible beaches to explore. Whether you want to sit on the shore and soak up the (speckled) sun or marvel at the view as you stroll along the sand. 
Let's dive into some of the best beaches in Cornwall that you should add to your bucket list.
* Just to let you know that this article may contain affiliate links. If you click on them we might receive a small commission, at no extra cost to you.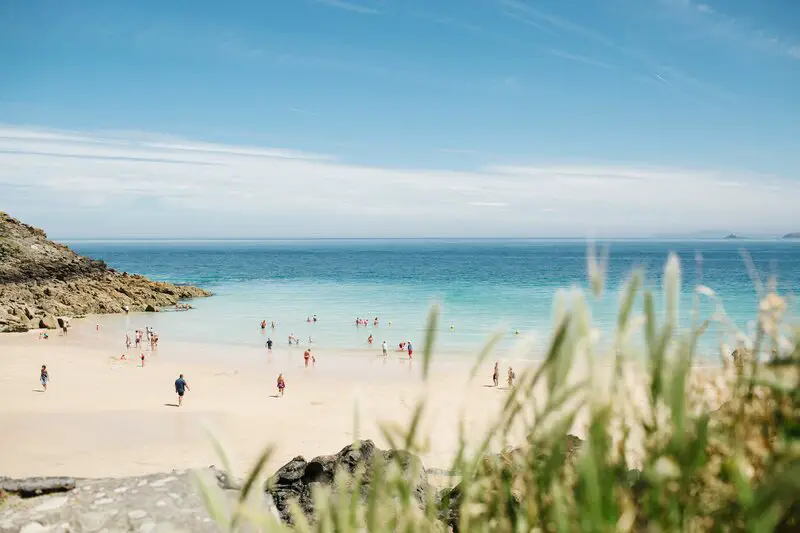 Best Time to Visit Cornwall for the Beaches
It's no secret that winter in the UK can get frosty. Die-hard surfers may be willing to zip up their suits, but the swell isn't suited for beginners. 
Instead, it's best to book your trip to Cornwall during the summer months (May to August) when the swell is smooth. The waves are perfect for all surfers, especially beginners who are still finding their feet. Although summer, the water is still chilly, and a wetsuit is highly recommended.  If the time is not right to visit Cornwall for you, check out these other weekend trip ideas in the UK.
Intermediate to advanced surfers may find the winter months more to their skill level. The water is less crowded and the waves bump up in size. However, the water is icy and necessary preparations are needed.
If you don't plan on surfing at all, then the summer months are your best bet. The coastal towns come alive and there's a lot of activity on the beaches. If you're brave enough to endure the waters, then you can even take a dip!
Are you looking to start your surfing journey or get involved in a surfing community in Cornwall? Book a weekend camping yoga and surf holiday in Cornwall here.
Best Beaches in Cornwall
As a coastal region, Cornwall has several beautiful beaches that attract people from all around the world. Here are just a few of them.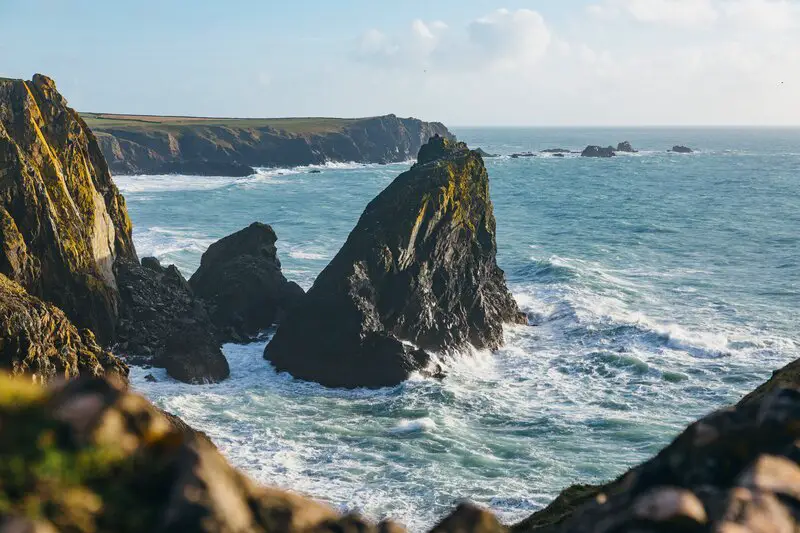 Porthmeor Beach, St Ives
Porthmeor is one of the westerly beaches in St Ives and offers protection from the prevailing south-westerly winds. The bay has a lot of character and is beautifully charming. The beach is a short walk away from the center of St Ives, with a cafe and beach huts available too. 
There are surf schools available in the area for those who are interested in picking up the sport. While the spot has the potential to provide powerful, hollow waves, it's best known for having a mild break. 
Fistral Beach, Newquay
Newquay is a bustling surfing town that attracts locals and foreigners alike, especially during tourism season when Fistral Beach becomes a hotspot for activity. Framed by high cliffs and sand dunes, the famous beach is popular – especially during the Boardmasters festival in August.
As a surfer, you're in for a treat at Fistral Beach. While the summer season can get quite crowded, and the peak surf spot can be congested. When it's working, the swell at Fistral Beach can reach up to 8ft. If you're a beginner, then we recommend moving a bit further to Towan Beach.
Praa Sands Beach, Helston
Praa Sands is a medium-sized beach that is sandy and blissful. In the summer, the sea is flat and idyllic for swimming. During the winter months, the swell hikes up, and surfers flock to the shore. If you plan to spend the day in the area, then you can also take advantage of the shops, cafes, toilets, and campsites. 
Praa Sands Beach is the surf beach of choice on the south coast of Cornwall. It boasts a fun break that works best on the mid-tide rising. During peak performance, surfers can expect right-hand barrels. Although, the best surf days can introduce a bit of localism so be advised. 
Explore the worst localism surf spots here (Cornwall is not included).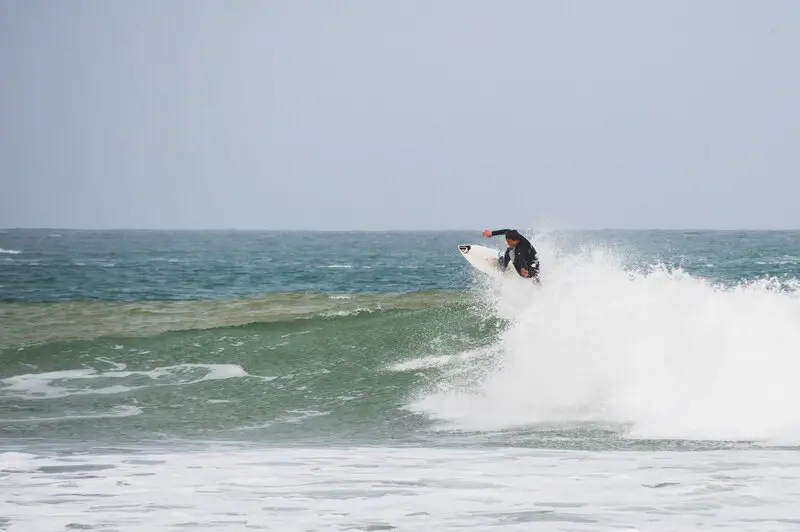 Perranporth Beach, Perranporth
Perranporth Beach is an exposed beach that can be unbearable on windy, winter days. However, it's absolutely sublime when the conditions are right. The beach is huge and there is a lot of space, and it offers a typical seaside holiday atmosphere.
Intermediate surfers can find the sweet spot during the summer. The sandy beach is more sheltered towards Droskyn Point, and the larger waves are located closer to Penhale. During the winter months, the exposed beach can get blown out and isn't much fun for boardriders. When a friend of mine moved to London, this was one of the first beaches we made a mission to for a surf.
Gwithian Beach, Hayle
Gwithian Beach is the perfect destination for families and holiday goers looking for a little bit of sunshine and salty air. The beautiful, Cornish beach is beautiful and utopian, a great escape from the busier areas in the UK. 
The beach is particularly popular among beginner surfers. As an expansive beach, there's loads of room for surfers to test their skills. While the peaks are strong and can get steep at times, they also take a hollow shape. Normally, it's the secondary swell that is best enjoyed by those at the surf school. The waves are fairly consistent and the waves vary in size, although the break can be quite exposed at times.
Where to Stay in Cornwall
Whether you're going for the weekend or planning a long-term stay, there is a wide selection of places to stay in Cornwall. Consider the following as a starting point.
Have you had any other great experiences on the beaches in Cornwall? Is there a beach that should be on this list? Let us know and we'll add it here!