If you're a casual surfer, then you probably don't have a problem renting a surfboard from the local surf shop. However, if you're a little bit more experienced, then the nuanced differences in width, fin structure, and length will have a big impact on your performance. 
Investing in surfboard travel bags allows you to surf your favorite board wherever you are in the world!
Wondering where to surf at any given time of the year? Check out our awesome month-by-month surf guide here.
Let's explore some of the best travel bags for surfboards on the market, and what to look out for when you're shopping for the perfect travel accessory.
* Just to let you know that this article may contain affiliate links. If you click on them we might receive a small commission, at no extra cost to you.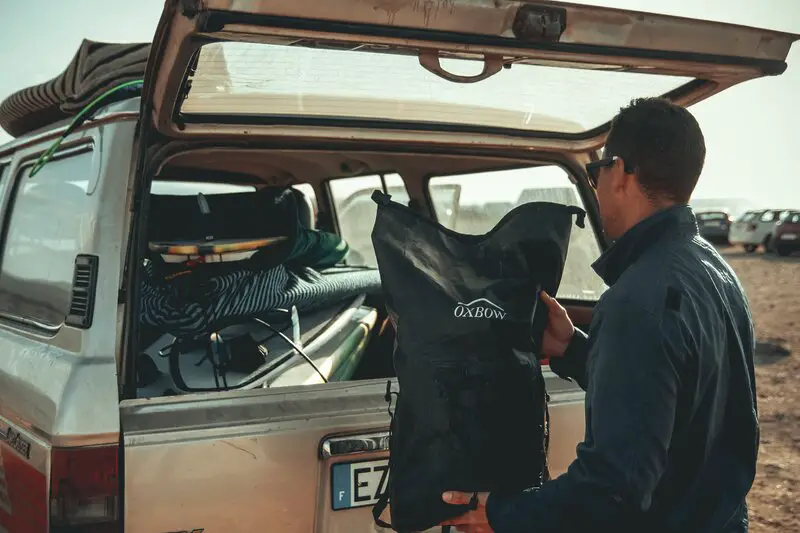 Is It Worth Getting a Surf Board Bag?
While surfboard bags don't break the bank, they aren't necessarily cheap. Today's surfboards can be fragile, and the manner of many luggage handlers can be a bit rough. While no board bag is invincible, they certainly add a little bit of extra protection, allowing you to travel with confidence. 
Surf bags offer several benefits, including the following.
Fewer dings, nicks, and damage while traveling

Avoid damage and fading from the sun

Prevent cracks and scratches

Surf your favorite equipment no matter where you are in the world
Even with a surfboard bag, we recommend that you add a fragile sticker to the outside, and try not to overfill the bag. 
What To Look For In A Surfboard Bag
Not all surfboard bags are created equal. Just as each human has a different style and fit, so do surfboard bags. There are certain factors to consider, helping you choose the best surfboard travel bags for your needs. 
Consider the following as a starting point.
Number of boards that need to be packed

Length of the board

Space for fins (or do they need to be taken off)

Sealing method (zipper, velcro, etc)

Carry style (wheels, shoulder straps, etc)

Padding for protection

Pockets to store fins, leash, etc
Consider that a longboard will need a much larger bag than a shortboard. If you're traveling as a group or to a destination with a varied swell, then it's worth investing in a bag that can keep several boards. 
Are you a beginner surfer looking for a board to travel the world with you? Read our guide on beginner boards here.
Best Surfboard Travels Bag for All Surfers
Whether you're looking for the best surfboard travel bags for air travel or something to protect your board in the car – we've got a suggestion for you!
The Oceanbroad surfboard longboard bag is the perfect protective case for boards ranging from 6'0 to 10'0. If you're a fan of longboarding and hanging ten, then this is the perfect accessory for you. 
The shell has 5mm padding on each side, with an additional 8mm at the pointed head and square tail. Closing with a nickel-plated big teeth zipper, there is also the ability to padlock the zips when traveling. You don't have to worry about the zips damaging the rail because there is a wide, padded flap. 
A padded carry handle and the adjustable, detachable shoulder strap make it easy and comfortable to move around with the bag.  With such a convenient bag, you'll be booking more, and more trips!
Keep your precious surfing cargo safe with this Dakine hybrid bag. The nylon bag is available in dark Ashcroft camo and white, fitting a board up to the size of 5ft and 4". There's also a generous outline to fit wider, more alternative shapes. 
The bag closes with a heavy-duty, coil zipper, keeping your surfboard safe and secure inside the lightweight, padded bag. It's the perfect solution for traveling or storage, with a padded shoulder strap to keep your hands free for other gear. 
Keep in mind that the thickness isn't optimal for air travel, but rather daily use. If you want to hop on a plane, then we recommend adding a little bit of extra padding. 
Pro-Lite's Rhino surfboard travel bag can fit a single board of 6'0 as well as a second board of medium length.  The two boards are separated by a lining (and fins need to be removed). 
The bag transitions from a single to a double board bag with a collapsible gusset, with velcro closure. For added convenience, there is also a large exterior pocket which is perfect for wetsuits and accessories. 
The zip-top opening allows you to slide your board in and out with ease, before slinging the bag over your shoulder with the padded deluxe shoulder strap. Perhaps the niftiest feature of the bag is the 600 Denier rip-stop poly material on the top and bottom of the bag (most likely where it got the reference to a rhino!).
Are you planning a trip to Morocco, where there is a variety of surf breaks? Or Bali where you can go from ripping barrels to cruisy heavens? Then you may want to pack more than one board. The Pro-Lite finless coffin surfboard travel bag can accommodate up to four boards reaching 6'6. 
Speaking of Morocco, check out Rapture Surf Camp's awesome spot in Tamraght.
The bag offers 10mm foam protection which makes it a perfect bag to use when traveling. There is an internal divider and internal seat bet straps. In addition, there are four exterior compression straps to keep the goods tight. Multiple storage pockets inside the bag provide a space to keep your fins and accessories safe. 
After sealing the bag with the velcro closure system, you can carry the bag with the adjustable shoulder strap, or molded rubber handles on the ends and side of the exterior.
Do you find shoulder straps awkward? Pro-Lite comes to the rescue yet again with their wheeled coffin surfboard travel bag that fits up to four shortboards. With 10mm foam protection and a 10" gusset to allow for extra internal volume, you can pack up to four boards reaching 6'6. 
While there is also an adjustable deluxe shoulder strap, the winning feature of the board bag is the wheels, allowing you to cruise around the airport without added strain.
Other perks include internal dividers, seatbelt straps, exterior compression straps, and multiple interior and exterior storage spaces.
While all of these surf bags are impressive, you may be looking for a simple sock cover, offering a light protective sleeve. The Ho Stevie! sock cover is a fan favorite, available in a selection of colors and sizes. 
The stretchable knit fabric makes it easy to slip the board in and out of the sock, and while preventing wax from ruining your vehicle. The reinforced nose adds an extra bit of protection, and the velcro storage pocket inside is fantastic for snacks, accessories, and wax. 
There's no need to remove your fins either! Simply slide your board into the sock and pull the drawstring closed. 
Surfing Destinations Around the World
We're a big fan of traveling the world, picking our destinations based on the best surf spots. In addition, we choose destinations that have a decent WiFi connection and a productive working environment. 
Interested in the best surfing destinations for nomads? Check out our guide here!
These surfboard travel bags are a wonderful accessory for every surf trip, whether you're shooting down the road to a local spot or trekking across the world!