We may be surf junkies, but that doesn't mean that we don't appreciate the fun that can be had on beach boards, also known as a boogie board. If you prefer a more casual approach to the water, then a beach board is a great bet – but it can also get exciting when the swell rises up.
If you're wondering where to start, and which beach boogie board is best for you, then you've come to the right place. Let's explore the basics of a boogie board and the options available. 
* Just to let you know that this article may contain affiliate links. If you click on them we might receive a small commission, at no extra cost to you.
What is a Beach Board?
A beach board is commonly referred to as a bodyboard, serving as a flat surface for riders to cruise along the face of a wave. For more novice surfers, beach boards are used to cruise on the foam of an already-broken wave. 
While there are different styles, sizes, and types of beach boards, they are usually made up of a short, rectangular piece of hydrodynamic foam. Serious bodyboarders will also invest in swim fins and a leash to help kick onto the wave and control the experience.
If you're more interested in stand-up surfing, then check out our blog posts on surfing here!
What is the Difference between a Boogie Board and a Bodyboard?
Don't be confused by the different names used for these groovy boards. A boogie board is essentially the same thing. The name boogie board was derived from the original product dubbed the Morey Boogie, invented by Tom Morey in the early 1970s. 
As time has passed, and surfing has become an increasingly popular sport, the term boogie board is often used in a derogatory way, shaming water lovers for choosing the lesser of two surfing options. 
What is the Difference between a Boogie Board and a Skimboard?
Skimboards are more similar in shape to a surfboard when compared to the shorter, wider shape of the beach board. With a pointed nose and a broader tail, skimboards are used to skim across the water. 
Made from polyurethane foam or treated wood, skimboards are ridden close to shore where the shallow waves meet the sand. Riders will hop on the board with their feet (as opposed to their bellies) and attempt surfing-style tricks such as cutbacks.
Looking for the best places to surf around the world? Check out our month-by-month guide here!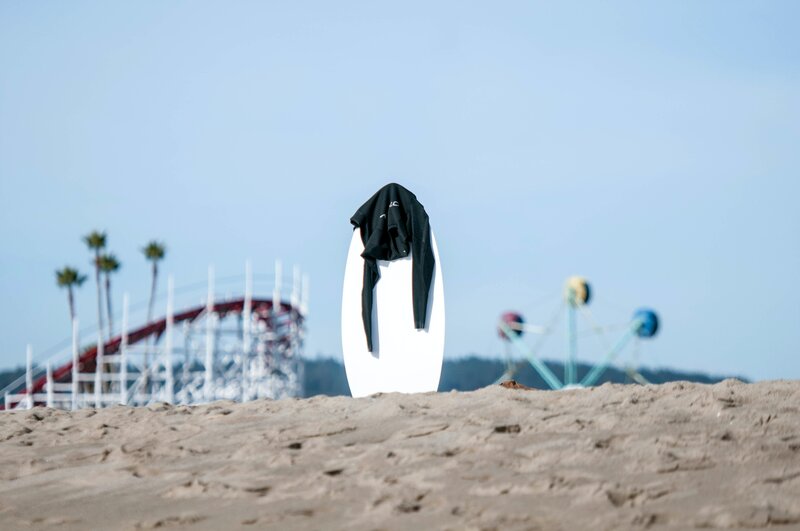 Tips for Choosing the Best Beach Board
Not all beach boards are created equal. Depending on how serious you are about the sport, then there are a few details to look out for when making a purchase. Choosing the best bodyboard for you will make your experience much more enjoyable. 
Keep the following considerations in mind when choosing the perfect board for you.
Get the right size board for your body size

Consider your weight (heavier riders will need a thicker board for extra buoyancy)

High-performance riders should consider the deck contour, rail configuration, and stringer system

If you're new to the sport, don't spend a lot of money on your first board

Consider whether you'll be surfing at the backline or playing in the foams
Planning on spending time in cold water? Check out our list of surfing essentials for cold water here!
Five Awesome Beach Boards
Wondering where to begin? We've put together five boogie boards for kids, adults, and fun water lovers.
The Bo-Toys boogie board is a fantastic option for kids looking to create fun summer memories. The lightweight board is made with EPS core and heat lamination technology which offers impact strength durability and lightweight maneuverability. 
The durable construction means that the board can be added to the trunk of the car without worrying about snapping in half. The stylish design is available in a selection of colors, depending on what tickles your fancy. While the board is great for kids, it can also support the weight of a fully-grown adult wanting to embrace their inner child.
If you're a beginner surfer, then check out our guide to beginner surfboards here!
Nothing's worse than being weighed down by your bodyboard when you're trying to cruise along the face of a wave. The premium Razzo bodyboard comes to the rescue with its durable, lightweight EPS core board. 
The smooth EVA foam top deck and HDPE impact netting plastic bottom deck are the perfect combinations for performance riders (both kids and adults). With the classic, dynamic shape of the square nose rocker and widened chest area, the board is great for easy wave-catching. The soft-angled rails and classic crescent tail also help pick up a bit of speed when needed. 
Are you one of those people who go balls to the wall with a new hobby? Then this Morey board is an epic win! It costs significantly more than your average board, but you can expect far-above average performance. The dual power rod stringers, knee contours, upper chime rail, and crescent tail are the perfect combination for surfing ocean waves. 
The board achieves a lightweight build without compromising on durability or quality and is branded by the father of all boogie boards. We especially love the lumo bottom to help fans on the shore identify you as you rip the lineup!
Who said bodyboards have to be boring? There are plenty of boards available at a low cost with a funky design. The Generic boogie board strikes the balance between affordability and function. It's made with high-quality materials and sold with a detachable wrist leash.
The ultra-lightweight bodyboard is great for summer road trips and even throwing into the pool. Suitable for a variety of fun water activities, this beach accessory will undoubtedly contribute to countless vacation memories. 
We thought we'd end this list of bodyboard recommendations with a playful floating board. The two-piece portable inflatable bodyboards are perfect for teaching kids to learn to swim in the sea. They offer buoyancy with the potential to cruise along the white water once the confidence builds. 
The handles are perfect for gripping the device. In addition, the inflatable nature of the board makes it easy to pack away after a jolly day in the sun! Now that's a multi-functional win!
See You in the Water!
Ultimately, spending time in the ocean is always a good idea! When you enjoy shredding on a surfboard in the bigger break or you enjoy the fun-loving nature of boogy-ing in the shallows, nature offers the best sporting opportunities!