Mexico is synonymous with tequila, sombreros, and a full lip of mustaches. Right up there on the list of awesome perks to be enjoyed by the Central American country are the fantastic swell and affordable cost of living.
In particular, the Puerto Escondido surf and work lifestyle come highly recommended.
Wondering where to spend your surfing days each month of the year? Read our monthly surf guide here.
As a digital nomad, you have the freedom to move around as you wish. Puerto Escondido is a top choice for surfing nomads, for several reasons. If you want to spend time in the gorgeous city, then here's what you need to work, surf, and live in Puerto Escondido.
* Just to let you know that this article contains affiliate links. If you click on them we might receive a small commission, at no extra cost to you.

Puerto Escondido Surf Guide
Puerto Escondido was one of our first surf trips together, and what a ride! There are several appealing attributes of the gorgeous location – including an affordable cost of living and decent wifi. As nomads, the great swell offered by Puerto Escondido surf is the cherry on the top.
Interested in reading about more digital nomad destinations for surfers? Read our blog with top suggestions here.
Puerto Escondido is best known for advanced surfers, especially Zicatela that boasts a raging shore break. While this spot is reserved only for experienced surfers, there are more relaxed spots that are great for beginners, such as Carrizalillo.
Interested in reading more about beaches in Oaxaca? Browse our blog here.
Carrizalillo offers a chilled left-hand break, perfect for novices and longboarders. La Punta is a hot spot for intermediate surfers, also running a clean left-hand break. As mentioned, Zicatela is the best for experienced surfers – and only experienced surfers. However, the street is filled with a selection of shops, restaurants, and cafes to watch the pros do their thing (or build up the courage yourself).
The surf season picks up in late April and continues to serve delicious waves until early September. The crowds tend to flock between June to August, so the fringe swell season is the best time to visit.
Living and Working Remotely in Puerto Escondido
Choosing to live near any of these spots will bring you great joy. Even so, we've narrowed down a few epic options that are perfect to live and work while being close to the surf.
If it is your first time visiting Mexico, check out these tips for first-timers.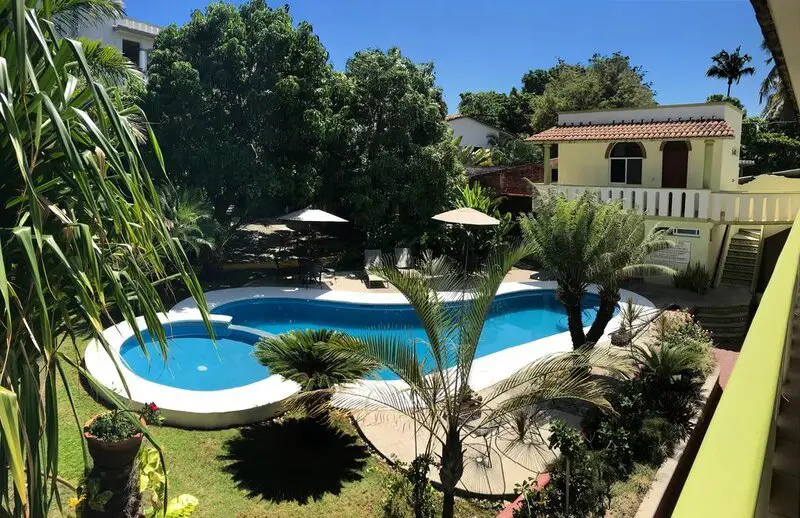 Casa Losodeli has the honor of being the best-rated coworking space in Puerto Escondido, as well as one of the top two hotels. The combination of these unique attributes makes it our top choice for places to stay in Puerto Escondido as a surfer and nomad.
The hotel is run by a Mexican family and strives to do everything in a sustainable and ecological way. However, this doesn't mean that the coworking offerings are compromised. In fact, their stable internet and kitted workspace will have you struggling to leave.
Wondering what makes a good coworking space? Read our blog on coworking offices and spaces here.
Casa Losodeli is located a few minutes away from Carrizaillo. If you want to push yourself (and are capable of doing so) then you visit Zicatela with a 10-minute drive.
What we love:
Coworking space offers incredible internet and is available 24/7
The chance to live with a community of nomads, freelancers, and, of course, surfers
A selection of rooms available including dorms, private rooms, studios, and apartments
Book your stay at Casa Losodeli & Coworking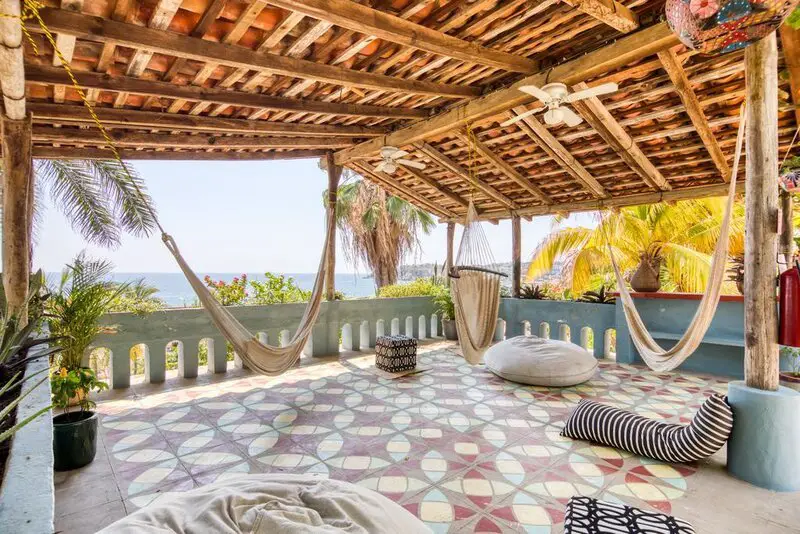 Selina coworking is on the doorstep of Zicatela beach and right in the middle of the action. It also offers a place to stay, and a selection of rooms to choose from, including private, semi-private, and shared spaces.
The Mexican pipeline is a hop, skip, and a jump away from the space and there's also a wellness area to relax and enjoy other forms of exercise. The coworking space is pet-friendly and the free wifi works like a bomb.
The inspirational working environment is packed with community, delicious food, great accommodation options, and surfing potential.
What we love:
An extensive social calendar including movies, live music, and other events
Plenty of space to relax outside of working hours, including a swimming pool and surf club
A stone's throw away from Puerto Escondido's surfing glory
Book your stay at Selina Puerto Escondido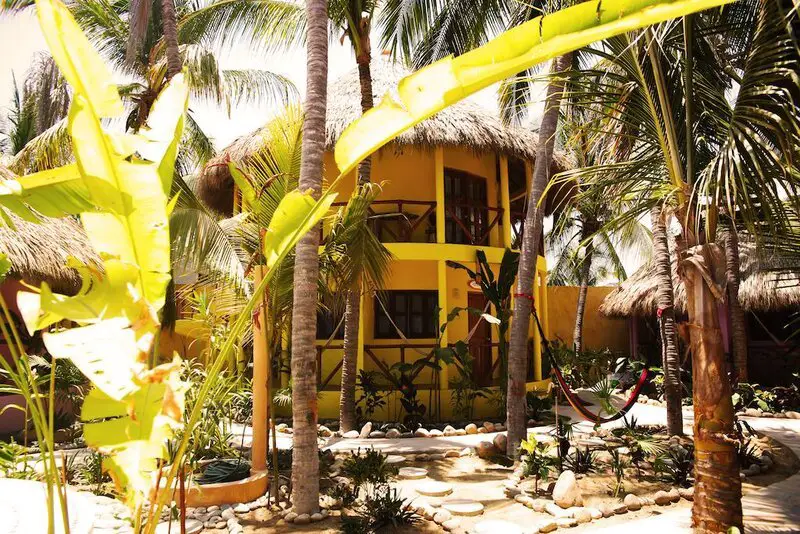 If you enjoy a rustic surfing flavor, then One Love Hostel is the place to go in Puerto Escondido. Looking for a laid-back lifestyle to enjoy the Puerto Escondido surf? One Love Hostel offers a selection of dormitories and bungalows with a space to work in the common areas.
The jungle environment comes complete with a thatch roof, steady wifi, and a chance to meet like-minded people. Everything is geared towards the nomad lifestyle, just waiting to be enjoyed.
Location-wise, the hostel is close to the beach, centrally-located yet quiet enough to get work done. The helpful and friendly staff seal the deal, making One Love Hostel a great spot to stay for surfing nomads.
What we love:
The space offers surfboard rental for surfers traveling without their surfboards
A selection of rooms and bungalows to choose from, with the private rooms offer terraces with hammocks
Yoga available as an added bonus to unwind after a surf or day on your laptop
Book your stay at One Love Hostel Puerto Escondido
While some people enjoy a more rustic, laid-back living environment, others enjoy a more chic experience. La Hacienda is lush and tropical, but also stylishly luxurious.
The spot offers everything that you need for a productive day at work, including a short walk to Carrizaillo for a decompressing surf.
Want to go a little bit further and surf La Punta or Zicatela? Read our blog on surfboard racks here.
La Hacienda offers everything needed for comfort and an authentic Mexican experience. Surfing nomads visiting Puerto Escondido will love the comfortable rooms, spacious work areas, and close proximity to the beach.
What we love:
A beautiful environment nestled amongst an oasis of trees
Rustic rooms that perfectly combine comfort and style
A short distance from Carrizaillo beach
Book your stay at Suites La Hacienda
Villas Carrizalillo is heaven on earth, with direct beach access and in-room dining service for those nights where deadlines keep you up until midnight. While common areas get a strong wifi signal, it also reaches the rooms.
Downtown Puerto Escondido is a small distance away, however, as the name suggests, Carrizalilo is right there. If the swell isn't working, or you don't have time for a surfing session, then you can escape the tropical heat by dipping in the pool.
If you're traveling as a nomad family, then Villas Carrizalilo has space for you too. After all, the nomad lifestyle is possible for everyone – even those with kiddies.
What we love:
Direct beach access and breathtaking views
Complimentary continental breakfast to fuel your working day (or surf)
Plenty of common space to hang out and create a community
Book your stay at Villas Carrizalillo
See You In Puerto Escondido
Puerto Rico, and the rest of Mexico, have a special place in our hearts. We love the authentic culture, the beautiful spaces to live (and work), and the surfing potential.
If you're planning your next digital nomad surfing trip, then we strongly suggest putting Puerto Escondido on the top of the list. And, if you're looking for something slightly different, then you can browse other blogs in our series.