Anyone who decides to pick up a surfboard for the first time is in for a real treat. Surfing has changed our lives in more ways than one, and we're forever grateful for the opportunity to have discovered – and being able to continue to enjoy – the sport. But while you may watch YouTube videos of shredders getting barreled, we all need to start on deciding on the best beginner surfboards at some point.
For anyone new to the sport, a surfboard for beginners is essential to build confidence and learn the ropes. While there is no single best surfboard for beginners, there are a few specs and types that are known to be better for those that are new to surfing.
If you're a more experienced surfer looking to get your loved one into the sport, then investing in a beginner surfboard is the first step. It's also a great idea for a gift for aspiring surfers.
If a surfboard is a bit out of your price range, then browse our other suggestions for presents for surfers here.
* Just to let you know that this article contains affiliate links. If you click on them we might receive a small commission, at no extra cost to you.

Different Phases of Being a Beginner Surfer
Take it from someone who still identifies as a kook a couple of years down the line, there are distinct phases of being a beginner surfer. Sometimes I look at other people in the water and view them as near-supernatural. I also look at people and fear for my life as they charge full steam toward me with no control of their board.
While there is no scientific segregation of skill levels, I can summarize beginner surfing levels into the following:
First timer and absolute beginner
Competent on the white water
Brave enough to venture to the backline and try for fat waves
Comfortable at the backline, can read the waves and surf consistently
Ready to become an intermediate
If you're a digital nomad who loves to surf, like us, then you'll be pleased to know that there are several places around the world where remote workers can enjoy the local swell.
If you want to work on your skills as a surfer while working remotely, browse our recommended digital nomad destinations for surfers here.

What Makes Good Beginner Surfboards?
Finding a surfboard that works well for you is the same as finding your favorite mug. In the same way that the coffee just tastes better with the perfect mug, so do the waves become more fun with the right beginner surfboard. Everyone will have small nuances that they prefer in a board, and much will be determined by your size and weight.
Overall, there are a few key details that will be shared across all beginner surfboards.
Height/length is an important factor for stability and ease of paddling onto a wave
A full shape is essential for stability as you figure out where your body fits on the board
Enough volume to float, paddle easily and catch waves with less effort (approximately 60 liters or more)
Durability as there will be a fair number of crashes at the very beginning
Another top tip for beginner surfers is to lather up on sunscreen. Read about our suggestions for reef-safe sunscreen that will keep you happy as a clam while out in the water.
Surfboards to Avoid
We've often come across beginners picking up boards that are too short, too thin, or narrow in shape. This doesn't help at all and only serves to demotivate progression. While it's important to push yourself out of your comfort zone to get better, it's equally important to be honest with yourself about what level you're at, and what board you require to practice at that level.
Although beggars can't be choosers, the following surfboards should be avoided for beginners.
Narrow surfboards
Very shortboards (under 6'6")
Boards with little volume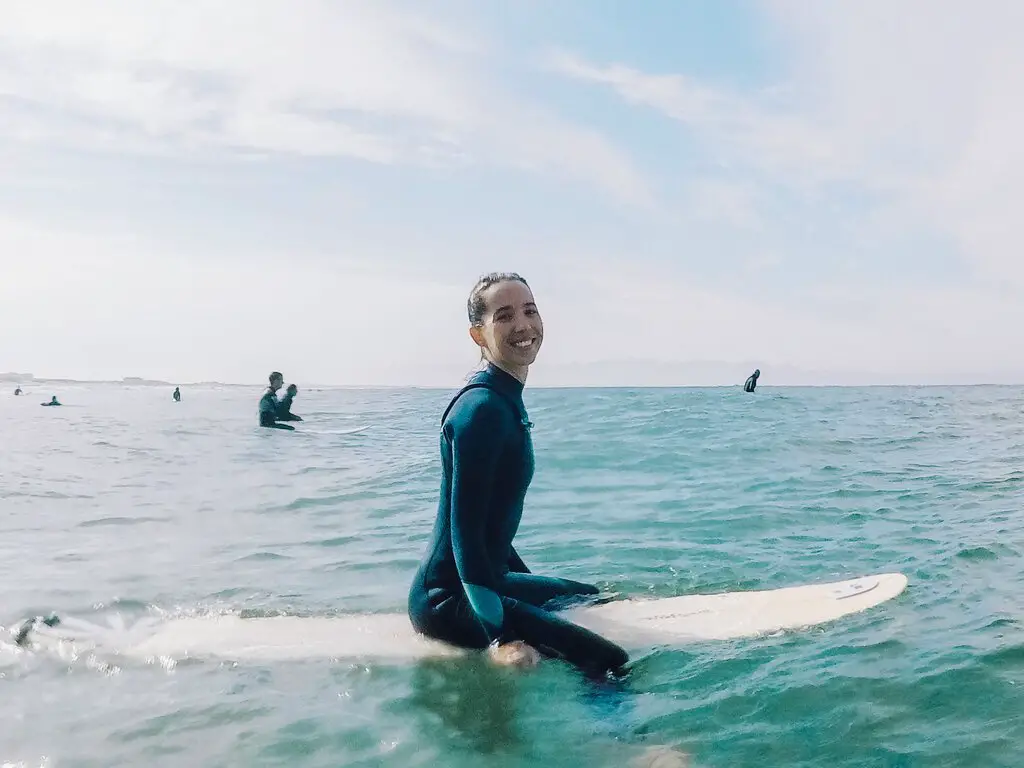 Best Surfboards for Beginners
With the above in mind, what is the best beginner surfboard? The good news is that there is a selection! Just as there are different phases of being a beginner, so are there different boards to journey with you.
Also known as a foamie, the soft top foam board typically ranges from 7ft to 9ft in length, which makes it a useful learning tool for surfers of all levels and ages. The soft top is normally the first board that future surfers will encounter, especially if learning through a school. With this in mind, it's one of the best beginner surfboards around.
These surfboards aren't meant to be used on a long-term basis. The idea is that you develop confidence in the water on one of these bad boys and then move on to greener pastures. They are quite versatile in function and can be used to practice on the sand, catch white water and even have a go at the backline.
Specifically designed with learners in mind, they are more durable than other boards. Their soft casing means that there's less risk of injuring yourself (and others) on your guaranteed bails while learning.
These boards are quite affordable and their round shape and decent volume make foamies the perfect board for people completely new to surfing.
Longboards are typically 8ft and above and have a rounded nose. You'll recognize these boards from pictures of Californian or Bali babes hanging 10, delicately balancing their hands in the air as they dance their toes to the nose.
While it may take you a while to get there, you'll definitely benefit from a longboard as a beginner. Longboards are typically made from different types of material. Each has its pros and cons. Fiberglass PU or Epoxy boards are faster and easier to maneuver than foam boards and can be used to surf bigger waves.
Overall, it's a good idea to get a board that is roughly 3" taller than you are and has enough width and volume.
These boards are normally quite playful and suited for fatter waves. Many people that experience a longboard choose to continue surfing them, and don't bother trying to progress to a shortboard. So, don't be surprised if you see very experienced surfers riding a longboard.
Get a board sock while you're at it for added protection!
A mini mal, short for mini Malibu, is usually between 7ft and 8ft in length, meaning that it's slightly smaller than a longboard. It also makes them easier to carry around, but also a bit more difficult to catch waves on.
The shape of the mini mal allows you to surf faster on waves and work a bit on your paddling fitness. If you're looking for a board that is a step above, and interested in testing the water and working your way to a shorter board, then this is a good bet.
Keep in mind that when you choose to invest in a more permanent board, such as a mini mal, then you'll need extra equipment. This includes fins, a leash, and surf wax.
Wondering what surf wax is best for your surfboard? Read our blog here.
Have you ever been out in the water and seen kids who can barely walk cruising, cutting back, and getting barrelled? At some point, these kids decided to learn the sport and a 9ft foamie isn't exactly manageable for their small size.
There are several kiddie's beginner boards that are voluminous and have a decent width. But the length is more appropriate for the child's height.
From here, most kids will progress confidently to a shortboard, a fish shape board, or even a longer longboard.
Surf Camps for Beginners
If you're staying in a surf-friendly city or town, then you'll probably have access to a selection of surf schools that offer lessons and more immersive camps.
Browe beginner surf camps here.
If you're looking to travel the world and combine that exploratory experience with learning to surf (or upping your game) then we'd highly recommend a surf camp. These camps will also have some of the best beginner surfboards available for hire.  Here are a few camps to get you started.
Test Out Your New Beginner Board
Surfing is the gift that keeps on giving. We're so excited that you have decided to put your water skills to the test. With the right board in tow, you're certain to have countless memorable waves and meet amazing friends. Take your pick from these beginner surfboards and start your adventure!
Once you've got your beginner surfboard, it's time to tackle the water. Depending on what time of year it is, the swell will be performing differently around the world.
Read our guide on the best places to surf throughout the year.