If you're digital nomads, like us, then you can adjust your location to stay in areas that offer amazing swell throughout the year. You have the opportunity to move around and follow the best conditions around the world.
If you're bound to a desk job, then your opportunities may be slightly limited but you'll find that it's always cooking somewhere – and here's the guide to help you find out where!
Looking to free up your working conditions? Read our blog on how to work remotely and transition from office to freedom here.
Guide on Where to Surf Throughout the Year
This guide on where to surf throughout the year is a summary of a more in-depth series of blogs that tackles each month in detail.
* Just to let you know that this article may contain affiliate links. If you click on them we might receive a small commission, at no extra cost to you.
Where to Surf in January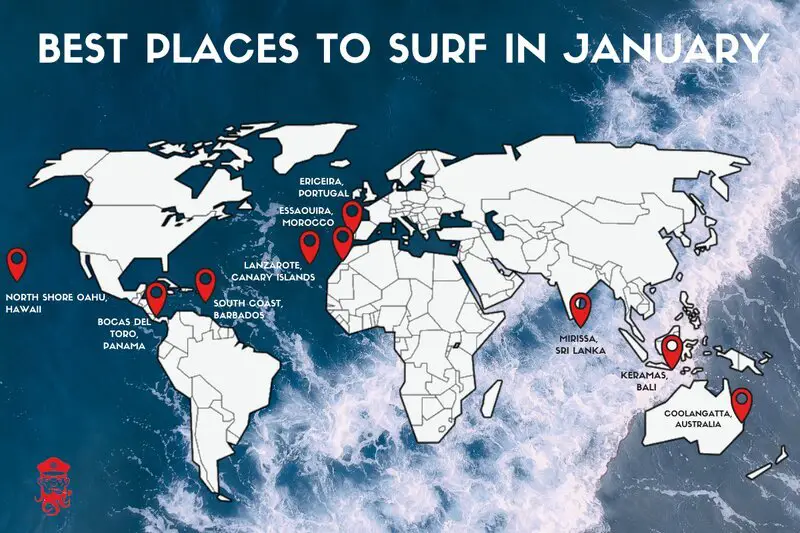 January is the peak of winter in the northern hemisphere, which means that there are plenty of fun destinations receiving the powerful and playful winter swell. This makes January a great month for surfing among experienced surfers. Some of the top spots include North Shore Oahu, Keramas and Ericeira.
For less intense surfers who enjoy paddling out without fearing for their lives, then Bocas del Toro, Lanzarote in the Canary Islands and South Coast in Barbados are a great bet. Consider yourself a novice? The swell does ease up for some fun waves on a longboard in areas. Planning a trip to Essaouira in Morocco, Coolangatta in Australia and Mirissa will leave you with a big smile.
Where to Surf in February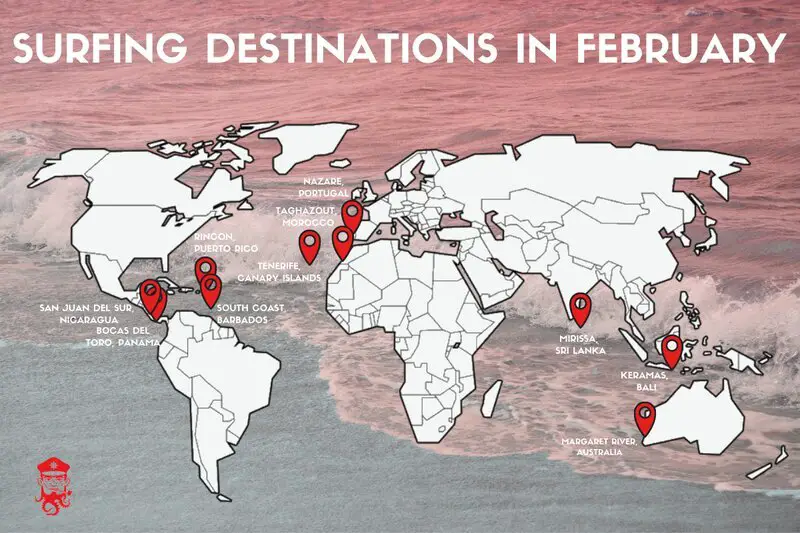 February continues to bring the powerful, winter swell to surf spots in the northern hemisphere.   With this in mind, most spots are better suited to competent surfers that can handle a larger wave. Even so, there are plenty of spots around the world that are prime for learning or enjoying a more chilled session.
Some of the best spots to surf in February include Bocos del Toro in Panama, Rincon in Puerto Rico, and Nazare in Portugal. These spots pump hard and can get quite sizey with the storm swell that comes through.
For more gentle waves, that still offer rippable moments, you can plan a trip to Taghazout in Morocco and Tenerife in the Canary Islands. Keramas in Bali is one of the few spots on the island that peak in the wet season (which is Feb). If you're a beginner or traveling with a buddy that is fairly new to the sport, then South Coast in Barbados, Margaret River Valley in Aus, San Juan del Sur in Nicaragua are top spots. As an added bonus, you can also visit Mirissa in Sri Lanka.
Where to Surf in March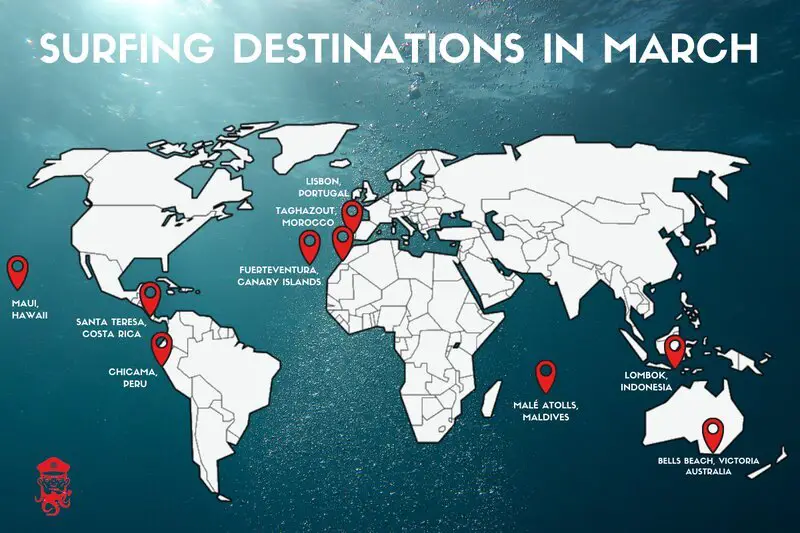 Sitting on the shoulder season, March continues to receive the powerful winter swell that follows through from the previous months but doesn't have the crowds that are synonymous with peak season. Major win! Overall, intermediate surfers are sure to have a field day during March, with plenty of spots to choose from. With this in mind, there are spots for surfers of all levels.
Places such as Cascais in Lisbon and Santa Teresa in Costa Rica are surfing havens for intermediate surfers. If you consider yourself to be intermediate to advanced, then you can plan a trip to Bells Beach in Australia, Chicama in Peru, and Malé Atolls in the Maldives.
There are also some incredible spots that suit surfers of all levels. Such as Fuerteventura in the Canary Islands, Taghazout in Morocco, Lombok in Indonesia, and Maui in Hawaii. The world is your oyster!
Where to Surf in April
Planning a surf trip in April is a great idea for budget-conscious travelers as it falls in the shoulder season of tourism, meaning you can expect deals on flights and accommodation. There's something for everyone, whether you're a novice or a pro.
The surf season in Cape Town, South Africa starts to pick up for surfers of all levels. Similarly, Rio de Janeiro in Brazil, Lombok in Indonesia, and the coastline line running south of Lima in Peru are great for surfers of varied skills. Absolute beginners will have a great time learning to surf in Tamarindo, Costa Rica.
For intermediate to advanced surfers, there's a lot of fun to be had in Oahu and Hawaii's northern shores, Ericeira in Portugal, and Namotu in Fiji. If you have a little bit extra to spend, then confident surfers can also expect good times in Malé Atolls in the Maldives.
Where to Surf in May
May is an incredible month to book a surfing trip if you're an intermediate surfer. It sits on the shoulder season for both tourism and prime surfing season, meaning that you miss the crowds but still receive the incoming swell.
These spots that are especially epic for intermediate surfers include Byron Bay in Australia and Santa Teresa in Costa Rica. If you're more on the advanced end of the spectrum, then you'll also find a lot of fun in Oaxaca in Mexico and Hossegor in France.
But that doesn't mean that there aren't spots that are especially great for beginners – such as Ericeira in Portugal. For more choice and variety, then Chicama in Peru, Bali in Indonesia, Cape Town in South Africa, and San Juan del Sur in Nicaragua.
Where to Surf in June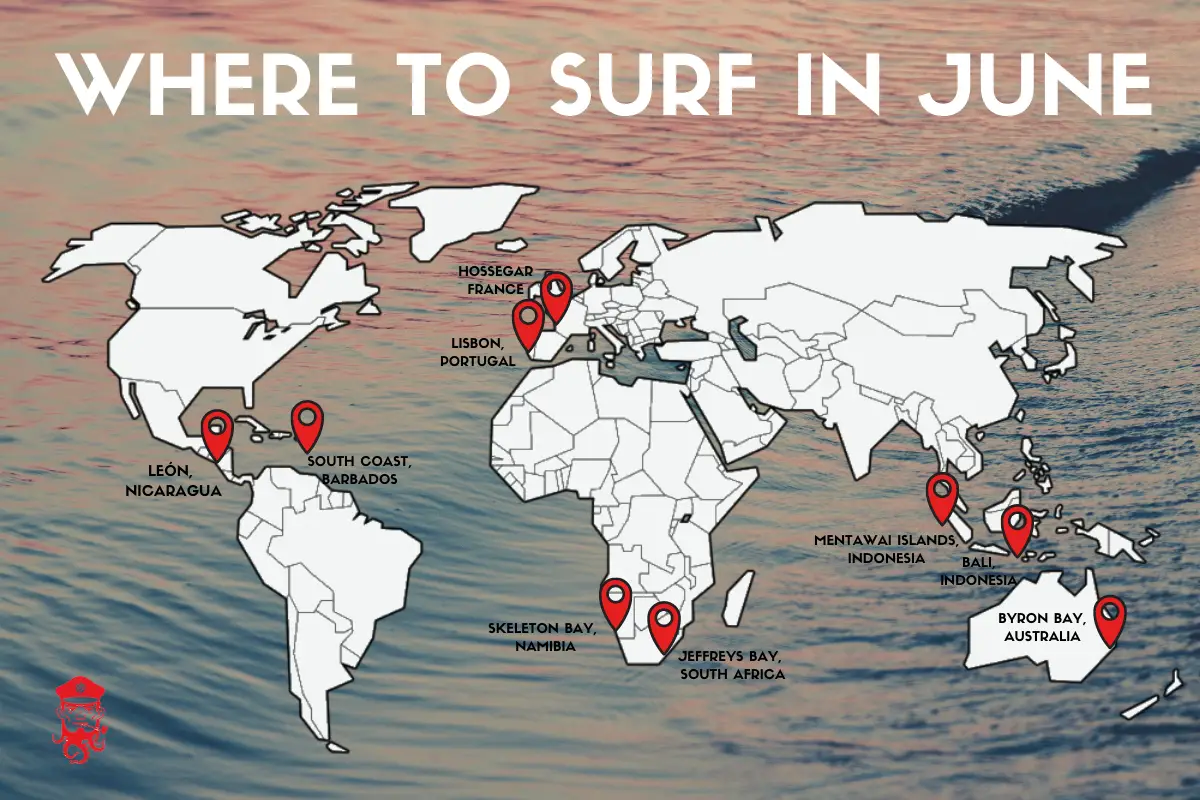 June is supposedly the heart of winter in the southern hemisphere and the peak of summer in the north. This brings a strong storm swell to some coastlines and a more gentle break in others.
In Africa, the waves are powerful and perfect for intermediate to advanced surfers. In Southern Africa, Skeleton Bay and Jeffreys Bay lead the pack for pros. Other great spots for more experienced surfers include the Mentawai Islands and Bali in Indonesia.
Beginner surfers will find fun, gentle waves to learn to surf in Carcavelos, Portugal, and Hossegor, France. There is also plenty of swell that is perfect for intermediate surfers, as in the tropical waters of Barbados.
Where to Surf in July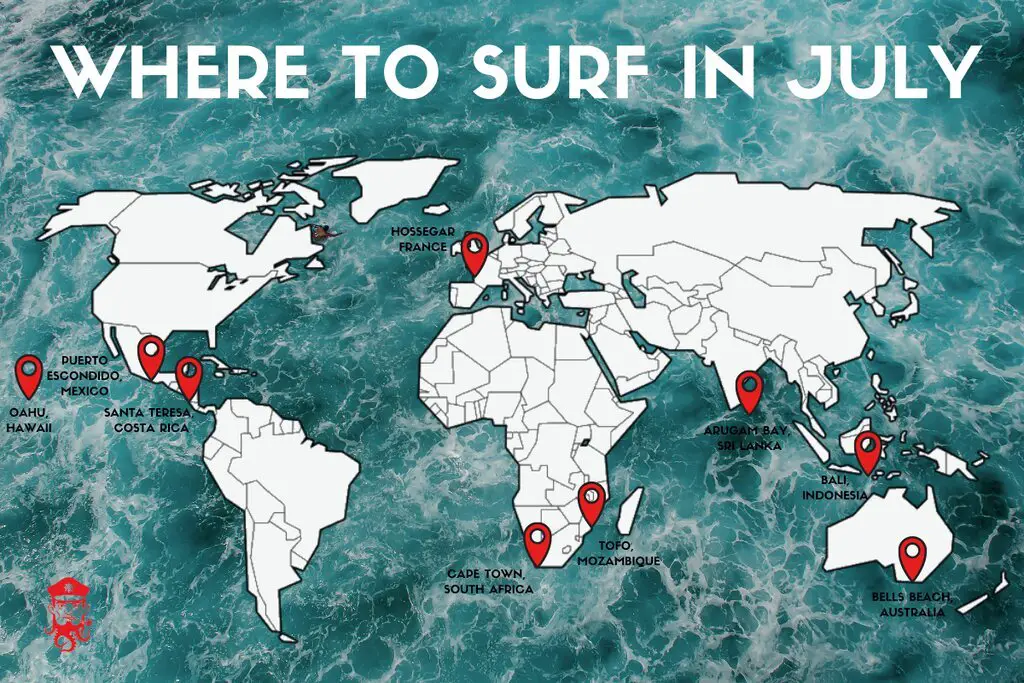 The strong swell that starts to pick up in June continues into the month of July, promising hours of fun in the surf. South Africa's Cape Town continues to offer consistent swell at a variety of different surf spots. A little bit further up the coast, in Mozambique, Tofo produces a pretty gnarly point break, while Mexico's Puerto Escondido is reserved for those who know what they're doing.
Other epic spots for intermediate surfers include Oahu, Santa Teresa in Costa Rica, and Arugam Bay. Each of these destinations also boasts a vibrant culture to immerse yourself in when you're not in the water.
Europe's surfing destinations are on the smaller end of the spectrum, but still consistent and fun. This makes spots in areas like Hossegor unforgettable.
Where to Surf in August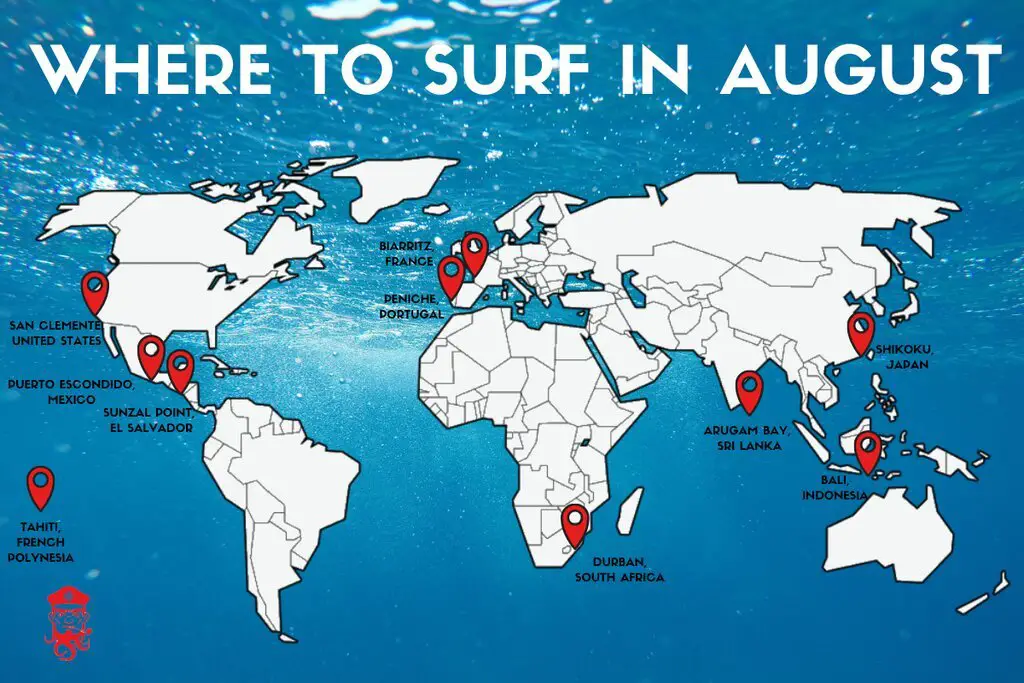 Looking for the perfect spot to surf in August? Well, you have several unbeatable options…
As August is the shoulder season of tourism in many destinations, there should be fewer crowds in the water. It's also the storm swell season for several areas, promising heavy breaks. Puerto Escondido pumps in August and boasts flawless left- and right-hand beach breaks (but don't paddle out unless you know what you're doing).
Tahiti is also a hotspot for pros, with the famous reef break of Teahupoo spitting out consistent barrels over a shallow reef. If you prefer surfing without a death wish, then you can also book a surf trip to San Clemente in the United States or Durban in South Africa.
Beginners looking for a few lessons and some easy waves will have the time of their lives in areas like Biarritz in France, or El Sunzal in El Salvador.
Where to Surf in September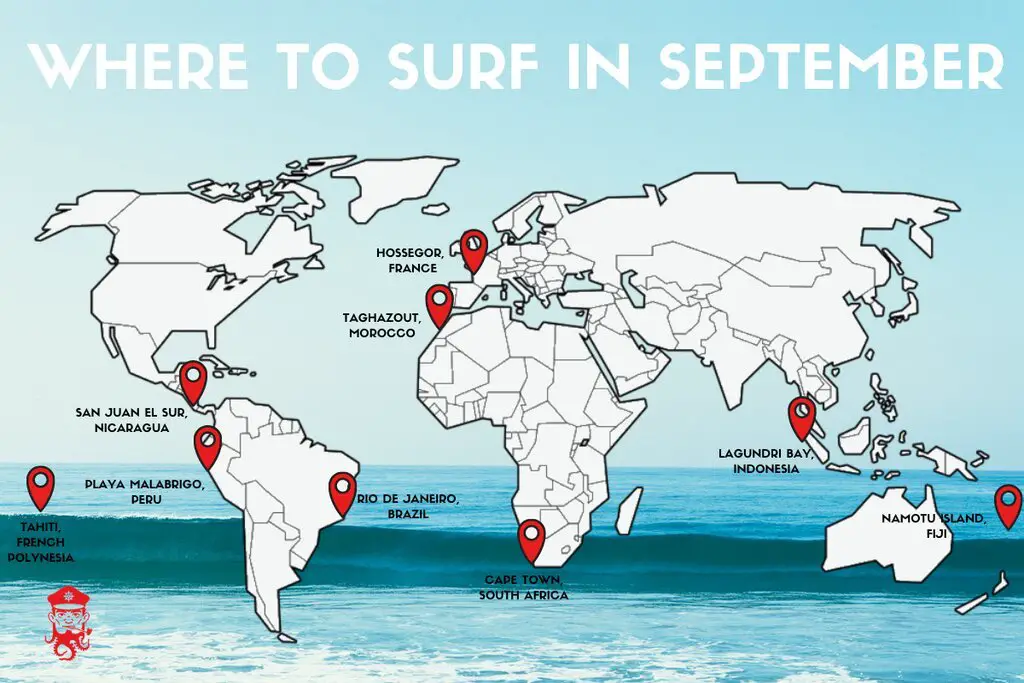 In many ways, September is the start of the turn of seasons. For us in South Africa, it's the beginning of spring and offers the first whispers of summer. It falls outside of the main vacation season and so crowds are significantly thinner – both in the water and in the streets.
During September, certain spots around the world are highlighted for experienced surfers, such as Lagundri Bay in Indonesia and Tahiti in French Polynesia.
If you're traveling with a group of surfers at different levels, then September is a good time to hit places like Cape Town and Hossegor that are experiencing a transition in swell power. This means that there are a variety of breaks to choose from, perfect for different skill levels.
Where to Surf in October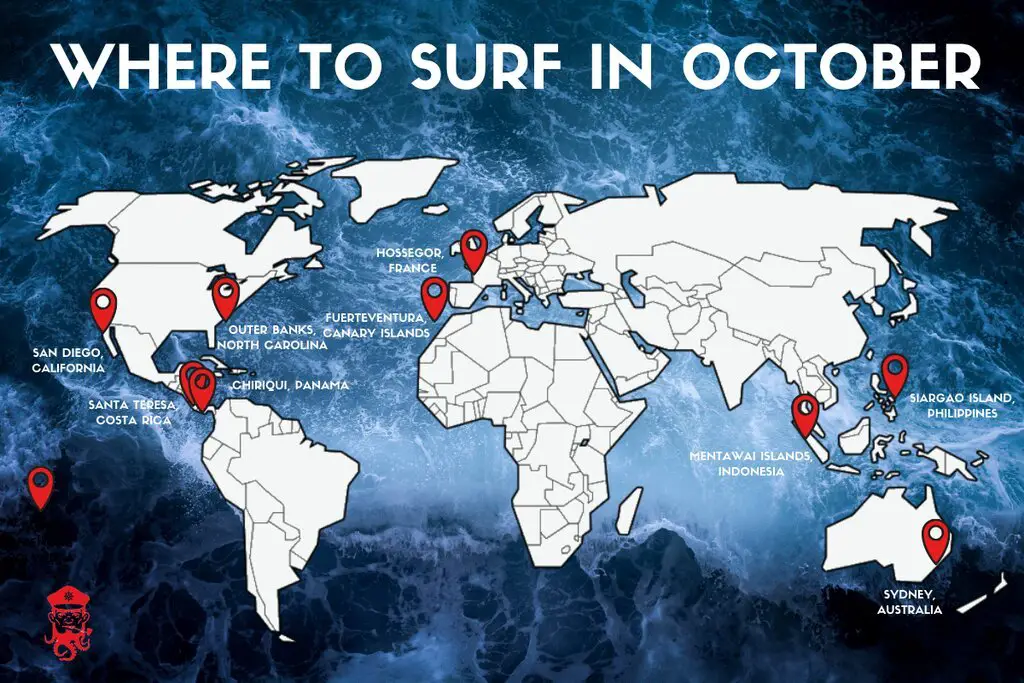 Booking a surf trip in October is a great way to break up the year and get a teaser for the festive season. If you're planning a digital nomad stint in a country for the month and looking for a spot that has a decent surf break, then you're spoiled for choice.
The Mentawai Islands experiences the end of its dry season in October, making it a great time to book a surf trip if you want to squeeze it in. The powerful swell from the Indian Ocean leaves no-wave unformed! Other epic spots for intermediate to experienced surfers are North Carolina's Outer Banks, Panama's Chiriqui, and Canary Islands' Fuerteventura. 
There's also a large choice of spots perfect for beginner to advanced. Take your pick from Sydney in Australia, Siargao in the Philippines, and Santa Teresa in Costa Rica.
Where to Surf in November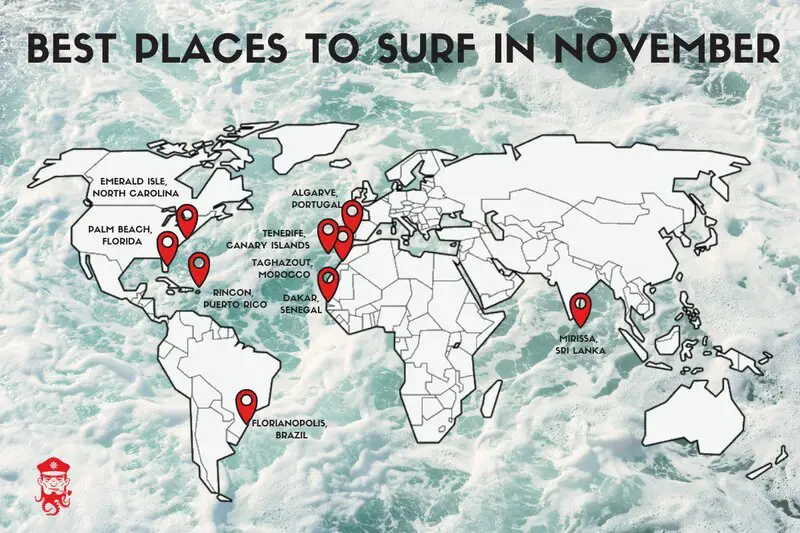 The surfing season has shifted by November and the powerful swell is served up in the northern hemisphere, with the friendlier waves making their way to the south. If you look at the map overview, you'll see that the North Atlantic Ocean is a definite hotspot.
Tenerife in the Canary Islands is a top choice for pros. Dakar in Senegal, Taghazout in Morocco, and Rincon in Puerto Rico are popular destinations for intermediate to advanced surfers, offering a range of reef breaks and right-hand point breaks to get lost in.
Although the swell is stronger and more consistent in the north, there are still spots that are perfect for beginners. Two of these spots are the Algarve in Portugal and Palm Beach in Florida.
Where to Surf in December

Ah, December, the festive season that offers joy, merriment and, of course, impeccable swell in certain parts of the world.  The Northern Hemisphere performs particularly well as the winter swell hits the shores of respective places. But you're certain to find a spot of fun in any area if you look close enough.
Taghazout in Morocco is arguably the best surfing destination in December, especially for intermediate to advanced surfers. Siargao Island is also a hot spot for those that are more confident in the water, catching the tail of the Philippines peak surf season.
If you have a little bit of cash to spend, and you want to treat yourself a Christmas gift, then Pohnpei in the Federated States of Micronesia also fires during December. For more varied skills set, then it's worth looking into Barbados, Mirissa in Sri Lanka, Fuerteventura in the Canary Islands, and Brisbane in Aus.
Surf's Up!
When you realize that there's always swell somewhere in the world, the boredom of waiting for the season to hit your shores is removed. Make sure that you check the water temp of the destination that you're visiting so that you can bring along the correct gear.
When visiting new surf spots, it's always important to respect the locals and uphold proper surfing etiquette – no drop-ins! Make sure that you familiarize yourself with the rips, currents, and tides of the new spot so that you can surf blissfully.
See you in the water!