Are you wondering about the best beaches in Oahu? Of all the beach destinations in the world, Hawaii is arguably one of the most iconic. Of the 137 "islands" that make up the Hawaii chain, Oahu is one of the favorites (and for good reason). 
While you don't need to be a surfer to enjoy the beaches in Hawaii, you may be inspired to learn the sport. The 360 degrees swell exposure makes Hawaii one of the most consistent surf spots throughout the year, offering a variety of breaks for surfers of different levels.
Browse our suggestions on the best places to surf around the world throughout the year here.
If you're planning a beach location, then Oahu is a sure win, boasting a wide choice of sandy spots to choose from. Let's jump into some of them here…
* Just to let you know that this article may contain affiliate links. If you click on them we might receive a small commission, at no extra cost to you.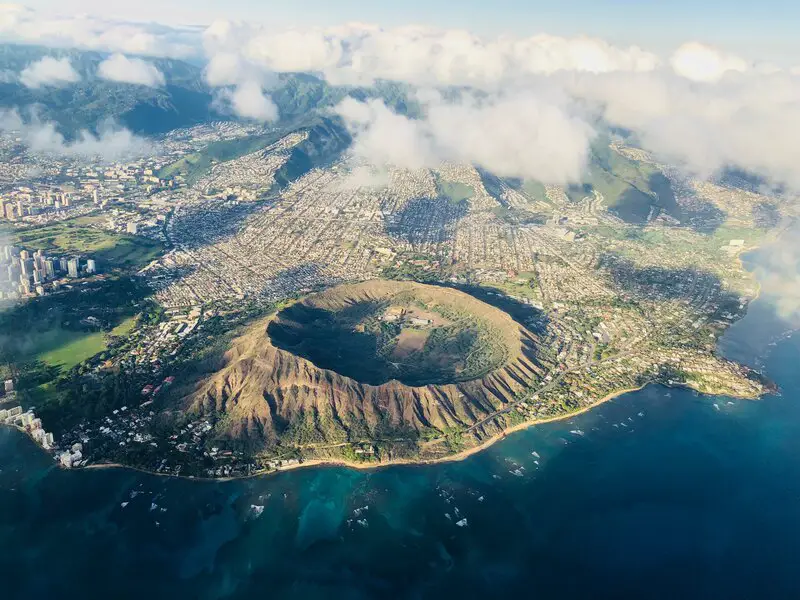 Best Time to Visit Oahu Beaches
The best time to visit Oahu depends on what you hope to achieve from your trip. Even the winter months offer warm and temperate weather which makes it a great destination to visit throughout the year. 
The shoulder seasons, between mid-April and early June or between September and mid-December are arguably the best time to plan a vacation. The crowds are less dense and tourist activities and accommodation are less pricey.
If you're going to Oahu especially for the surf, then you're in for a treat. The surf on the south shore is best during the summer months, which falls between June and September. However, if you're experienced and can handle large swells, then the north shore is particularly attractive between November and February when the big waves roll through. 
Want to get inspired about surfing? Check out our list of surfing movies here.
Best Beaches in Oahu to Visit
Considering that there are at least 125 beaches in Oahu, picking a spot to spend the day can be overwhelming. The north shore is known for heavier swell and powerful water, while the south shore is traditionally more gentle.
Interested in a 7-day north shore surf camp in Oahu? Find out more here!
As a guideline, consider the following beaches as a starting point. 
Waikiki Beach
Waikiki Beach, Honolulu, Hawaii is one of the most popular beaches on the island. With its white-sand beaches and close proximity to hotels, Waikiki Beach is convenient (without compromising on natural beauty).
There are several surf spots along the beach, breaking both left and right. However, the swell attracts a large crowd and the water can get fairly cramped. Even so, there's a break for surfers of all levels, and the local vibe is fairly mellow. 
The beach is easy to access from the road and there's a wide selection of rented surfboards and surf schools available for novices and advanced surfers alike.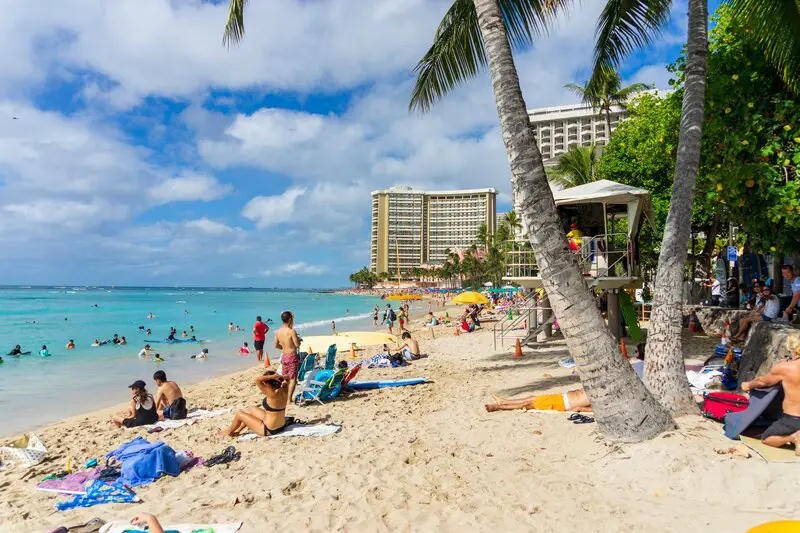 Kalama Beach Park
Kalama Beach is revered as one of the best beaches in the United States. Located nearby Kailua Beach Park, the beautiful, white sand and classic tropical atmosphere is a fan favorite for locals and visitors alike.
The spot is great to kick back, relax and soak up some rays, while it's also great for beginner surfers, bodyboarders and kiteboarders too. The crowds are slightly less which makes for a great environment for people who prefer a more relaxing mood. For this reason, the beach is especially popular among beginner surfers who prefer a gentle wave. 
With that in mind, "Kalama Bowls" comes alive when the swell is right, offering endless fun for more experienced surfers. 
Parking is available off Kalaheo avenue and a charming trail leads you to the beach (past the bathrooms and showers). The broad beach offers gorgeous mountain views, with a shaded grassy area too. 
Bellows Beach
Located just outside the town of Waimanalo, Bellow Beach includes a long and broad stretch of sand that leads into the gorgeous, turquoise water. The area is more reclusive which offers a great break from the hustle and bustle of popular beach spots, and has sublime swimming conditions. 
Many people book a spot at the camping grounds, allowing visitors to enjoy the spot without rushing off anywhere. While Bellows Beach isn't renowned for surfing, there is a shallow sandbar off the beach that offers fun waves for body surfing and bodyboarding.
Keep in mind that Bellows Beach is very close to the Bellows Air Base which can be intimidating, especially when the restricted areas of the beach are closed for military training. Normally, the beach is only open to the public on the weekends.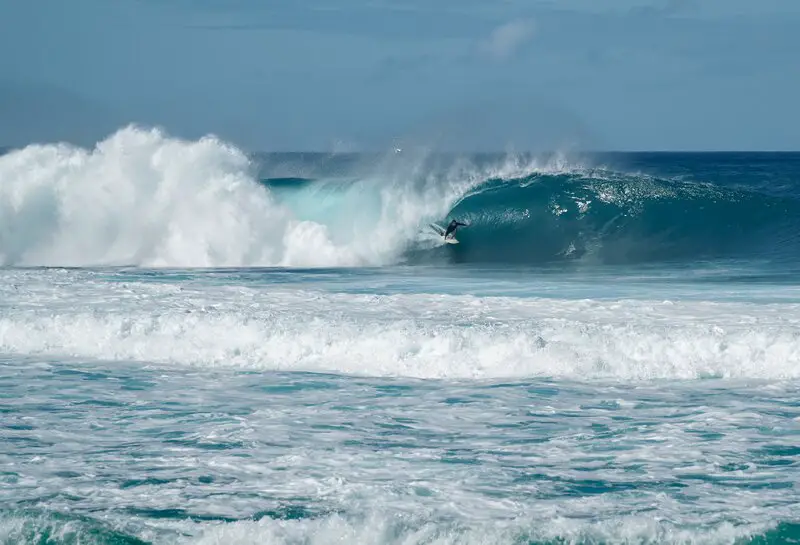 Lanikai Beach
While many of the beaches in Hawaii are large beach parks with parking lots, restrooms, and public facilities, Lanikai beach is located alongside private residences. The sandy shore can be accessed through a selection of nature trails, making it a great escape from the usual hustle and bustle. 
The beach offers calm surfing conditions but is mostly known for relaxing, snorkeling, and swimming. Revered as one of the most beautiful beaches in the whole world, Lanikai is a must-see when visiting Oahu. 
Top tip: Make sure that you pay attention to the signs that outline where you're permitted to park! 
Makapu'u Beach
Makapu'u has all of the amenities that you need for a comfortable day out at the beach, including parking, toilets, and showers. The gorgeous beach is picture-perfect and a great place to spend the day when the sun is out.
Makapu'u is hands down one of the best beaches in Hawaii for bodysurfing. In fact, the spot is so popular for bodyboarding that certain standup surfing has been forbidden. 
Keep in mind that the beach is greatly impacted by strong winds and currents, and visitors need to keep their wits about them. It's also a good idea to pack water shoes to protect your feet from the rocky bottom.
If you're looking for more tropical beaches, then check out our list of best beaches in Costa Rica here.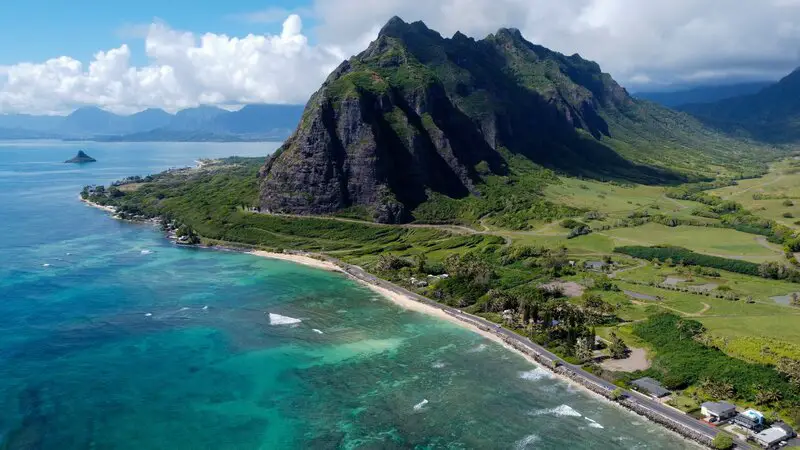 Where to Stay in Oahu
If you're planning to spend a few days in the area, then it's best to book a spot to stay that is close to the beach. Consider the following accommodation options to whet your appetite. 
Looking for awesome beaches in the Northern Hemisphere? Check out our list of beaches in the UK here.
There's no shortage of beautiful beaches to explore in Hawaii, and these are just a few to get you started on your hunt for the perfect spot. Keep in mind that Hawaii can be quite pricey, but the beauty of nature makes it worth every cent!