The trend of becoming a digital nomad is fast-growing around the world. People with software and digital skills are taking to their laptops and choosing to work from wherever they choose. All that you need is an internet connection and something that resembles a desk (a lap will do).
We followed our own steps to becoming a digital nomad and now find ourselves traveling around the world. Through our adventures, we've come across some incredible places to work – and some not so incredible.
There are a few things that we need to consider in order to make it work. Such as the weak value of our local currency, the time zone difference, and infrastructure that contribute to making the environment productive for work. One of the best places that we've come across is Bali.

Where To Be A Bali Digital Nomad
If you're looking for a digital nomad hotspot, Bali is it! It has a reputation for being trendy, tropical and perfect for the digital nomad. It constantly swapping places as the number one digital nomad spot with the likes of Budapest, Lisbon, and Taipei.
With that being said, we did spend some time in certain places in Bali, such as Uluwatu, where the digital nomad experience was less than favorable. So, if you want to work and travel in Bali, there are certain spots to choose from, the top two being Canggu and Ubud.
Canggu
Canggu has an incredibly high 'nomad score' and frequently ranks in the top three digital nomad destinations in the world.
Although a tropical climate, the heat is not unbearable, the cost of living is affordable, there is super speedy internet and lots of fun activities to enjoy.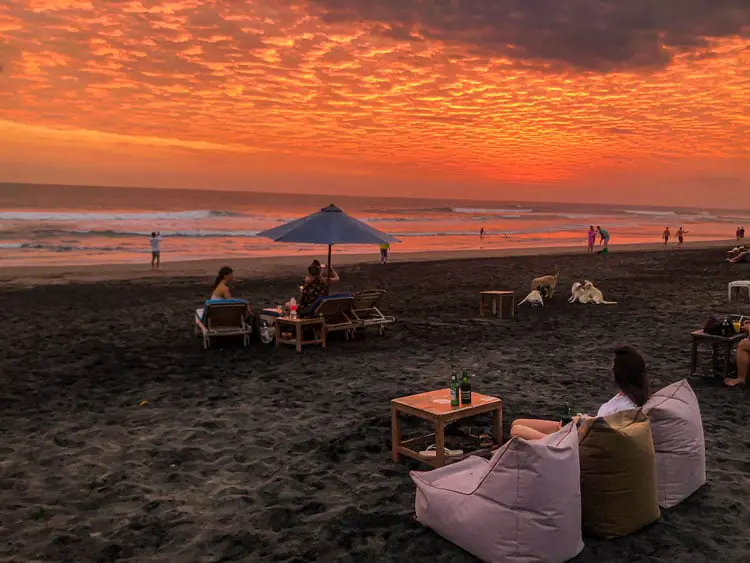 We loved Canggu so much that we actually chose to return to the area after exploring Uluwatu and the Gili islands. Perhaps even better than the fast internet, great nightlife and outstanding sunsets – there's also great surf!
Canggu is home to some very epic surf spots that can accommodate both of our levels, meaning that there is loads of fun to go around. If you love surfing as much as we do, make sure you follow us on social media so that you can be the first to read our surf reviews of various destinations.
Here are some accommodation options in the Canggu area:
* Just to let you know that this article contains affiliate links. If you click on them we might receive a small commission, at no extra cost to you.
Ubud
Another top destination for digital nomads living in Bali is Ubud. Like Canggu, Ubud is affordable, safe, offers fast internet and great weather.
Located inland, Ubud also has some great areas to explore such as the rice paddies, jungles, and temples.  While there is no beach to kick back on after hours, there is plenty of yoga to enjoy and the coast is never too far away.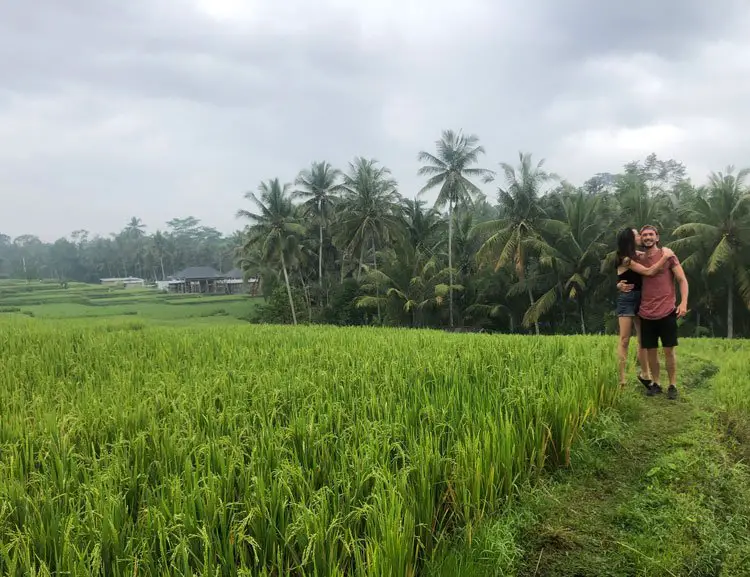 The Ubud area of Bali is known to be one of the first digital nomad locations in the world. As a result, you can be sure to find all that you need to quickly settle into Bali living and working.
Here are some accomodation options in the Ubud area:
Pros of Being a Digital Nomad in Bali
If you want to work and live in Bali, there are a few things to consider. Here are our top considerations for working remotely, and the reasons why Bali is our number one option.
Telecommunications
Bali has an impressive connectivity and internet speed for an island. Data is as cheap as chips and we have had no problem jumping onto Skype calls and working online. We've even managed to hotspot our computers and work effectively when in commute.
After buying a cheap sim card, the Telkomsel app can be downloaded and used to top up your data whenever you need it (for a laughable low cost).
Needless to say, connectivity does not need to be a concern when working in Bali. However, it's important to pick your destination wisely and stick to the popular digital nomad spots if you want reliable connectivity.
Workspaces
In addition to great telecommunication infrastructure, there is a HUGE number of restaurants, cafes and coworking spaces that offer a place to enjoy a healthy, affordable meal and jump online.
We made it our mission to explore a variety of these spots. So far, we've been incredibly impressed with Crate Cafe (which is a Canggu bucket list item on its own). The wholesome spot became a form of a sanctuary where we could tuck into a tasty smoothie bowl while keeping up with work demands.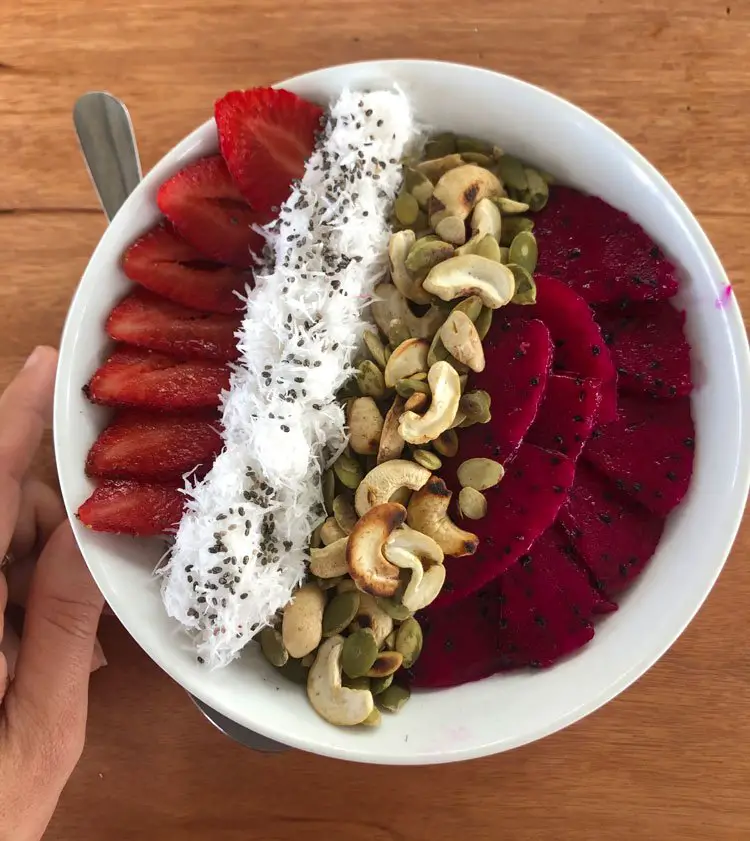 More recently, in our final two weeks in Canggu, we spent our days working and living at Camp 308. There are so many great co-living spaces where you can meet like-minded individuals on the same travel and work trajectory.
Cost of Living
We are a young travel couple from South Africa, meaning that not only does our age not grant us much buying power, but our local currency fares rather dismally in comparison to the rest of the world.
On a side note, this works in favor of international travelers. South Africa is an incredible place to visit and we are very proud to call the country our home!
With this in mind, we have to be quite calculated about the destinations that we choose to work and live in. Bali is right up our alley! The cost of living in Indonesia is great. We are able to match our expenses back home and enjoy all the creature comforts that we would back in Cape Town.
For example, we spend approximately USD $20 on accommodation per night for both of us. This provides us with very comfortable, private rooms with access to a kitchen and en-suite bathroom in a central location.
If you are looking for an affordable, cost-effective destination to work and travel, then Bali should definitely be a consideration.
Quality of Life
There's something to say about being able to wear a bikini on a daily basis and forget when last you wore proper underwear. Staying in Canggu, a stone's throw away from the beach, allows us to enjoy a morning surf before returning back home for the day, enjoying spontaneous dunks in the pool to cool down.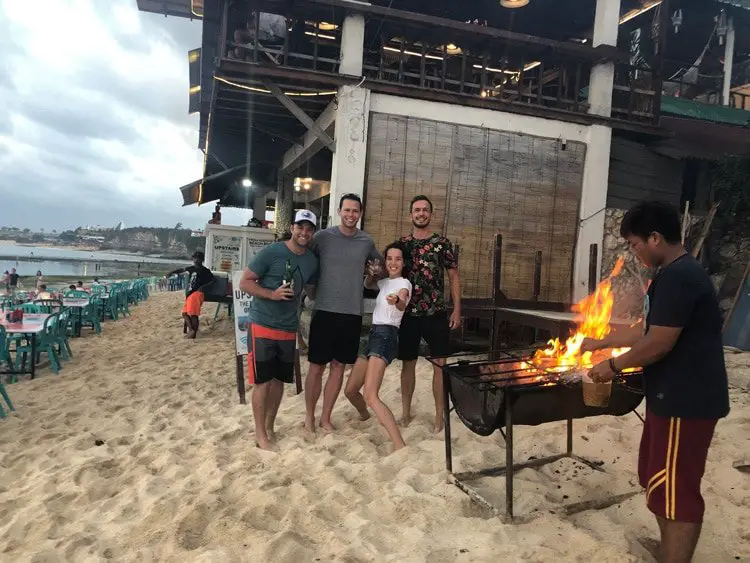 The locals in Bali are friendly and their enthusiasm for life is contagious. The atmosphere is jovial and there is always something going on. There are plenty of yoga studios, surf schools and parties to enjoy in your free time.
The natural environment is breathtakingly beautiful and regardless of where you choose to stay in Bali, you're in for a treat.
Language
We've packed our bags for a digital nomad adventure many times, arriving in the unknown with nothing but our passports and well-practiced sign language. Up until our time in Bali, we genuinely thought that we were just bad at making friends.
Bali is the first place that we've visited where we have had no problem communicating. Although the local language is Bahasa, we've met very few people who can't communicate in English at all.
In addition to a large community of English-speaking expats, the locals can communicate fairly easily (despite English being far from their first language). Not having a language barrier means that we have been able to make friends so easily. This has made our time in Indonesia significantly more interesting, productive and social.
As a side note, we do always try to learn a little bit of the local language whenever we visit a country. We feel that this is a great way to better experience the culture and show respect to the destination that you are visiting.

Visas
The Bali visa is the trickiest part of working and living in Bali. In a nutshell, there are a few ways to go about it.
Receive a free 30-day visitor visa upon arrival. This is perfect if you only plan on staying for less than 30-days. Take note that this free visa is not extendable.
Receive a paid 30-day visa on arrival. This costs approximately USD $35 (in cash) but can be extended for another 30-days for an additional cost. Many short-term travelers choose this option and leave the country after their 60 days are up.
If you want to stay for longer then you need to apply for a 60-day tourist visa before arriving in Bali. These can be extended four times (for up to 30 days each time).
There is also the option of a social visa which has the same time allowances as an extended tourist visa but requires a local sponsor.
The visa extension process can seem quite elaborate and long-winded, but our experience was incredibly quick and efficient. Whatever you decide to do, make sure that you do your research first (thank goodness for Ollie).
Final Thoughts on Being a Digital Nomad in Bali
From Canggu to Ubud, Bali has won our digital nomad hearts. With a high quality of life, great internet, friendly communities, tasty food and incredible surf – what's not to love?
We'll definitely be returning to Bali in the future, hopefully bringing our friends and family with us. There are not many places where we've felt immediately settled and ready to work, but we can quite honestly say that Bali is one of the most productive, inspired and healthy destinations we've worked from.