Bali has a reputation as being a tropical paradise of dreams. The low cost of living, beautiful beaches and the friendly culture of the locals make Bali a top travel destination. Another huge pull attracting people to the idyllic island is the incredibly tasty cuisine. So, it's no wonder that a Balinese cooking class is one of the best things to do!
Our bucket list for Bali was quite extensive. As the days pass, we joyfully tick off unforgettable memories. From surfing the beaches of Canggu and Uluwatu to venturing off for a day trip to Nusa Penida, it's taken a lot of discipline to make sure we fit in the working day. As foodies, indulging in the local cuisine was at the top of our list of things to do, and we found exactly what we wanted with a Paon Bali cooking class.
The Best Balinese Cooking Class
Food and flavor are such an integral part of Bali's culture. Combined with the impressive way that the island has developed for tourism, this means that there is no shortage of cooking classes in Bali.
Depending on where you are located, your budget, your time and what you want to experience; there are loads of different options to choose from. The main areas that cater to the experience are Ubud, Seminyak, and Kuta. However, you can get to these areas fairly easily regardless of where you are located.
We chose the half-day Ubud cooking class as it appeared to be the most authentic and included additional activities – such as a market tour and a visit to the rice fields. The reviews were great and the images were captivating. It was 100% worth it! The experience completely surpassed our expectations and will forever be remembered as one of our favorite days in Bali.
If you're located somewhere else on the island, and you don't have the time or budget to the mission to the above cooking class, then don't stress. Although there are loads of other experiences to choose from, here are a few of the top ones:
* Just to let you know that this article contains affiliate links. If you click on them we might receive a small commission, at no extra cost to you.
Getting to Ubud from Canggu
We chose to learn about Balinese cooking in Ubud, but it wasn't the closest option. Our end goal was to experience the terraced rice fields, the inland jungle and a different side of Bali, and so we were willing to make a plan.

We were based in Canggu and managed to get to Ubud in time for the best cooking class Bali has to offer. We took a Grab taxi which cost us about USD $16 (one way). Our class started at 8 am and so we made sure we gave ourselves an hour to get there.
A more affordable option is to rent a scooter for the day and zip on through to Ubud. The time it takes to get there is roughly the same, but the cost is less. You could probably get there and back on a tank of gas (for USD $4). However, if you are a nervous driver or are unfamiliar with riding a scooter, it's best to play it safe. The roads in Bali are not beginner-friendly.
Cooking Class Ubud
We chose the half-day cooking class in Ubud which would include a market tour, a trip to the rice fields and a cooking class where we prepare our lunch. The half-day experience was the perfect amount of time to hold our attention and keep us entertained, without draining us – we even used the rest of the day to explore Ubud a bit more!
Part One: The Market
Firstly, there was a choice of a morning session or an afternoon session. We chose the morning one because the afternoon one doesn't have a market tour (just FYI). We met our guide and fellow aspiring chefs outside the Ubud Palace at 8 am.  Together, we walked across the road to the market where we were met by an array of colors, smells, and flavors.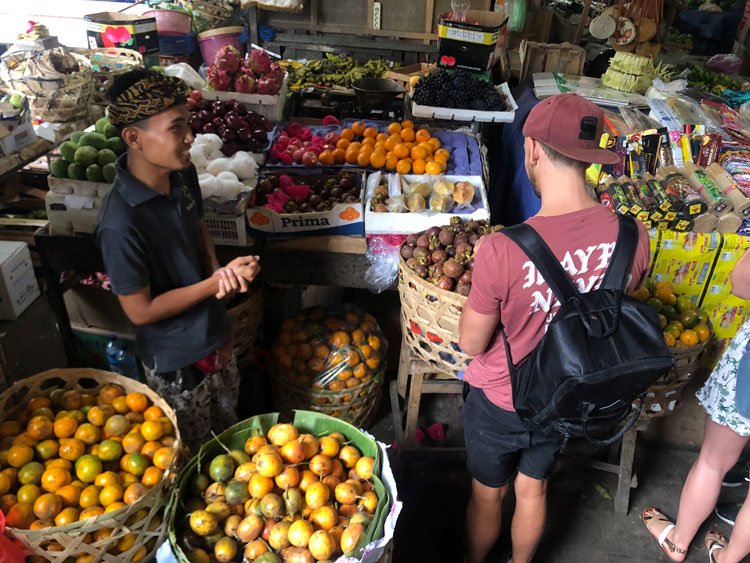 A lovely Balinese lady introduced us to the various spices and the variants of spices unique to Bali. We strolled through the fresh produce and received golden nuggets of information about what they are called, what the ingredients are used for and even got to taste some of the local fruit.
In addition, we got the opportunity to buy produce at a "special price". Needless to say, we walked away with a bag of strange fruit that strangely resembled a segmented litchi.
The market was a great way to experience a little bit of the local culture, and get unique insight into the day-to-day living of a Balinese local.
Part Two: Rice Fields
After the market, we stopped past one of the terraced rice fields. Here, we got the opportunity to take photographs, walk through the terraces and ask any questions about the rice fields.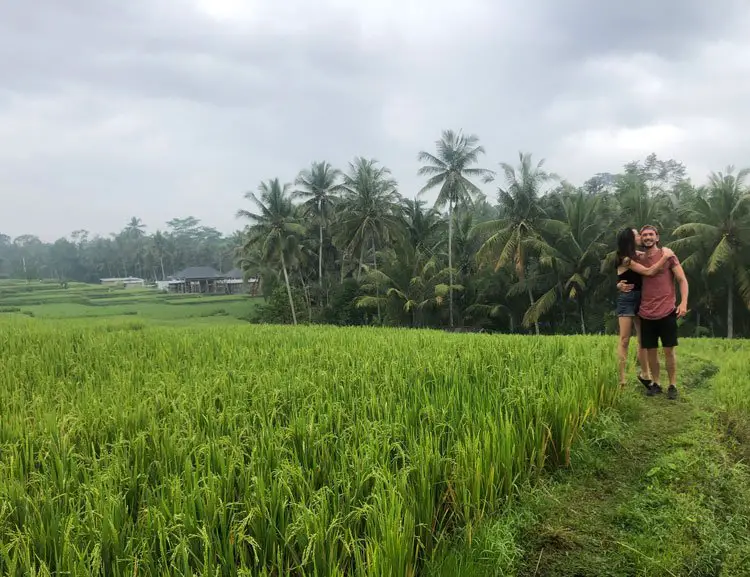 Our guide was amazing. His English was really good and he was able to answer all of our bizarre questions thoroughly, punctuating each sentence with a funny laugh.
Our stop at the rice fields was short, but we achieved everything that we wanted. We got to stroke the leaves in our hands, take photographs, ask questions and take in the beauty.
Part Three: Cooking Class
The build-up to this part of the day was perfect. Even more perfect was the refreshing welcome drink that we received on arrival! By this point, we had made rather good friends with our fellow travelers and the mood was jovial.
Stepping into the beautiful, open, kitchen that overlooked the jungle, we were met with an abundance of fresh food and ingredients – which we would soon be transformed into a delicious meal.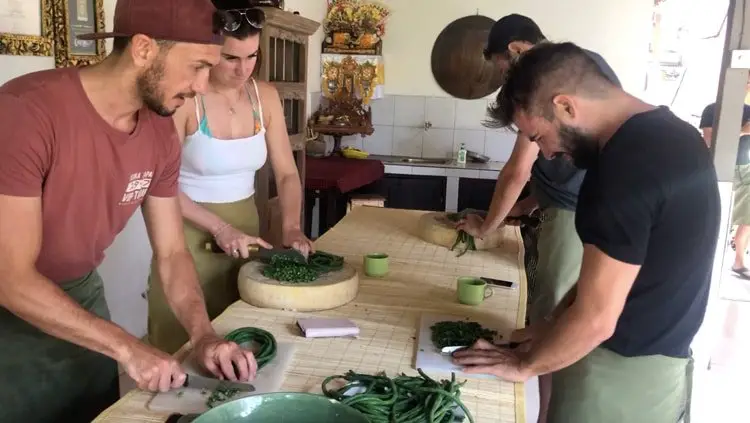 After a brief introduction, we washed our hands, donned our aprons and got into our small groups. The entire experience was incredibly hands-on and focused. While there were about 15 people in the large kitchen, we were never in a group larger than six, each with our own stove plates that we shared with our partners.
With Balinese tea and coffee on tap, we started preparing all the ingredients. I was absolutely amazed by how tightly-run the entire operation was – and it was effortless! We made our delicious clear mushroom and vegetable soup for starters and gobbled it down.
We were then back into the kitchen to cook the main meal from the ingredients that we had previously prepared. After that, we spent the course of the next hour cooking under the instruction on how to combine the flavors and ingredients to make the (almost) perfect meal!
The Final Meal
When we sat down to eat, we were amazed by what we had managed to create. Up until this point we had made almost everything from scratch. Even the peanut sauce had been blended, ground and heated from raw peanuts!
In the end, we had produced the following traditional Balinese food:
Clear mushroom and vegetable soup (kuah wong sup jamur)
Basic yellow sauce (base gede bumbu kuning)
Chicken in coconut curry (be siap mesanten kare ayam)
Minced chicken grilled on bamboo sticks (sate siap sate lilit ayam)
Vegetables in peanut sauce (kacang me santok gado gado)
Coconut and snake bean salad (jukut urab)
Deep fried tempe in sweet soy sauce (tempe me goreng tempe kering)
Boiled banana in palm sugar syrup (kolak biu kolak pisang)
After sitting down to a meal that makes my mouth watering just remembering it, we indulged in a desert that was demonstrated by one of the head chefs.

Final Thoughts on Bali Cooking Classes
The day was scattered with jokes and we arrived home with full bellies. Our Balinese cooking class will forever stay with us – and not just because we took home a recipe book! A huge thanks to Tickets n Tour for giving us access to this incredible experience.
For someone who somehow manages to burn toast, I'm still in disbelief at what we were able to produce. To sum up, the cooking class in Ubud was out of this world, and definitely worth a repeat!