Gili Trawangan, also known as Gili T, is the notorious party island a short 30-minute boat ride from the mainland of Lombok, Indonesia. The tropical haven is a playground for adventure-seekers and party-goers.
We decided to venture off to the versatile spot and celebrate our anniversary. After spending the past month as digital nomads in Bali, we took a bit of time off of work and set off to Gili Trawangan.
It was sensational! And that's not even an exaggeration. We had so much fun ticking off the many Gili T things to do and even managed to find some time to relax. With this in mind, here are some of the best things to do in Gili Trawangan.

The Gili Islands
Firstly, it's important to clarify that Gili Trawangan is one of three "Gili" islands. Each of the islands has built up a reputation of its own and offers a very different experience. To avoid disappointment and unmet expectations, here's a description of each of them.
Gili Meno
Gili Meno is known as a love island and offers the perfect romantic escape. It is the smallest of the three islands, which means that it is no surprise that it is also the quietest. Everything is simple, relaxing and pristine. Gili Meno is the perfect spot for love birds wanting a romantic getaway.
Gili Trawangan
Not only is Gili T the largest of the Gili islands, but it is also the liveliest. The island is incredibly friendly, and a great place to make friends. Although it has the reputation for being the "party island", it is also known for its many diving opportunities which are offered at a super affordable rate.
Gili T is a great choice if you're traveling alone and want to be in a social environment, looking for a party or wanting to log a few dives.
Gili Air
Known as a combination of Gili Meno and Gili Trawangan, Gili Air is something special. It has more restaurants and bars to choose from than Gili Meno but is significantly less busy than Gili T. There are a few dive schools that give you access to diving to the depths, but the island is mostly dominated by a chilled-out vibe.

Six Epic Things To Do In Gili Trawangan
Although we wanted a romantic weekend, we didn't want to be isolated. We chose Gili T because our idea of celebrating also involves shaking our hips a bit. With this in mind, we found so many Gili Trawangan things to do that kept us entertained.
* Just to let you know that this article contains affiliate links. If you click on them we might receive a small commission, at no extra cost to you.
1. Snorkeling Tour Around The Islands
If you're wondering what to do in Gili T, the first thing that you should add to your list is snorkeling. The entire island is practically set up to offer this service. We went snorkeling almost every day and it was as cheap as chips.
One of the best activities to do in Gili T is the three-island snorkeling trip which takes you from Gili T to Gili Air and Gili Meno, stopping at key snorkeling spots along the way. Highlights on the route include diving deep at turtle point, visiting the underwater sculptures at Gili Meno and being blown away by an array of colorful fish. These experiences offer insane value for money. Nothing can compete with diving into the warm and crystal clear water.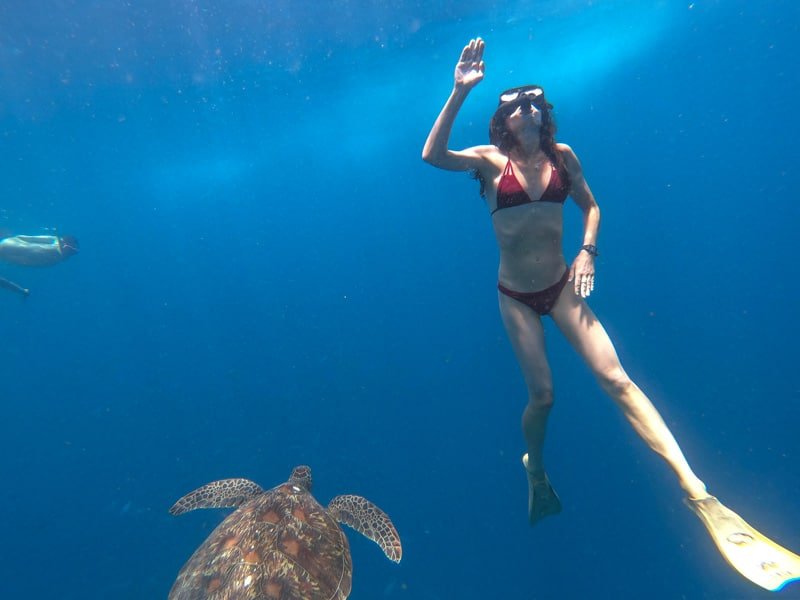 In addition to these fun snorkeling trips that take you off of the shores of Gili T, you can also spend hours exploring the local reef. Snorkeling gear (fins, goggles, and snorkels) are easy to rent along the east coast of the island. We saw so many turtles and tropical fish a stone's throw away from the sand.
The gear costs as little as USD $3,5 for the whole day which is very handy because there are lots of sunbeds where you can kick back and relax along the beach. We spent many hours alternating between sipping Bintang on (free) loungers and exploring the marine life.
2. Ride Around The Island
Riding a bicycle on Gili T is one of the top things to do. And not just because it's great fun, but also because there's no other mode of transport (other than your feet). We didn't see any motor vehicles on the island, apart from a handful of local women that vroomed around on a scooter. Everyone else was on bicycles or the horse-drawn carriages.
Speaking of which, I'd like to point out that we did not support this mode of transport on the island and plead with you to find an alternative way around when there. The island really isn't that big and we chose to rather walk the one kilometer across the island to our accommodation than take advantage of these exhausted creatures.
We rented a bicycle for USD $3,5 per day. You can get these for cheaper but the guy that we rented from ensured us that we wouldn't be liable for any damage (which won us over). Some of my fondest memories involve us riding our bikes around the island. Every evening we would set off towards the west side of the island for sunset, in the morning we'd mission off to meet our boat for snorkeling, and we'd zigzag our way home after a night at the Jiggy Bar.
3. Float On A Gili Trawangan Swing
If you've done any research at all about Gili T, you'll see pictures of people on ocean swings. Rather than there being just one swing that causes everyone to flock, there are several scattered in the ocean on the west side of the island.
So take a pick of your favorite swing (or hammock) and get your camera ready. There are double swings, single swings, and swings with hammocks attached. The best time to take a shot is either at sunset, when the sun reflects beautifully on the water and silhouettes your shape or during high tide which provides the illusion of floating on water.
If you want to be a die-hard swing-finder, then you can head to the "original" swing – the swing at Ombak Sunset – and capture your moment there.

4. Get Festive At A Gili Trawangan Party
I'd love to say that you can go to Gili T and not party, but I'd be doing you a disservice. The island is incredibly festive and a "night on the town" is so worth it. While the spectrum of partying can get quite extreme, there's no pressure to live up to any wild expectations.
We spent a couple of nights at the Jiggy Bar which also hosts the Jiggy boat party three times a week. Unfortunately, it was canceled the day we tried to book tickets. Regardless, we spent a good couple of hours getting our groove on and sipping on super affordable drinks in between dominating the beer pong tournament (where Ollie sunk our opposition quite literally single-handedly).
Jiggy Bar is just one of the many places to let loose on the island. There are plenty of other popular spots and pub crawls on offer.

5. Go Deep Sea Fishing
This is surprisingly a popular activity on Gili T. I say "surprisingly" because we didn't catch a thing despite spending three hours on our actual anniversary day trawling out at sea. For those of you that don't know much about fishing, this is one of the easiest ways to catch game fish (apparently).
Side note: we weren't bottom trawling, which is a controversial fishing technique. Instead, we were both given rods and spent the morning driving up and down a stretch of ocean.
The fact that we arrived back on shore without so much as a bite is hardly surprising considering our extreme lack of patience, but it was great to be out in the big 'ol blue. We spent the hours swapping stories and laughing about how terrible we were at the sport.
If the idea of fishing tickles your fancy, then a fishing excursion is a great way to be out in nature and support a local businessman.

6. Watch The Sunset – Every Night
Whether you spend your days soaking up the sun or hibernate until lunchtime after a wild night out, you have to make your way to the west side of the island for sunset. Gili T boasts some of the most breathtaking sunsets that I've ever seen.
There are lots of different restaurants and bars that have set up shop on the sands of the beach, giving you the perfect view of the bright orange sun as it dips behind the horizon. As an added bonus, almost all of these establishments offer happy hour specials. Two-for-one cocktails and buckets of beer are the cherries on the top to a spectacular view!

Additional Gili Trawangan Activities
While these are some of the activities that we enjoyed the most, there are so many others that you can indulge in.
Shopping. There are lots of little stalls and souvenir spots that sell local products to take home as mementos.
The night market. Which offers a wide assortment of food in a festive and social environment.
Relax on the beach. After working during the week and cramming in as many Bali activities as possible after hours, we welcomed the opportunity to kick back and relax with a view.
Get a massage. If you want to take your relaxation to the next level, then you can book a massage appointment at one of the many beauty spas on the island.
Go scuba diving. As mentioned, Gili T offers some of the cheapest and most insane scuba experiences in Indonesia. If you've never scuba dived before, not to worry. There are so many schools that cater to scuba diving for beginners.
How To Get To Gili Trawangan From Bali
Don't be fooled, the trip to Gili Trawangan from Bali is not as quick as advertised. But that doesn't mean that it isn't 100% worth it!
The best way to get to Gili is with a fast boat. There are several companies that offer fast boat services departing from Padang Bai. The first boat leaves around 9:30 am and takes about an hour and a half to two hours. If you're lucky, the seas will be calm and you won't fear for your life or spend the time hugging the toilet.
The first boat returning to Bali leaves from Gili T around 11:00 am and takes roughly the same amount of time.
You can compare prices and book tickets to Gili Trawangan over here.
There are other ways to get to Gili Trawangan from Bali, such as private charter or public ferry. However, these options are significantly more expensive and slow (respectively).
Where To Stay On Gili Trawangan
On an island as small as Gili T, this may seem like a silly question. But it's not. We stayed in the middle of the island about one kilometer from the main strip, and one kilometer from the west side sunset spot. It was the best decision we could have made.
Although most bars close at 1 am, except for the designated party spot for the night which closes at 3 am, the party strip can get very noisy. Staying in the middle of the island was the perfect escape from the crowds, without being too far removed.
With that being said, if you do have the budget for a fancier villa or a tolerance for ratchet drunk people, then the party strip is great. Here are some epic spots to get you started on your hunt for accommodation.

Budget
Gili Bong hotel offers a variety of different room options at an affordable rate. Although a budget accommodation choice, each room proudly offers a terrace with a garden view and a private bathroom. As an added bonus, an Asian breakfast is offered every day – free of charge!
Modest
Villa Almarick Resort is located on the coastal strip, right in front of some of the best snorkeling spots. Although modest in price, the villa itself offers premium comfort. The property is known to be one of the first on the island and has since established itself as one of the best places to stay in Gili T.
Luxury
For those with a little bit of extra cash to spend, Oceana Jambuluwuk Resort is a great choice for luxury accommodation on Gili Trawangan. The hotel has an exceptional reputation and offers superior facilities and comfort.
Final Thoughts On Things To Do In Gili T
Gili Trawangan holds a very special place in my heart, and I'd be back again in the blink of an eye. From snorkeling the reefs rich with marine life to pedaling around looking for cocktails, this place is a little bit of heaven on earth.
If you ever find yourself on the island thinking of things to do in Gili T, try to tick off as many of these activities as possible – you won't be sorry!