Finding the perfect gift for a digital nomad can be tricky if you're unfamiliar with the lifestyle. Luckily for you, Ollie and I know exactly what it's like to work and travel as a digital nomad (and know the ideal gifts that will make a digital nomad smile).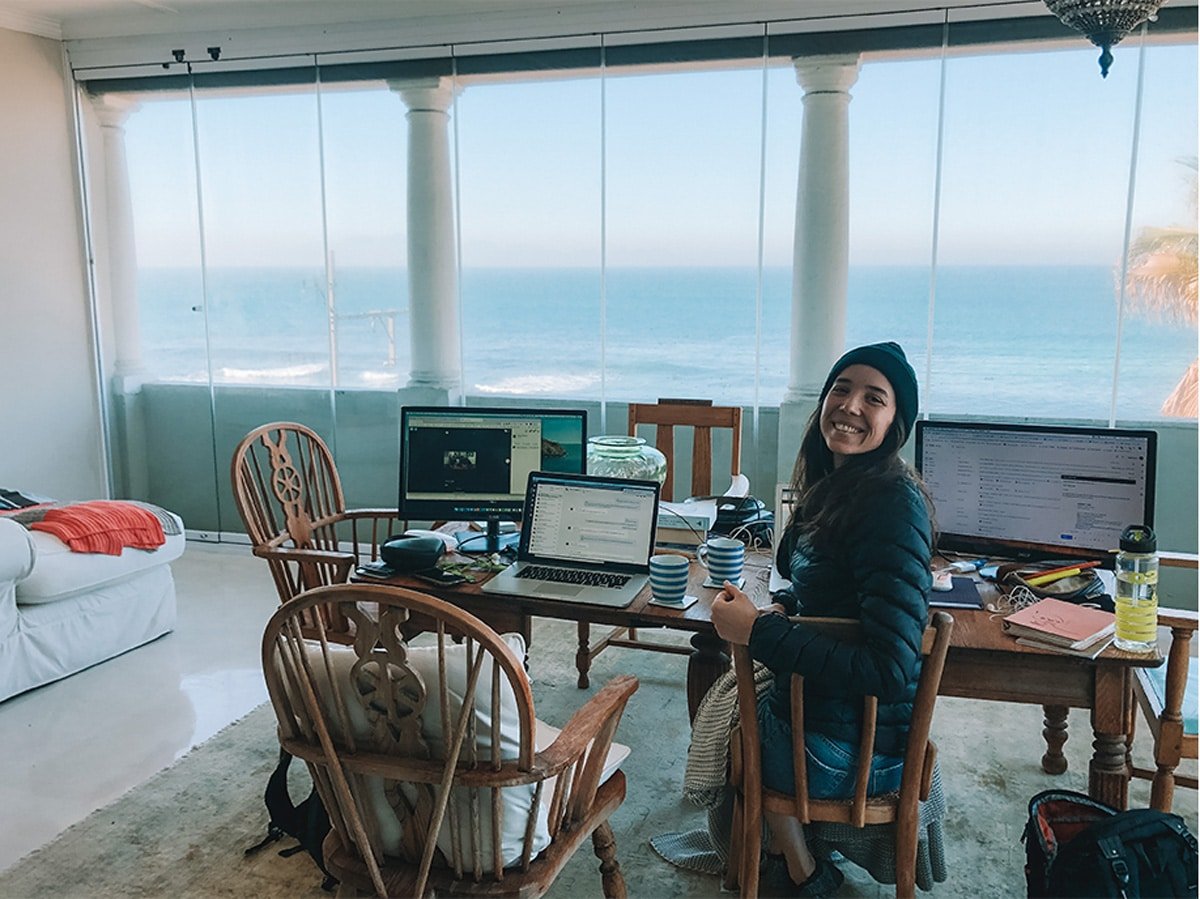 Whether you're shopping for a newbie or a veteran, we know the best gifts for any digital nomad. The right travel backpack, mobile hotspot, and a couple of gorgeous Lightroom presets are bound to put a smile on any remote worker's face.
When it comes to working all around the globe, these are a few of the essentials that any digital nomad will love.
Top 10 Unique & Useful Gift Ideas For Remote Workers
Are you looking for great gift ideas for someone going traveling? Here are some of the ultimate and most essential gifts for digital nomads, remote workers, and ex-pats.
* Just to let you know that this article contains affiliate links. If you click on them we might receive a small commission, at no extra cost to you
1.   Mobile Hotspot
A digital nomad would be lost without an internet connection. Mobile hotspots are a handy solution for keeping any online professional connected, no matter where they are.
The Huawei E5577Cs-321 4G LTE Mobile WiFi Hotspot allows for high-speed internet all over the world. These handy little guys offer six hours of working time per charge. They allow connections from up to 10 devices (perfect for when Ollie and I both have work to do). They're also lightweight and ultra-portable.
2.   Noise-Canceling Headphones
Finding a quiet spot to get work done can be really tricky, especially in busier areas. Noise-canceling headphones turn the noisiest internet cafe into an effective work environment. They're also a great way to work side-by-side with your partner.
The Bose QuietComfort 35 II Wireless Bluetooth Headphones make the perfect gift for remote workers. Not only do they cancel out noise but they also have a noise rejecting built-in microphone system that is perfect for video calls. Ollie loves his Bose so much that he's even given them a nickname – The Candi Silencer!
3.   Travel Backpack
Us digital nomads do a lot of traveling, and a travel backpack makes carrying all your essentials a lot easier. They're a great way to protect your devices while keeping things organized. There are plenty of digital nomad backpacks that make the perfect gift for the digital nomad in your life.
Ollie and I would be lost without our Everki Studio Slim Laptop Backpacks. It's full of handy compartments that keep our tech safe when we're traveling. And the trolley handle pass-through strap is a life-saver!
4.   VPN Subscription
In terms of unique travel gifts, a VPN subscription is a gift that's both unique and useful. With a VPN, your wandering professional will be able to bypass geographic restrictions while protecting themselves from untrustworthy Wi-Fi hotspots.
Ollie and I use Express VPN, which allows us to securely access our home or work network from anywhere in the world. This is particularly useful for Ollie who works with an education company based in South Africa.
5.   Power Bank
Living as a digital nomad means you don't always have access to a power source. And there's nothing worse than your tech dying on you, especially if you've found the perfect remote working location. A power bank can ensure you're never stuck with empty batteries and nowhere to charge them.
A Wireless Portable Charger Power Bank makes the perfect gift for travelers. This portable power supply has a huge capacity that will easily charge a phone and a tablet. It can also charge up to three devices at once which is perfect if you've got multiple devices (or your partner needs a top-up).
6.   Portable Laptop Stand
As a digital nomad, you need to keep your laptop cool as well as perfectly positioned, no matter how high your workstation.
The Steklo X-Stand Aluminum Laptop Stand is an ideal travel gift. Not only does it improve laptop air-flow naturally but it also folds down to a small size. It can be adjusted to securely support 12" to 17" laptops and its ergonomic construction allows you to work comfortably for hours.
7.   Portable Monitor
For an online professional, more screen space can increase productivity dramatically. A portable monitor is an ideal gift for business travelers and digital nomads alike. Both Ollie and I are definitely more efficient when using a monitor.
The best portable monitor is the ASUS ZenScreen MB16AC. It's easy on the eyes, lightweight, and ultra-slim, making it ideal for travel.
8.   Hard Drive
When you're traveling the world, you can't take everything with you. However, with a portable hard drive, you'll have all the space you need – at least digitally. They're also the place to store your laptop back-up, making sure you don't lose all your important info.
Seagate STGX2000400 Portable 2TB External Hard Drive is a great place to store all your photos, movies, music, and documents. It's also small enough to fit neatly into your laptop bag.
9.   Ollie and the Captain Lightroom Presets
If your globe-trotting professional is anything like Ollie and me, they'll be taking tons of photos. Lightroom presets are an awesome way to make travel photos stand out, easily enhancing your shots.
After months of traveling, we've created a collection of vivid lightroom presets. Our tailor-made Lightroom presets are perfect for the ocean, mountain, jungle, or city shots.

10. Laptop Sleeve
Keeping your laptop secure is super important if you're traveling a lot. A laptop sleeve will safely protect your device from any accidental bumps and scratches.
The Lacdo 360° Protective Laptop Sleeve has a pouch for your laptop as well as two extra sleeves, perfect for storing a power bank, hard drive, or cables. It also has a carry handle, making it ideal for travel. The sleeve is water repellent so you won't have to worry if you get caught in the rain.
Final Thoughts on Gifts For Someone Who is Always on the Road
Traveling and working can be made a lot easier with the right tools. The items on this list would make perfect travel gifts for seasoned digital nomads like us or someone just starting out. Not only will you make their lives a lot simpler, but they'll be thinking of you while using them.