It's no secret that Ollie and I like to leave our footprints all over the world. But we never stop working when we're on the go. Exploring the best remote-working destinations has been our passion over the past few years. One of the essential items when becoming a digital nomad is a backpack that keeps your laptop and other digital items safe and at hand.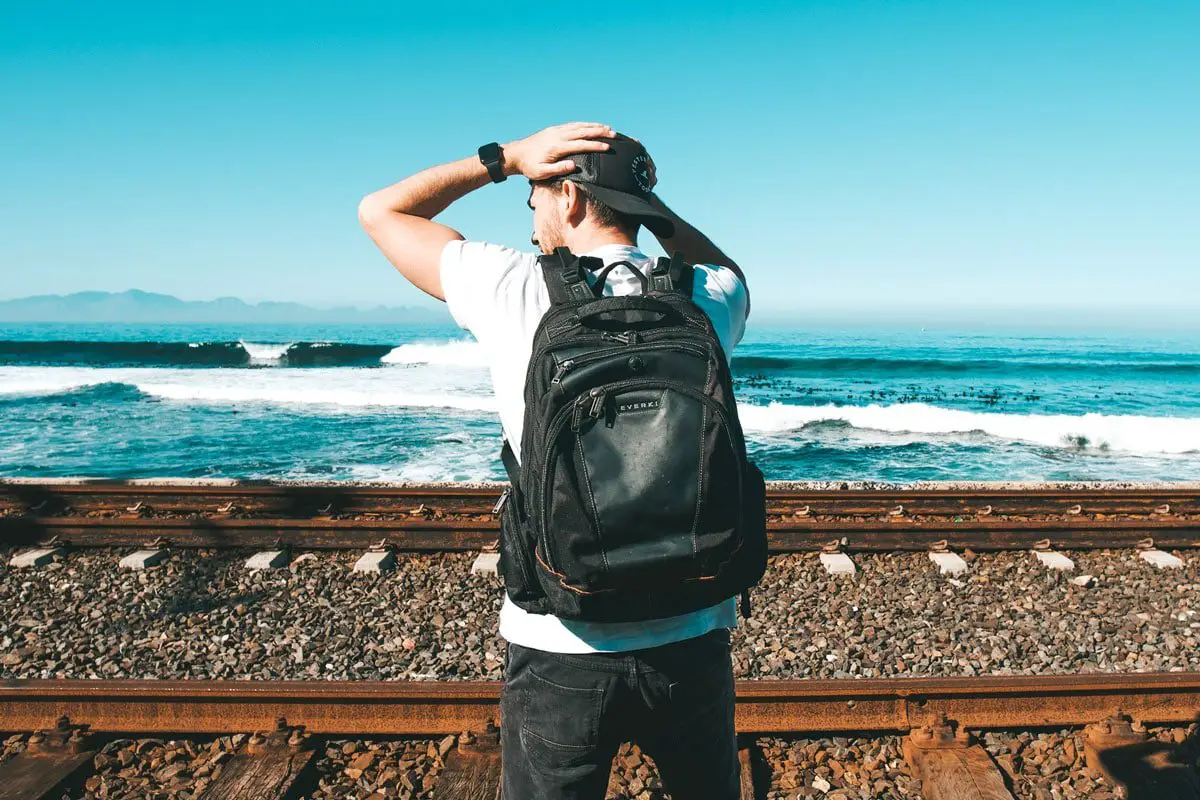 You never know when you're going to come across a quiet cafe where you can knock out an hour or two of work during your explorations. So, here are a few of the best digital nomad backpacks to use during your travels.
Best Digital Nomad Backpacks
If you're going to live the nomadic lifestyle, do it right with these digital nomad luggage options!
* Just to let you know that this article contains affiliate links. If you click on them we might receive a small commission, at no extra cost to you
Both Ollie and I use Everki digital backpacks and swear by them. The Everki Studio Slim Laptop Backpack is no different, and also gets our stamp of approval. The bag has dedicated pouches for a 14" laptop or Macbook Pro 15.
The wide, ergonomic shoulder straps make it a comfortable carry, and the trolley handle pass-through strap makes it a great addition to your travel luggage.
The Swiss Gear Backpack has adjustable padded laptop straps, an open viewing compartment, and an interior organizer. At checkpoints, the bag can unfold to a flat position, so you won't need to unpack it every time.
The backpack has a great Airflow Back System which provides airflow, extra padding, and back support to ensure your comfort. And if you're planning on wearing it for hours at a time, comfort is key.
The internal organization system of the North Face Pivoter Backpack has zippered pockets keeping the nomad pack compact. The padded laptop sleeve fits 15" devices, which is perfect for most laptops.
The external zipped pockets give you easy access to items you need on hand, and the sleek design makes this a great option for those who like to keep things neat.
The Carhartt Legacy Backpack is slightly bulkier than the other options in this list, but this just means your carrying capacity increases. The laptop compartment accommodates 17" laptops and this huge backpack for travel has a zippered organizational panel.
The nomad bag is made from abrasion-resistant material and is also water repellent, protecting your laptop even in the toughest conditions. This sturdy travel companion won't let you down when you need it the most.
The Everki EKP132 Onyx has a chic design and was created with a traveling executive in mind. So, if you're going to be roughing it in the Philippines, this travel backpack is probably not for you.
It's made from top-of-the-line material in a timeless design that fits a working mobile professional down to a tee. The backpack can hold a laptop up to the size of 15.6" and has an extendable trolley handle pass-through so that you can wheel the bag when it gets too heavy to carry.
For those who travel off the beaten track as we do, the Samsonite Modern Utility Paracycle Laptop Backpack is the perfect fit. It's made from a durable two-tone ripstop polyester, and the bottom of the pack is water-resistant.
The laptop compartment is padded to protect the laptop from any bumps while traveling. It's also got multiple zipper pockets for quick access to items you'll need while you're on the go.
This Bange Travel Backpack is a little more formal compared to many of the other digital nomad packs on this list. It's sleek and stylish with a fashionable design. The backpack has an expandable section, which means it opens up to fit your changing needs.
It easily transforms from a backpack into a suitcase when you need it to carry all the extra souvenirs you purchase throughout your travels (guilty as charged).
It has a waterproof base as well as an anti-theft design. Giving you peace of mind while you travel. The various compartments have different shapes and sizes, making it incredibly versatile.
If looks are an important factor in your decision to purchase a nomadic laptop backpack, then the Samsonite Kombi Small Business Backpack might just be the one for you. It's made from rugged ballistic nylon and has genuine leather detailing adding to its stylish design.
The padded laptop compartment is suitable for 14" laptops and has business organizational features such as a key fob for added security and multiple compartments. Its fleece-lined pockets will protect your phone from getting scratches during your travels. And the shoulder straps are padded to ensure maximum comfort.
The Targus Compact Backpack has a large storage compartment making it easy to carry multiple digital devices. It has a durable polyester exterior and extendable handle so that you can roll the bag instead of carrying it when you're at the airport.
It also has a separate laptop and tablet compartment, fitting devices up to the size of 16". We prefer to just sling our bags on our backs and take the stairs two at a time, but if you enjoy traveling at a more leisurely pace and want a bag that can roll behind you – this is a great choice.
The Lenovo Laptop Backpack B210 is made from durable, water-repellant, snow yarn polyester. The padded interior ensures the safety of your digital devices and accommodates laptops up to the size of 15.6".
It has a quilted back panel for a comfortable fit and fully adjustable back straps to accommodate your needs throughout the day. An easy-access outer zippered pocket allows you to store additional items conveniently. And the separate phone pouch, business card holder, and easy access compartments help you to stay organized.
Final Thoughts on Nomadic Backpacks For Remote Workers
Now that you've got the ultimate breakdown of digital nomad bags you can make a more informed decision when purchasing the best luggage for frequent travelers. With so much of the world to be discovered, it's about time you set out on your journey.
There's nothing quite like an adventure with no end destination. Grab your nomad travel bag and get going. Once you've picked out your favorite backpack for remote working, take a look at our packing list for digital nomads.