Do you have a loved one who spends so much time in the water that they might actually start to develop gills? Or one who you suspect is actually a mermaid? These are the friends and family members who we know would just love a nifty new tool or gift to help them improve on their favorite pastime. So, without further ado, here are our top gifts for surfers this season.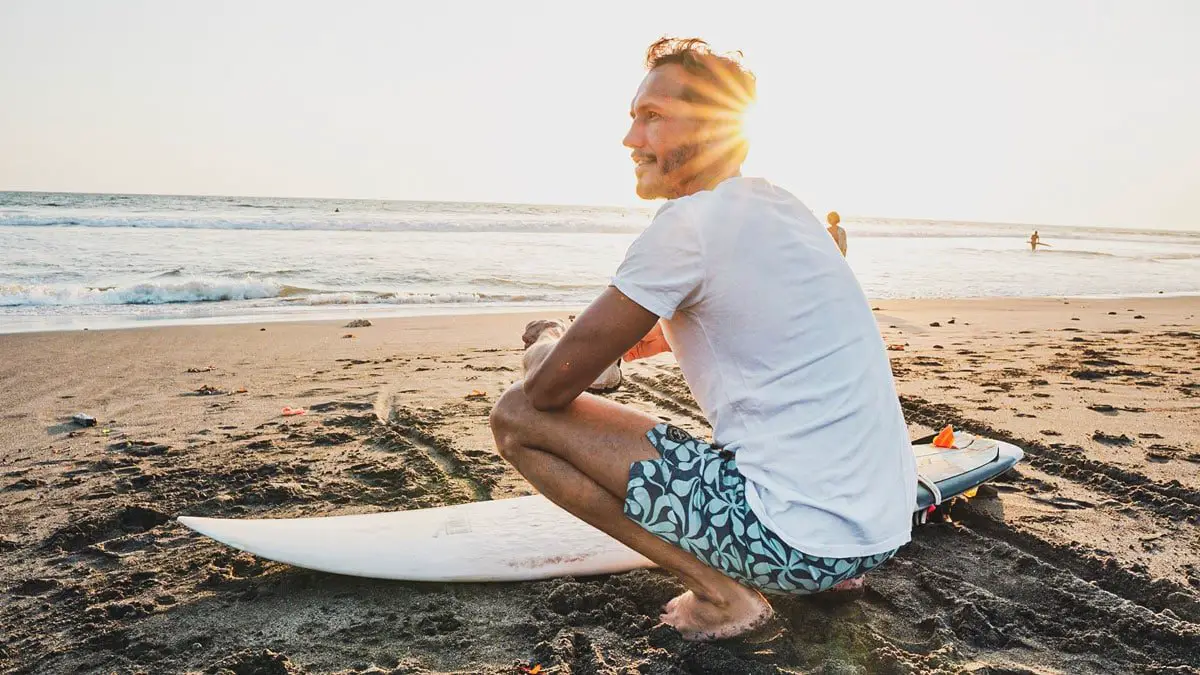 You know that we love surfing around the world, and if we could spend all of our time on the beach – we would.  With Black Friday quickly approaching, the Christmas spirit already in the air and New Year's on the way, we thought we'd share some of the best gift ideas for surfers of all levels.
The Top 10 Gifts For Surfers
Here are our top 10 picks for the most amazing gifts for surfers!
The Ocean Warrior (breath-holding course)
Seiko SKX009 diving watch
Magnetic shark repellant
Wetsuit changing mat
Dawn patrol Apple watch app
GoPro Hero 8
Grip pad
Surfer's leash
Surfer's earplugs
* Just to let you know that this article contains affiliate links. If you click on them we might receive a small commission, at no extra cost to you.
1.   The Ocean Warrior (Breath-holding Course)
If you're looking for a surfer gift that will keep on giving, then we suggest getting the Ocean Warrior 2.0 breathing course.
Catching and riding huge waves will become much easier once you learn the incredible tips and tricks on breathing taught by professional big wave surfer, Mark Visser. This online course covers safety, water, land and realistic courses for you or your loved one to enjoy.
Conquer the monster waves with greater stealth and knowledge under your belt. This is a terrific gift for someone who is really seeking to improve on their surfing skills and grow confidence in the water.

2.   Seiko SKX009 Diving Watch
Having a waterproof diving watch is a huge bonus for every surfer. You can dive headfirst into the deep, without any worry about your watch not being able to handle the water pressure.
The Seiko SKX009 is a fantastic, entry-level diving watch with a whole bunch of nifty features, like being able to go 200m (650 ft) deep and having convenient, illuminated dials. You can also check out the Seiko 007, it's another great choice from the SKX range. With a black color scheme, it's more diverse than the stylish Pepsi color scheme of the SKX009.
This brand is one of the most respected diving watch brands in the world, making it an excellent addition to our list of surfing gift ideas.
3.   Magnetic Shark Repellant
We have taken a trip to Grootbros, a place with a stunning beach, and although we had our boards with us, we never surfed because the water was so sharky.
And although one wouldn't go surfing in dangerous, shark-infested waters, there are some beaches that don't have netting and where prevention is definitely better than cure. SHARKBANZ 2 is a scientifically tested, efficient and sleek shark band that will provide protection to any surfer.
This is done with a sophisticated electromagnetic forcefield emitted by the watch, using its magnets to repel away sharks.
Click here to view SharkBanz 2
4.   Wetsuit Changing Mat to Stand On
This might be one of the most overlooked surfing essentials. A wetsuit changing mat will revolutionize your or friend's surfing experience. It's as simple as standing on the Cor Surf Wetsuit Changing Mat, taking off your wetsuit, and then stepping off of it.
Your wetsuit can then conveniently be packed away in a drawstring bag that is easy to put in your backpack or carry with you. This means your wetsuit no longer has to be damaged by sand or dirt, and it won't be leaving big wet patches on your car seat, either.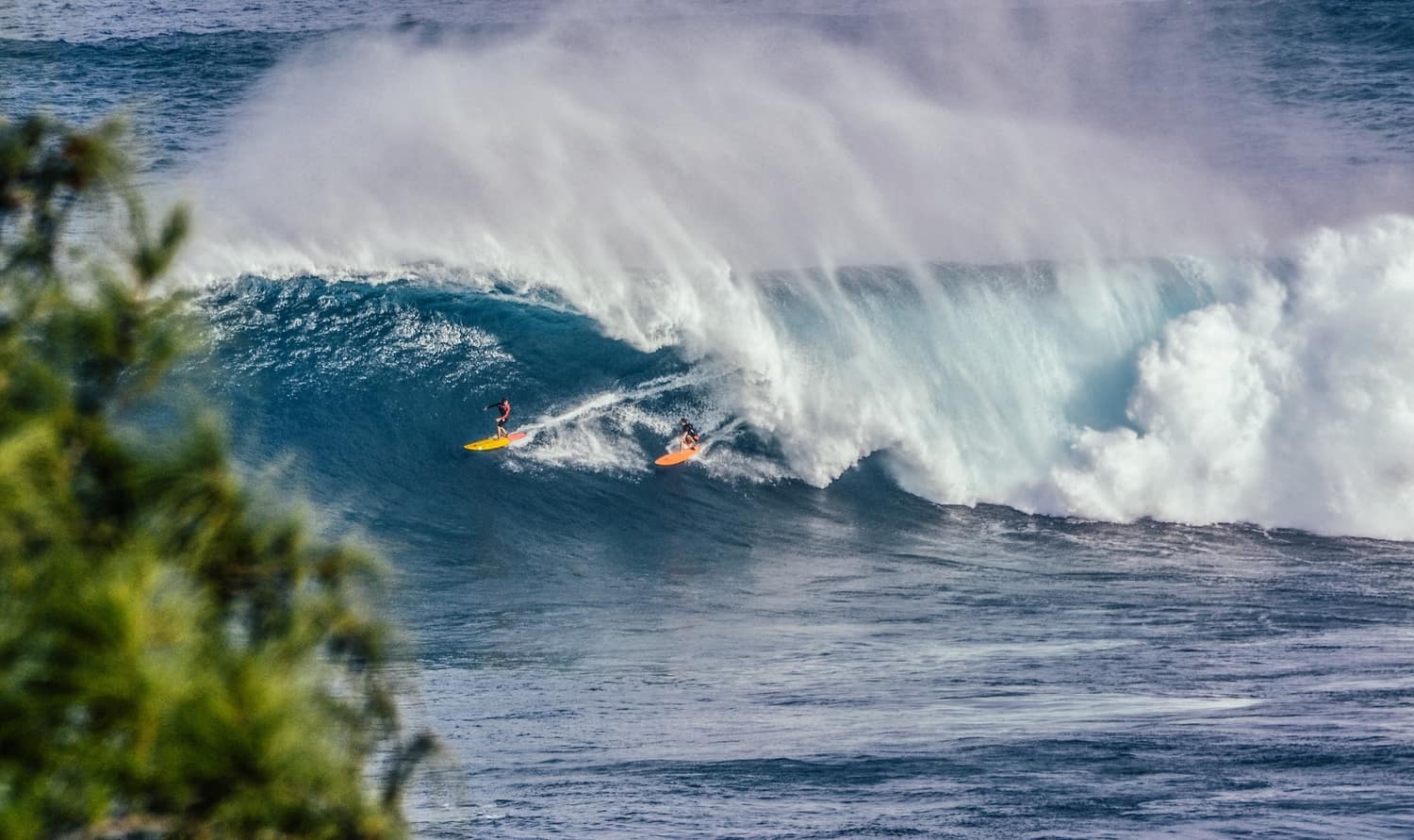 5.   Dawn Patrol Apple Watch App for Surf Tracking
This super cool app will transform any Apple watch into a surfer's dream come true.  This remarkable app provides a way for surfers to gain insights into the daily ocean tides, as well as sharing health and activity information, all on your watch's screen. And, if you're anything like Ollie, it makes for great conversation with fellow surfers after a session.
The Dawn Patrol App makes choosing when and where to surf just that much easier, leaving more time for you to be out on the waves. This is a wonderful gift for surfers, especially ones like us who like to travel to new beaches and review their sessions.

6.   GoPro Hero 8

Document precious moments out at sea with the GoPro Hero 8. This is the perfect surf gift for every type of wave rider, from beginners to pros (like Ollie). Get your favorite rides on tape, allowing for the moment to be relieved and even learned from.
This particular GoPro is waterproof, with a streamlined design that will take your surf videos to the next level.
7.   Grip Pad
Braving the waves is a journey. Finding your balance is a skill that every surfer has learned to harness and use. However, there are ways to ensure that you, your partner or friend manage to stay 'on board'.
A grip pad goes a long way and is a great surfing gift for both new and experienced surfers. Having a surfboard traction pad will mean your board won't be as slippery, giving a grip that allows for longer, more fulfilling surfs and sharper manoeuvers.

8.   Surf Leash
This is a must-have for adventurous surfers and even first-timers. The ocean is unpredictable. You never know when a beloved surfboard could be ripped away by the tides or you bail hard on a wave.
Keep your board by your side as you swim and find that ideal waiting spot with a durable surfboard leash. It is one of the most useful presents for surfers.
9.   Surfer's Plugs
Although this is one of the least glamourous gifts for surfer guys and gals, it certainly is a gem. It will save your loved ones from the oh-so-undesirable surfer's ear that tends to really cramp a surfer's style.
Surf Ears 3.0 surfer plugs stop ocean water from blocking up your ears, whilst also allowing sound to be heard. These make for one of the most wonderful, thoughtful combo-gifts for a surfer.

10.   O'Neill Reef Booties
When it comes to cool gifts for surfers, a pair of stylish, easy to slide-on and off reef booties are bound to be a win. These O'Neill reef booties are amazing, made with quality material and with a comfortable design, they're one of the best.
The ankle-length makes them convenient to take on and off, as well as stylish. We wish we had packed our booties when visiting the reef-bottom surf in Uluwatu. Cuts from harsh terrains of rock pools and coral reefs will be a thing of the past! In fact, Ollie bought me booties for Christmas last year. They've prevented my feet from being shredded to bits in J-bay.
Last Thoughts on Surf Gifts
When you live breath and eat with your surfboard, you tend to understand what kind of unique gifts for surfers will bring the most joy.
We hope that you have a better idea of what to get for yourself or your salt-water-loving buddies this festive season. Each of these gadgets and awesome tools will enhance every moment spent out in the ocean, riding the currents and basking in the sunshine (or rain).
We hope you enjoy finding the ideal Christmas gifts for surfers, as well as presents for throughout the new year.