Halong Bay is an idyllic part of the world, making all of your Robinson Crusoe dreams come true.  It is a collection of small rocky mountainous like islands that scatter throughout the calm crystal waters of the Gulf of Tonkin which is deemed a World Heritage Site.  Halong Bay is one of the must do's for every traveler hitting Vietnam, but, like all things, there are many ways to enjoy this piece of paradise.
Halong Bay Tours
There are 3 distinctive ways to ensure you have the best adventure suited for you in Halong Bay.  These run from the completely loose party vibe to the balanced option, to a romantic, relaxed experience.  Tours are most commonly booked through the accommodation you're staying in or through independent tour agents.
Here are a few Halong Bay tours that come highly recommended:
* Just to let you know that this article contains affiliate links. If you click on them we might receive a small commission, at no extra cost to you.
Castaway Cruise Tour
If you have read the previous guide to Hanoi post, you would be familiar with the infamous hostel Vietnam Backpacker Hostel (VBH) and their party culture.  The Castaway Tour is an extension of VBH. All the antics you experience at the hostel, you can expect on this tour.
This boozy tour is done over two nights, three days and is solely focused on the party aspect.  Expect to be woken up with a shotgun in hand, have body shots and do a large number of regrettable dance moves.
The tour includes transfers from Hanoi VBH, accommodation, food, and selected activities.  The tour costs approximately $229 (plus that bar tab you know you're going to rack up). With this bar tab in mind, BEWARE of the gong!  The infamous VBH gong is rung when the person banging it is signaling to buy everyone at the bar a drink.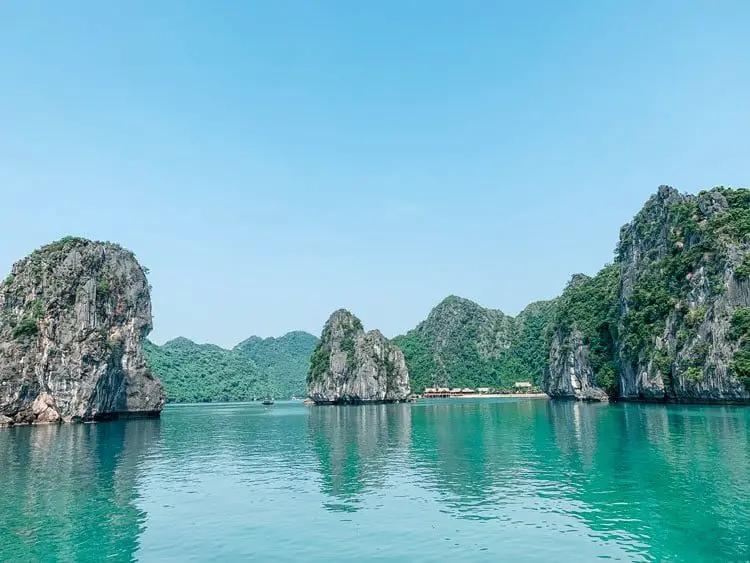 Hideaway Tour
The Hideaway Tour is a more balanced option offered by the Hanoi Buffalo Hostel.  This tour can be done in a one day, two days (one night) or three days (two night) option.  The latter costing $140.
Hideaway is definitely a more balanced tour compared to Castaway and can be pushed as far as the group is willing to go.  The representatives (reps) who work for the hostel, feel out the group before suggesting games and activities. If the group appears to be feisty and ready to party, then the reps will get games like 'Never Have I Ever' on the go.  If the group appears to be relaxed, games will not be forced on anyone.
This tour is set up like the first in that transport, accommodation, food, and activities are all included. Extras include your drinks tab and anything else you want to buy.
Family Cruise
If skinny dipping and beer pong is not your idea of a good time, then the family cruise option is for you.  These cruises can be booked predominantly through tour agencies and can vary in length, price, and inclusivity.
You can meander through Hanoi and pick an agency (liaising with your accommodation is always a good place to start too). Alternatively, you can find options online to suit your time frame and budget.  These tours are a way to relax and take time out from the chaos of Vietnamese cities.
Hideaway Tour In-Depth
The Hideaway Tour I suggest consists of three days, each with a different activity to dominate the day.  The tour is extremely well organized and you definitely have a sense that you are taken care of the entire duration.
The first day is definitely defined as a travel day coupled with a booze cruise.  I advise using the first half of the day to sleep off the previous night in Hanoi and use the second part of the to socialize and get into the spirit of the Hideaway Tour. 
Day two is dominated by the hike.  It is a tough, vertical hike that is two kilometers (1,2 miles) and ends with a breathtaking view of Cat Ba island.  The day is full of physical activity. The group cycles to the starting point of the hike and back. After you return to the boat you are able to go for a much-needed swim and big hearty lunch.  Once you return to the private island, a nap is inevitable, before preparing for the night ahead.
Day three is very relaxed.  The group goes for a kayak to a nearby floating fishing village, before having lunch and embarking on the return journey to Hanoi.
How To Get To Halong
If you are doing a tour, all of your transportation is previously arranged.  This is one of the advantages of doing a tour… all you have to do is show up, and the rest is taken care of.
However, if tours are not for you and you would like to conquer Halong bay on your own, you have a few options.
You can either rent a bike or take a three/four-hour bus from Hanoi and make your way to Halong bay.  Once in Halong bay, boats can be taken to Cat Ba Island where you can do day trips and go adventuring.
If you book a bus from Hanoi to Halong Bay, then this site makes booking your journey incredibly easy!

Halong Bay Tips
All great travels are elevated by knowing those golden nuggets of information to help you along.  These are my tips and tricks to ensure the best experience.
Draw enough cash before leaving Hanoi.  Although you can pay by card at the bar on the Hideaway Tour, I would recommend having a good amount of cash on hand.  You need cash to pay for drinks on the boat and various other spots over the weekend where there are no card facilities.

Sit down in a safe space when having a balloon (laughing gas).  This one will become apparent when you're there.

Pack vitamins if you know you struggle with hangovers.

Listen to the reps when they advise you not to step on the rocks.  The limestone is sharp and full of creatures that can cause some serious harm – I've heard and witnessed horror stories.

Do not leave food and drinks out in your dorm room.  There is a local monkey who is a badass and he WILL raid your room and take you for everything you've got.

Sneak in some pre-bought booze.  Although there is a rule that you are not allowed your own liquor, this weekend is all about breaking rules.  Taking your own alcohol saves money and helps start a little dorm party which allows the group to form a closer bond.  Nothing like making friends over a little mischief.

Be prepared to skinny dip.  The bioluminescence in Halong Bay is breathtaking and it is definitely encouraged to experience with your bathing suits left on the shore.
Halong Bay Tour Packing List
Like the Ha Giang loop, travelers need to pack a small day pack for the trip and leave their large luggage at the hostel they left from.  Packing light makes taking the many modes of transport much easier.
Here is my basic packing list for you to follow as a guideline.
Packing list:
3x bikinis (one for each day)

Trainers (for the day-two hike)

Socks

Slip Slops

Sarong (for laying on while sitting in the sun)

Hat, sunscreen, and sunglasses

2x shorts (especially a work out pair for the hike)

3x t-shirts (one doubles as a sleep shirt)

A dress (or something for the evening party)

Basic toiletries

Basic underwear (just for evenings, you're in your swimmers all day)

Passport and cash (you need your passport to check-in)

Any electronics (phone charger, power bank, camera, Go Pro, speaker, etc.)
*The accommodation does provide towels so it is not necessary to pack one.
For a different kind of packing list check out this article for the digital nomad
Closing Thoughts
Halong was the first tour I did in Vietnam and it defined the rest of my experience in this beautiful country.  The friends I made over these short, but full, three days stayed together for another four weeks. We went on to experience the diverse landscapes and culture of the country while solidifying a friendship that will last for years to come.
I could never have expected the family that was created in Halong, but isn't that the beauty of travel?  To have no expectations and in return find friends and make memories that last a lifetime.