Planning a surf trip to Bali? This Uluwatu surf guide will help you discover the best surf spots in Uluwatu. Whether you're a beginner or advanced surfer, you've come to the right place. We had the joy of being able to explore Uluwatu first hand and figure out the conditions so that you can arrive prepared and ready to shred!
This blog describes each of the main surf breaks in Uluwatu, when it's the best time to surf them and where to get a surfboard if you need one.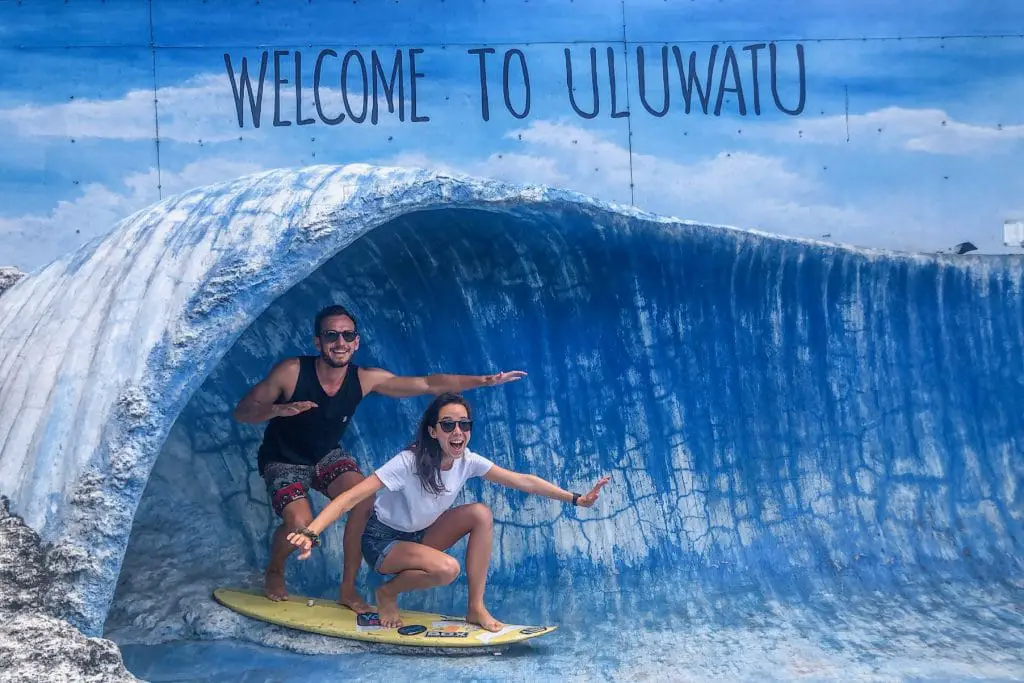 Uluwatu Map Of Surf Spots
Bali is a small island in the country of Indonesia (check out the below map of Bali). We've circled Uluwatu at the south-westernmost tip of Bali island on the Bukit Peninsula.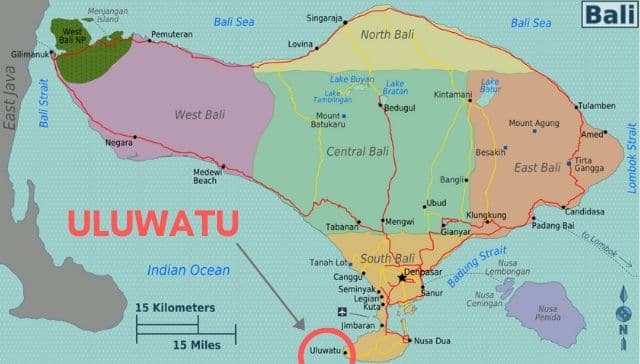 Here is a zoomed-in map of Uluwatu so we can get a closer look at the surf spots. This Uluwatu surf guide will speak about the five main breaks.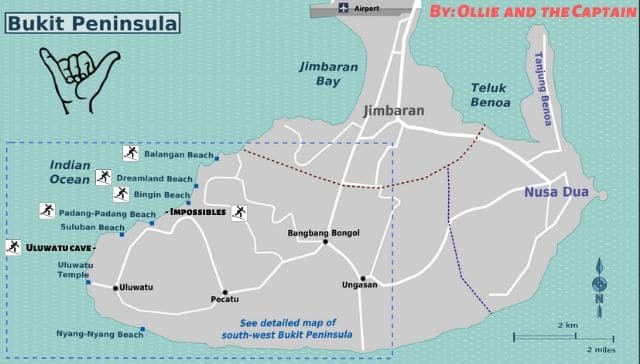 The Best Time Of Year To Surf Bali
The best time of the year to surf in Uluwatu, Bali, from a swell perspective is July and August. The swell hits hardest then, but the crowds are also at their biggest. Therefore we recommend the shoulder seasons of May/June and September/October. Fewer crowds, cheaper accommodation, still the dry season.
The wet season isn't great as the rivers come down in flood and make the water very dirty in some places. Sometimes it can get so bad that going for a surf could mean getting seriously ill. I've met people in Canggu who said they surfed on a dirty day and got sick for a week.
The wind in Uluwatu is amazing. Always offshore its seems. The swell is really consistent all year round too.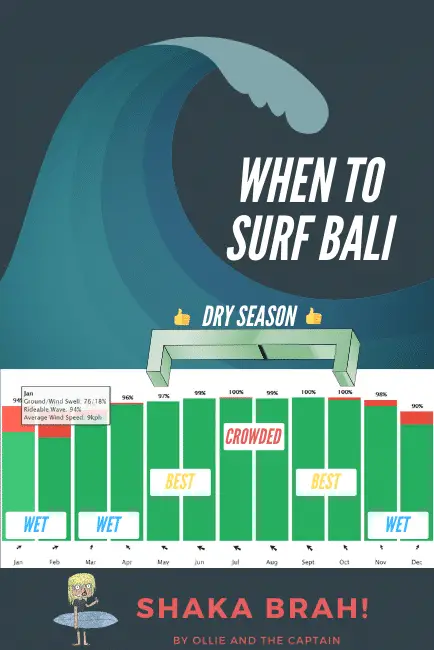 Uluwatu Surf Spot Guide
Each of these main spots can be broken down into even smaller sections such as temples and racetracks at the Uluwatu cave surf spot. However, we will cover each spot holistically.
Uluwatu Cave
As the namesake of the town, this is probably the most famous spot in this Uluwatu surf guide. The Uluwatu cave exit out into the lineup is a pretty awesome way to start the surf but can also be a challenge to aim for when paddling back in. On a big day, if you miss the cave you can and up a few beaches down and will need to take the 2 hours walk of shame back to where you parked your motorbike.
If you are in the water looking back at the cave, always paddle to the right of the cave. The current will pull you hard to the left. The stronger the current, the more you should aim to the right.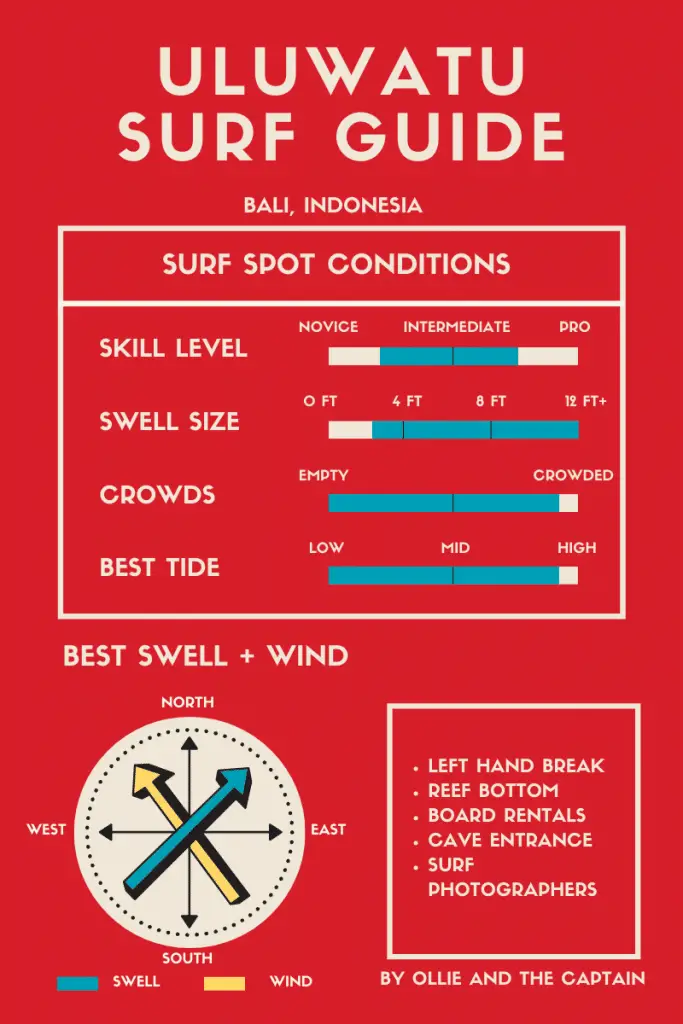 Like it? Pin it!
Padang Padang
This is one of the iconic spots for Uluwatu surfing. To get to this beach you have to pay IDR 15k (USD $1) per person to get down to the bottom. The walk down goes through a temple-like stairwell and it is also where the Balinese regularly have ceremonies. It's a small beach with lots of little bars and food stores around. You can pick up a surfboard on the beach for about IDR 50k-100k (USD $3,5 – 7) depending on how much you look like a foreigner.
The surf spot can really be considered as two separate spots. As you are looking out to sea on the left are dank barrels, fast waves, big crowds and potentially the best wave of your life. On the right, tons of beginners competing for waves and a mega current that pushes you back onto the beach. Don't try to paddle through it, paddle back into the channel and around.

Pin this business!
Impossibles
It's so fast that it's impossible to make. That's what the name suggests and I am inclined to agree at certain points on this wave. The wave has various takeoff spots with good length, but it's super fast. It's also home to some of the sharpest coral around Uluwatu in my opinion so reef booties would help when walking out at low tide. Alternatively, avoid the low tide. It is also super shallow at low tide #reefburn. I met a lady with the most unfortunate reef burn on her face from impossibles. Ouch.

Sharing is caring! 
Bingin Beach
Another one of the most popular Uluwatu surfing spots. Lots of bars, bbq's and board rentals make for large crowds. There's a fairly small takeoff zone on a single peak. Many locals (and Aussies who think they are locals) to contend with.  However, if you can get in position then you will have a cracker of a wave. There's also a beginner spot on the left (if you are looking out to sea) which is over the reef, so not great at low tide.

#pinthepic
Dreamland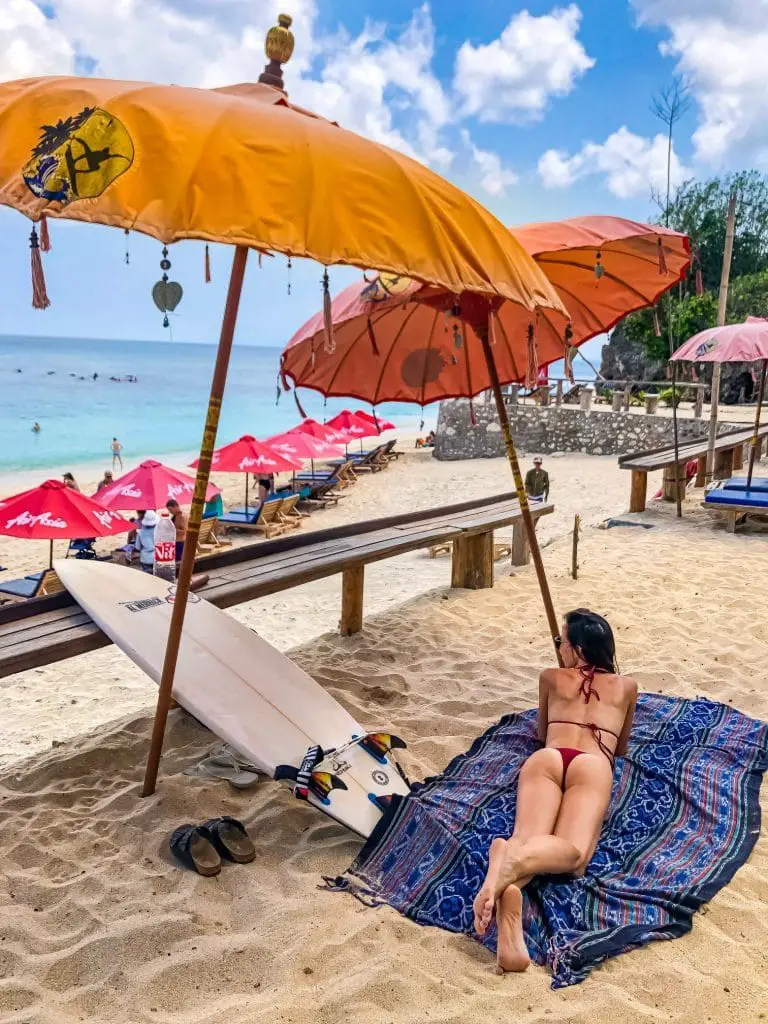 Dreamland is a great place to spend the day under an umbrella surfing at one's pleasure. The wave is on beach break by the river mouth, and on sand/reef bottom further to the right. There are lots of restaurants and little shops where you can buy cheap t-shirts and curios.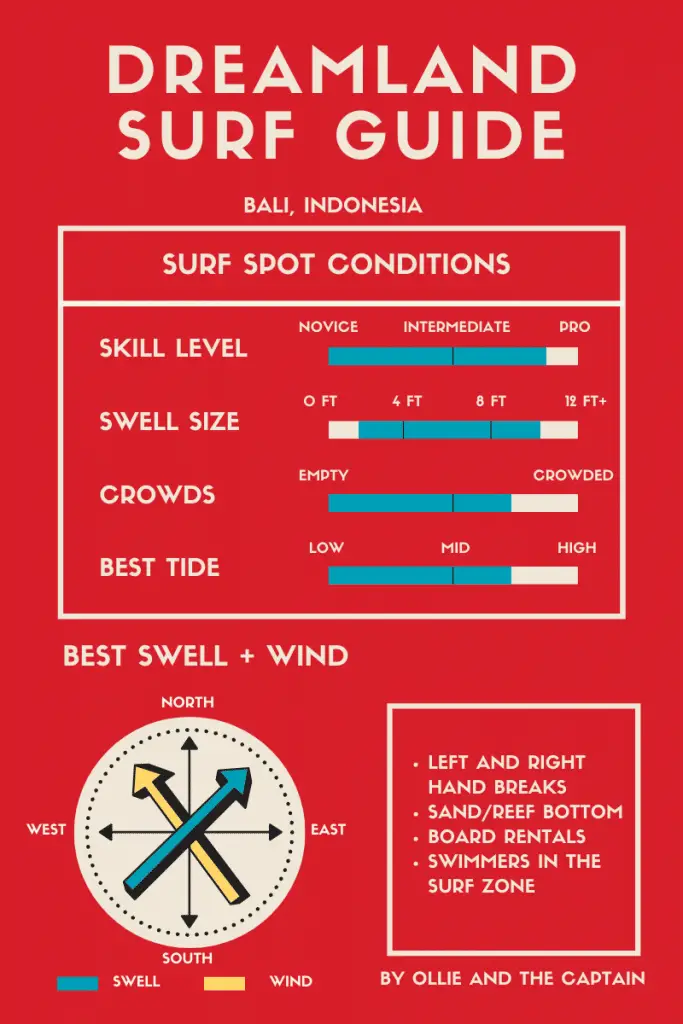 If you like it then you shoulda put a pin in it!
Balangan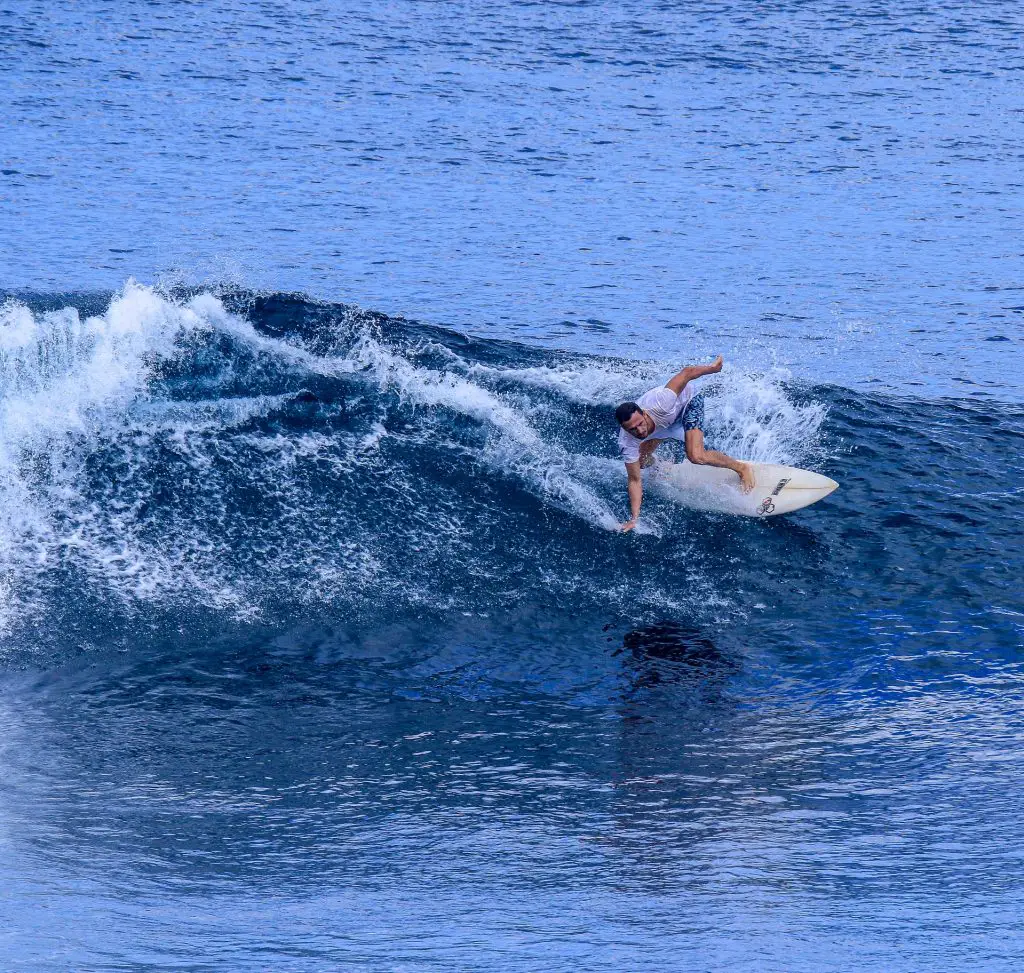 This is a long stretch of beach with a long powerful wave framed by very rustic beach bars and restaurants. Don't be dissuaded by the dirty and dusty town you drive through to get there (the back of Balangan needs some TLC). I probably had one of the best surfs at Balangan. A fast left-hander with wide-open faces.

Pin it!
Where To Get A Surfboard In Bali
There are so many places to get a surfboard. If you are a beginner looking to rent, you can find board rental on these beaches:
Uluwatu (Although, this isn't really a beginner spot)
Padang Padang beach
Bingin beach
Dreamland
Balangan
If you are more experienced and you are looking to buy a surfboard for your trip, you can ask any of the rental places as they will certainly have some for sale. Some will even buy them back from you after your trip.
You can also check this Facebook page for epic deals on second-hand surfboards in Bali.
Uluwatu Surf Lessons
Pretty much every place that rents boards have someone who can act as a surf coach or surf guide for you.
The Balinese are super kind and will guide you expertly in the lineup and will even claim waves on your behalf so make sure you are on it safely if you're a beginner.
Uluwatu Surf Report
Before you head out for a surf, be sure to check the daily report for tides, swell size and wind. This will massively increase your chances of having a good surf. The tides change things up around here in a big way.
You can even check out how busy the lineup is with the surf webcams that are available at certain spots.
The best sites for daily surf reports are Surfline and Magic Seaweed.
Localism in Bali
Fortunately, we did not experience and crazy localism like this whilst in Bali. It is probably because these guys get so many foreigners that they are used to people from all over the world. The Balinese, in general, are pretty chilled too.
Where To Stay In Uluwatu
The town is pretty small but I enjoyed being in the middle of all the surf spots so that it was never a long drive to any single one spot. Staying around the Padang Padang beach is probably the best as there are a few nice shops in the area, some nightlife on Padang Padang beach and some great and affordable restaurants all around.
Try to book accommodation in this area:
* Just to let you know that this article contains affiliate links. If you click on them we might receive a small commission, at no extra cost to you.
Other Things To Do In Uluwatu If There's No Surf (Or If You Don't Surf)
These are the quintessential things to do around Uluwatu if you are not surfing:
Visit Uluwatu temple – check out the traditional dancing here
Full day temple tour – visit 3 of the most prominent temples in Bali. Tick these off your list while there is no swell!
Paragliding – If you cant get your thrills from the surf, try the paragliding.
All activities are below.
(Disclaimer: these are affiliates and will help support the blog).
Getting around Uluwatu with a surfboard
Your best bet is to hire a scooter with surfboard racks. It is super easy to arrange. Just ask your accommodation to arrange one for you. If you are living in Bali you may even want to try your hand at making your own DIY surfboard racks.
We hope you enjoyed this Uluwatu surf guide,  happy surfing!