Fresh off Filipe Toledo's win at the Oi Rio Pro yesterday we thought we share with you our guide to surfing in Rio. Rio is jam-packed with great breaks and is sunny all year round. We spent a month in Rio and managed to get in the water pretty much every day where we learned a thing or two. So here are our thoughts on the best beaches to surf in Rio de Janeiro.
Pros
AMAZING BEACH BREAKS
CONSISTENT SWELL YEAR-ROUND
LESS RAIN DURING WINTER
SURF SPOTS HAVE ACCESS TO CITY AMENITIES
Cons
LACK OF POINTS AND REEFS
RARELY OUTSTANDING CONDITIONS
SUPER-CROWDED MAIN SPOTS
HIGH STREET-CRIME RATE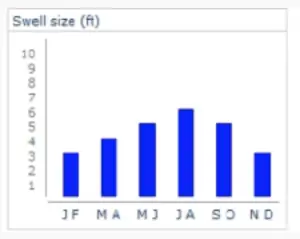 Best Time of the Year to Surf in Rio
Below is a summary of the temperatures, rainfall, and swell conditions in Rio throughout the year to help you choose the best time of year to surf in Rio de Janeiro.
Weather
It's sunny all year round which is epic. This means that water in Rio only requires boardshorts. No wetsuits, unless you get REEAAALLLLLY cold. My super cold home break of Cape Town, South Africa, might make me more resilient though.
We were in Rio during April and May and the beach was super hot. This isn't even the hottest time of the year so if you are planning on being in Rio around December/January, make sure you have some powerful sunblock.
Rainfall
It rains about one in every three days. But chill, it's the rain forest, we expect these things. The rain isn't an all-day event. It normally comes down all at once in a torrent – and then it's all over.
Floods
Rio has been prone to floods lately. There have been a few deaths from the floods in the last year so bear this in mind. The favelas are particularly affected and we heard sirens coming from the favelas during times of heavy rains as a warning for landslides and other flood-related disasters.
Annual Swell Conditions
Good swell all year round, but definitely the best June – September.
Jan/Feb – 3-4 ft
March/April – 3-5 ft
May/June – 4-6 ft
July/August – 5-8 ft
September/October – 4-6 ft
November/December – 2-4 ft
Our Top 5 Surfing Beaches in Rio de Janeiro
There are loads of spots to choose from and it was difficult to select just five. So, we selected three spots that are close to the main attractions of the inner city of Rio and two further flung spots which provide occasional epic conditions.
Apoador (Bonus beach: Diabo beach)
Overview
Skill level: Beginner-Intermediate
Wave type: Left hand, point break
Swell size: 2-10 ft
Crowds: TOOO MANY PEOPLE
Swell direction: NE -> S
Wind direction: NE
Apoador beach is great for beginners as it's on an easily accessible beach where you can rent a board in between the countless caipirinhas. But don't be fooled, this beach can crank and on a good day, you can catch a good 150-200m wave. The downside is that it's so crowded that you will probably run over at least one or two kooks on your way down the wave. The crowd makes catching a wave a nightmare too.
We also included Diabo beach on this list as it's literally on the other side of the Apoador point. It is a right-hand point break and attracts fewer crowds as the waves can be a little more daunting to the novice. The great this is that you can check out both spots before making a decisions. 9/10 I chose Diabo beach over Apoador.
Overview
Skill level: Intermediate
Wave type: Steep beach break
Swell size: 2-12 ft
Crowds: Not as bad as Apoador but can still get busy
Swell direction: NE -> S
Wind direction: N
Leblon is in the same bay as Apoador but about 4km down the road on the other point. Less crowded than Apoador. There is a station nearby which helps if you are using public transport.
Close and convenient if you are in the inner city, in a nice neighborhood. You can hit all the top tourist sites and surf the rest of the time in this area.
Itacoatiara – Beautiful but deadly
Overview
Skill level: Intermediate-Expert
Wave type: Steep beach break
Swell size: 1-20 ft
Crowds: Not too shabby
Swell direction: NE -> SW
Wind direction: N
On the other side of Guanabara Bay, you will definitely avoid the crowds better here.
Its one of the best bodyboarding beaches in the world due to its steep takeoffs when the waves are large but if you get it on the right day it can service most levels of surfers.
On larger days this place gets completely psycho. Best to leave it to the pros when it's like this.
This is a great spot to take a day trip away from the historical centre of Rio.
Overview
Skill level: Intermediate-Expert
Wave type: Beach break
Swell size: 1-6 ft
Crowds: Plenty of beach to go around
Swell direction: NE -> S
Wind direction: N
Close to a number of hotels so, if that's your thing, this might be the part of town for you.
Its a beach break that is home to a number of surf contests due to is consistent nature. Barra beach stretches for many kilometres. At the one end of  Barra is the beach called Postinho. This is where some epic waves come in when the swell is up. Expert level stuff when its really big.
Saquarema – Home of the Oi Rio Pro
Overview
Skill level: Intermediate-Expert
Wave type: Exposed beach break
Swell size: 1-10 ft
Crowds: can get crowded but generally manageable
Swell direction: NE -> SW
Wind direction: NW
There are two real options here, Barrinha or Itauna and so offers lefts or rights. Check the condition map below to see which beach to surf depending on the conditions.
It is set next to a beautiful church built in the 1630s which makes great eye candy.
This spot catches the great groundswell and is best in winter.
Equipment recommendations
Board decisions
We flew into Rio with no boards and purchased two second-hand boards from a surf shop behind Apoador beach. This might be a cheaper option depending on how much you want to surf as rentals can cost you around R$50 (14 USD) a pop.
I bought a 5'11" performance type board for R$350 (91 USD) which I surfed to death and ended up snapping it in Florianopolis.
Flying with boards
Internally in Brazil, we flew with Gol Airlines. They are probably the best internal airline. We paid an extra R$100  (26 USD) each way with boards to Florianopolis.
Flying internationally, we flew with TAAG via Angola. They offer free transport of sports equipment so long as you are under the weight limit of 32kg. The wording on their website is a little vague but I go in touch with a consultant and they confirmed this: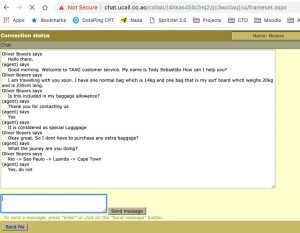 * Just to let you know that this article contains affiliate links. If you click on them we might receive a small commission, at no extra cost to you.
Sun protection
I really damaged my skin in surfing in Portugal because I neglected proper sun protection. Since then I've tried everything from wearing a hat in the water to every type of zinc imaginable. There is one sunblock that works every time. Island Tribe clear gel. It's the best. It lasts pretty much all day.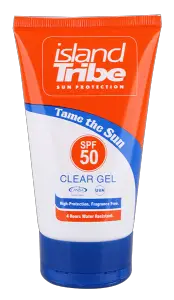 Final Thoughts on Rio Surf
There were many awesome beaches to choose from so choosing only five was difficult. Hopefully, this helps you in making your surf traveling decisions.
What spots do you think we should have included? Tell us in the comments below.
When we travel, we try to go to the places where we can surf and have access to high-speed internet so we can be effective digital nomads.
If you have any suggestions of where we should go next, let us know in the comments below! We would love to get some inspiration.
Thanks for reading and good luck on the hunt for waves.