Florianopolis, the capital city of the state of Santa Catrina in Brazil, was our home for a month on our digital nomad adventures. The city's claim to fame is the 42 beaches that stretch around the island's coast – which means that it was obviously on our bucket list of places to go!
We spent a month working and living in Florianopolis where we stayed in a small (but comfy) flat in Campeche. We were lucky enough to make English-speaking friends, which is a rarity in the Portuguese-speaking country, and they happily showed us around. It was largely due to our new friends, and a little help from Google, that we went on an adventure to find the best things to do in Florianopolis.  
One of our main takeaways from a month on the island is that it is significantly more European and Western than the rest of Brazil. We had just come from exploring Rio de Janeiro, and so the contrast was quite prevalent.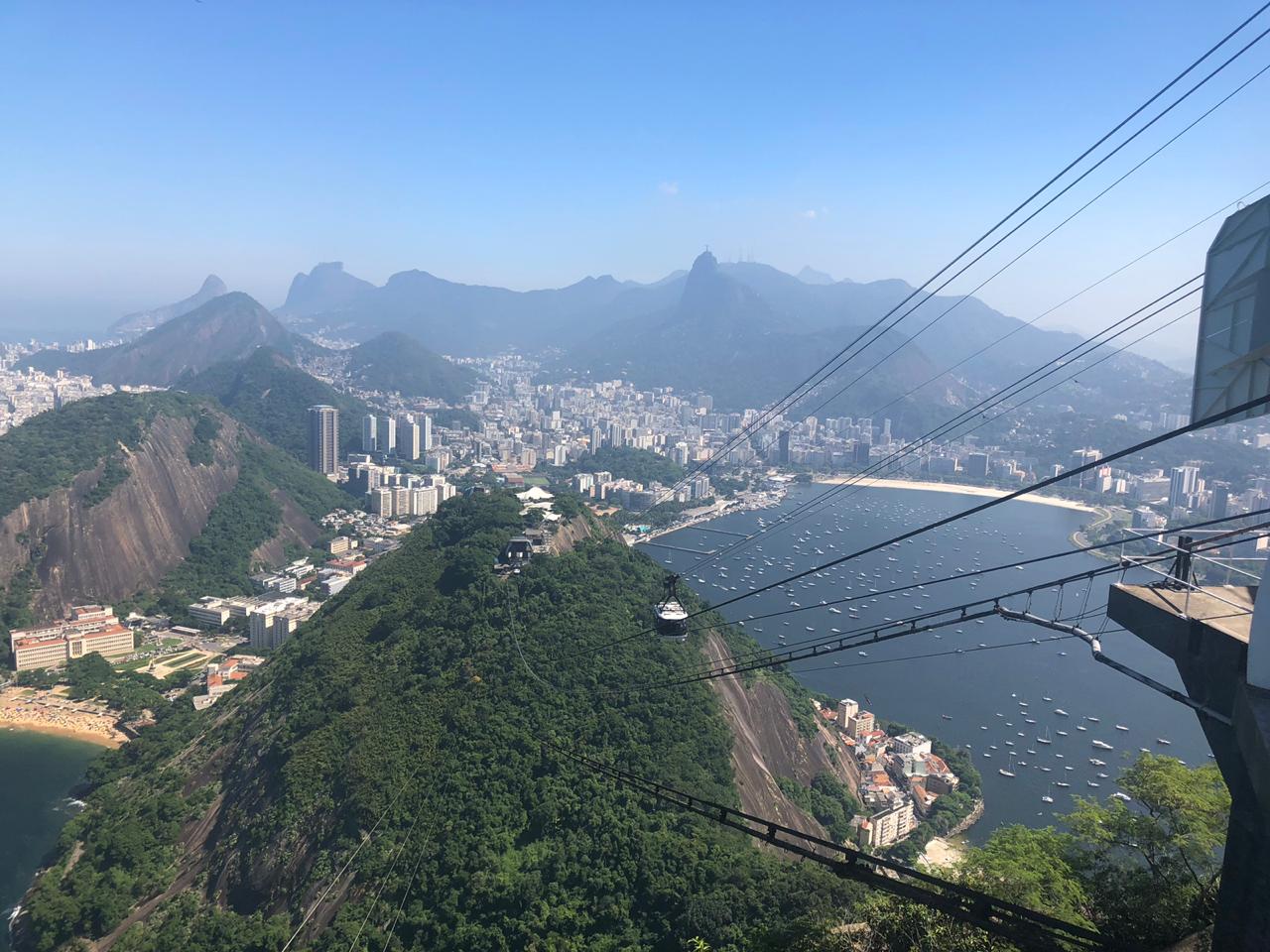 Need To Know
Before we share our best things to do in Florianopolis, there are a few important things to note about the vibrant, island-city.
Firstly, the weather is not nearly as tropical as the rest of the country. We arrived at the beginning of May and were shocked by how much cooler the city was. In addition, it rains A LOT during winter. Make sure that you do your research on Florianopolis climate before booking your ticket.
Secondly, the culture in Florianopolis also differs from the rest of Brazil. While the energy is just as festive, there is less of a Latin-American feel, and more of European, Western energy. This took us by surprise.
What To Do In Florianopolis
The majority of activities to do in Florianopolis are outdoors and heavily weather-dependent. So, if you are an adventure-seeking, party-goer or beach-bum, then Floripa is the city for you!
1. Kiteboarding
Florianopolis has a fair share of windy days which can make it quite miserable to be out on the beach – unless you are on a kiteboard of course.
Ollie had been wanting to give kiteboarding a bash for a while and jumped at the chance of taking his first lesson. I went along for the ride and really enjoyed being out on the water.
Whether or not you are experienced on the water, a kiteboarding lesson is a great challenge and one that will leave you full of adrenaline and craving more.
2. Historical Center
While the city center of Floripa is not as detailed as larger cities, it is just as vibrant. In the middle of the city, there is a large fig tree that is a sight to marvel at on its own.
If you can, aim to explore the historical center on the weekend as there is bound to be some or other festive activity adding energy to the mood. We went on a Saturday morning and watched a capoeira demonstration outside the cathedral, popped into Palacio Cruz e Sousa and marveled at a fascinating parade through the streets.
Our highlight was listening to the sweet music of a busking violinist. He blew us away with his silky tunes.
* Just to let you know that this article contains affiliate links. If you click on them we might receive a small commission, at no extra cost to you.
Highlights:
Explore the local streets on a walking tour of the city
Soak up the atmosphere on a walking tour
Free hotel pickup and drop-off included
Informative, friendly and professional guide
Comprehensive tour of the city
3. Public Market
Also located in the city center is the public market. The enclosed area is super vibey and well worth the visit.
After strolling through the market, you can put your feet up in the courtyard. Be serenaded by groovy live music and sip on ice cold beer as you absorb your surroundings.
Take your time relaxing at the public market – the atmosphere deserves to be absorbed in the finest detail. It's a great place to refuel before you continue on your adventures.
4.
Hercílio Luz Bridge
The Hercílio Luz Bridge is an old bridge that connects the island of Florianopolis to the main continent. The bridge is currently under construction and has been for quite some time.
To be honest, while the bridge is an impressive piece of architecture, it is not really worth the trip unless you are in the area. Adjacent to the bridge, there is a promenade scattered with outdoor gyms, incredible views and seaside spots to relax. For us, this strip was more memorable than the bridge itself.
5. Lagoinha Do Leste
Lagoinha do Leste trail is perhaps one of the most beautiful hikes that we have ever been on. The trail leads to an exquisite beach that boasts prime surfing swell.
The short 45-minute hike is not for the faint-hearted. While the views are beautiful, the inclines can be quite mean at times, especially if you have a surfboard in your hands. Regardless, this was arguably one of the best days that we spent in Florianopolis.
After Ollie's surf, we hiked to the top of the adjacent hill and goofed around. Make sure that you pack a lot of water and snacks as there are no shops nearby.
We went with our new friends who led the way, but if you don't have a guide of sorts, then we would definitely recommend that you book a tour of the Lagoinha do Leste trail.
Highlights:
Informative, friendly and professional guide
Fully narrated tour
See native wildlife in their natural environment
Enjoy a day away from the hustle and bustle of the city
6. San Antonio de Lisboa
San Antonio de Lisboa is the hidden gem of Florianopolis and the ultimate romantic destination. It is an outstandingly beautiful and truly special area.
Meandering through the cobblestone streets conjures up nostalgic feelings of a Mediterranean seaside village. The best time to explore the area is definitely during sunset as you stroll along the beach and watch the sun dip behind the horizon. Painted glorious shades of pink and orange, the sky reflects its subtle tones on the rocking boats.
The coastal road is lined with quaint pubs and restaurants to enjoy the rest of the evening.
7. Joaquina Dunes
The Joaquina beach and dunes are picture-perfect and truly remarkable. Our suggestion is to visit the beach and enjoy the waves before heading over to the dunes for some fun.
The rolling hills of sand are every sand boarder's paradise and every unfit traveler's nightmare. We had loads of fun running down the dunes and absorbing the epic view.
If you are interested in having a go at cruising down the dunes, there are several tours that offer a great sand-boarding experience.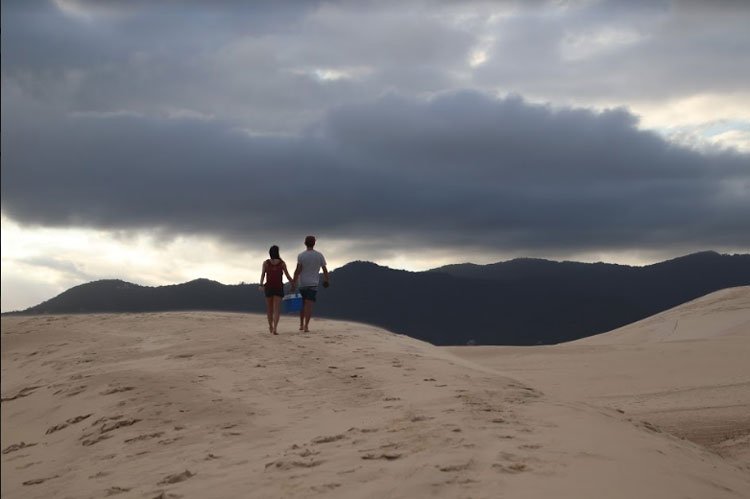 Highlights:
All necessary equipment included
Choice of several departures throughout the day
Family friendly
Popular choice with kids
8. Surfing
Florianopolis boasts 42 pristine beaches – many of which are perfect for surfing. We stayed a stone's throw away from Campeche beach which became our local spot.
Using the boards that we previously bought in Rio, we went down to the beach to try our luck on a daily basis. Ollie surfed almost every day, while the waves were fairly intimidating for me. Needless to say, I spent a good few days jogging along the shore or scribbling in my journal while Ollie shredded.
Highlights:
Surfboard and more equipment
3 nights accommodation
Breakfast
Air-conditioned vehicle
Airport pick up and drop off
With a variety of different swell available in Florianopolis, there's a surfing beach to suit all levels. While Ollie broke his board in Campeche, there are several other beaches that are beginner-friendly. All that you need to do is take your pick!
9. Enjoy Florianopolis, Brazil, Nightlife
In true Brazilian fashion, Florianopolis has a pumping nightlife. From street parties and clubs that keep going until sunrise, the nightlife on the island is incredible.
Everyone on the island is super friendly, and we never felt uncomfortable or unsafe. We spent many nights wandering through the streets, jumping from pub-to-pub and snacking on fish and chips.
As a side note, there is a thriving LGBT community in Florianopolis. This makes the overall atmosphere on the island very accepting and festive.
10. Campeche Island
Campeche Island, locally known as Ilha do Campeche, makes for an incredible Florianopolis day trip. If you consider yourself an adventure seeker, then the best way to experience Campeche Island is to stand-up-paddle-board (SUP) across the water. An alternative way to experience the island is by boat.
It is important to note that this activity is heavily dependent on the weather. The sea needs to be fairly calm and sunnier skies makes the experience more pleasant.
Highlights:
Close encounter with wildlife
Likely to Sell Out
Travel by boat and see the sights from the water
Final Thoughts on Florianopolis
In conclusion, we thoroughly enjoyed our time in Florianopolis and will definitely return. If you don't enjoy the outdoors, you may want to reconsider your travel plans, but a trip to Florianopolis is well worth the adventure.
Our list of things to do in Florianopolis should have you busy for a while. Get ready to create timeless memories, soak up the sun and explore a new city.