Are you planning a surf trip and looking for the best places to go surfing in March? With so many countries to choose from, and so many parts of the world boasting outstanding surf opportunities, how do you choose!
It's every surfer's dream to plan a vacation with great swell and few crowds in the water. While these gems are not as easy to come by, there are a few destinations that are known for their surfing potential during March.
If you're looking for a place to go surfing during another month of the year, then you can read our month-by-month surfing guide here.
As March sits on the shoulder of winter, it means that a powerful swell continues to hit many surf spots but becomes a bit more manageable for newbies. This makes March a great month for intermediate surfers who are working on their confidence or learning the ropes.
* Just to let you know that this article contains affiliate links. If you click on them we might receive a small commission, at no extra cost to you.

1.   Fuerteventura, Canary Islands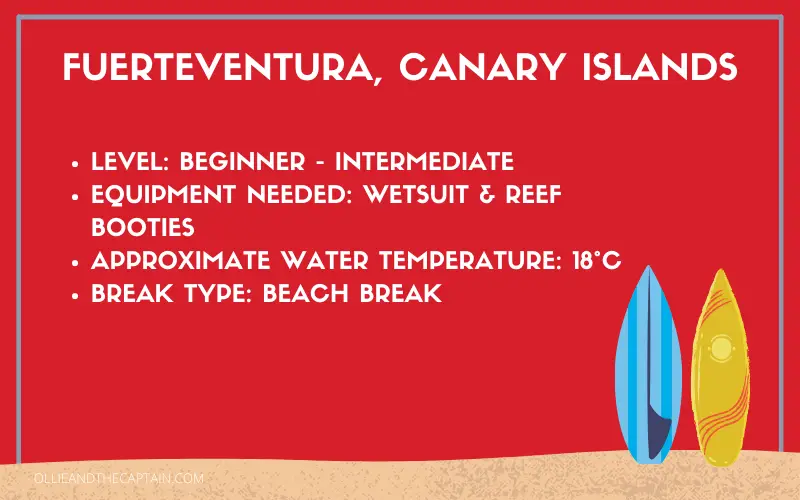 The Canary Islands are known (and loved) for their amazing surf spots. Whether you're a pro or a beginner, the Canary Islands have something for everyone. During March, Fuerteventura has conditions that are especially enjoyable for beginner surfers.
Are you a beginner looking for the perfect board? View our suggested options here.
The power of the winter swell is still prevalent in Fuerteventura, but the wind is yet to pick up. This makes the conditions perfect for zipping up your wetsuit, waxing your board, and jumping into the water.
Book an 8-day all-level surf camp in Corralejo, Fuerteventura here.
The gentle beach break at Playa Morro is perfect for learning the sport and building your confidence for something a little bit more challenging. If you're traveling with a loved one who doesn't enjoy riding waves, then there's enough on the island to keep them entertained. Maybe they will even choose to dip their toes in the surfing water!
Browse places to stay in Fuerteventura, Canary Islands.
2.   Taghazout, Morocco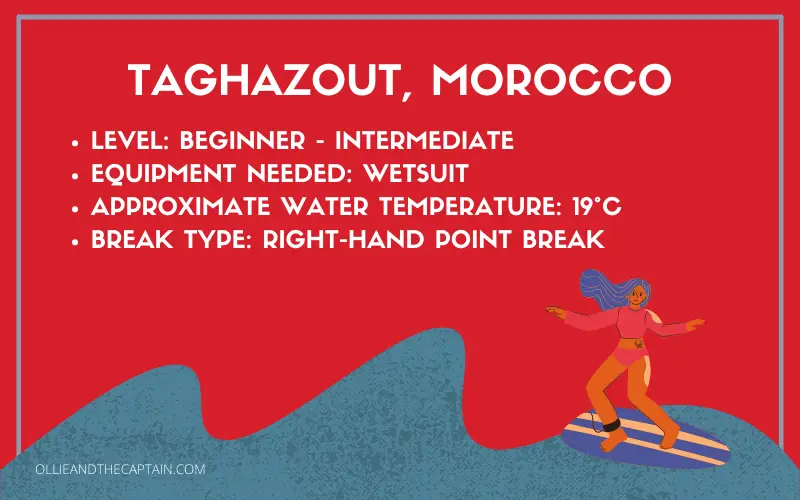 There's a spot in Morocco for all levels of surfers. However, Taghazout's Banana Beach is especially great for intermediate surfers and those who enjoy riding a longboard. While the air temperature is warm, the water temperature is quite cool. If you plan to spend hours in the water, then it's best to suit up!
Book a 6-day surf and yoga holiday in Taghazout here.
Technically, the high season for surfing is over by March, which means that the water is less crowded than during the winter. The transition of the seasons makes the swell fun for intermediate surfers while also providing waves for novices to learn the sport.
Browse places to stay in Taghazout, Morocco.
3.   Lisbon, Portugal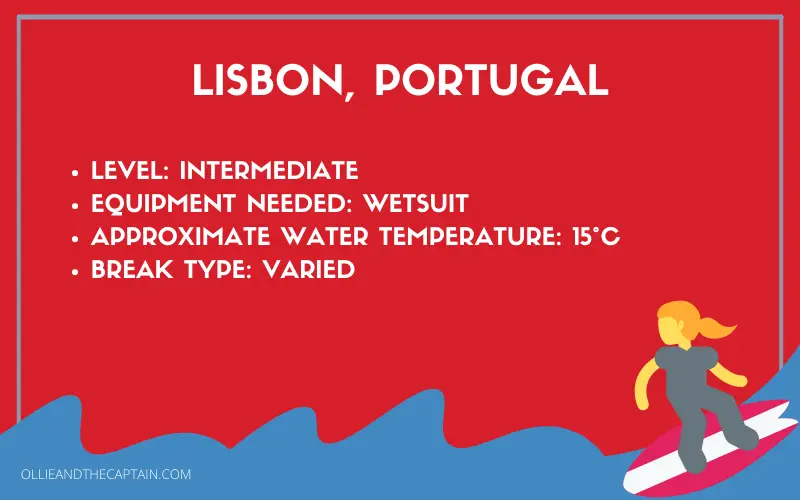 While Lisbon is mostly known as a bustling city, particularly popular among digital nomads, there are also plenty of surf destinations that are a short commute away. One of these places is Cascais, one of the best places to surf in March if you're an intermediate surfer.
Book an 8-day exciting surf camp in Cascais, Lisbon here.
The stretch of coastline extends from Carcavelos surf beach to Guincho, a strip that comes alive with surfers, beach-goers, and sunshine-lovers. There is a choice of beach breaks, longboard breaks, point, and reef breaks, as well as advanced breaks. The water is chilly though, so make sure that you have a wetsuit handy! If the swell isn't great, you can visit the Palaces of Sintra which are close by.
Browser places to stay in Cascais, Lisbon.
4.   Santa Teresa, Costa Rica
If you love the tropical mood that comes with palm trees, long stretches of coastline, and lush jungle, then Costa Rica is a winner! The country is known to boast some of the most incredible surf spots in the world, and the month of March is no exception.
Book a 7-day surf adventure in Santa Teresa here.
The water is warm, so no wetsuit is needed. Simply grab (or rent) a surfboard, wax it up and paddle out to the backline. Playa Santa Teresa is a guaranteed bet, offering different peaks that break over a flat volcanic rock base and sand. If you're looking for a barrel, then this is the spot to go.
 Looking for highly recommended surf camps in Costa Rica? Read here.
March is the start of Santa Teresa's main surf season, with 81% swell consistency, minus the crowds that tend to arrive in the coming months. Even though March isn't the prime season, the surfing community has everything that you need throughout the year!
Browse places to stay in Santa Teresa.
5.   Lombok, Indonesia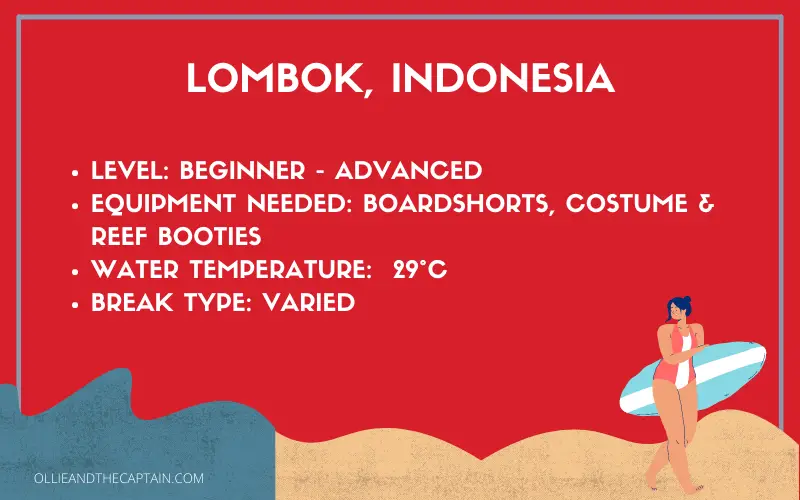 Lombok caters to surfers of all levels. With this in mind, some of the best surfing in March can be found in Lombok, a tropical island with delicious food, rich culture, and outstanding surf. Lombok is one of the few places in the world that has consistent swell throughout the year, but different breaks will work during specific months.
Book a 7-day surf addict holiday for all levels in Lombok here.
March falls into the rainy season, and you can find perfect glassy waves at spots around the island. Top spots include Segar and Are Guling. While neighboring island, Bali, is a personal favorite for surfing, Lombok's line-ups are often less crowded making it a great spot to learn to surf or improve your skills. 
Browse places to stay in Lombok, Indonesia.
6.   Maui, Hawaii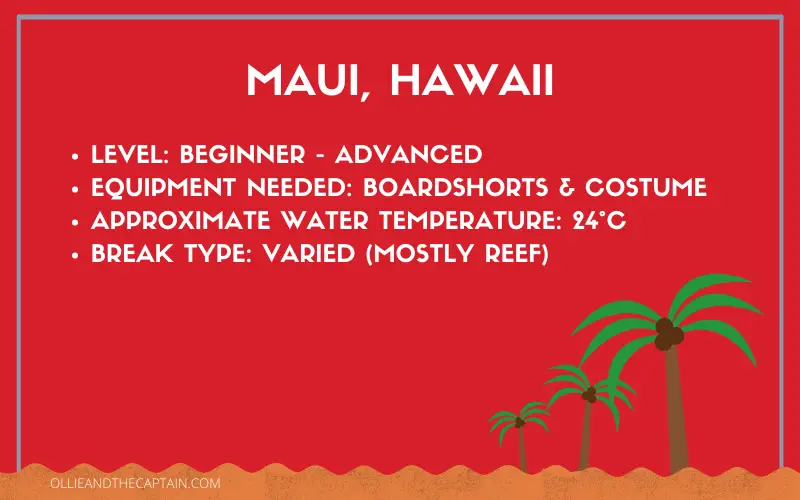 Maui caters to surfers of all levels, with spots like Kihei welcoming beginners and Honolua Bay challenging more advanced riders. The island is exposed to various swell and wind directions which helps to find a place to surf on any given day. When it's blown out in one spot, it will be working at another.
The big surfing season in Maui falls between November and March, meaning that you can find heavy north swells pushing toward the island. However, this doesn't mean that beginners won't be able to find mellow swell in the south.
Browse places to stay in Maui, Hawaii.
7.   Malé Atolls, Maldives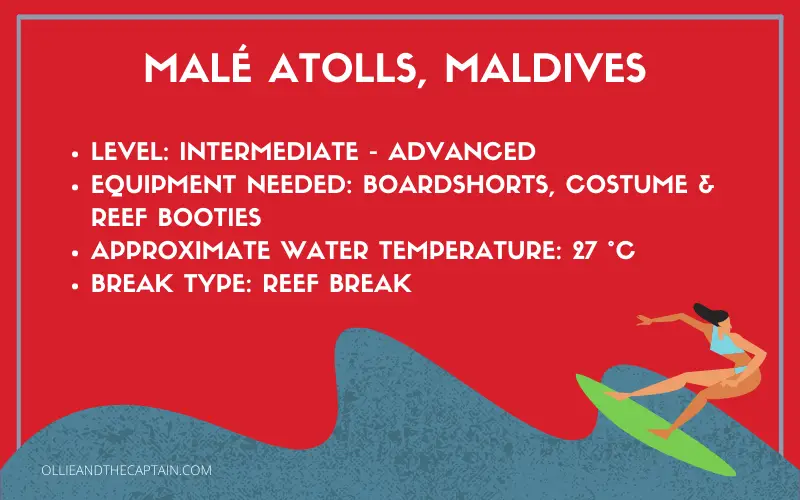 If you have a little bit of money to spend, then the Maldives is the perfect surfing destination for a luxury holiday in March. The most consistent swell begins to arrive in April, but you can still expect awesome waves from March, minus the crowds!
During the peak season, the south swells and prevailing west (or southwest) winds work their magic to bring the quality breaks in the north and south of Malé alive. While most of the spots are best suited for experienced surfers, there are a few breaks that can be enjoyed by beginners. Alternatively, there are plenty of water activities to be enjoyed on the islands like scuba and snorkeling!
Browse places to stay in Malé Atolls, Maldives.
8.   Chicama, Peru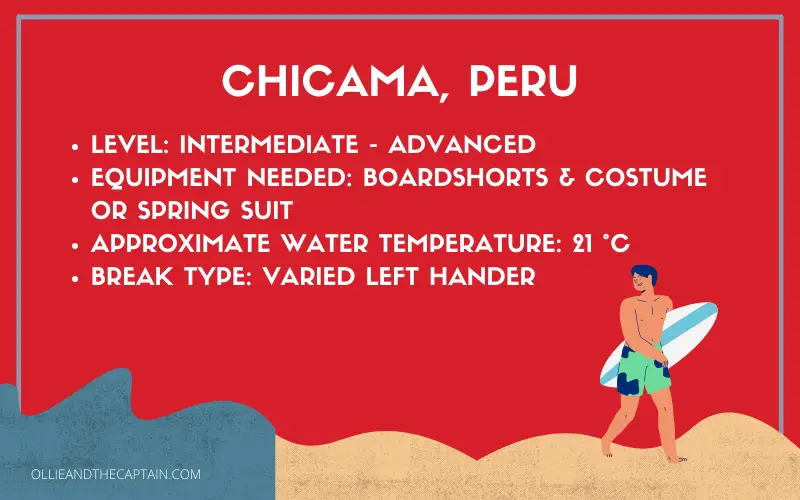 Chicama is revered around the world for having one of the longest left-hand breaks. But there's a lot more to enjoy than this break alone. With 95% swell consistency during March, you can expect long hours in the sun as you rip it up on the water.
Book a 7-day surf trip in Chicama, Peru, here.
Chicama has minimal crowds, which is difficult to believe when you consider the heavenly conditions. If you're looking for long, undisturbed rides to practice your maneuvers without being dropped in on, then Chicama is a winner.
Browse places to stay in Chicama, Peru.
9.   Bells Beach, Australia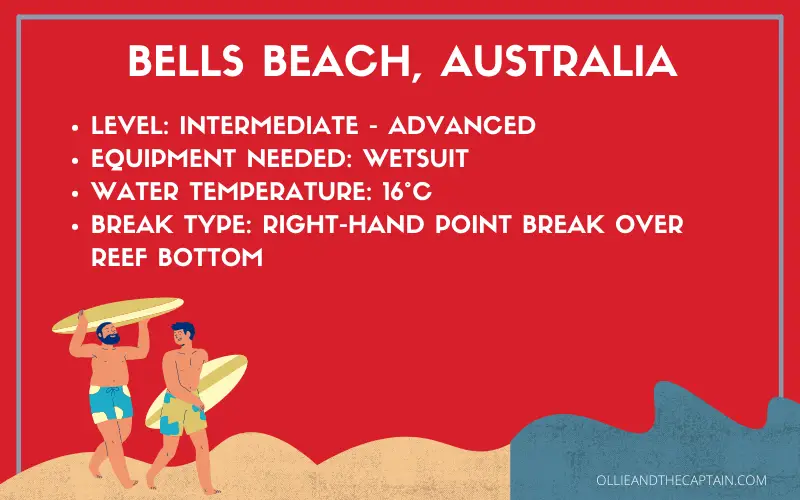 Bells Beach is known as the home of the Rip Curl Pro during the month of March and April. If the spot is good enough to host professionals, then you can bet your bottom dollar that the spot works – and it works well!
Bells Beach is one of the chillier spots on this list. If you want to be fully prepared, then check out our list of cold-water surfing essentials.
The stormy ocean transforms Bells Beach into a swell magnet during March, making it one of the best times to visit. The beach is an exposed reef that is protected by large cliffs. The most popular spots include Rincon and The Bowl. The right-hand point break works on almost any tide and wind direction.
Browse places to stay in Bell's Beach, Australia.
If you plan on heading into the closest big city for the day, here are a few things to do in Melbourne.
Pick from the Best Places to Surf in March
If you're wondering where to surf in March, then you have a selection – as you can see. Each of these spots has something unique to offer surfers, with a spot to suit everyone's taste.
As a bonus, the shoulder season is a fantastic time to book a trip as the crowds are less and the costs of traveling are lower. What's not to love!
If you have any other epic March surfing destinations for us to add to this list, then send us a DM on Instagram and we'll add them!