Whether you are on vacation or living as a digital nomad, traveling can easily disrupt a routine. This affects all aspects of daily living including eating habits, sleeping and staying fit!
For us, being active is part of our lifestyle. When we are in Cape Town, we are constantly in the water surfing, hiking the beautiful Lion's Head, running on the Seapoint Promenade or sparring at the Armory.
Although traveling can give you an incredible high, it can also take away the routine release of endorphins. The good news is that there are several ways of staying fit while traveling!
So, whether you are on a mission to lose weight while traveling, or simply get a kick out of breaking a sweat, here are our top tips on how to workout while traveling.
Enjoy Local Hikes
We've been to several countries where many of the iconic attractions involve a hike of some sorts. One of our most recent experiences was our hike up to Christ the Redeemer in Rio de Janeiro.  
This was our first experience in the Brazilian forests and we absolutely loved the lush, tropical scenery. In fact, we loved it so much that we decided to hike Sugarloaf Mountain as well.
Choosing to hike local attractions is not only a great way to burn some energy, but it is also a brilliant way to absorb the beauty of a new city.
Insider Tip: We always try to pack a good pair of shoes that can be used on trail roads for this very reason. Ollie swears by his Salomons and has had them for several years. As a starting point, these are Ollie's pick for Salomon Trail Running shoes.
* Just to let you know that this article contains affiliate links. If you click on them we might receive a small commission, at no extra cost to you.
Take Advantage of Natural Resources
Another great way to experience the city is to embrace the natural beauty and outdoor equipment for your travel workout routines.
Personally, our favorite thing to do is to go surfing. In fact, we very seldom book trips to destinations that aren't coastal. Over time, we've learned that it can be fairly expensive to rent a board every time that you want to shred (or bop around in my case). Traveling with a surfboard can also be quite pricey depending on the airline that you choose.
Our solution is to buy a solid surfboard leash, surfboard fins, and surf wax beforehand. We pack it with us and buy a cheap second-hand board once arriving in our new location.
Handy tip: this is obviously more cost effective for longer trips.
If you are not a water baby, you can still enjoy an epic travel workout routine anywhere outdoors by packing a trusty skipping rope!
Most of the cities that we have visited have some sort of outdoor gym near our accommodation. We enjoy running to the gym (normally between one to two kilometers away), doing a short workout with the outdoor equipment, and then running back.
If you prefer full-on cardio, then a run through the streets or along the coastal promenade is another great way to enjoy a travel workout – no equipment needed!
Pick Up a Local Sport 
If you want to keep fit AND experience part of local culture, then taking a class in an activity unique to the destination is a great way of staying in shape.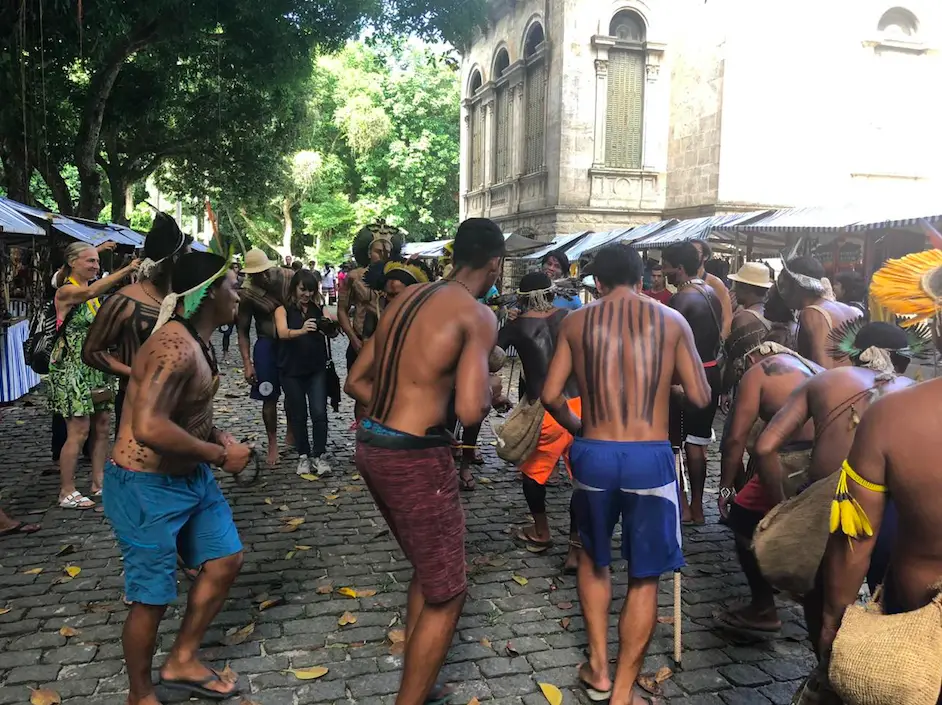 If you are traveling with a friend, partner or family then rope them in to take part in the fun! It will definitely ease any nerves that you may have as you try something new. However, if you are traveling alone then taking part in a lesson can introduce you to new friends.
While in Rio, we recently met a lovely lady from Bali who came to Rio specifically for the Jiu-Jitsu culture. She claims that she has made countless friends just from her gym!
Stay Fit by Walking Everywhere
One of the easiest ways to workout while traveling is to walk everywhere that you can. Not only is walking one of the best ways to see the city, but also one of the most convenient ways of working out on vacation.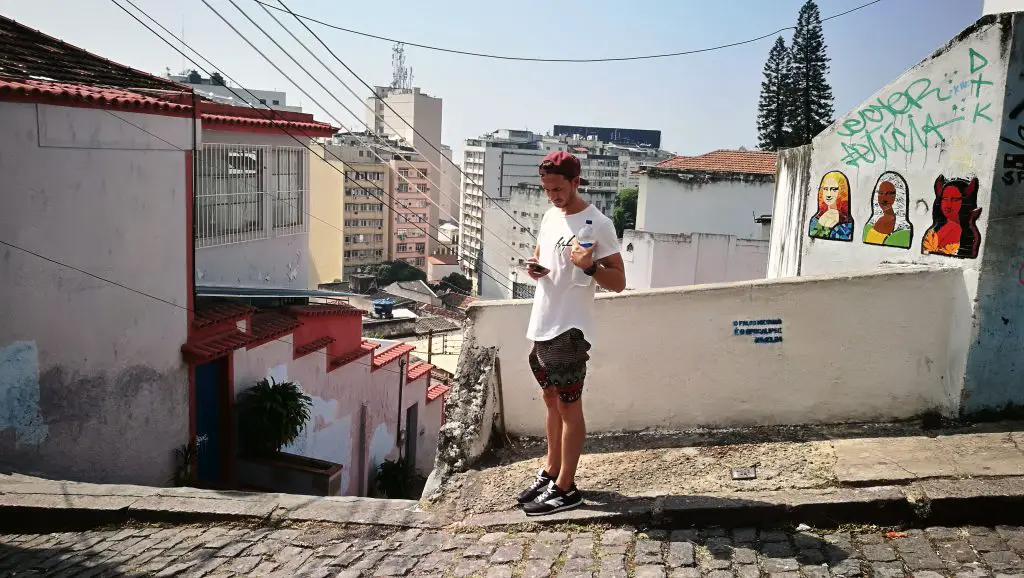 Anyone who is familiar with traveling will understand that delightful feeling of putting your feet up on the bed at the end of the day and feel the blood rush back to the rest of your body. It is super easy to rack up the miles without even realizing it!
With that being said, Ollie has a sneaky tactic of decompressing after a long day exploring. He packs a golf ball with him everywhere he goes and rolls his foot on it when he gets home. It's a great way to relax and release any tension that you may be holding. While a golf ball is great, this foot roller is even better (perhaps we should put it on our birthday gift lists).
Exercise On-The-Go: Our Go-To Travel Workouts
If you are anything like me, you like to have a dedicated time in your day to burn some energy. For me, it is a huge release and also makes me feel like I have some form of control of my life when consistently encountering the unexpected on the road.
This short workout is only 15 minutes long and can be done in your hotel room. I normally double it up for a solid 30-minute session.
The video below briefly demonstrates the movements which are as follows:
5 Minutes Abdominals
One minute crunchies (legs in the air for extra)
One minute bicycle twists
One minute elbow plank
One minute side plank – 30-second hold, 30-second pulse
Repeat side plank on the other side
5 Minutes Squats and Legs
One minute fire hydrant – 30 seconds sideways, 30 second back extension
Repeat fire hydrant on the other side
One minute sumo squat
30-second calf rises
30-second calf hold
One minute wall sit (at 90 degrees)
5 Minutes Bodyweight Cardio
One minute push-ups
One minute mountain climbers
One minute burpee push ups
One minute alternating jump lunges
30 seconds high knees
30 seconds butt kick
Closing Thoughts on Staying Fit While Traveling
The choice to exercise when traveling doesn't need to be a pressurized one. As you can see, it is very easy to enjoy the local culture, the natural beauty, and iconic attractions – all while enjoying a bit of a workout.
Hopefully, the few suggestions that we've shared help you view staying fit on the road a little bit differently. If you have any other suggestions – please do drop us a message and let us know!
If you haven't subscribed to our YouTube channel or followed us on social media – here are our links.