Are you wondering where to surf in May? May comes just before the heart of winter in the southern hemisphere and sits on the cusp of summer in the north. This transient season is mild in temperature and swell, making it the perfect time to go surfing for surfers of all levels.
Are you looking for a tropical escape where your hours alternate between lazing on the beach and ripping on the waves? Or a cooler surfing trip where you zip up in your wetsuit and warm up with a coffee after? Whatever your preference, there's something for you!
Here's our list of the best surf destinations during the month of May, with something special for everyone.
Planning a surf trip during another month in the year? Read our annual surfing guide here.

1.   Ericeira, Portugal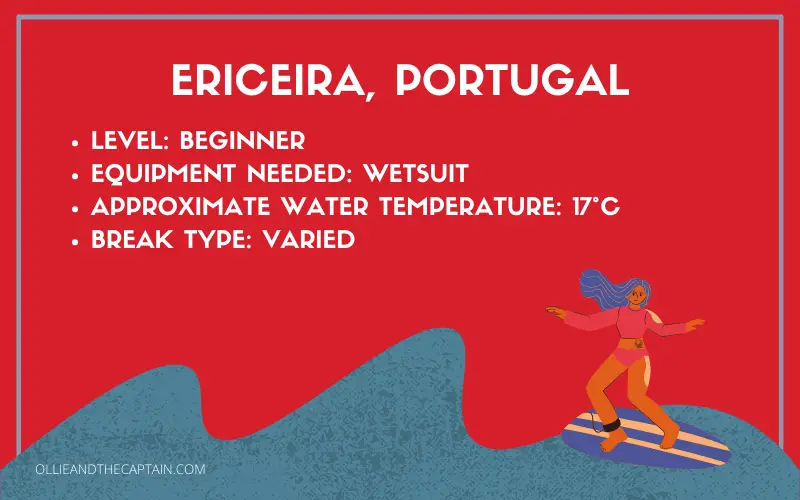 Throughout the year, Portugal's Ericeira is loved as a top surfing destination for advanced rippers. However, if you're wondering where to surf in May as a beginner, then Ericeira can meet that need as well!
Book a 7-day surf camp for beginner and intermediate surfers in Ericeira here.
Ericeira is one of the colder surf spots to visit on this list, but the air temperature is still warm enough to be pleasant. Foz do Lizandro, in particular, is known to especially swell for beginner surfers (especially on low to mid-tide).
Even better, the beach is scattered with cafes to grab a cuppa after your session!
Browse places to stay in Ericeira, Portugal.
2.   San Juan del Sur, Nicaragua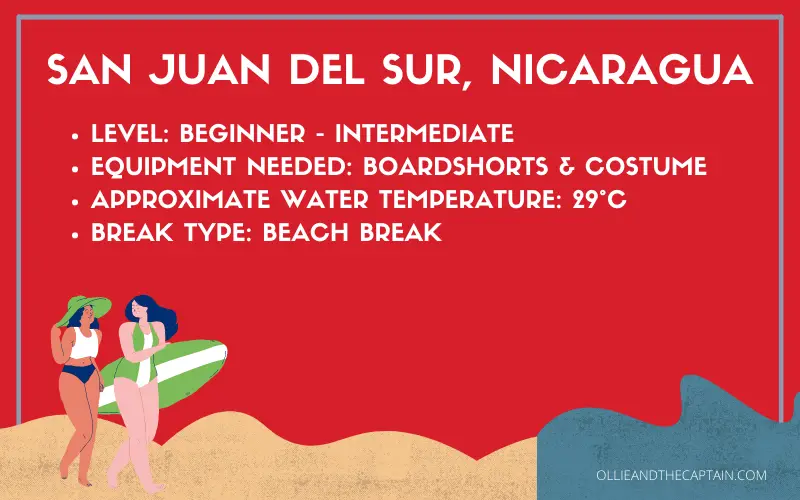 Can you imagine exhausting yourself in the water then getting comfortable under a palm tree enjoying an ice-cold drink – and then rushing out for another session? That's the sort of surf trip that you can expect from San Juan del Sur in Nicaragua.
Surf camps are a great way to experience a destination. Read our guide on the best surf camp in Nicaragua here.
The swell in Nicaragua is consistent throughout the year, with each spot offering a unique and memorable experience. If you're a beginner or intermediate surfer, then surfing a beach break in San Juan del Sur, such as Playa Maderas, in May promises a good time.
Book a 6-day surf and yoga holiday in San Juan del Sur here. 
Mid-May kicks off Nicaragua's green season, which is when the Pacific coast gets the biggest swell. This makes the month a great time to visit and surf.
Browse places to stay in San Juan del Sur, Nicaragua.
3.   Santa Teresa, Costa Rica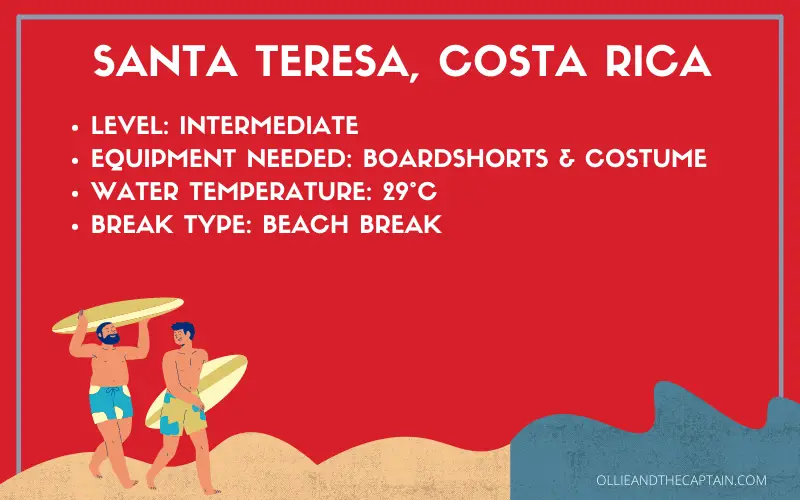 All that you need to surf Costa Rica in May is a pair of board shorts (or bathing suit) and a healthy dose of sunblock. The tropical destination is an epic spot to visit for a surf trip, and intermediate surfers will particularly enjoy Santa Teresa in May.
Visit Costa Rica with a surf camp – read our blog for more.
While there are several surf breaks in the Santa Teresa area, the main beach offers a lot of fun without having to go too far. Other great spots to look out for include Playa Hermosa and Playa Carmen.
Book a 7-day surf adventure in Santa Teresa here. 
Santa Teresa is a charming town that has been developed with surfing at its core. With this in mind, you'll find plenty of surfboard rentals, surf camps, and lessons available.
Browse places to stay in Santa Teresa, Costa Rica.
4.   Cape Town, South Africa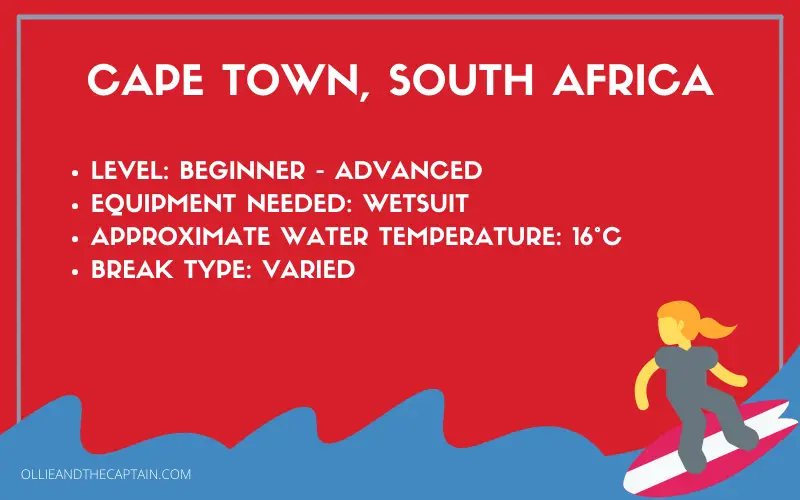 Cape Town is a great place to choose for a surfing trip for a number of reasons. It's affordable, vibrant and there's a choice of varied surf spots – all reasons that also contribute to Cape Town being a great digital nomad destination.
Book an 11-day surf and yoga holiday for all levels in Cape Town.
Cape Town's swell works best during the winter but begins to pick up during the months of April and May. During this time, the waves start to build in size, but the air temperature isn't too cold yet.
There are several spots to choose to surf in Cape Town, and there's a break to suit every level. 
Browse places to stay in Cape Town, South Africa.
5.   Hossegor, France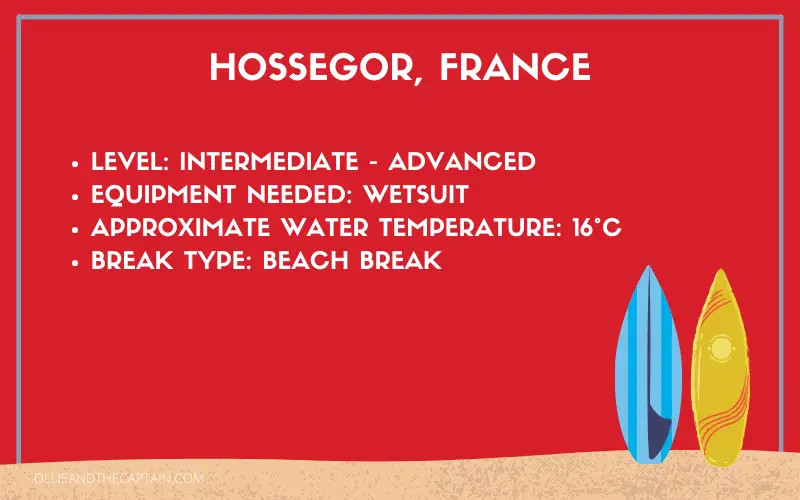 May is perfect timing to go surfing in Hossegor. The heavy winter swell has started to die down but the waves still carry enough power and hold enough size to promise hours of fun for all levels.
Book an 8-day surf camp and immersive French education here.
Hossegor is a consistent surf spot that boasts swell throughout the year. Even so, the conditions will vary depending on the season. During May, water is warmer and the waves work well for intermediate to advanced surfers.
Expect quick barrels and constantly shifting sandbanks that make for a lot of fun – so be prepared for anything!
Browse places to stay in Hossegor, France.
6.   Bali, Indonesia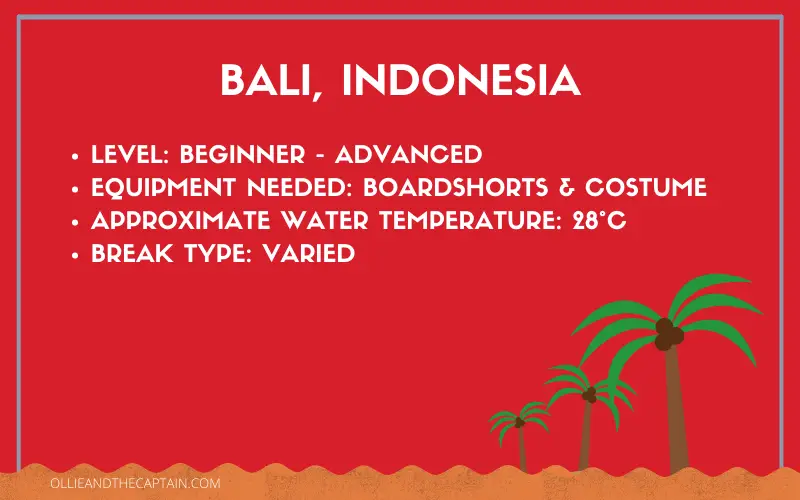 Bali is one of those sneaky destinations that serve delicious waves on a silver platter all year around. Even so, there are two definite seasons in Bali namely the wet season (October to April) and the dry season (May to September). Overall, the dry season is known to produce the best swell.
Bali has a choice of excellent surf camps to enjoy. Read our guide here.
May kicks off the dry season and the waves start building in power at various spots around the island. Surf breaks that were previously smaller in size build up in force, promising hours of fun for advanced surfers, while there are still decent size waves for newbies to learn. 
Book an 8-day green wave surf guiding camp in Medewi, Bali, here.
While there are plenty of waves to go around, the water during the peak surf season can be very crowded. May is just before this prime surf season, making it a great time to visit.
Browse places to stay in Bali, Indonesia.
7.   Oaxaca, Mexico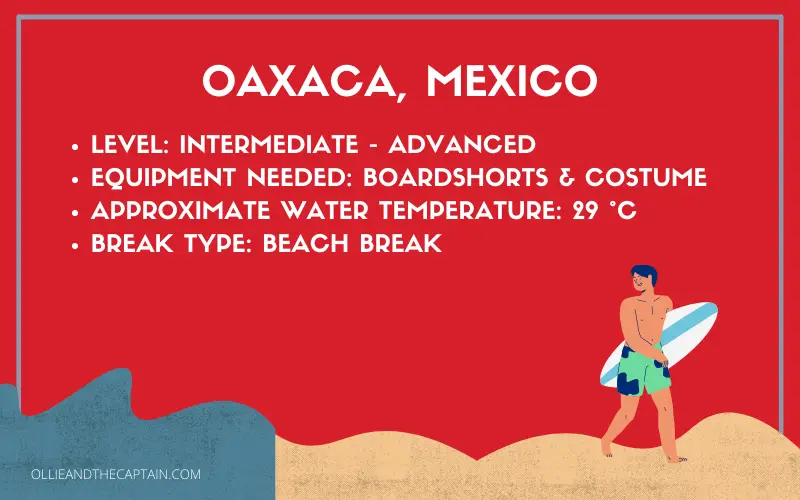 Oaxaca is another crowd favorite among intermediate to advanced surfers. The area is scattered with epic surf towns that have all that you need for an insane surf trip.
Book an 8-day regular Spanish and surf camp in Puerto Escondido, Oaxaca, here.
While Puerto Escondido is the best-known area for its quick right-hand breaks and strong summer swells, there are lots of undiscovered spots in the area. This means that several spots are slightly off the beaten track, but the rewards are certainly worth it!
Keep in mind that if you're a beginner, then Oaxaca may not be the best place to learn – leave it to those who are slightly more experienced.
Browse places to stay in Puerto Escondido, Mexico.
8.   Chicama, Peru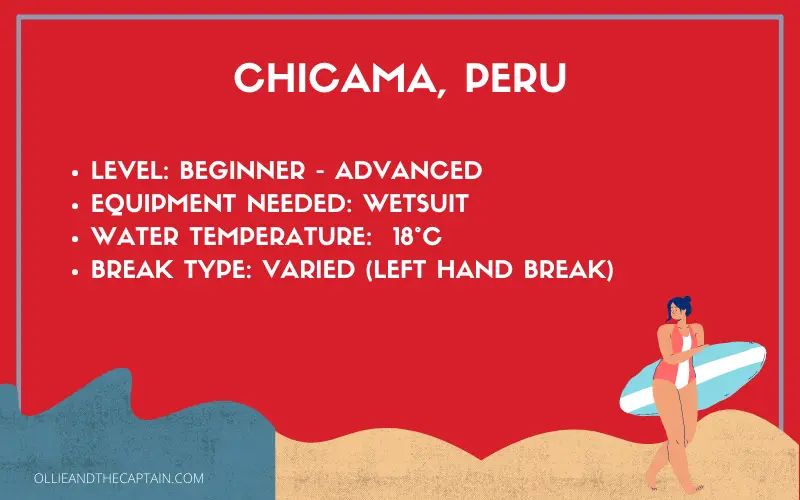 Calling all goofy surfers – Chicama is world-renowned for having the longest left. The month of May serves up smaller-than-huge waves which makes it the perfect time to surf for all levels of surfers.
The last thing that you want to ruin your long-running left-hand ride is to slip off. Make sure that you have the best surf wax for the conditions – read here. 
The weather conditions in Peru's coastal regions are semi-arid, which means that surfing can be quite a different experience from other tropical destinations. But that doesn't mean that the swell is any less impressive!
Book a 7-day surf trip in Chicama here.
While Chicama is best known for the long lefts, which a young Peruvian surfer rode for 2 minutes and 20 seconds, there are lots of other awesome spots to explore as well.
Browse places to stay in Chicama, Peru.
9.   Bryon Bay, Australia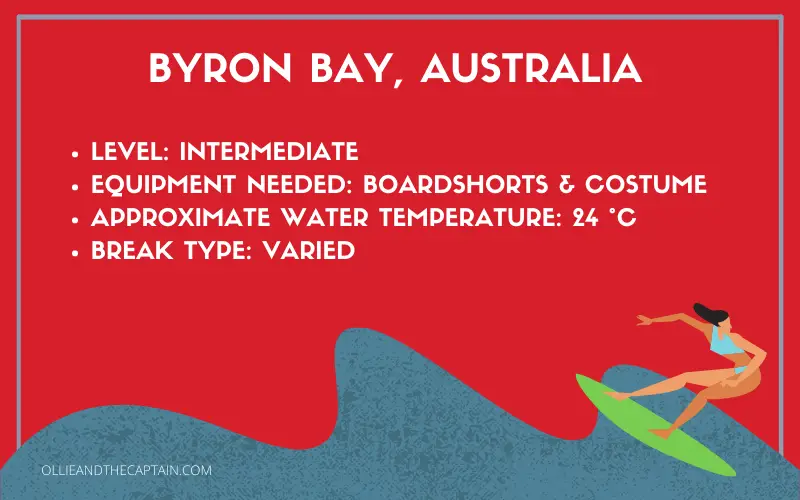 The season between March to May introduces solid groundswell to Byron Bay shores. While peak surf season happens in winter, kicking off around June, May is a very decent introduction.
Book a 3-day surf and stay in Byron Bay here.
Surf breaks in Byron Bay in May are building up to their optimal conditions, without the crowds flocking. You can expect more powerful surf and favorable conditions that follow on from summer.
Browse places to stay in Byron Bay, Australia.
Plan Your Surfing Trip In May
May is a shoulder season that offers great potential, without the pressure of large crowds and massive swell. While advanced surfers are certain to find amazing spots to enjoy, May is a great month for beginner to intermediate surfers as well.
If you're planning a surf trip around your working schedule, then why not see if you can work and surf? Digital nomads who surf will love these spots, as most have a great setup for working remotely.
For more surfing nomad destinations, read our blog here.