Surfing, sunshine, delicious food, and Bintang beer are just a few reasons why we love Bali. It's a pretty epic digital nomad destination and a hot tourist spot. The Indonesian island is a tropical wonderland, bursting with beautiful places, world-class beaches, and fascinating culture.
If you've decided to plan a trip to Bali, surfing has definitely crossed your mind. And if it hasn't – it will now. Of course, you can rent a board, or grab your own, and hit the water as soon as you land. But maybe you're a novice, figuring out how to stand on a foamie. Or a guru who knows there's still more to learn. A surf camp in Bali is the ultimate getaway and is pretty much perfect for anyone who loves the ocean, meeting new people, and hanging out in paradise.
But there are so many surf schools in Bali that choosing the right one can be a bit dizzying. We've got you covered with our top picks of the best surf camps on the island.
* Just to let you know that this article contains affiliate links. If you click on them we might receive a small commission, at no extra cost to you.
Top Surf Camps in Bali
There are a few key features that set Bali surf camps apart from other accommodation options. These include amenities such as outdoor showers to rinse off the salt and tropical heat, rustic island luxury, and expert instructors.
Check out these top 6 surf camps in a variety of locations and offering different camp options. There's no doubt you'll have a hard time picking but you're guaranteed to love it, whichever you choose.
Authentic Indonesian culture, complete tranquillity, and a 'take it easy' mentality are on the menu at this surf resort in Bali. The location is simply breathtaking, nestled amongst rice paddies and surrounded by beaches and Hindu temples. It's far enough from Canggu (around 10 minutes) to provide a relaxing escape. But close enough to pop in for a drink.
This is more than just a surf camp, but an opportunity to completely recharge. Surfing, yoga, meditation, and complimentary massages make the perfect Balinese cocktail. It's a small and intimate spot with only 8 rooms ranging from romantic riverside rooms to shared rooms for surfers on a budget.
We love the ode to the Indonesian culture. It's run by a local staff, serves up scrumptious traditional cuisine, and hosts guests in authentic Indonesian villas. Pelan Pelan is the perfect surf camp to immerse yourself in the local culture.
The minimum stay is 5 nights with a Surf Package but our favorite is definitely the 15-Day Get It All Yoga & Surf Package. Candi likes nothing better than a long stretch after a day in the waves.  If you happen to fall in love with the place, and you probably will, the resort offers a 29-day surf holiday.
Whether you're a beginner or an aficionado, the classes are customized to suit your needs. And surf equipment is free to use which is a massive bonus.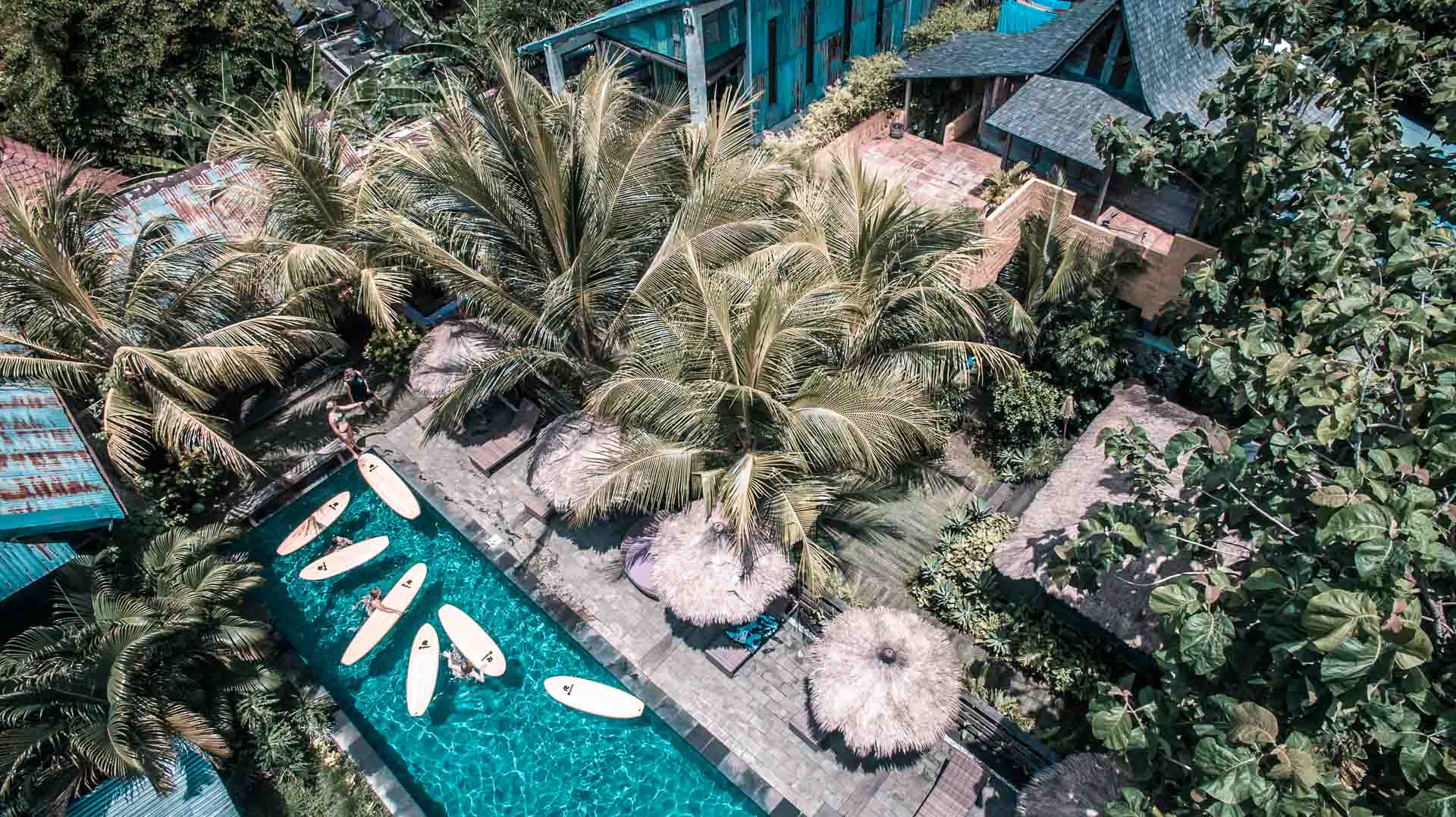 Rapture Camps are well known for crazy surf camps in all the best hotspots in the world. Their Padang camp, on the west end of Uluwatu, is an international gathering place with guaranteed dumping waves and a good time.
It's only a couple of minutes away from the iconic Uluwatu and Padang Padang surf breaks, and is kitted out with surf equipment and registered Australian Qualified surfers. This is a buzzing camp good for anyone from beginners to professionals. Advanced surfers are well looked after and there are delicious surrounding surf spots to try out.
The Balinese style accommodation caters for up to 25 guests and the international flavor is strong. You can choose between dorms, private villas, or a private bungalow. There's a swimming pool smack bang in the middle of the camp. Because who can get enough of the water? And of course, yoga sessions to help you wind down after a day in the waves.
You can rent a scooter and visit a variety of surrounding beaches, surf spots, and restaurants. Or just hang out at the camp. There's a fantastic social atmosphere that draws a lot of like-minded people to this epic surf school in Bali.
Bali's longest wave? I'm in! Medewi, on the west coast, is a bit of a playground for intermediate and advanced surfers and this is one of the best Bali surf schools to enjoy it.
For those looking to take their surfing skills to the next level, you'll be taken to over a dozen quiet surf locations with epic swells. The local surf instructors were born into the Medewi waves and can read the water like a book. This means that you'll always be taken to the most ideal spots based on the conditions and your skills.
Beginners are welcome here too and will learn to love surfing in the mild waves at Brown Sugar Beach right in front of the camp. The 8-Day Learn to Surf Package is ideal for newbies, with small groups, expert instructors, and theory classes. You'll be duck diving and kissing goodbye to your kook ways in no time.
The camp's packages include video coaching with analysis, 11 surf lessons, and a bunch of extras to help you leave after a week feeling confident on the board. We think this is one of the best surf camps in Indonesia for beginners.
Picture a perfect Balinese villa, tucked away in the jungle. Picture yourself swinging in a hammock in an open-air, ultimate chill area, with a sea view, thinking about the epic day of surfing you've just had. Sounds dreamy, doesn't it?
Vertical House is a tranquil place with a lush garden, great for barbecuing, and a choice of private rooms or a dorm. This is the ideal spot for travelers on a tight budget who want to benefit from some world-class surfing lessons.
You have the choice between the beginner-friendly 8-Day Invigorating Surf Camp or an 8 Day Surfari Camp which is suitable for intermediate surfers. The cherry on top is the Friday evening sunset boat trip to cap off an awesome week.
Besides surf lessons, there are plenty of other cool activities for all the busybodies. Water sports, mountain climbing, and island trips can be organized.
By now you've figured out that surfing and yoga is a popular combination in Bali. For good reason too! And while you can get this winning combo here, you can also choose to commit to the swell and work towards an official surf accreditation.
This Bali surf camp offers an intensive 12-week Surf Instructor Course endorsed by ISA and the Indonesian Surf Federation. This is for intermediate and advanced surfers, and who knows, maybe you can land yourself a job at one of these amazing camps when you're done.
The Solid Surf & Yoga House is in Canggu, renowned for its lively atmosphere, gnarly surf breaks, and spectacular scenery. And, its beach parties. Whether you're opting for an instructor course or a yoga/surf vacation, it's the ideal place to be.
The villa is luxurious, surrounded by lush greenery and a number of bells and whistles that you'll love. A jacuzzi, a yoga roof with panoramic views, a swimming pool, an outdoor movie screen, and a pool table. And hot water, which, while no one really needs it in Indonesia's tropical climate, is much appreciated.
Beginner to advanced surfers and yogis are welcome and catered for. Regardless of your skill level, you'll love hanging out at this surf house and enjoying the activities it has to offer.
Are you looking for a paradise island getaway, fueling yourself with healthy food, hitting the waves and relaxing with yoga? Well, you've found it.
This little retreat in Nusa Lembongan is the total embodiment of a tropical island getaway. Bunking down in rustic Balinese huts, exploring the ocean through a range of activities, and escaping the crowds of mainland Bali. That is the promise that this surf camp in Indonesia delivers.
Hide your phone at the bottom of your bag, you won't be missing it on this 7-Day Relaxing Surf & Yoga Holiday. The itinerary allows for a lot of time to explore the island and has some added treats such as snorkeling and massages.
This is an especially great option for people that want to make the most of their all-inclusive week by exploring and doing as much, or as little, as possible. Rather than an intensive surf school, expect a peaceful holiday in paradise with yoga and surfing thrown in.
Choosing the Best Bali Surfing Camp
A week of endless surf lessons in Bali, relaxing yoga, stunning sunsets, and an awesome vibe is what you can look forward to in one of these surf camps. Pack your favorite surf gear and a sense of adventure and get ready for an epic week. Now you just have to pick a camp.
It's a great problem to have, struggling to choose between one paradise place and the next. Hopefully, we've helped you narrow it down a bit with this list of awesome Bali surf camps.