One of the best parts about working remotely is that you can do just that – work remotely. Gone are the days of boring office routine and long hours in traffic. Whether your digital nomad lifestyle involves working from various coffee shops surrounding your home or gallivanting across the world for months at a time, there's a beautiful element of freedom that accompanies the discipline needed to make it work. Here's our guide to enjoying that freedom while working remotely in Seoul.
One of the first questions to ask when choosing a spot to visit on a work trip is whether or not you can afford the lifestyle. Seoul, South Korea, is fast becoming one of the most popular digital nomad destinations. However, with regard to the cost of living, Seoul is a little bit tighter on budget. But is worth every cent!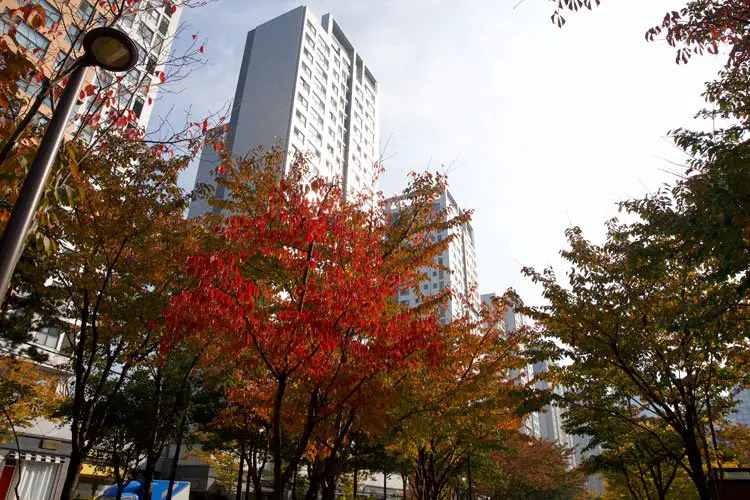 To help guide your digital nomad adventure in South Korea, we've put together a guideline on how to work remotely and best navigate the Seoul cost of living.
Perks Of Working And Living In Seoul
Most ex-pats in Seoul are either working as teachers or in the American military. However, the digital nomad trend is rising in Seoul. Based on our month-long experience touring Seoul, while working remotely, we put together a shortlist of the major benefits.
Incredibly fast WiFi – that can be found and accessed almost everywhere
Seoul prices are surprisingly affordable at times – especially for an established, first world country
The nightlife is amazing and super fun (offering a great way to wind down after a long workday)
The public transport system is efficient, clean and easy to use
There are countless coffee shops to work from – and they don't mind you spending long hours at their tables
You can find cute and quirky stationery on every corner (okay, this one is more for me – writing notes and plans are so much better when done with a carrot-shaped pencil)
These are just a few of the many benefits and perks to enjoy in Seoul. Living and working remotely is incredibly easy, and touring the city is wonderfully rewarding.
One thing to note is that while WiFi is readily available, and internet speed is fast, sim cards are very pricey. We were lucky enough to have our MiFi device from Banggood which saved us at least USD $50. The MiFi device is a great asset for any digital nomad who needs to stay in contact while traveling – and do so conveniently and within budget.
* Just to let you know that this article contains affiliate links. If you click on them we might receive a small commission, at no extra cost to you.
The Best Time To Go To South Korea
Before even booking your ticket to the progressive Asian country, it's important to look at the climate in Seoul at the time. Winter is incredibly cold and removes the opportunity to enjoy the vibrant nightlife which is enjoyed throughout the rest of the year, while summer in Seoul is known to be incredibly hot – and almost unbearable.
The best time to visit Seoul is definitely during their moderate seasons (spring and autumn). Spring runs from March to June, while autumn falls between September and December.
We went in October, during their autumn, and the weather was close to perfect. A lot of travelers align their itineraries to be in Seoul during spring for the cherry blossom season, or during autumn to watch the leaves change colors. During these seasons, the city is festive, beautiful and full of fun.
The moderate temperatures are also great for productivity. You don't skip buttons on your keyboard due to shivering, or need to take your pc in for repairs because your sweat has caused water damage.
Where To Stay In Seoul
There are so many great areas to stay in Seoul. The biggest determining factor is mostly what sort of life you'd like to live outside of working hours, and what your budget is.
Here are some of the most popular areas to stay in Seoul. We visited all of these areas, and have formed these recommendations based on our experience.
Mapo-Gu
Located right alongside the financial district, Mapo-Gu is a great place to get into the business and work mindset. We stayed in Mapo-Gu and absolutely loved it. There are loads of coffee shops, restaurants, and chilled spaces to work.
Mapo-Gu is quieter than it's busier counterparts, but it's festive enough to have a good time without having to deal with crowds. There's a great running track, adorned with trees, that runs through the area. Scattered along the are path outdoor gyms so that you can get your endorphin fix.
Hongdae
This was our favorite area to go and enjoy Seoul nightlife. As a predominantly student area, the vibe in the area is very energetic and the prices are more affordable.
Loved as an arty area, there are lots of quirky stores, great places to eat, and wannabe k-pop stars yodeling into microphones on the sidewalk. Hongdae has a lot of energy and is a great place to stay. It's the perfect area for travelers into fashion and indie arts.
Gangnam
Almost everyone has heard of Psy's Gangnam Style. If not, then you're obviously not one of the 3 billion that have. Regardless, Gangnam was put on the map in a new whole new way, making it a popular area to go for first-timers.
If you're a fan of clubbing, all things extravagant and overpriced restaurants, then Gangnam is for you! Be aware that it is significantly pricier than other areas in Seoul.
Itaewon
Another hotspot for nightlife, Itaewon is great fun for young adults. It's trendy, cultural and full of ex-pats. The area has been cultivated with foreigners in front of mind, and is a really hip area to stay.
Itaewon is almost the more mature version of Hongdae. Attracting a slightly older crowd, Itaewon strikes the perfect balance between Western culture and fascinating places to explore.
Where To Work In Seoul
There are a few coworking spaces in Seoul, but they are either really pricey or were hard to find. One of the greatest parts of working in Seoul is that you can do so from several really comfortable and quirky coffee shops.
On average, you can work from a coffee shop and pay 4,500 Korean Won (KWR) or USD $4 for a cappuccino and they won't chase you out for hours. Or rather, they won't chase you out at all.
Once we better familiarized ourselves with the area, we found a great, cozy coffee shop a stone's throw from our place. We paid only 2,800 KRW (USD $2,5) for a coffee and the staff quickly became a daily friendly greeting. Shout out to Cap Coffee for hours of productivity!

Cost Of Living In Seoul
When compared to other destinations in the world, the cost of living in Seoul, Korea, is slightly higher.
Accommodation
A gentle warning – accommodation in Seoul is incredibly pricey. After flights, its where the largest portion of our budget went. You pay a lot of money for a very small amount of space. In one way, the lack of space in the home adds to the vibrant street life as people rush outdoors to socialize and enjoy some air.
Just be prepared to poop where you sleep and share a shoebox with strangers. Once you can wrap your head around that, then you should be good to go.
Handy tip: We got these really great travel bags and pouches that saved us a lot of trouble. We were able to keep our dirty laundry aside, our camera equipment separate and toiletries in one collective space. These bags have, without a doubt, been added to our digital nomad packing list. 

Food
Some would say that eating out is significantly more affordable than cooking at home – and that way you also get to try the tasty local cuisine – but we found that striking a balance between the two is the most cost-effective.
If you choose to buy food and cook it at home, then you'll be in no short supply of preservative-rich food and a wack-load of carbohydrates. Vegetables are very expensive, but the soju is cheap as chips.
When eating out, the price of your meal and drink depends largely on the area. On average, a 0.5-liter beer will cost you from as little as USD $2,5 to USD $4,3. A budget dinner can range between USD $5 to USD $10.
Working Space
As mentioned, there are several coworking spaces to work from. They can cost you in the range of USD $250 to USD $450 for a dedicated desk. While this may fall into the budget of some, this wasn't a reality for us and so off to the coffee shop we went.
To be honest, the coffee shops were perfect. We'd buy one coffee and have a seat (and fast WiFi) for four hours before breaking for lunch – and then promptly returning for another four hours and another coffee. In total, it cost us USD $25 per week (or USD $100 per month).
Seoul Visa
If your digital nomad stint in Seoul is less than 90 days, then no visa is required for U.S citizens. All that you need is a valid passport. The same is true for European Union citizens and Australians. Canadians can stay up to 180 days.
If you wish to stay longer, then you will need to go through the process to acquire a work visa and permit in Seoul.

Life In Seoul As A Digital Nomad
Overall, life in Seoul as a digital nomad is one helluva ride. While it may not be the top digital nomad destination on everyone's radar, I'm pretty certain that it will fast become one.
If you can afford the slightly pricier cost of living, then Seoul is a real treat. The WiFi is incredible, the food is super tasty and although the locals don't speak much English, everyone is really friendly.
Seoul definitely gets the thumbs up from us!