Canggu is fast becoming one of the best places to visit in Bali. It's become popular among digital nomads, surfing enthusiasts, and curious travelers alike. With awesome black sand beaches, delicious cafes and restaurants, and a happening party scene, it's no wonder that countless people flock to the area for some well-deserved down-time. Perhaps the best of all of these perks is the opportunity to surf Canggu beach breaks!
To help you make the most of your time, we're sharing the ultimate Canggu surf guide. With the following information, you can make the most of your time in the water and don't waste time figuring it out. 
This Canggu, Bali surf guide has all the info on surfboard rentals, surf lessons, best tides, and the conditions of the Canggu surf spots.
If you find yourself visiting the rest of the island, looking for a wave, then you can read more about surfing in Uluwatu with our Uluwatu surf guide here.
* Just to let you know that this article contains affiliate links. If you click on them we might receive a small commission, at no extra cost to you.
Best Time to Surf Bali Waves
The best waves for surfing Canggu arrive in the dry season, between the months of May and October. During these months, the wind plays ball and blows offshore, adding extra power to the already-big swell.
If you want the creamiest waves, then July and August are your best bet. But be warned that the crowds in the water are particularly large during these months. Our suggestion is to visit during the shoulder seasons which offers the best of both worlds.
Read more about other places to surf in the world during July here.
This infographic sums up the seasonal surfing in Bali: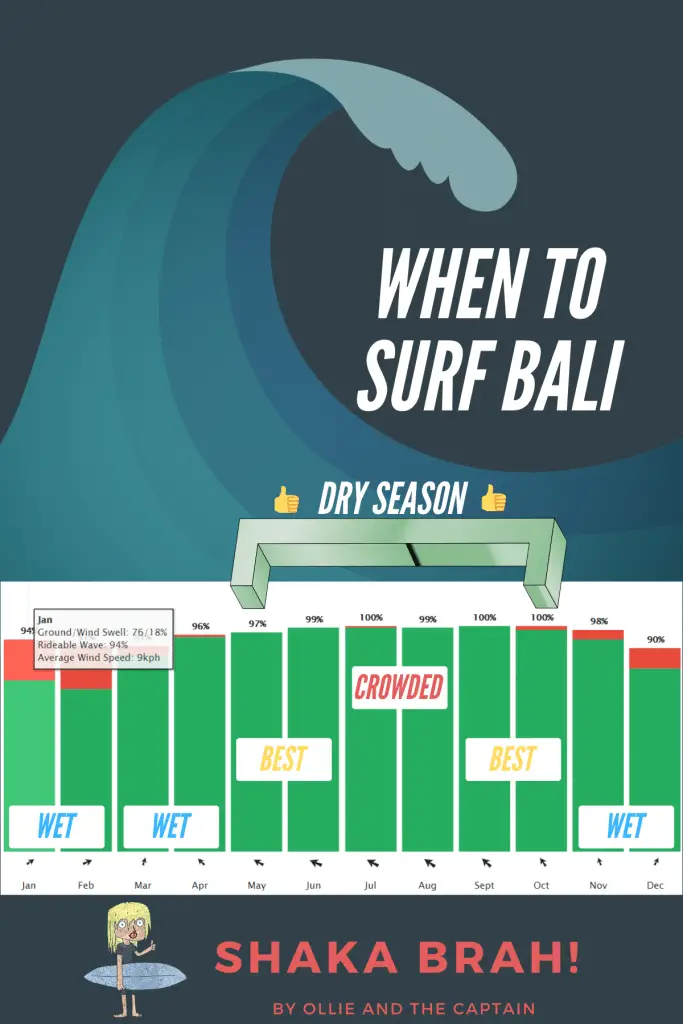 Where To Buy A Surfboard In Bali
Getting yourself to Bali is only half the job. You still need to find a surfboard, otherwise, you can kiss your chance of surfing in Canggu goodbye.
 Luckily, there are plenty of those to go around. You have the option of renting a surfboard practically anywhere along the beach or pulling the trigger and buying your own.
Surfboard Rental, Bali
You'll have no problem finding surfboard rental spots along the beach. On average, you can rent a board for less than $ 4 USD for two hours. Whether you're a beginner who is looking to rent a longboard, or a pro on the road in search of a streamlined shred machine, you can find board rental on these beaches in Canggu:
Pererenan
Echo beach
Old Man's
Batu-Balong
Buying Second-Hand Surfboards
Of course, there are shops where you can buy a brand new surfboard to wax and call your own. However, unless you're planning to stay in Bali for a long time or take the board back to your hometown with you then this may be an unnecessary expense.
One option is to ask any of the rental places if they are looking to sell. There's a good chance that they will be willing. Some may even buy the board back from you after your trip. Depending on how long your stay in Bali is, you may want to calculate whether it is more affordable to rent or buy.
You can also check this Facebook page for epic deals on second-hand surfboards in Bali. There are MENTAL deals to be had here. The page is constantly posting new surfboards for sale. Bali is in no short supply!
Canggu Surf Map
Canggu's surfing coastline is pretty straight forward and easy to navigate. You can easily rent a board and stroll the beach until you find a break that meets your cravings. The following map of Canggu surf spots highlights the most popular breaks in order of North to South.
Firstly, here is a map with an indication of where Canggu is in Bali.

And here's a map of Canggu beaches surf spots.

Canggu Surf Spots
How do you pick the best surf spot in a destination that is known for surfing? Hopefully, the following guide will help you to the best spot for you!

Pererenan
This was my local break and probably one of my favorites while I was in Canggu. It has a smaller crowd than the other four beaches that we speak about in this post and is a nice solid A-frame break. The right is short and sweet but the left is the real gem here. The left runs a lot longer and holds some pretty big swell.
Take care when it is low tide though. I did a pencil drop off the left once and immediately hit rocks. The tide was mid to low, so just keep that in mind. There is a small bar/board hire hut close by (Surfers Bar).  The channel here is so epic. It just sucks you straight out to the backline, dry hair and all.
There is also an amazing right-hander just next to this spot called "River Mouth" which is super fast and offers solid barrel material. The crowd here are very experienced and are VERY competitive. I saw a few arguments go down here.
Remember to respect the local surfers when on their turf. Luckily, Bali isn't one of the most aggressive surfing locations such as these four spots that have aggressive localism.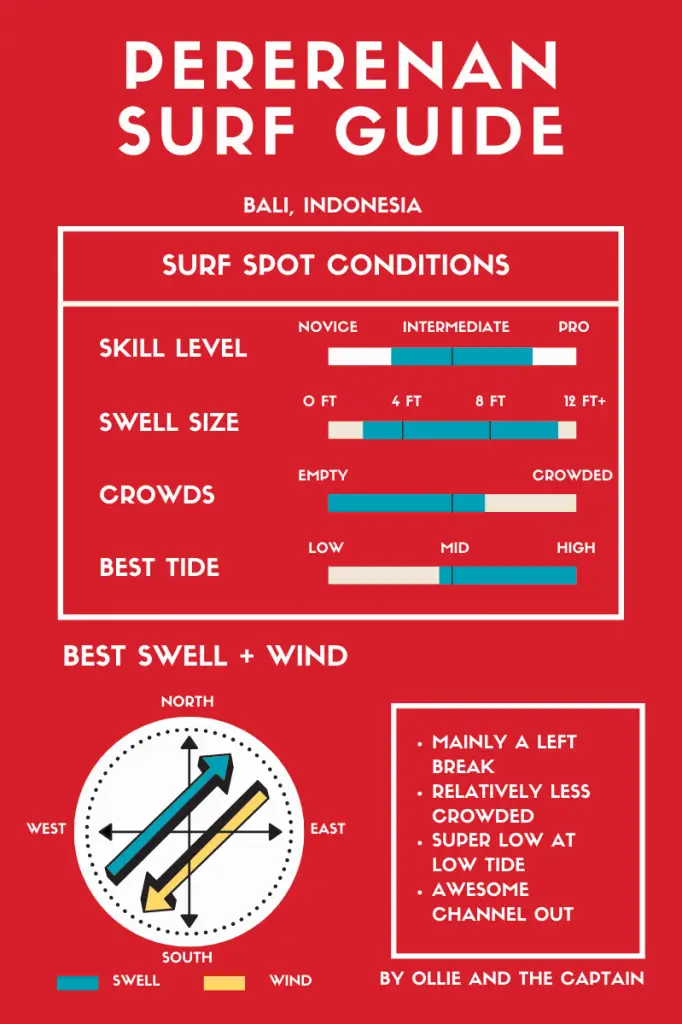 Echo Beach Bali Surf
Echo beach is right in front of all the main beach bars (such as La Brisa). Our personal favorite is Surfers Bar where you can expect cheap food and drink, and the occasional BBQ on the beach. They also offer 2 for 1 cocktail deals every day if that's your thing.
The Echo Beach surf spot is only really good for beginners on a small day. When the big swell arrives, things can get pretty gnarly with powerful rips and currents. Although, on a calm day there is a wave for most levels of surfer. There are lots of board rentals available from the bars and shops that are close by.
If you are looking out to sea, there is a wedge on the left and a beach break more to the right. The choice to surf Echo Beach is one that you won't regret – especially if you love quick, steep waves!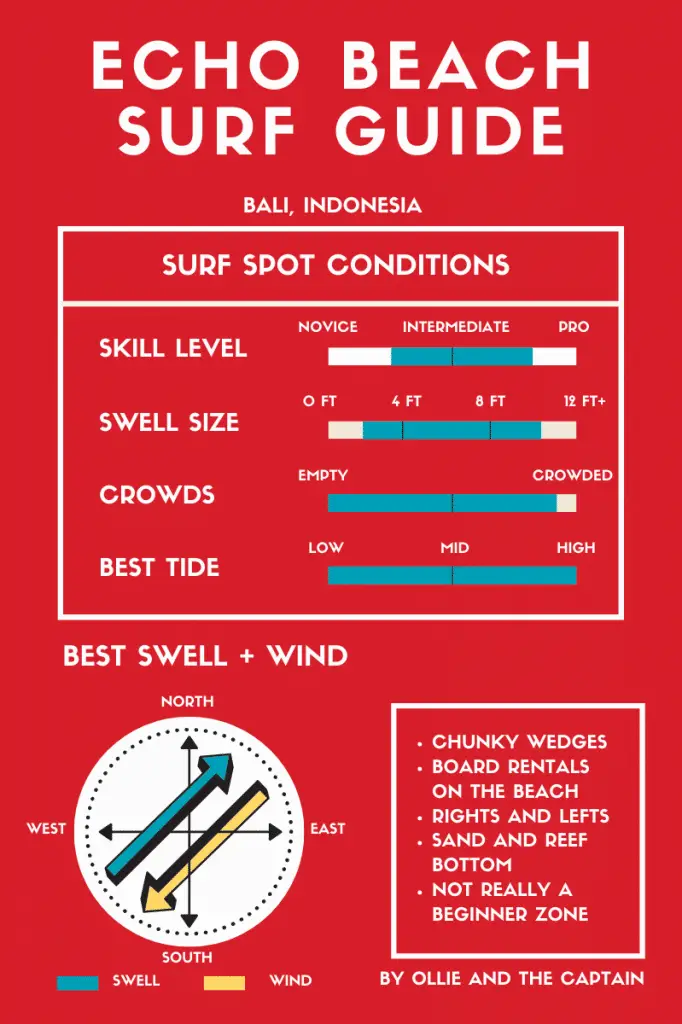 Old Man's Beach Bali
This spot has a rock and reef bottom and works on all tides. It's a very popular beginner spot so you will be surfing amongst people learning to surf and taking surf lessons.
So, just keep your eyes open and be prepared to duck for cover at any given moment. The results of a longboard to the face will greatly diminish your chances of scoring a surfer babe. Although, Old Man's Beach is one of the best Bali longboard surf spots.
Speaking of which, our humble opinion is that the most fun surf lessons Canggu has to offer can be found at Old Man's Beach.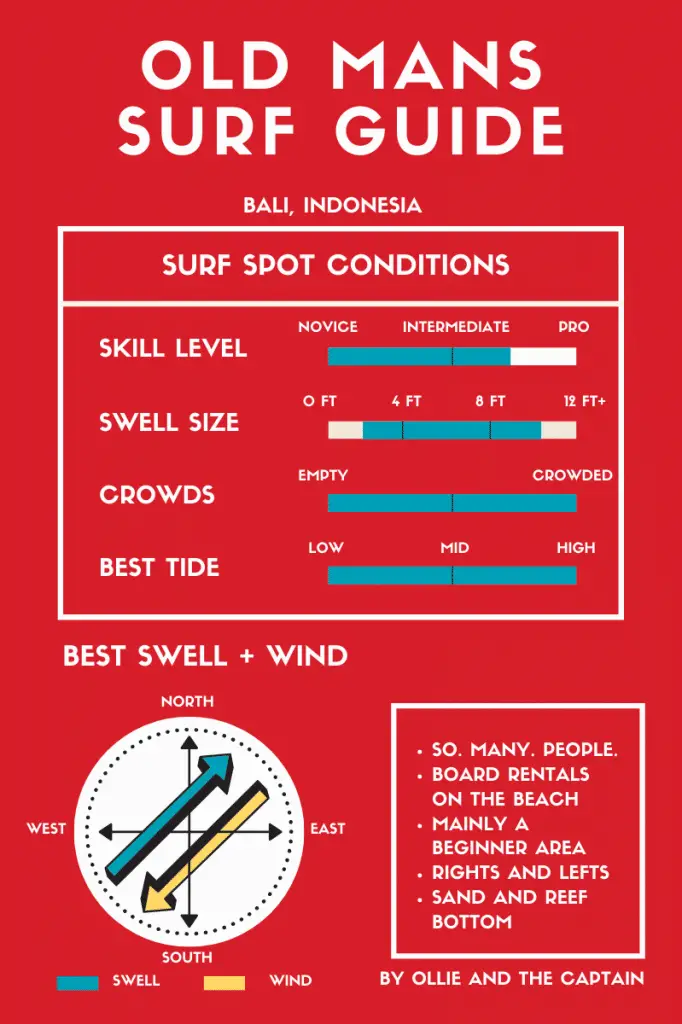 Batu Balong Surf
This break is just in front of Old Man's nightclub. Arrive early enough, and you may even see the stragglers and remains of the previous night's festivities. It's a great spot to learn to surf with plenty of board rentals nearby for about IDR 50 000 ($ 6 USD) for an hour.
Convert currencies and other city comparisons with Nomad Travel Tools.
This spot can get especially crowded and it's better to hang out on the outside if you don't like competing for a wave. Luckily, the swell delivers neat lines from the backline to the shore. Experienced surfers tend to hang back and leave the middle break for the newbies.

Berawa Surf Spot
This surf spot is a little further away from the rest, but it's worth a mention. It's a rock bottom break that is well suited for intermediate surfers. Although less crowded than all the surf spots around Echo Beach, it's a bit more of a mission to get to.
The drive might be worth it on the weekends though. There are both rights and lefts. All that you need to do is rent a scooter with surfboard racks and apply enough sunblock for an epic day out.
Read our blog on how to build your DIY scooter surfboard racks.

Surf Lessons and Activities Around Canggu
The surfing culture in Bali is a big contributing factor to tourism. In many ways, the island has set itself up to accommodate wave seekers from around the world. With this in mind, there are many great places to grab a quick surf lesson.
BOOK A SEMI-PRIVATE SURF CAMP HERE
There are also fantastic surf camps that offer the full island experience, complete with community immersion and first-hand guidance.
Browse and book more Bali surf camps here.
Where to Stay in Canggu – Surf Accommodation
If you are looking for a surfer-friendly place to stay in Canggu. The closer to the beach, the better for grabbing quick surfs on a whim.
If you enjoy being in the thick of the action, then staying around Old Man's is a fantastic choice. If you're like us and enjoy a more laid-back vibe (but not dead quiet) then Perenan is awesome.
Browse places to stay in Bali here.
What's Your Top Spot to Surf Canggu, Bali
This guide covers most of the basic spots and all that you need to know about them. The long strip of beach is full of surprises and a variety of breaks to choose from. It's one of the reasons that we think that Canggu is one of the best places to be a digital nomad.
Read more about why we think that Bali is the number one digital nomad destination here.
Let us know in the comments below when you think the best time to surf in Canggu is. What else does a surfer need to know about these spots? We would love to hear from the community to better our information where it is needed.
Happy Canggu surfing!