Canggu is fast becoming one of the best places to visit in Bali. With some awesome black sand beaches, great cafes and restaurants and a happening party scene, it's no wonder that many people flock here for some RnR. Oh ya, and the Canggu surf breaks aren't too shabby.
Here is all the info on surfboard rentals, surf lessons, best tides and the conditions of the Canggu surf spots.
Related article – ULUWATU SURF GUIDE – ULTIMATE GUIDE ON WHERE TO SURF, STAY AND PLAY

Canggu Surf Map
The Canggu surf spots that we will look at are in order of North to South. Here is a map with an indication of where Canggu is in Bali.

Here is a map with each spots location in Canggu.
Canggu Surf Spots
How do you pick the best surf spot in a destination that is known for surfing? Hopefully, the following guide will help you to the best spot for you!
Pererenan
This was my local break and probably one of my favorites while I was in Canggu. It has a smaller crowd than the other four beaches that we speak about in this post and is a nice solid A-frame break. The right is short and sweet but the left is the real gem here. The left runs a lot longer and holds some pretty big swell.
Take care when it is low tide though. I did a pencil drop off the left once and immediately hit rocks. The tide was mid to low, so just keep that in mind. There is a small bar/board hire hut close by (Surfers Bar).  The channel here is so epic. It just sucks you straight out to the backline, dry hair and all. 
There is also an epic right-hander just next to this spot called "River Mouth" which is super fast and is solid barrel material. The crowd here are very experienced and are VERY competitive. I saw a few arguments go down here. 
Related article – SURF LOCALISM – 4 AGGRESSIVE SURFING LOCATIONS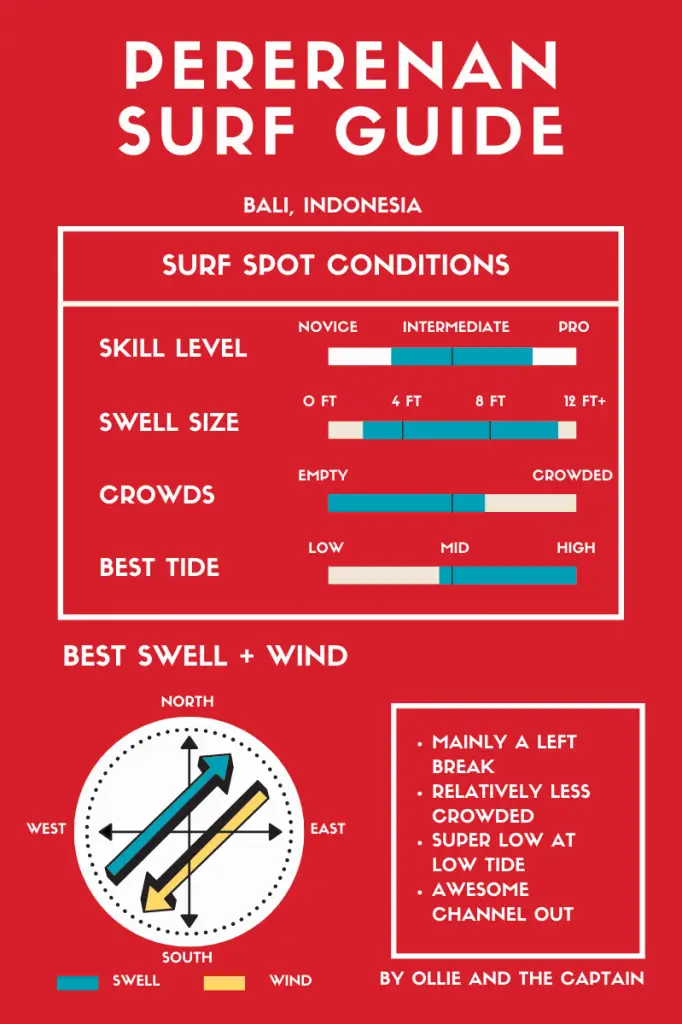 Echo Beach Surf
Echo beach is the beach right in front of all the main beach bars (such as La Brisa). Our personal favorite is Surfers Bar where you can expect cheap food and drink and the occasional BBQ on the beach. They also sell 2 for 1 cocktail every day if that's your thing.
This spot would only be good for beginners on a small day as when big swell arrives things can get pretty gnarly with powerful rips and currents. Although on a calm day there is a wave for most levels of surfer. There are lots of board rentals available from the bars and shops that are close by. 
If you are looking out to sea, there is a wedge on the left and a beach break more to the right.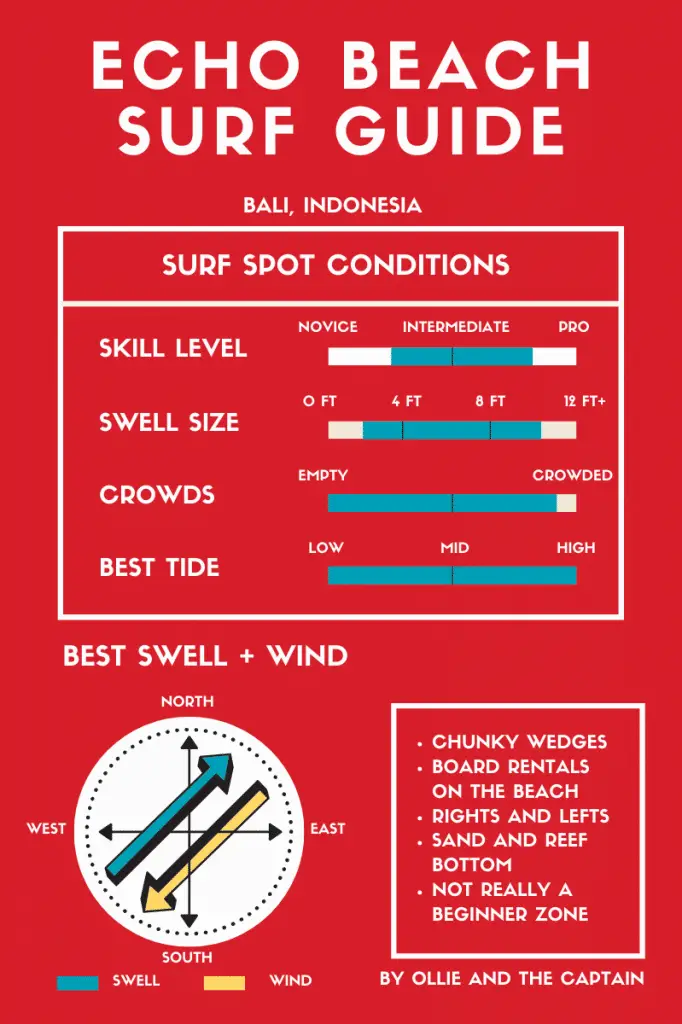 Old Mans Beach Bali
This spot has rock and reef bottom and works on all tides. It's a very popular beginner spot so you will be surfing amongst people learning to surf and taking surf lessons. So, just keep your eyes open and be prepared to duck for cover from all sorts of things. The results of a longboard to the face will greatly diminish your chances of scoring a surfer babe.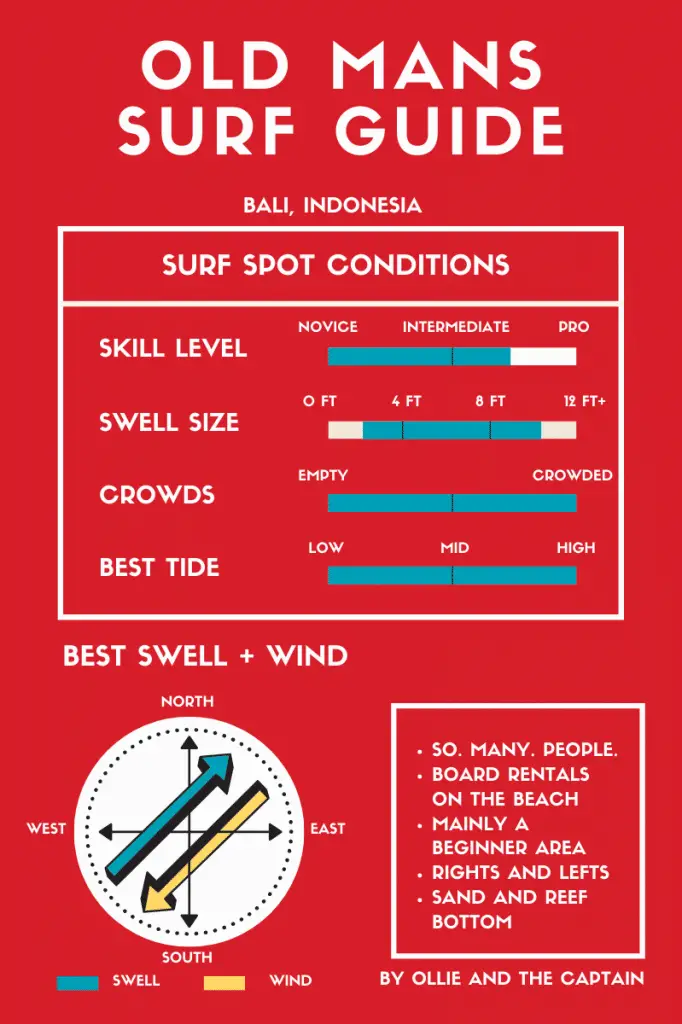 Batu Balong Surf
This break is just in front of the Old Man's nightclub. Arrive early enough, and you may even see the remnants of the previous night. A couple of unconscious Aussies perhaps from the regular beach party the night before. It's a great spot to learn to surf with plenty of board rentals nearby for about IDR 50 000 (USD 6) for an hour. 
Berawa Surf Spot
This surf spot is a little further away from the rest, but it's worth a mention. It's a rock bottom break that is well suited for intermediate surfers. Although less crowded than all the surf spots around Echo Beach, it's a bit more of a mission to get to. The drive might be worth it on the weekends though. There are both rights and lefts. 

Best Time of Year to Surf in Bali
The best swell in the year comes between May and October. July and August are the best but also the most crowded. The shoulder seasons on either end are the best of both worlds. This infographic sums up the seasonal surfing in Bali: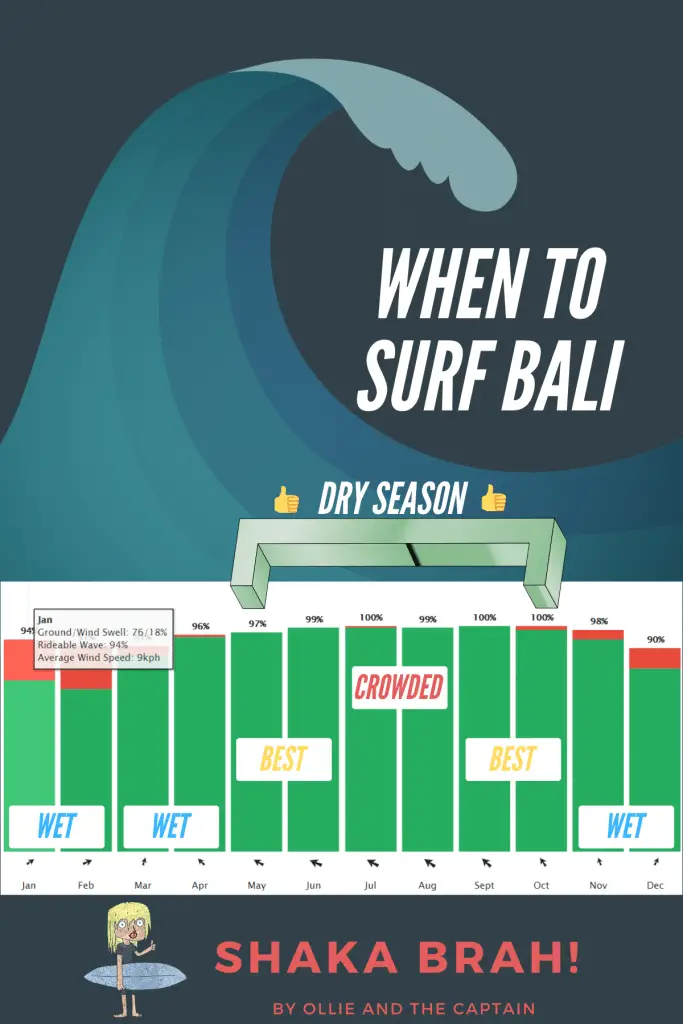 Where To Get A Surfboard In Bali
Getting yourself to Bali is only half the job. You still need to find a surfboard. Luckily, there are plenty of those to go around.
Hiring a Surfboard
If you are a beginner who is looking to rent, you can find board rental on these beaches in Canggu:
Pererenan (limited types)
Echo beach
Old mans
Batu-Balong
Second-hand Surfboards
If you are more experienced and you are looking to buy a surfboard for your trip, you can ask any of the rental places as they will certainly have some for sale. Some will even buy them back from you after your trip. Depending on how long your trip is, you may want to calculate whether it is more affordable to rent or buy.
You can also check this Facebook page for epic deals on second-hand surfboards in Bali. MENTAL deals to be had here.
Surf lessons and activities around Canggu
There are many great places to grab a quick surf lesson. I have linked one below as well as a few links to some activities in the Canggu area. They are affiliate links and will help to support this blog!
* Just to let you know that this article contains affiliate links. If you click on them we might receive a small commission, at no extra cost to you.
Where to Stay in Canggu – Surf Accommodation
If you are looking for a surfer-friendly place to stay in Canggu, check out these 3 options:
About $15 USD a night
Clean environment
Close to the beach
WiFi available
Approximately $65 USD per night
Bitching swimming pool
Swank boodwaas
Roughly $130 USD per night
Dank views
Free breakie (obviously) so treat yourself
Plenty of options to choose from!
Let us know in the comments below when you think the best time to surf in Canggu is. What else does a surfer need to know about these spots? We would love to hear from the community to better our information where it is needed.
Peace and love.