Costa Rica has a reputation for being an idyllic paradise, boasting tropical bliss and unbeatable coastlines. One look at the gorgeous beaches and you'll understand why! The Costa Rica beaches are perfect for catching both rays and waves – and maybe sipping coconuts as well!
Planning a digital nomad trip to Costa Rica? Read our guide on five places to work, stay and surf in Costa Rica here.
With 800 miles of sweeping coastline, visitors have a choice of beaches to explore. The sandy havens are framed with palm trees, inviting visitors to dip their toes in the turquoise water. 
The biggest challenge that you'll have when visiting Costa Rica is choosing which beach to visit first – and we're here to help!
* Just to let you know that this article may contain affiliate links. If you click on them we might receive a small commission, at no extra cost to you.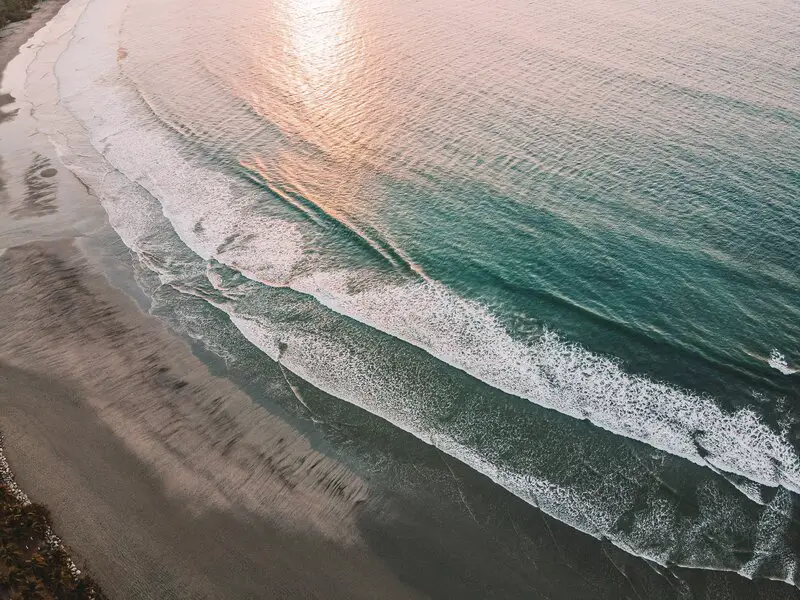 Best Time to Visit Beaches in Costa Rica
Costa Rica has two distinctive seasons, namely the rainy season (May to November) and the dry season (December to April). If you want to travel the country in comfort then the dry season is the best time to book your trip. 
During these months, the sun is out and the streets are bustling with activity. It's the ideal time to explore the rainforests and lounge on the beach. Ocean activities are equally enjoyable during this time, and the water is warm. 
However, the rainy season offers the best waves. So, if your trip pivots around surfing pleasures, then you'll want to book your flights during the rainy season, also known as the green season. During these months, the swell works beautifully, especially for more experienced surfers. 
It's still possible to surf in the dry season, but the swell is less consistent. Keep in mind that the water is warm throughout the year.
Wondering about the best places to surf around the world, at any given point? Read our annual surf guide here.
Best Costa Rica Beaches
So, where to begin when choosing the best beach in Costa Rica for a relaxing (or riveting) vacation?
1. Tamarindo Beach, Guanacaste
Tamarindo Beach is an awarded beach, flaunting an exotic paradise for full days of family fun. Arguably the most famous beach in Costa Rica, the area offers all of the amenities that you'd need for an awesome day out – including good food, music, and friendly people. 
Tamarindo's humble beginnings as a fishing village have contributed to the beautiful landscape. While many people visit Tamarindo to enjoy the water and local flavor, surfing is undeniably one of the biggest drawcards. 
Surfers can enjoy a variety of different wave levels. For example, the Rivermouth is perfect for longboarders, and is super fun on the low tide, while Pico Grande has more advanced breaks best suited on the high tide. As one of the more popular beaches in Costa Rica, Tamarindo is always buzzing.
Book a 6-day surf camp in Tamarindo here.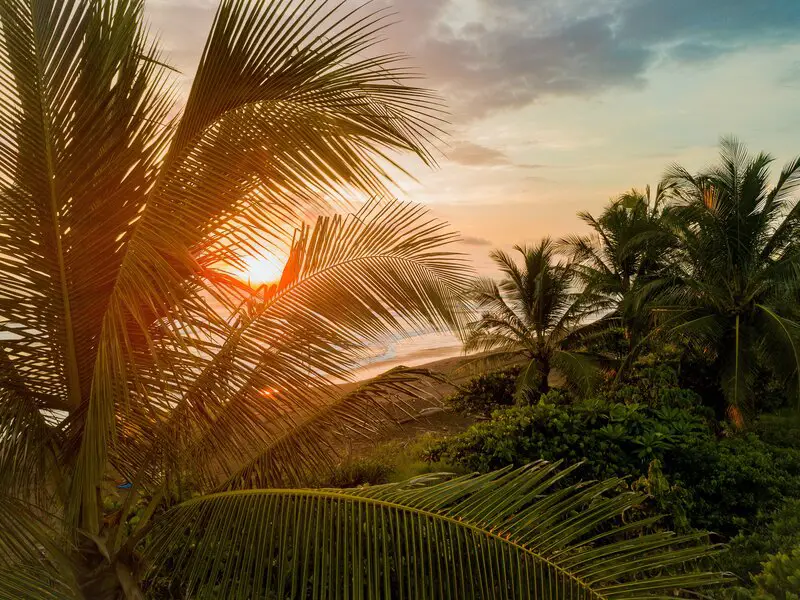 2. Jaco Beach, Central Pacific Coast
Jaco is renowned as a tourism hotspot and attracts a diverse crowd including partygoers, swimmers, surfers, and beach lovers. Playa Jaco is the closest beach to San Jose and is fully kitted for an awesome day out!
Jaco Beach has its perks for surfers as well. The beach is easy to reach from the main city and the lineups don't get too crowded. While it may not be the prettiest beach in Costa Rica, it does offer a selection of waves for all levels. 
To kickstart your surfing adventure in Jaco, you can visit Playa Escondido, which offers advanced reef break, and Playa Jaco itself, which is perfect for beginners. 
Book a seven-day intensive surf camp in Playa Jaco here.
3. Hermosa Beach, Central Pacific Coast
Playa Hermosa is close to Jaco but offers a different vibe. The beautiful gray sand lays the foundation for a tranquil escape. It's no wonder that it's a top spot for sailboat sunset tours, scuba diving, and sportfishing. 
As far as surfing goes, Hermosa Beach is best for intermediate level. The best swell size is overhead waves that offer a beach break over a sandy bottom. When the conditions are really working, then it's better suited for more experienced surfers. 
The spot can get crowded on the weekends, but Hermosa is still one of the least busy surf spots. 
4. Santa Rosa National Park, Guanacaste
There are two iconic beaches in Santa Rosa National park, namely Playa Naranjo and Playa Nancite. Both are important sea turtle nesting beaches. The beautiful area is a natural wonderland, inviting people to enjoy the hiking trails, scuba diving potential and, of course, fun days surfing.
Witch's Rock is the surfing beach in Santa Rosa National Park, offering a sublime beach break off Playa Naranjo. Also known as Roca Bruja, the spot offers an epic beach break that is suitable for surfers of all levels, offering both left and right breaks.  
The sandy bottom makes for a gentle fall, yet it's recommended to avoid the spot at low tide as the waves tend to close out.
5. Playa Guiones, Nosara
Playa Guiones is known as both a surf beach as well as a small village, creating a very rustic and charming experience. The 7-kilometer strip of white sand offers access to many different water activities – including surfing.
Although it's not necessarily a tourism hotspot, Playa Guiones has a lot to offer. The tropical retreat is great to get a little bit of downtime and relax on the beach or surf up a storm.
The long stretch of beach offers countless waves, so there's plenty to go around. While everyone is sure to have a good time, the waves are especially great for beginners and even intermediates. 
Book a 7-day surf adventure at Nosara Paradise here.
6. Playa Santa Teresa, Nicoya Peninsula
Santa Teresa is another hot spot and Costa Rica icon that has recently bloomed into a thriving tourism spot. Although the beach is small, it pumps with action and is renowned as a world-class surfing spot.
Book a 5-day all-inclusive surf and yoga holiday in Costa Rica here.
As far as surfing goes, Santa Teresa offers a consistent break with good vibes in the water. The conditions are suitable for all levels, but they can get a bit gnarly during the green season. On the plus side – you can expect a few barrels!
Surfing is so great in Santa Teresa that the entire area has developed around the sport. Even if you don't surf, you can expect the stereotypical, laid-back surfer atmosphere on the streets!
Santa Teresa is home to several awesome surf camps. Check them out here.
7. Playa Dominical, Central Pacific Coast
Playa Dominical is surrounded by bars, restaurants, and beautiful people. Locals flock to watch the sunset from their positions perched on the sand, and the laidback lifestyle inspires a relaxed atmosphere.
Some of the surf spots are a fan favorite among beginner surfers. With this in mind, it should come as no surprise that there's a selection of surf schools in the area. In the same breath, the waves can hike up to a notable size, making them better suited for intermediates and advanced surfers. 
If you want a sure bet on where to surf in Costa Rica, then Playa Dominical is one of the most consistent spots, boasting consistent waves 95% of the year. 
Where to Stay in Costa Rica
Planning a longer trip in the area? Want to grow roots in Costa Rica? Begin your search for places to stay in Costa Rica here!
Coasting Through Costa Rica
Costa Rica is an incredible beach destination and a rising hotspot among digital nomads. Surfers and beach bums alike adore the long stretches of the shore. If you're looking for a vibrant, warm, and cultural space then Costa Rica is a fantastic home.
Costa Rica is one of the best digital nomad destinations for surfers. Discover more in our full work and surf guide here.