The United Kingdom has connotations of cold, rainy weather and an endless supply of tea. However, the beauty of UK beaches is worth noting too! Whether you enjoy sitting on the shore, watching the waves lap the sand, or you're an active participant and love riding the waves, there's plenty of beaches to choose from. 
It's tough to choose the best beaches in UK, but we've kickstarted the search by putting together a few of our favorites.
Discover our recommended digital nomad destinations for surfers here!
UK beaches extend from the north of Scotland to the south of England. Many of these coastal havens are prime for surfing too! 
* Just to let you know that this article may contain affiliate links. If you click on them we might receive a small commission, at no extra cost to you.
Best time to Visit Beaches in England and Beyond
The best time to visit beaches in England depends largely on what you hope to achieve from your visit. 
If you're planning a vacation and intend to stroll along the water's edge and attempt a bit of sunbathing, then the summer months are your best bet. The sandy beaches in the UK are prime during the summer months (June to August) when the temperatures are warm and the tourist venues are humming.
If you're a surfer, then you may want to wait a couple of months. Although it depends on the spot, the general surf season in the UK is during autumn (September to November). The weather may be cooler, but the crowds are less and the swell is more consistent. 
Keep in mind that the water is chilly throughout the year, so you'll need to pack a wetsuit. There is a selection of surf schools and surf hotels at various spots, but there are little pockets of localism, so come prepared!
Book a 2-day weekend camping, yoga, and surf holiday in Cornwall here.
Best UK Beaches to Visit
So, how do you choose where to go along the coastline that stretches for thousands of miles? We recommend a road trip that will expose you to a selection of rugged cliff faces and gorgeous beaches. However, if you want to isolate a few beaches (that are great for both frolicking and surfing) then you can start your search here.
If you are a fan of road trips, then check out our guide for surfer van trips around the world here.
1. Perranporth Beach, Cornwall
Cornwall boasts some of the best beaches in England and is a local surfing retreat. Of all of the beaches in Cornwall, it's worth mentioning Perranporth Beach. The surf works best on a low tide and can attract quite a crowd on a good day. 
If the crowds become too much to handle in the water, then you can walk less than a mile north to Perran Sands. Perranporth Beach offers fun beach breaks that give surfers the option of cruising both left and right. Perran Sands offers a similar setup, as well as a right-hand reef break, and works best on high tide. 
There are lessons and board for hire on the beach, available from Piran Surf. There are also plenty of places to grab a bite to eat, including the Watering Hole which is located directly on the beach.
Read more about the best beaches in Cornwall here.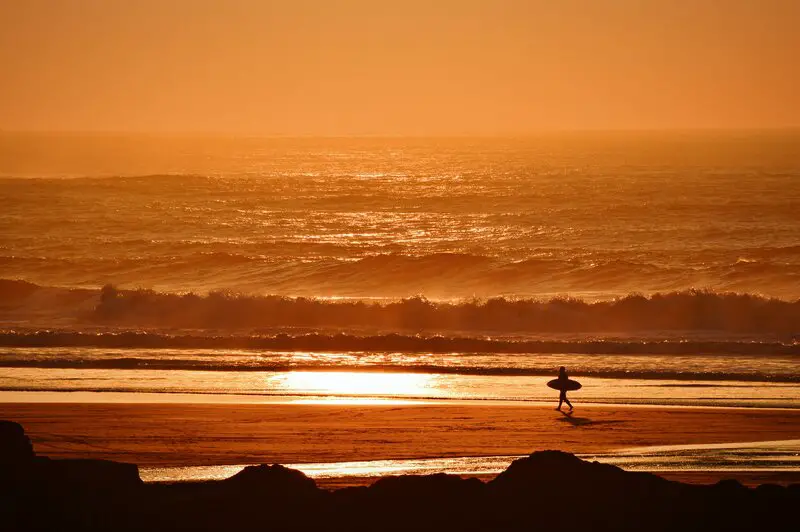 2. Lewis, Outer Hebrides
Moving up to the west coast of Scotland, you'll find the Isle of Lewis and Harris, boasting some of the most consistent waves in the area. Its prime location on the Atlantic makes it a top surf spot, and the atmosphere in the water is usually quite friendly. 
The water is slightly warmer and the swell is clean, however, the break is better suited for more experienced surfers. The Isle of Lewis is slightly isolated, which makes it a fantastic escape, but there are still amenities available for visitors. 
For example, there are lessons and boards for hire, as well as spots to eat with incredible views of the sea. Dalmore Bay, on the north coast of the Isle of Lewis, is a great place to start your trip, with a well-formed beach break and fewer crowds.
3. Saltburn, North Yorkshire
Saltburn's iconic pier makes the spot quite active, with plenty of things to do outside of the water. The pier contributes to a fun beach break suitable for surfers of all levels, as well as a convenient spot to watch the water babies from above. 
More experienced surfers can venture slightly further from Saltburn and they'll discover more challenging reef breaks. If you're traveling without knowledge or equipment, then you'll be able to book a lesson or rent a surfboard from Saltburn Surf.
There are plenty of spots to eat in Saltburn, and it's worth taking a few moments to appreciate the gorgeous view, which includes the world's oldest water-powered funicular railway which runs up the sea cliffs. 
4. Woolacombe, Devon
Woolacombe, in north Devon, is another one of the best beaches in the UK, earning a reputation for being a fantastic beginner-friendly surf spot. Offering a mellow beach break, Woolacombe swell can hike up to a larger size when the conditions are right.
While the busiest spot is directly in the town, there's nothing stopping surfers and adventurers from venturing a bit further along the three-mile stretch. The wide, sandy beach is surrounded by rugged cliffs and beautiful surroundings – so we highly recommend packing your camera.
Whether you lay out your towel and soak up the rays or wax up your board and surf the waves, Woolacombe is a fantastic spot. If you're feeling peckish, then you grab a meal at one of the many restaurants and cafes in the area. 
Read more about the best beaches in Devon here.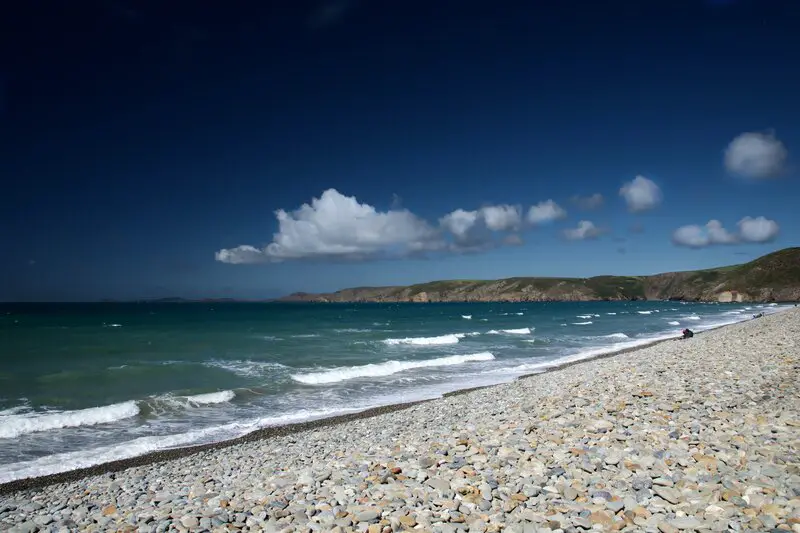 5. Newgale, Pembrokeshire
Newgale beach in Pembrokeshire, Wales, stretches two miles, with parking available along most of the way. There is a surf shop that offers lessons and boards for hire, and the majority of the water activity occurs in this area. However, a little walk can bring you face-to-face with epic peaks and great spots to relax.
When the swell is small, Newgale transforms into a novice surfer's dream, while larger swells can present a challenging experience for more skilled surfers. If you're new to the area, then it's worth assessing the various peaks and paddling out where you see other surfers. 
If you're looking to add a bit of excitement to your trip, then you can also book to stay at the local camping site!
Notable Mentions
While we've only included five beaches on this list, there are plenty more amazing beaches in the UK. If you're interested in more suggestions, then here are a few notable mentions.
Portrush, County Antrim

Sennen Cove, Cornwall

Pease Bay, Berwickshire

Croyde, North Devon

Llangennith, Gower

Dalmore Bay, Isle of Lewis

Porth Neigwl, Gwynedd

Kimmeridge Bay, Dorset
Where to Stay in the UK
If you're planning a vacation to the beach, then you're going to want a comfortable place to lay your head at night. After a good night's rest, you wake up and spend another fun and exciting day at the beach. 
Here are a few recommendations on places to stay near our recommended best beaches in UK.
Are you ready to plan a trip to some of these gorgeous beaches in the UK? There are tough spots for expert surfers, mellow breaks for beginners, and stretches of white sand for non-surfers!