Chile was never high up on our travel bucket list. Not that it was ever low down – but just not on our radar. After spending a month working in Buenos Aires, Argentina, we decided to hop onto a cheap flight to neighboring Chile. We didn't regret it – it was a whirlwind.
Before we booked our tickets, we did our research. And what we found made us a little bit nervous. Along with the beautiful, snow-capped mountains and the vast expanse of desert, Chile also features rugged cities and graffiti-clad towns that are rife with protest demonstrations and the threat of earthquakes.
After detailed research, we decided to go ahead with our trip. But not without paying attention to the warnings of protests (also known as demonstrations) and natural disasters.
* Just to let you know that this article contains affiliate links. If you click on them we might receive a small commission, at no extra cost to you.

Is Santiago, Chile, Safe To Travel?
While we do enjoy pushing boundaries, we're not crazy enough to head blindly into a dangerous situation. So, in summary, we do believe that Santiago is a safe destination to travel to – as long as the necessary safety precautions are taken.

Demonstrations and Protests
In October 2019, Chilean protests hit the headlines, along with images of scantily-clad warriors shouting for their rights. Since then, the protests have escalated to include raising a voice for anything and everything – which all manifest in demonstrations.
These demonstrations have developed into quite "energetic" and potentially violent protests which can give tourists a scare.
However, if you learn to understand the history of the protests and the political weight that they carry, then you'll come to appreciate the protests for what they are – "beautiful" as the locals call them.
History of Demonstrations in Santiago
So, where did it all begin? And why are all of the buildings in Santiago scribbled with graffiti and the streets threatened by tear gas?
We did a free walking tour of Santiago and learned a lot about the city's history – which is full of stories framed with political tension and protests. But in October 2019, a social revolution occurred in the country when a group of students protested the fare increase on the city's train system.
The rise in public transport fares ignited frustration at the rise of the cost of living, inequality of income, privatization, and political corruption. Today, the Chileans protest about anything and everything. But it's not as violent as you'd imagine most protests.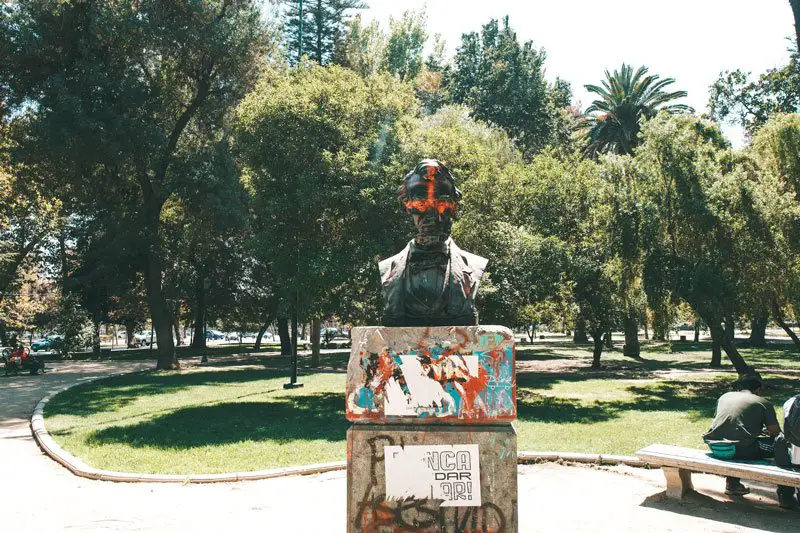 These protests, dubbed as "demonstrations" serve to bring awareness and attention to the country's inequality and corruption. The schedule has become consistent over the months and groups gather to chant in the streets.
Unfortunately, this verbalizing of speech has also translated into the spraying of graffiti across all buildings – including national monuments – and the destruction of city property. There are certain areas in the city where there are no traffic lights due to this destruction, and even the paving of the road has been torn up.
We knew all of this before we booked our tickets, but we still went. And here's why.
Current Situation – and Our Experience
Our time in Chile was exciting and completely different to any other South American country we had ever visited.
The city is filled with energy. The demonstrations are fuelled by hope for a better future, and not by hate. Speaking to the locals, we were amazed at the pride that they held for their country – and how they believed the demonstrations to be a way of holding on to that pride.
On the flip side, some things that did stand out was the destruction, blatant distaste for the cops, and the violent approach taken by the police. Santiago itself is old and the buildings are beautiful. Sadly, many of these are scrawled with graffiti messages and the popular "ACAB" which stands for "All Cops Are Bastards".
We noticed that everyone wore masks during protests and at first we were uncertain about why. Until we got caught in the middle of a tear gas bomb. We were sitting on the side of the road, enjoying a glass of wine when a herd of protesters came streaming down the road.
The restaurant staff was practiced in keeping us calm and ushering us inside. A few of the protesters tried to find safety inside as well, with welts left on their legs from rubber bullets.
Once we thought that the worst of it was over, we decided to make a run for it home, only to be met with a blanket of tear gas coming from both directions. Perhaps most shocking was the sense of calm and mundane a mere two blocks away.

Risk of Natural Disaster
Another concern for many considering a visit to Chile is the high number of earthquakes and volcanoes in the cities history. This is largely due to the fact that destructive earthquakes happen at subduction zones.
On the plus side, Chile has developed a very comprehensive safety and evacuation procedures. In addition, many buildings have been constructed with extra-fortitude.
Keep your ear to the ground and familiarize yourself with these procedures, particularly if you're going hiking as earthquakes can cause landslides.
Santiago Safety Tips
Although the risk of earthquakes and demonstrations are a reality, Santiago is an enriching city to visit. There are certain precautions to make sure that you can enjoy the culture with decreased risk.
Safe Areas to Stay in Santiago
The demonstrations in Santiago are normally contained within a certain area, with Plaza Italia being the hot spot. It's best to avoid this area from the late afternoon to the evening, particularly on Fridays.
Bellavista is another area to avoid booking accommodation. Choosing to stay here will put you in the thick of the action and put you at risk of getting caught in between the cops and the protestors.
If you want to book accommodation in a safe area that is less at risk, then you can stay in Providencia or Las Condes.
It is possible to join a demonstration, but this is only advised under the guidance of a local, and not one who is in the "front line".

Safe Tours In Santiago
There is so much to see and discover in Santiago. It truly is one of the most fascinating cities that we've ever visited. The best way to discover its history, culture, and quirks are without a doubt with the guidance of a local.
You can choose to join a free walking tour – which is what we did – or you can book through a professional. These guided tours will give you enriching knowledge, showcase highlights in the city, and keep you safe while doing so.
Explore The Glory Of Chile
The number of times that we said "this is the most interesting city we've ever visited" is incalculable. There really is so much to see and do. But it is important to acknowledge the political season that the city is currently experiencing.
Visiting Chile at this time is inserting yourself into a moment of history that will echo on for eternity. Don't let the stories scare you off, but do keep your wits about you while there.