All around the world, street art has a reputation of its own, but the graffiti art in Chile is on a whole other level. From the graffiti-filled streets of Santiago telling messages of protest and calls for justice, to the beautiful murals that fill the walls of Valparaíso – there's so much to see. Here's a taste of what to expect from Valparaíso street art.


Chilean Street Art At Its Finest
Valparaíso has got a reputation for being colorful, artistic and magical. But it's so much more! We love taking photographs and applying our lightroom presets to them – drawing out the color and beauty. Let me tell you one thing, not much editing is needed for these artworks!
Walking through the winding cobblestone streets, you'll be confronted with some of the most breathtaking works of art you've ever seen. Valparaíso street art is quite honestly the most impressive outdoor museum to exist.
I wish that I could somehow put the bizarre atmosphere of the city into words, but how do you describe an alien world? Valparaíso is without a doubt the most quirky, fascinating and obscure place that I've ever visited, and it wears its title boldly.
But seeing as I'm struggling with words, here's what Nobel Prize-winning poet, Pablo Neruda, has to say;
"Valparaíso, what an absurdity you are, how crazy: a crazy port. What a head of disheveled hills, that you never finished combing. Never did you have time to dress yourself, and always you were surprised by life."
* Just to let you know that this article contains affiliate links. If you click on them we might receive a small commission, at no extra cost to you


History of Valparaíso Graffiti Art
Valparaíso is an old port town that is known for both its street art and its development on the steepest hills you can imagine. The city is divided into the main strip that runs along the harbor and the various "Cerros" that are populated by eccentrically-built and painted homes.
The history of Valparaíso is quite interesting. The slopey city was founded in 1536 and has been rebuilt several times due to earthquakes over the years. These natural disasters, combined with new trade routes, shaped the city's development over the years to come.
Regardless of these developments, colonial buildings still stand the age-old sense of community and history fills the streets. In fact, Valparaíso was declared a UNESCO World Heritage Site in 2003.
Renowned as Chile's cultural hub, the artistic wonder of the city began in around the 1940s, at the same time as muralism began to flourish in Mexico. In fact, it was Chilean diplomat, Pablo Neruda, who first planted the seed for muralism in Valparaíso after returning from his post in Mexico. He further encouraged fellow Mexican artists to contribute to "the movement".
But while Neruda may have struck a match, it was rebellion towards the military dictatorship that truly fueled the fire. From 1973, art became the main form of fighting an oppressive government. Various groups resisted the tyranny by creating bold images of hope and activism.
Today, this art remains as a symbol of persistence and beauty. Each wall is unique, sharing a different message to those who pass by.


Famous Chilean Artists In Valparaíso
There are several famous painters from Chile (or living in Chile) that have contributed to the beautiful city. The name of these artists may ring a bell to those of you who are enthusiasts.
Cuellimangui – a Spanish-born street artist who creates iconically colorful monster-like creatures
Inti – the Chilean street artist with international acclaim has inspired plenty of similar pieces around Valparaíso
Signed artists – many of the murals will have the name of the artist creatively added (and sometimes with an Instagram handle to encourage following)
Unsigned artists – there are plenty of unsigned artworks that leave all interpretation up to the viewer
Experience Valparaíso Graffiti Art
So, how do you experience the beautiful, peculiar port-city for yourself? Luckily, Valparaíso is very easy to get to, well-equipped for tourism from a hospitality point of view, and prides themselves in their artistic offerings.
Getting to Valparaíso
There are two main ways of getting to Valparaíso from Santiago – which is only 115 km away. If you prefer the comfort and luxury of private transport then you can rent a car or get an Uber. Both options are on the pricier end of the spectrum.
Book your private transfer from Santiago to Valparaíso here.
If you don't mind public transportation – which is just as comfortable, timely and better for the environment – then there are several efficient bus providers. Some of the most popular are Turbus, Condor Bus, and Pullmans.
There are two main bus stations to choose from in Santiago, namely Universidad de Santiago and Pajaritos. We opted for the latter. Bus tickets are affordable (approximately $5 USD depending on the provider) and the buses run every 15 minutes from 6 am to 10:30 pm.
The entire trip only takes about 1,5 hours (depending on traffic) and the seats are very comfy.
Once you arrive at the bus station in Valparaíso, you can catch an Uber or a taxi to your accommodation.
We booked our bus tickets with online reccorido.cl beforehand and it made the trip less stressful.


Staying in Valparaíso
If you want to appreciate the street art on a daily basis then the best place to stay in Valparaíso is anywhere between the Cerro Alegre and Cerro Concepción.
Staying here will place you in the middle of the artistic hub and within close proximity to bars, restaurants and some of the city's best viewpoints. Most of the pictures in this post are from these areas, so you know what sort of street art to expect.
When it comes to choosing a spot to stay, we booked a month-long stay with Airbnb and got a fantastic discount. There are plenty of options to choose from to suit your budget, travel style and needs.
If you haven't already got an account with Airbnb, and you want to take advantage of the incredible homes and potential discounts, then you can sign up for an Airbnb account here.
The city is also full of really fun-looking and quirky hostels. This is a great option for those traveling on a budget, want to meet people or are only staying for a short while.
Check out the wide-variety of Valparaíso hostels that are affordable, fun and super groovy.


How to Get Around Valparaíso
To be honest, we walked practically everywhere. With that being said, the hills can be very steep. We often used our strolls as our "exercise" for the day. We considered it to be one of the ways to stay fit when traveling and an opportunity to see the artwork.
With that being said, there are plenty of Ubers and taxis available. I'd imagine that the turnover rate is quite high considering the consistent smell of burnt clutch in the streets. These rides are fairly cheap and if you're not a fan of walking they can quickly become your best friend.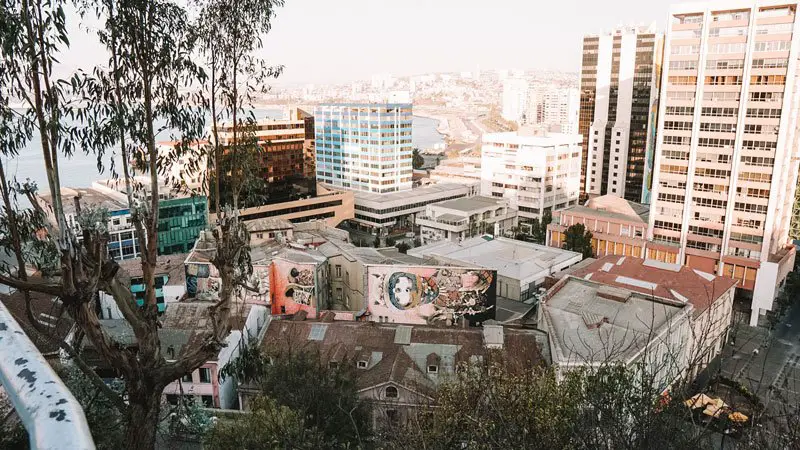 There are also regular public buses and trolleybuses that run various routes in Valparaíso. You simply need to wait at a clearly-marked bus stop. Alternatively, you can stick your arm out and wave as one comes hurtling past. Just have around 410 Chilean Pesos ready ($0,5 USD) and you're good to go.
Another great way to ascend the steep hills is on a funicular – which is an attraction in itself. A ride costs you as little as 100 Chilean Pesos (which is not even worth converting into dollars). I'd recommend going on one of these as an experience in itself.
Top tip: walking through the streets is one of the best ways to see the artworks. I'd suggest a comfortable compromise that involves walking down to the harbor (and maybe picking up a tasty pastry on the way) and then getting a taxi or bus back up.


See the Art in Valparaíso
Now – the spectacle that you've all been waiting for! To be honest, you just need to step outside your accommodation and in you're in the middle of the world's largest art gallery. However, there are plenty of amazing tour providers that can offer additional insight into the history, background, and narrative of the city's relationship with art.
Some of the tour companies that stick out are Tours4Tips, GraFREEti Tours and Valpo Street art tours. There are also plenty of great self-guided tours and privately-run tours such as these:


When Everything Is Shut Down, The Street Art Holds Strong
We visited Valparaíso at a rather crazy time when COVID-19 was at its initial panic. Not even 24-hours after arriving, the entire country closed its borders and social-distancing was put in place. As a result, our experience of the buzzing nightlife, vibrant locals and delectable restaurants was very limited.
Essentially, the city's street art was the only real experience that we got to enjoy in Valparaíso. To be honest, when we prematurely left to go home, we were satisfied and felt fulfilled by what the murals had to offer. The street art really is something fantastic and kept us sane during a rather panicked season.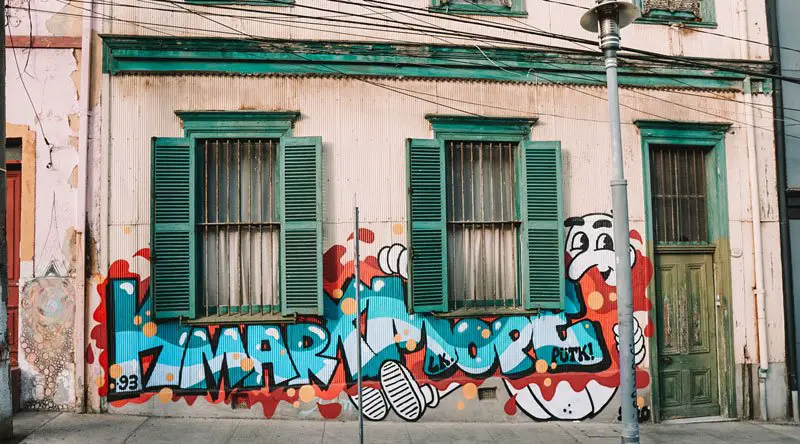 If you haven't subscribed to our YouTube channel or followed us on social media – here are our links.