There are plenty of ex-pats in Buenos Aires, and when you realize how fantastic the city is, the reason why begins to make sense. After spending a month living and working in the cultural metropolis, we have bumped Buenos Aires to the top of the best digital nomad locations.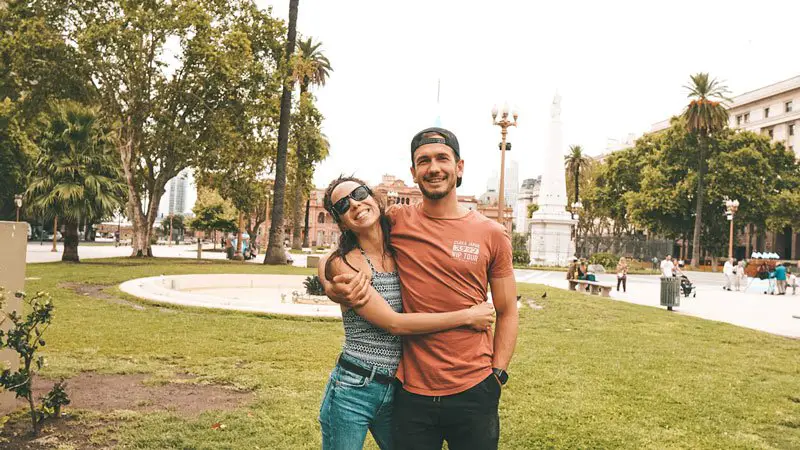 From the vibrant streets of La Boca to the graffiti-filled walls in Palermo, the bustling city offers a wealth of experiences to enjoy. The cobble-stoned streets tell of the rich Spanish influence and the modern architecture along the riverside indicates an impressive level of development.
We've traveled to enough countries as digital nomads to know that each country is unique and throws different obstacles (and enjoyments) your way. With this in mind, preparation is key to surviving as a digital nomad and managing expectations.
Buenos Aires Cheat Sheet
Language – The official language in Buenos Aires is Spanish – so best brush up on Duolingo
Currency – The local currency is the Argentine Peso (1 USD = roughly $62 ARG)
Timezone – Buenos Aires falls in the GMT-3 time zone

Best Time to Go
If you plan on working in Buenos Aires for extended periods of time, then you're lucky enough to experience all four seasons in the city. However, if you're only planning on living in Argentina for a short while, then we'd suggest that you visit in summer or during the shoulder seasons.
The summer can get really hot, so while we love the heat, you may want to avoid the 29-degree sun. The best time to enjoy life in Buenos Aires is during the shoulder seasons when the weather is temperate and the mood is cheery.
Each country differs slightly, but most Argentinean tourist visas are valid for a 90-day stay. This makes staying in the country for three months rather easy. Equally as easy is the border hop to Colonia de Sacramento in Uruguay which will give you an easy opportunity to renew your visa.
Best Places to Live in Buenos Aires – Where to Stay
Your home base will have a major impact on your Buenos Aires living experience. It will be the place you come home to after a long day of work, and possibly even where you make much of your work happen.

Palermo
If you're looking for a social area to enjoy a tasty Asado, glass of Malbec and social mood after a day making paper, then Palermo is it. We stayed in Palermo and it ticked all of our boxes. It was cultural, social, convenient and vibey.
From graffiti-covered walls, cobble-stoned streets and home to a festive nightlife, Palermo has it all. As a bonus, there are countless coffee shops scattered in the area with great WiFi and fantastic coffee.
Villa Crespo
Villa Crespo is an up-and-coming trendy neighborhood that has started attracting a younger crowd. It has since been dubbed the understated "cool" area and offers a really authentic experience for travelers.
While staying in Villa Crespo, you'll have lots of opportunities to visit the many leather shops, enjoy the nightlife and even pop over to neighboring Palermo.
San Telmo
If you're traveling on a budget and want a groovy place to stay that doesn't break the bank, then San Telmo it is! The charming area is one of the oldest in Buenos Aires and this history is evident in the picturesque streets and old buildings.
You can also expect to find a lot of coffee shops, antique stores, and markets, allowing you to take a bit of San Telmo's unique character home with you.
Cost of Living, Buenos Aires
The affordable cost of living in Buenos Aires is one of the biggest drawcards. Coming from South Africa, where our local currency is quite weak, we're very selective when assessing how much it costs to live and work in a country.

Accommodation
We've made the awful mistake of moving around from one spot to another every two weeks (or less) before. It makes life incredibly stressful and significantly more exhausting.
So, we try to book one place for a month at a time, and the value in doing so is fantastic. Platforms such as Airbnb offer great discounts for booking longer periods of time.
By taking advantage of Airbnb's discounts we were able to stay in a really nice area (Palermo) for a fraction of what it would cost if we rented a spot on the normal market. Overall, by booking accommodation this way, we were able to match the rent that we pay in Cape Town – approximately $720 USD for the month.
If you haven't got Airbnb and want to make the most of their fantastic deals when traveling, make sure that you sign up with Airbnb before you leave.
* Just to let you know that this article contains affiliate links. If you click on them we might receive a small commission, at no extra cost to you.
Groceries
While traveling in Bali, we realized how common (and affordable) it is to eat out – making the need for groceries obsolete. When staying in bigger cities,  we try to save costs by cooking at home.
The cost of groceries in Buenos Aires is very reasonable. There is an ample supply of fresh fruit and vegetables, bread, (deathly-good) pastries, dairy products and meat.
You can buy a drool-worthy medialuna for less than $1 USD, a delicious bottle of local wine for $3,5 USD, and pay only $1,5 USD for a dozen of eggs.
Transport
Arguably even better than the low cost of groceries and rent in Buenos Aires is the affordability of public transport – as well as its efficiency. A SUBE card will cost you $1,5 USD and a single card can be shared among many people.
Once you've got your card, you can use it on the train, the metro, and the bus – with a single ride costing you less than $0.5 USD on average. For example, our ticket to Tigre Delta costs less than $1 USD return.
If you prefer private transport, then you can easily call an affordable UBER and countless taxis waiting for your beck and call.

Getting Around Buenos Aires
As mentioned above, Buenos Aires has a well-oiled public transportation system with affordable rates. Your SUBE card gives you access to the metro, rail, and bus which connects you to the entire city – and beyond.
There's also the option of private transport such as the oversupply of taxis and UBER. If you plan to live in Buenos Aires, then you can also invest in a scooter or a car.
Finally, another popular mode of transport is a bicycle. You'll be surprised at the number of people who choose to peddle themselves around the city in the bus lanes which are built into almost every major road.
Setting Up Shop: Telecommunications & Internet
Working in Buenos Aires as a digital nomad isn't possible unless you're connected to the internet and have a productive workspace.
WiFi
WiFi in Buenos Aires is abundant and free to use at most coffee shops. Internet connection isn't only easily available, but also very fast – well, at least on the download.
The download speed is approximately 15 Mbps. However, the upload speed is a less-impressive 5 Mbps.
Mobile Data
The internet connection is equally as speedy on mobile as it is on the WiFi. You can buy a data package from a variety of mobile data providers. The main three cell phone providers are Claro, Movistar, and Personal.
These data packages and sim cards are easy to purchase throughout the city – starting at the airport. We bought a 30-day, 3 GB package from Personal at the airport upon arrival for only $13 USD. This amount kept us going throughout the whole month when only using outside WiFi. Well, it kept me going. Ollie's a fan of YouTube videos.
Plugs
Worse than getting caught with your pants down is getting stuck with a dead laptop on a deadline. There are two main plugs in Argentina, namely plugs type C (two round pins) and I (three flat pins).
The country operates on a 220V supply voltage and 50Hz. If you want to enjoy productive days in Buenos Aires, then make sure you come prepared from an electrical perspective.
Places To Work In Buenos Aires
There are various places to work in Buenos Aires, with a variety of options to match your pocket. While Ollie gets a budget from his company to rent a co-working space, I have to find a productive space on my own dime. In the end, this leaves us with two main options (three if you include your home base).

Coffee Shop
We only had to step outside our front door to have a variety of coffee shops to set up for the day, sip on fantastic Argentinean coffee and perhaps indulge in a pastry (or two).
Some of our favorite spots to work from in Palermo are Padre, Tonnos and Coffee Town. Each had its own unique mood, atmosphere, and specialty to accompany the speedy WiFi and comfy chairs.
Coworking Spaces
After working remotely in countries such as Seoul, Bali, and Portugal, we're well-acquainted with choosing between coworking spaces and coffee shops. If coworking spaces are more your vibe, then you'll be spoilt for choice.
Some of the top coworking spaces in Buenos Aires include WeWork, Manawa Coworking and Music Hub. Each of the spots has a different mood about them, so I'd suggest you visit them before booking a whole month.
You can find a really nice space, with a friendly community and efficient amenities for about $50 USD per month. Check out 'Get Croissant' to compare prices, locations and amenities of various coworking spaces across Buenos Aires – and the world.
Striking a Work-Life Balance
Argentina's quality of life is one of the best. The Latin American flair combined with the impressive development of the city means that there is a lot to see and do. With this in mind, we strongly recommend that you disconnect from the computer and enjoy what it has to offer.
Here are a few golden nuggets on how to find that sweet spot between work, play, and health.
Get Social
There are plenty of ex-pats in Buenos Aires meaning that whether or not you speak Spanish, you won't be lonely.
In addition to putting yourself out there at the social scene and striking up a conversation with a stranger at a bar, there are also lots of networking events. There are websites and forums such as BAExpats and Facebook groups such as Buenos Aires Expat Hub where you can engage with like-minded people to ease you into the new culture.
Another way to meet new people and practice your socializing skills is to join a club, a language class or sit in a park drinking mate!

Staying Fit
If you're anything like Ollie and myself, then cabin fever is a real risk when living (and working) in a small place all day. Our pent up energy is enough to make us bounce off of the walls and drive each other crazy. In fact, we've pushed those boundaries far too many times.
One of the best ways to stay in a routine, keep your mind and body healthy, and avoid killing each other is to set up a regular exercise routine. When we're in an ocean-coastal destination then you'll find us in the water most days, but Buenos Aires has no sea (only a river).
Luckily, the exercise culture in Buenos Aires is fantastic. There are countless gyms and exercise clubs to join, providing a great way to stay fit while traveling and make friends.
Most gyms have a monthly contract available – so no long term sign-ups needed! We joined Sparring Center to keep our momentum going, and it was one of the best decisions that we could have made to maintain a structure and keep ourselves healthy (and work-life balance in check).
Discover Culture
What better way to get a break from work than to dive deep into a new culture? It goes without saying that if you visit a city as vibrant as Buenos Aires, then you need to do everything that you possibly can to soak up each moment. A month in the city was nowhere near enough for us.
From the bustling Caminito in La Boca to the trendy area of Palermo, you really are spoiled for choice. The city itself has a wealth of hidden gems and popular attractions, not to mention the incredible day trips that are both affordable and enriching.

Living in Argentina Pros and Cons
As a summary, we think that Buenos Aires is one of the most rewarding and cost-effective places to work and live as a digital nomad.
Pros
These are the main aspects that made us love Buenos Aires and conclusively decide that it's a fantastic digital nomad location.
Buenos Aires prices are hard to beat
The city drips with heritage and culture
As a developed city, you have access to great infrastructure
The public transport is top-notch
Internet connection is a guaranteed win
Amazing food – particularly the steak and wine
Cons
This was hard to consider, but if we had to choose…
As surfing fanatics, it made us a little bit sad that there is no surf (or beach) in the city
If you don't speak Spanish, then you may struggle with a language barrier

Final Thoughts On Working and Traveling to Buenos Aires
In conclusion, we love Buenos Aires as a digital nomad location. There are so many great places to work, and the internet connection is fantastic. The public transport is efficient, the locals are friendly, the food is out of this world and the cost of living is fantastic.
If you want to experience a South American flair and a spirited culture, then you should seriously consider Buenos Aires as your next destination. Book your tickets, check out our digital nomad packing list, and prepare for one hell of a ride.