Whenever we go on an overseas adventure, we try to tick off as many countries as possible. On our recent trip to Argentina, we pushed the boundaries and set our sights on Uruguay for a day. As bold as this may sound, it is actually rather easy to travel from Buenos Aires to Uruguay. In fact, the return journey can be done in a single day trip.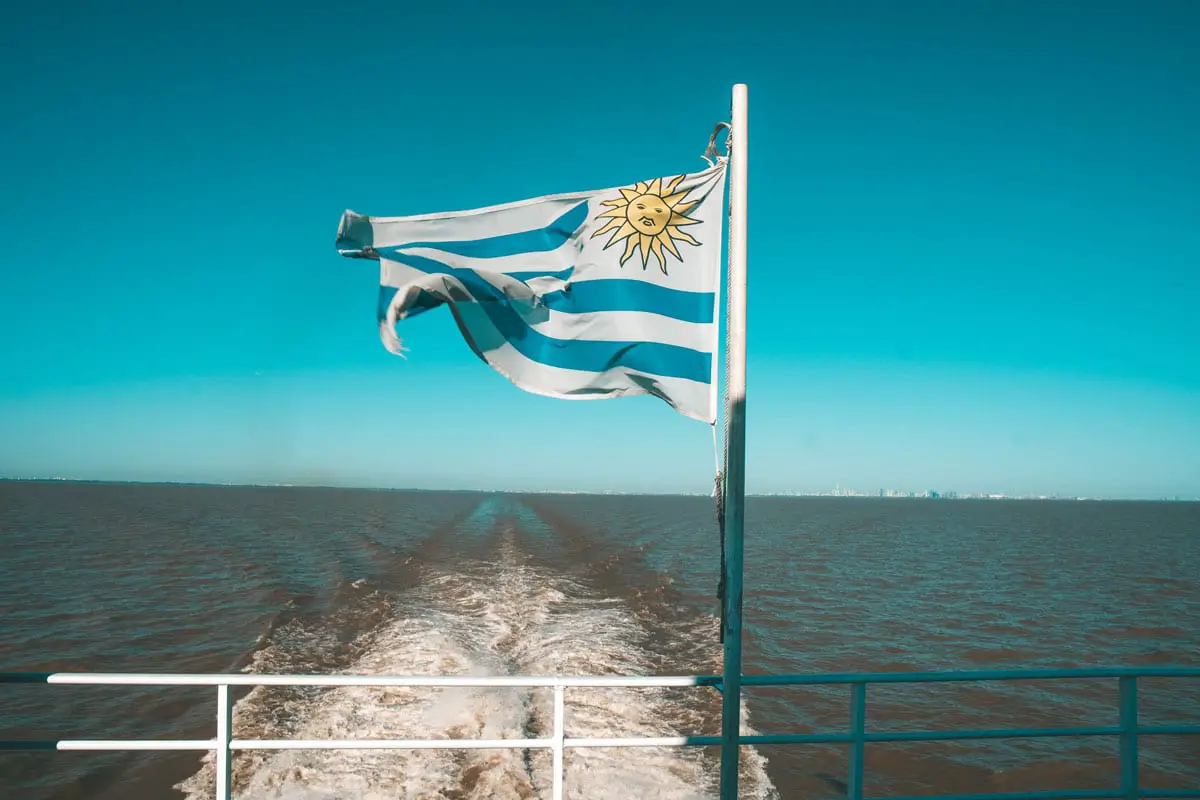 There are two popular destinations to visit in Uruguay when leaving from Argentina – namely Montevideo and Colonia del Sacramento. The ferry from Buenos Aires to Uruguay can get you to either spot.
While Montevideo is a (significantly) larger city, it is a further journey and therefore best done when there's more time available. Buenos Aires to Colonia del Sacramento is a shorter trip, and can quickly be done in a single day.
That's exactly what we did – and here's how.
* Just to let you know that this article contains affiliate links. If you click on them we might receive a small commission, at no extra cost to you

History Of Colonia Del Sacramento
Located directly across Buenos Aires on the banks of Rio de la Plata, Colonia del Sacramento is an ancient city that is not only quaint but also incredibly beautiful. The most popular area of the old Portuguese settlement is Barrio Histórico – the cobble-stoned area full of colorful buildings and lively culture.
The city was first founded in 1680, and the historic quarter has since been titled a UNESCO World Heritage Site. Governance of the city has since changed hands several times over the years – from Portuguese, Spain, Brazil and now as an independent state.
But the influence of each of these countries is still rife and evident in the colonial town. A short trip to Colonia is a great way to get a taste of this rich heritage.
While it's no secret that we're a huge fan of DIY tours, it can be a lot less stressful and much more convenient to book a tour in advance. Find out more about a Colonia del Sacramento tour from Buenos Aires.

Ferry From Buenos Aires To Colonia
The easiest and most affordable way to get to Colonia del Sacramento from Buenos Aires is onboard a ferry. All ferries depart from Puerto Madero and arrive at the ferry terminal in Colonia del Sacramento.
Passports are stamped at the terminal before leaving each country, and seats are offered on a first-come, first-serve basis. So, make sure that you give yourself plenty of time to get your coffee, stamp your passports and get a prime seat on the ferry – I'd recommend at least two hours.
There are two main ferry providers that make the journey several times a day. There's a third as well, but it doesn't make much of an appearance on the list of top options.
The prices and times are fairly similar, and both providers have regular deals on offer. However, here's a breakdown of what you need to know.
Buquebus
Buquebus is probably the pricier of the options, but you get what you pay for and the service has an extra edge of comfort. The ferries sail three times a day, every day of the week.
Duration – 1 hour, 15 minutes
Cost (one-way) – Approximately USD $56 – $84
Colonia Express
We took Colonia Express as it was the most affordable option. It surprised us by the clean amenities, convenient duty-free store, and comfortable seats. In my opinion, there's no need to spend more than the Colonia Express ticket costs.
Duration – 1 hour, 15 minutes
Cost (one-way) – Approximately USD $54 – $71
 Top tip: It may be worth heading over to the terminal in Puerto Madero (Buenos Aires) when booking your tickets – especially if you're on a budget – as you might be able to save a few bucks compared to booking online.

How Much Time Do You Need
The reason that Colonia del Sacramento makes for such an awesome day trip is that you can walk it flat and tick off all of the main spots in half a day. In short, we managed to see all that we wanted – and take a leisurely nap on the "beach" – in six hours.
With that being said, you could comfortably spend a weekend in the old town. There are plenty of great places to stay, and enough charm to keep you entertained for a couple of days. However, I wouldn't recommend staying any longer than that.
Things To Pack For Your Colonia, Uruguay, Day Trip
A backpack of essentials is all that you need to enjoy a full-day in Colonia, Uruguay. These "essentials" will vary slightly depending on the Colonia weather forecast and the time of year that you choose to visit.
Here are the essential items that we included in our bags. You can use these items as a guideline for your own packing.
PASSPORT
Water
Snacks
Cash (the Uruguayan Peso is different from the Argentine, but they accept both in Colonia del Sacramento)
Light jersey for the air-conditioned ferry
Swimming costume
Towel
Camera
Power bank (and charging cable)
Sunblock
Comfortable walking shoes (learn from my mistake)
Fun Things To Do In Colonia Del Sacramento (In One Day)
The most important area to target in Colonia is the historic district. It's a short 10-minute walk from the ferry terminal. There are options to hire a car or motorbike upon arrival, but we chose to walk. This is a better option to both see the beauty of the city and save money.
To be quite honest, this is the only real area worth visiting – especially if you only have a day to explore.
Some of the top spots to explore are as follows.

Old Train Station
The old train station can be considered the first glimpse of the old city. Although not advertised as an attraction, and although no trains pass along the overgrown tracks, it is quite a sight to behold.
When we arrived in the morning, the train station was void of human presence. It's quite a beautiful scene as it sits along the banks for the river with a large "Colonia" sign. A simple glance is enough to transport you back into time.
When we walked passed the old train station later that evening, it had come to life. There were groups of teenagers playing around on their BMX bikes, families having a picnic on the adjacent banks and football players kicking the ball around.
Opening hours – 24/7
Cost – Free
Our highlight – The old building is a fantastic introduction to the bold history of the town

The Old Town Gate
It's quite a magical experience to cross the wooden bridge and walk through the old gate to enter the historical district. It's flanked by the ruins of the city walls and is quite a beautiful spot to photograph.
As soon as you walk through the gate's arches, you can sense the change of mood. When you disembark from the ferry you step out into a ferry terminal. But when you walk through the gates, you step back in time.
If you're lucky, you'll find a local resident dressed up in fascinating garb and pulling off a funky stunt for some change.
Opening hours – 24/7
Cost – Free
Our highlight – Climbing to the top of the city wall ruins is quite an enchanting experience
Street of Sighs
As soon as you've passed through the old gate, you'll encounter cobble-stone streets and beautiful historical flair. There are brightly colored buildings that house a variety of coffee shops, galleries, and different local attractions.
Perhaps the most popular of these streets is the Street of Sighs or Calle de los Suspiros. There are several legends that explain how the street got its name. Some say that criminals were hung at the end of the street, others say that prostitutes used to line the street to tempt sailors, while others suggest that a lover was killed on the street.
Whichever story you believe, the street is filled with history and meaning. From the iconic lamppost that sits above the tile sign to the slippery cobblestones that line the floor. The street is a must-visit spot in Colonia.
Opening hours – 24/7
Cost – Free
Our highlight – There's a beautiful gallery in the street called Fernando Fraga – Galería De Los Suspiros which is astounding
El Faro Lighthouse
Built in the 1850s, there's no better spot to see sweeping views of Colonia del Sacramento than from the top of El Faro lighthouse. It's spectacular!
The cost to get to the top is pocket change, and the view is invaluable. It can be a bit of a squeeze when other travelers are there, but the employees do try to space out the visitors.
Opening hours – 10:30 am – 12:30 pm, 2:30 pm – 6:30 pm (Monday – Sunday)
Cost – Approximately USD $0,5
Our highlight – The view at the top-top level is nothing short of phenomenal!
Plaza de Armas
Plaza de Armas is a great spot in Colonia to kick back on a bench in the shade, sip on a glass of wine or peruse through the various trinket stores. There's a beautiful church in the square and a handful of cafes to grab a bite to eat.
There's a relaxing patch of green that frames a little fountain. The lively square is a fantastic spot to take a break from the sun – and the walking.
Opening hours – 24/7
Cost – Free
Our highlight – There's a tasty ice cream store that provides a creamy treat after burning up a lot of energy in the morning

The Marina
We happened to stumble across the marina in search of the beach. The wooden pier encapsulates a quaint mood inspired by old-school fishing boats and great spots to sip on local wine.
Opening hours – 24/7
Cost – Free
Our highlight – Pattering along the wooden pier generates quite a nostalgic experience

The "Beach"
It's no secret that we love the beach. From surfing the epic waves in Uluwatu to diving deep in the pristine waters of Gili Trawangan. I'd like to make a disclaimer that the beach in Colonia del Sacramento falls incredibly short of any vision of paradise.
Instead, the "beach" is a muddier, more river-like open space of water that provides a brief moment of rejuvenation. There are several beaches in Colonia. The best of these beaches are easier to access with a car.
But without a car, we kicked it at the first one that we stumbled across.  We had enjoyed one too many glasses of wine at lunch and by the time that we got to the beach, we were shattered.
We had a quick dip in the water – and a much longer nap in the shade of the trees.
Opening hours – 24/7
Cost – Free
Our highlight – A great place to relax after a busy day exploring

Additional Extras
If you have more time to kill, then there are plenty of other things to do and places to visit. There are several museums, galleries and restaurants to visit.
While our experience with the local cuisine wasn't anything to write home about (and far from the local food in Bali) we did enjoy the wine.
There are also several museums that can provide additional context to the rich history of Colonia del Sacramento.

Sail Away – Even If For The Day
We made a spontaneous decision to sail across the river and visit a new country for the day. It sounds crazy to say that – but that's exactly what we did. And you can do it too!
A day trip from Buenos Aires to Colonia del Sacramento is a fun and thrilling activity to enjoy. We did found the entire experience quite a lot to handle for a day so if your energy levels are quick to fade then I'd recommend booking a spot to stay overnight.
But whether you smash it in a day or spend a weekend, Colonia de Sacramento is a fun and easy day trip from Buenos Aires.