For budget-conscious travelers, April is a popular time of the year to book a vacation. As the months fall on the shoulder season of tourism, travelers can expect flight deals, discounts on accommodation, and decreased tourism prices. So if you're planning a trip to go surfing in April, then you're on the right track!
Even better is the knowledge that there are several amazing surf destinations around the world that receive perfect swell during April. From long rides at Muizenberg in Cape Town, South Africa, to quick barrels and fast getups in Ericeira, Portugal – there are plenty of spots to choose from.
Planning a surf trip during another time of the year? Read our guide on where to surf around the world, month by month.
* Just to let you know that this article contains affiliate links. If you click on them we might receive a small commission, at no extra cost to you.

1.   Cape Town, South Africa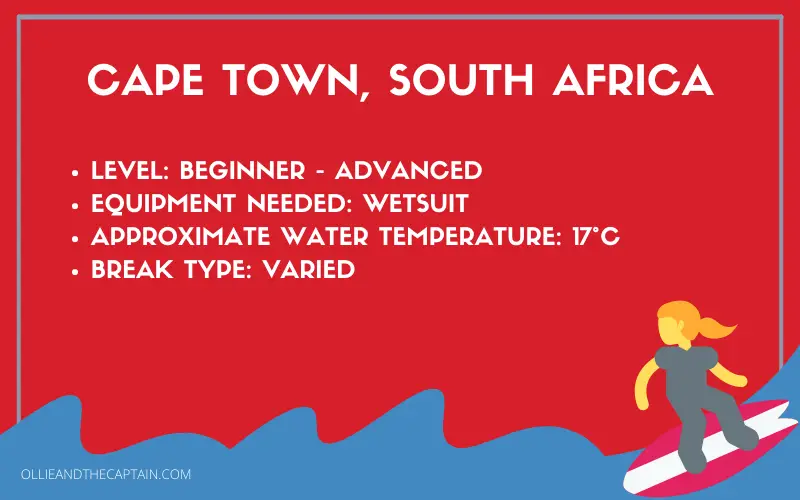 Cape Town is our home base, and one of the best places to visit as a digital nomad. The affordable cost of living, stunning natural landscape, and vibrant culture make it a top attraction for those wanting to travel and work. Amazing surfing opportunities are the cherry on the top.
Read our guide to working in Cape Town as a digital nomad.
The prime surfing season in Cape Town falls over the winter months, but April and May are arguably your best bet. During these months, the weather is more temperate and the wind conditions are preferable for several surf spots.
Book an 11-day surf and yoga holiday for all levels in Cape Town here.
Cape Town boasts a choice of different surf spots, appropriate for all levels. The best area for beginners is in Muizenberg, where you have a choice of surfboard rental shops to choose from. If you know how to manage your board, then you can have a lot of fun at the varied spots along the Peninsula. 
Browse places to stay in Cape Town, South Africa.
2.   Namotu, Fiji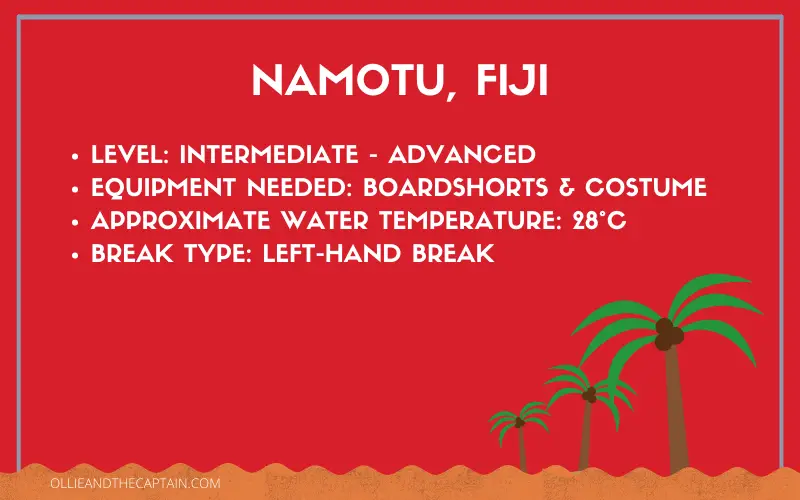 Namotu Left is one of Fiji's most popular swell magnets, a favorite among intermediate and advanced surfers. The spot is accessible by boat or paddle (if you have the energy) from the shores of Namotu Island.
Surfing in April in Fiji is a bit of a transitional season, knitting the summer season together with the winter one, but Namotu break is known to be incredibly consistent. The surf starts to kick up a bit but is still manageable for your average, confident surfer.
The spot is revered as one of the world's best left-hand waves that offer frequent barrels and some of the longest rides in the island area. The break is more forgiving than the renowned Clourdbreak, which makes it a great spot for longboarders as well.
Browse places to stay in Fiji.
3.   Ericeira, Portugal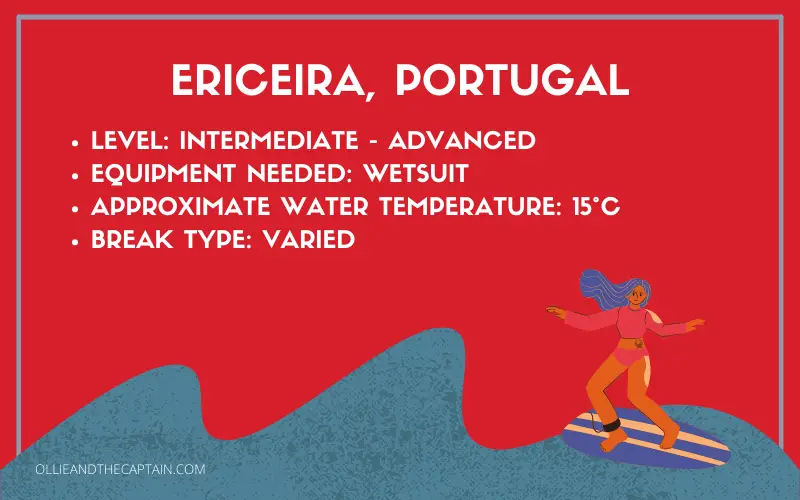 Ericeira is one of Portugal's best-loved surf spots and is home to Portugal's first national surfing competition in 1977. The five-mile surfing region is home to 9 world-class surf spots that attract countless surfing travelers – especially during April.
Book a 4-day exciting surf camp in Ericeira here.
The water is cold in Ericeira, and if you want to spend hours in the break getting pitted, then you better be prepared. If you're surfing the reef breaks, then you may want to add booties to your gear list.
Read our guide on cold-water surfing essentials here.
Ericeira is a year-round surfing destination but is best for experienced surfers during the months of September and May. This is when the powerful swell hits the shores, serving a choice of deep barrels and clean rides.
Browse places to stay in Ericeira, Portugal.
4.   Oahu, Hawaii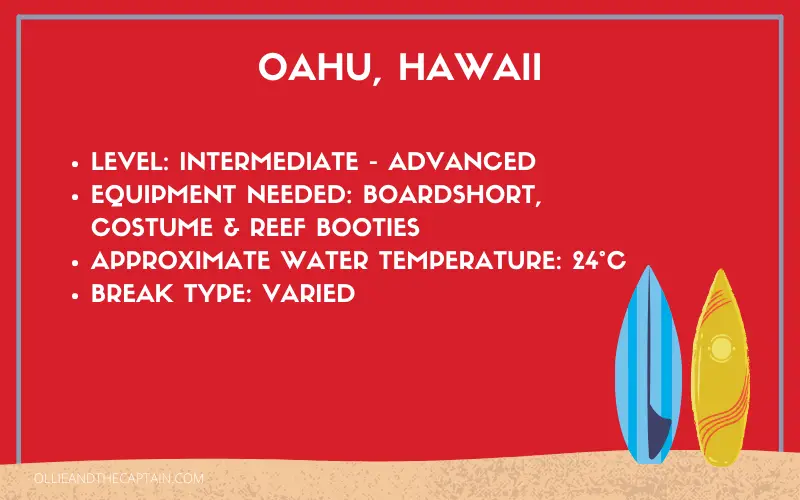 Hawaii's winter surfing season extends from October to April, making the northern shores prime for surfing in April. Powerful waves dominate the coastline, stealing from the southern shores which get significantly smaller in size.
Book a 7-day North Shore surf camp in Oahu, Hawaii here.
While Oahu can be surfed by beginner surfers during the summer, it's best for novices to avoid the northern shores in the winter when the waves are noticeably larger. Some of the top spots for those more confident include Puaena Point, Chun's Reef, Turtle Beach, and Diamond Cliffs. As you can see, there's quite a selection!
Browse places to stay in Oahu, Hawaii.
5.   Rio de Janeiro, Brazil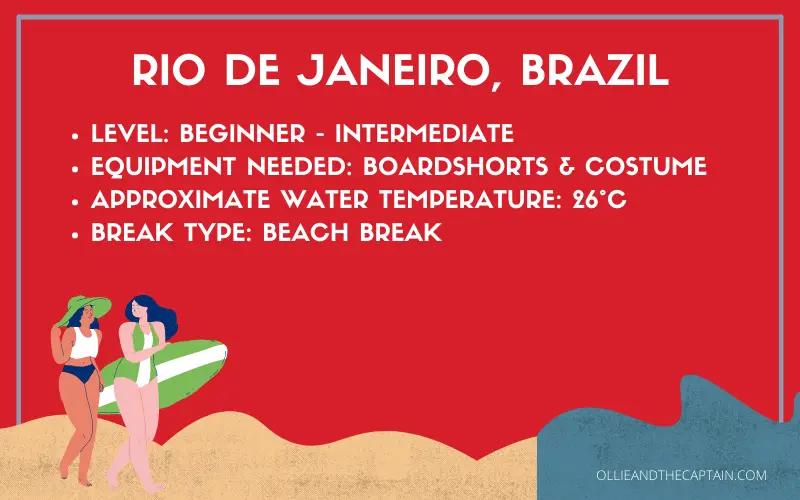 Brazil is home to three main surfing regions, with the most concentrated section found from Rio's coastline running down south. Some of the best surfers in the world are Brazilian and learned to ride on these very shores. This made our stay in Rio, surfing the waves, all the more special.
Read our guide to surfing in Rio de Janeiro here.
From April to October, Rio's coastline is exposed to the frequent easterly winds which deliver consistent swells and fun conditions. While Rio isn't the most consistent surf spot in Brazil, the lively city offers plenty to do on a day when the swell doesn't work. Some of the best spots include Aproador, Itacoatirara, Prainha, Barra da Tijuca and Joatinga.
Browse places to stay in Rio de Janeiro.
6.   Lima (Punta Hermosa), Peru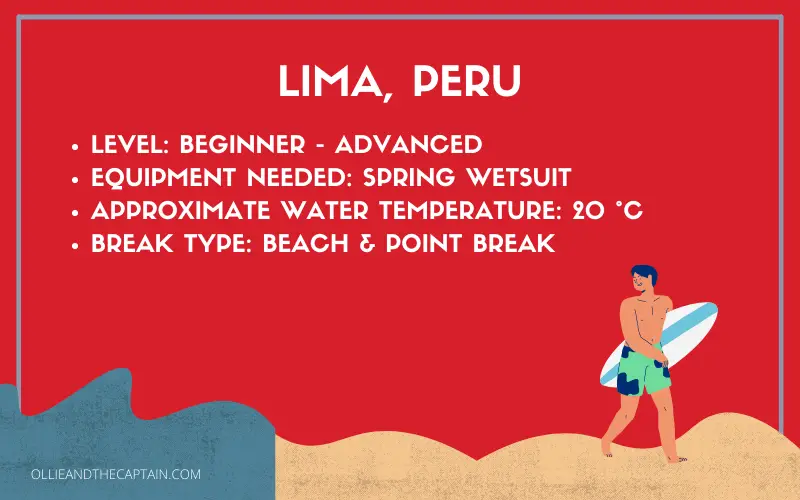 April is a great time to surf in Peru, overlapping the seasons for the north swell and the south swell. While the northern spots will still receive consistent swell in April, the real magic is happening in the southern regions, particularly around Lima and Punta Hermosa.
The water is chilly, so it's recommended that you pack a wetsuit if you want to enjoy the surf without the shivers. Some of the best spots south of Lima include Playa Waikiki for beginner and intermediate surfers, La Herradura for advanced surfers, and Pico Alto for the brave, big wave surfers.
Book a 4-day beginner yoga and surf camp in Punta Hermosa, Lima, here.
Punta Rocas is a great spot to go surfing in April for all levels, boasting a consistent right point break – just be prepared to deal with crowds. San Bartolo and Cerro Azul are also great options for all levels. If the waves are small, check out these in things to do in Peru.
Browse places to stay in Punta Hermosa, Peru.
7.   Lombok, Indonesia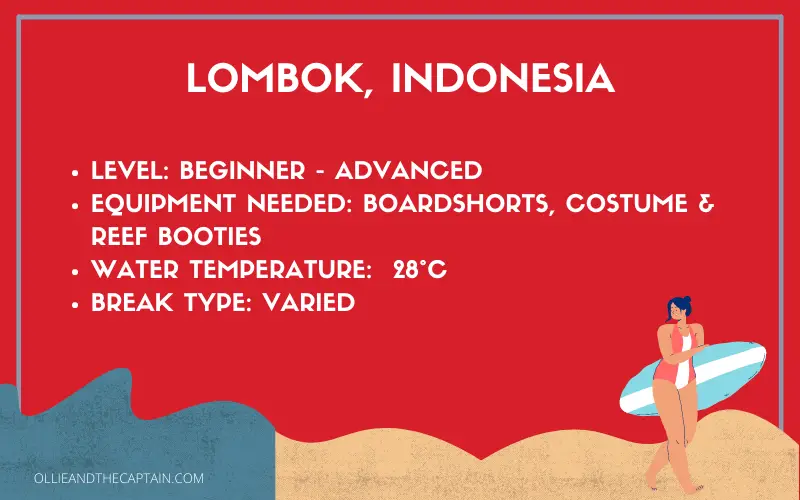 Lombok is one of the iconic surf destinations that offer consistent swell all year round, but April, which falls at the end of the rainy season, is particularly enjoyable. Glassy waves are served in Are Guling which is perfect for intermediate and advanced surfers, and Seger Reef which has a short wave with a fast takeoff.
Book an 8-day tropical surf camp for intermediate and advanced surfers in Kuta, Lombok. 
Kuta beach is the central surf spot on the island with plenty of beach cafes and places to rent a surfboard in the nearby area. Most surf breaks can be found within a 20-minute to 3-hour drive or a short boat trip. Different breaks work best in certain months, so double-check before you hop in the car or on a bike.
Browse places to stay in Lombok, Indonesia.
8.   Malé Atolls, Maldives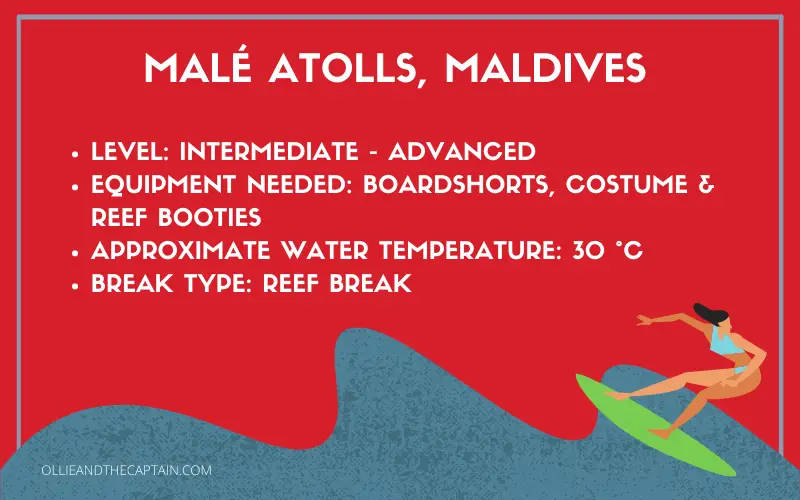 A trip to the Maldives is a little bit more expensive than your usual surf trip, but it is worth every cent. Most of the archipelago works best from April to October, meaning that you're in for a good time.
Book an 8-day surf cruise adventure for all levels in North Malé here.
The biggest swell picks up around June which means that surfing in April in the Maldives is more manageable for intermediate surfers. The crystal-clear waters are breathtaking, and the luxury of the trip doubles up in both lodging and waves. Liveaboards are a popular choice and make accessing the surf spots very convenient, adding to a very unique experience.
Browse places to stay in Malé Atolls, Maldives.
9.   Tamarindo, Costa Rica
December to April is the perfect time to visit Tamarindo as a beginner surfer. During these months, the swell is small to medium in size and the conditions are clean (thanks to the dry season).
Looking for the perfect beginner surfboard? Read our blog here.
There are several surf spots, all of which share the common trait of being magical and laid back. The weather is very warm so make sure that you come prepared – a surf hat, sunblock, and a decent water-drinking routine are essential.
Book a 6-day surf camp in Tamarindo here.
There are several spots extending down the coast from Tamarindo, offering a different experience if needed. The onshore that dominates April keeps the conditions fun, but make sure that you check the tides of the spot you want to visit – because it plays a big role in the experience!
Browse places to stay in Tamarindo, Costa Rica.
Plan Your Surfing Trip In April
Judging by these few (of many) destinations to go surfing in April, you can see that you're in for a treat. Whether you're a beginner or advanced, there's a swell that will quench your surfing thirst.
If you're a digital nomad with a little bit of extra flexibility to stay at a spot for a longer period of time, then we'd strongly suggest that you take that opportunity. To help you get started, you can read our guide on the best digital nomad destinations for surfers.