February is the month of love, and nothing gets our hearts pounding like a rip-roaring swell in some of the most beautiful destinations around the world. If you're planning a trip to go surfing in February, then you have an array of options to choose from.
The winter swell hits the Northern Hemisphere and delivers epic waves in some of the best locations for surfers of all levels – especially advanced and intermediate surfers.
Planning a surf trip as a digital nomad? Here are a few epic destinations to consider.
 With this in mind, surfing in February is best-suited for surfers that have a bit more confidence in the water. But there is plenty of fun to be had by all.
Planning a trip closer to the festive season? Browse our top places to surf in January here.
* Just to let you know that this article may contain affiliate links. If you click on them we might receive a small commission, at no extra cost to you.

1.   South Coast, Barbados
Oistins and the surrounding areas on the South Coast of Barbados are hotspots for catching waves in February. Freights Bay, in particular, boasts the longest left in Barbados, delivered on a gentle break.
The peak surf season in South Coast, Barbados, runs from October to March, providing a surfing environment that includes warm water and fun waves. For an optimal session, hit the water at low tide as this is when the waves get their power and speed.
Browse places to stay in South Coast, Barbados.
2.   Taghazout, Morocco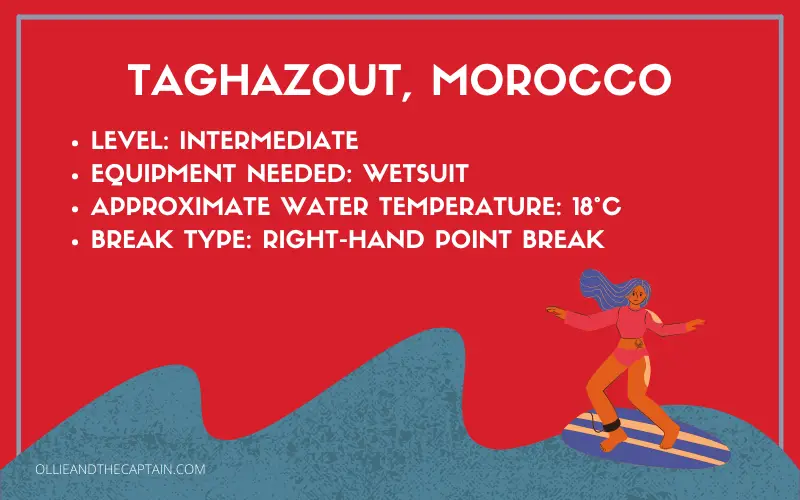 Revered as Africa's surfing Mecca, Morocco is a haven for surfers from around the world. Of all of the surfing destinations in the country, Taghazout is Morocco's pride and joy, serving up rippable right-hand point breaks galore.
Book a 6-day surf and yoga holiday in Taghazout here.
 Anchor's Point is a crowd favorite, offering a clean and hollow wave to score barrels and stoke. As an added bonus, the little surf town of Taghazout offers a laid-back atmosphere that makes for a memorable getaway immersed in the culture.
Browse places to stay in Taghazout, Morocco.
3.   Tenerife, Canary Islands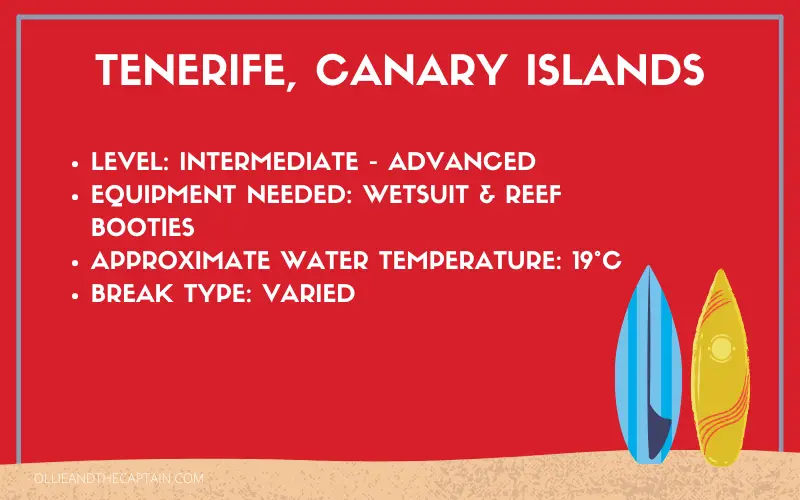 All of the Canary Islands are legendary when it comes to surfing. During February, you can bet your bottom dollar that Tenerife will impress, with both reef and point breaks being fueled by the Atlantic swell. Be advised that there is a bit of surf localism in the area, and the reef can be unforgiving if you go over the falls or bail hard. Both instances can be prevented with a little bit of care.
Book an 8-day surf camp in Tenerife, Canary Islands, here.
The north and south of the island offer a slightly different experience, but both are fantastic. The north of the island is better for more experienced surfers, serving fast barrels and double overheads. For a more manageable wave, you can head to the south region – but don't be cocky as the surf still works and the reef can be shallow. 
Browse places to stay in Tenerife, Canary Islands.
4.   Nazare, Portugal
Nazare is notorious for being home to some of the biggest and scariest waves on the planet, having set the record for being the largest wave ever ridden. This break is not for any surfer that isn't very experienced and confident in the water. When the swell is working, the small Portuguese fishing town comes alive with brave surfers and curious bystanders.
Nazare is the coldest spot on this list. Make sure that you're prepared with these cold-water essentials.
The science behind the power that rips through Nazare is spectacular. The deep-water canyon set up means that it receives its massive swell from a variety of sources. The strongest swell arrives from October through April, coming from a WNW to NW direction.
Browse places to stay in Nazare, Portugal.
5.   Keramas, Bali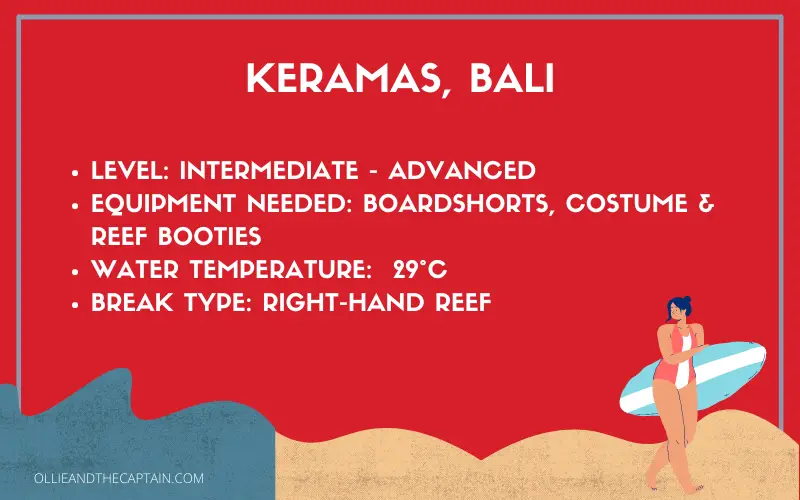 Bali is known to have better swell during the dry season, which runs from May to September, but the Keramas on the eastern side of the island works very well in February. It's one of the few spots that make Bali especially proud during the rainy season and can get quite crowded on a good day. Tough to imagine that it was ever a secret spot!
Read about the best Bali surf camps (including resorts and surf schools) here.
Keramas surf spot is on a reef and serves big and fast right-hand breaks, compliments of the monsoon season. It's no wonder that Keramas is the site to host several international competitions.
Browse places to stay in Keramas, Bali.
6.   Margaret River Valley, Australia
The Margaret River region in Australia is known for its amazing beaches with crystal clear water, stunning white sand and, of course, insane surf. Beginners can have a whale of a time at Redgate Beach and Boranup Beach. Intermediate surfers will find heaven at South Point Beach and Moses Rock Beach. While the experienced guys will revel in Surfers Point Beach and North Point Beach.
But perhaps the beach that gets our vote for surfing in February is The Box, a spot that offers a righthand wave that breaks in square-shaped pits. The wave is consistent year-round as long as you get it on a high-tide.
Browse places to stay in Margaret River Valley, Australia.
7.   Rincon, Puerto Rico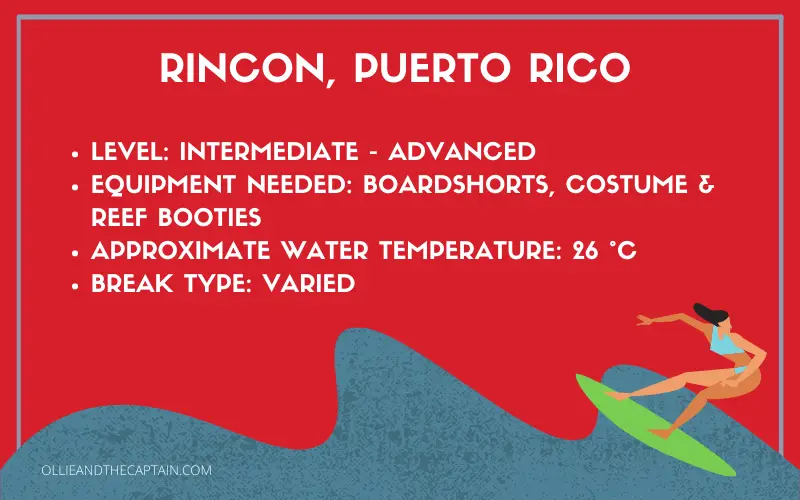 The tropical country of Puerto Rico has something for every surfer, from beginner to advanced. In February, the winter swell hits the shores of Rincon, Puerto Rico's main surfing town. The surf spots are extensive but are mostly suitable for experienced surfers. Even so, there are a handful of deeper reefs and beach breaks for beginners. These are located closer to San Juan.
Be advised that the best spots can get rather crowded, so make sure that you time your sessions. At the end of the day, you can find comfort that you can expect a swell consistency of 80% delivering shreddable 6-foot waves.
Browse places to stay in Rincon, Puerto Rico.
8.   San Juan del Sur, Nicaragua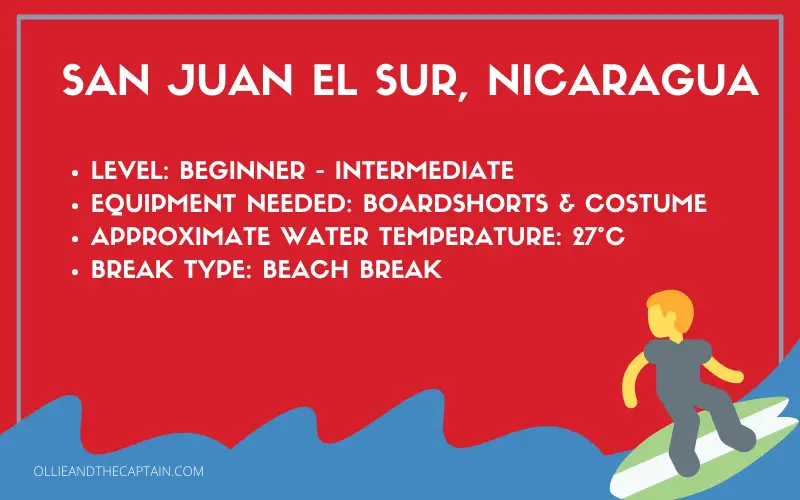 Nicaragua's surfing season normally falls from March to September as this is when the swell hikes up to produce big, powerful waves. But for beginners, February is the best time of the year to learn to surf in a relaxed setting.
Read about the best surf camp in Nicaragua here.
Nicaragua is renowned as one of the most consistent surf destinations in the world, with offshore winds dominating the region. San Juan del Sur offers all sorts of waves, with a popular choice of beach break that forms right and left over a sand bottom.
Book an 8-day paradise surf camp in San Juan del Sur, Nicaragua, here.
Browse places to stay in San Juan del Sur, Nicaragua.
9.   Bocas del Toro, Panama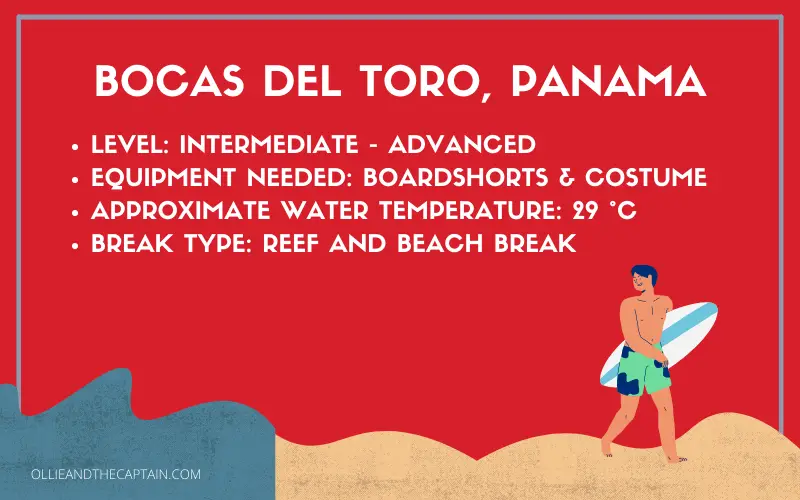 Bocas del Toro is fast-becoming a favorite surfing destination for those that know how to handle their own in the water. While the shoreline is mellow and laid back, the surf is loud and feisty. Many of the spots require a water taxi to access them, but these are easy to come by.
Book an 8-day surf lessons package in Isla Colon, Bocas del Toro, Panama here
With the combination of west shelter from the mountains and the Caribbean storms, Bocas del Toro features some of the most consistent, quality waves in January and February. If you're looking for a few spots to kickstart your adventure, you can begin with Isla Colon's Bluff Beach for shore break, and Isla Carenero's Carenero Point for long, left-hand breaks. 
Browse places to stay in Bocas del Toro, Panama.
10. Mirissa, Sri Lanka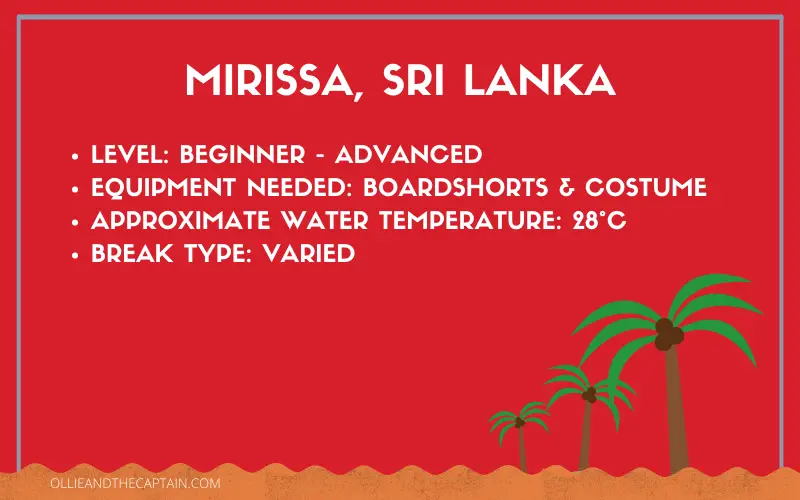 Mirissa is another fantastic surfing destination to visit in February for wave riders of all skill levels. The tropical surf haven is beautiful to explore both in and out of the water. The affordability makes it a feasible option for many surfers from around the world, and has contributed to Mirissa becoming a digital nomad hotspot.
Book an 8-day yoga and surf camp in Mirissa, Southern Province.
Regardless of your level, there's a spot to surf. Beginners will feel more comfortable at the likes of Weligama, while more experienced surfers will have a great time at Mirisssa's main beach.
Browse places to stay in Mirissa, Sri Lanka.
Where's Your Favorite Spot to Go Surfing in February?
We love to hear about our reader's favorite spots to visit (without giving away any top-secret locations). Surfing is a life-changing sport, and we hope that everyone enjoys every moment that they have in the water.
If you're planning a surf trip during another month of the year, then check out our month-by-month surf guide here.
If you're planning on surfing in February, then these destinations are a great place to start. However, they are just the tip of the iceberg. Happy exploring, and have a thrilling surf trip!