What better way to start off the new year than with an unforgettable surf trip to one of the best places in the world? If you're trying to decide where to surf in January, then you're in luck because there are several options.
You may recognize some of these regions from our guide on where to surf in December. Each of the spots on this list offers cooking surf sessions and countless opportunities to shred. Take your pick from our list of where to surf in January depending on your skill, your budget, and your time.
If you're a digital nomad who picks their destinations based on the swell, then there are a few of these spots that are perfect to make a home base for a while. This is an awesome way to immerse yourself in a culture while enjoying the natural beauty.
Looking for spots to surf throughout the year? Read our guide on where to surf month-by-month.
* Just to let you know that this article may contain affiliate links. If you click on them we might receive a small commission, at no extra cost to you.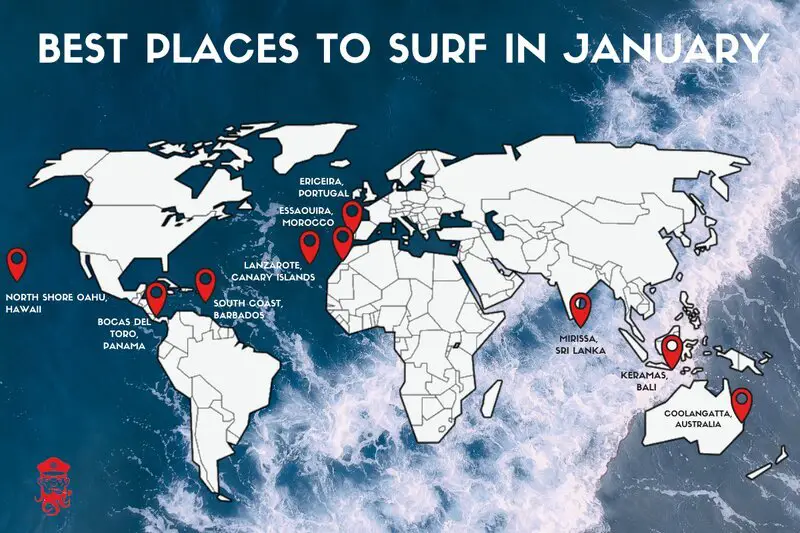 1.   Lanzarote, Canary Islands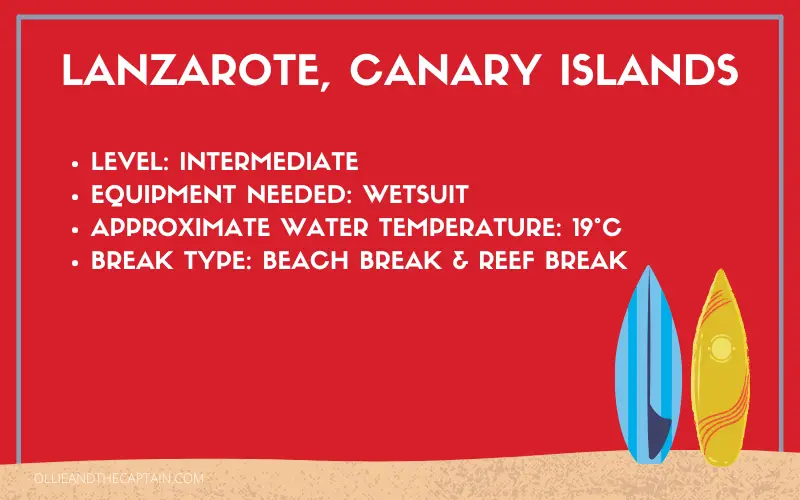 Lanzarote boasts unbeatable surfing conditions throughout the year, attracting global surfers from around the world. With crystal clear waters and beautiful volcanic scenery, Lanzarote receives strong winds between November and March. This wind brings great swell to a variety of spots around the island.
Book a seven-day surf and yoga holiday in Lanzarote, Canary Islands, here.
If you're a beginner, then your best bet is to stay close to Famara Beach. The beach break produces waves that peel both left and right, but it can get busy on a good day. More experienced surfers will find larger, riskier waves at La Santa, a right-hand reef break, or El Quemao (aptly known as the Pipeline of the Canary Islands). We don't recommend that you visit either of these spots if you don't know how to hold your own.
Browse places to stay in Lanzarote, Canary Islands.
2.   South Coast, Barbados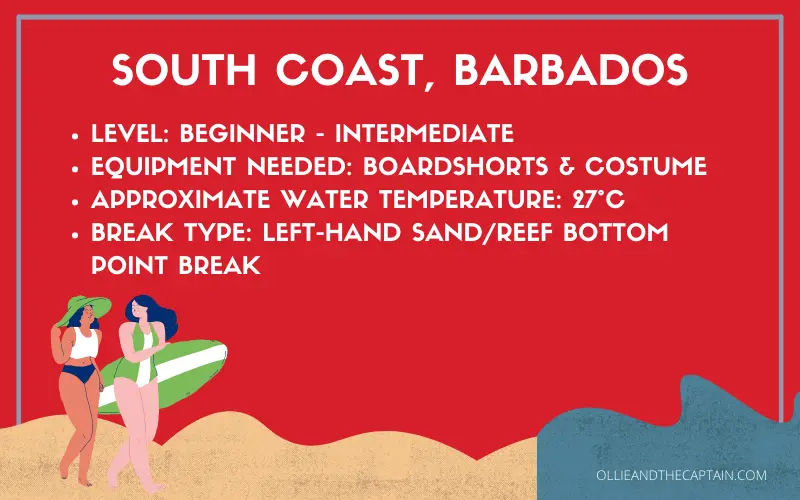 The South Coast in Barbados is home to Oistins and the nearby surf haven of Freights Bay. Revered as the longest left in Barbados, the wave is gentle and fun, making it perfect for intermediate surfers. The area is also great for beginners who will find fun and easy swell at Surfers Point.
January is in the middle of the peak surf season in Barbados. The groundswell pumps along the island, producing fun, rippable waves. The water temperature is tropical and pleasant, meaning that you'll have to drag yourself out of the water to refuel and rehydrate before a second (or third) session. Overall, the vibe is good and the waves are legendary.
Browse places to stay in South Coast, Barbados.
3.   Essaouira, Morocco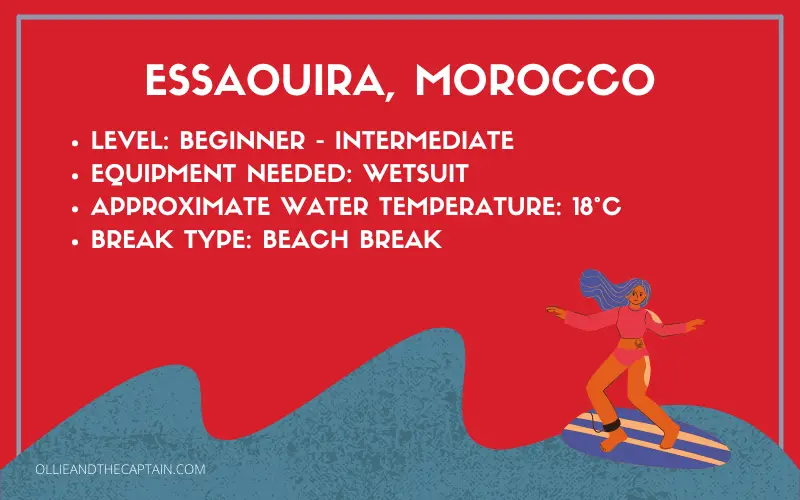 Morocco is an unbeatable budget-friendly surfing destination for January. Mostly known for its windsurfing potential, Essaouira is also a top choice for boardriders at the start of the year when the wind drops. There are several beach breaks and point breaks scattered along the coast, lined up for a great session.
Book a 4-day beginner pack surf camp in Essaouira, Marrakesh-Safi here.
The swell does get blown out quite easily so if you're planning a surf trip to Essaouira, we suggest that you be ready to jump in the water when the opportunity presents itself. If you have an interest in windsurfing, then that's an added bonus. Even so, winds tend to dip during Essaouira's winter season and the heat lowers slightly, giving way to friendly conditions.
Browse places to stay in Essaouira, Morocco.
If you're exploring the rest of Morocco during your trip, then read our guide on Marrakesh sightseeing guide here.
4.   Coolangatta, Australia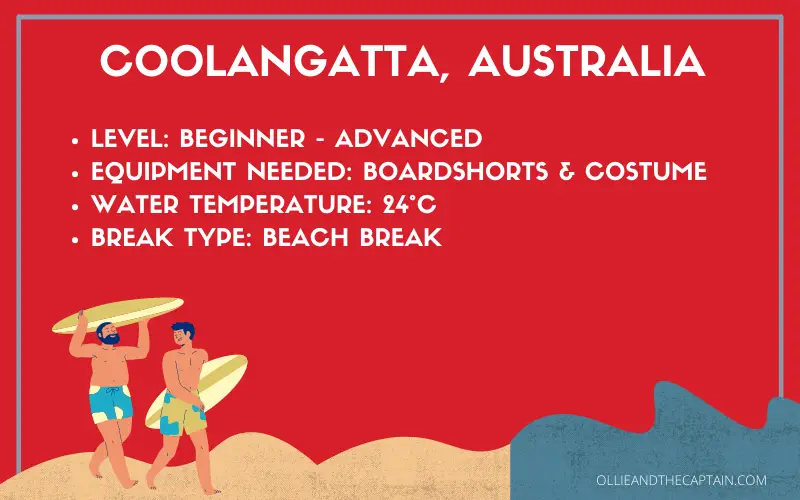 Coolangatta is arguably the pride and joy of Australia's Gold Coast when it comes to surfing. Lovingly known as 'Cooly', there are several top spots that work in slightly different swell conditions. From Snapper Rocks which pumps during a SW, to Duranbah that works on a NW.
The area can get a bit crowded, especially when the swell is good, so make sure that you start your day early, or shop around the spots a bit. It's also smart to consider your skill level when picking a spot. While Snapper Rocks gives experienced surfers the opportunity to ride a long, powerful right, sections of Currumbin Alley are great for beginners.
Browse places to stay in Coolangatta, Australia.
5.   North Shore Oahu, Hawaii
The winter months are the best to visit the northern shores of the Hawaiin Islands. It may be the windiest and rainiest season, but it also means that you can expect a powerful swell. December to February introduce the largest waves to Oahu's North Shore, serving as a swell magnet for experienced surfers. It's no wonder that some of the best-known surfing competitions are held in the area during this time.
Book a 7-day North Shore surf camp in Oahu, Hawaii here. 
The Seven Mile Miracle is on the bucket list of serious surfers around the world. Boasting 36 unbeatable surf breaks, including Banzai Pipeline, Backdoor, and Gas Chambers, the area is legendary. Note that the northern shores are gnarly and should you shouldn't paddle out unless you know what you're doing – and know it well.
Book a place to stay in Oahu here.
6.   Bocas del Toro, Panama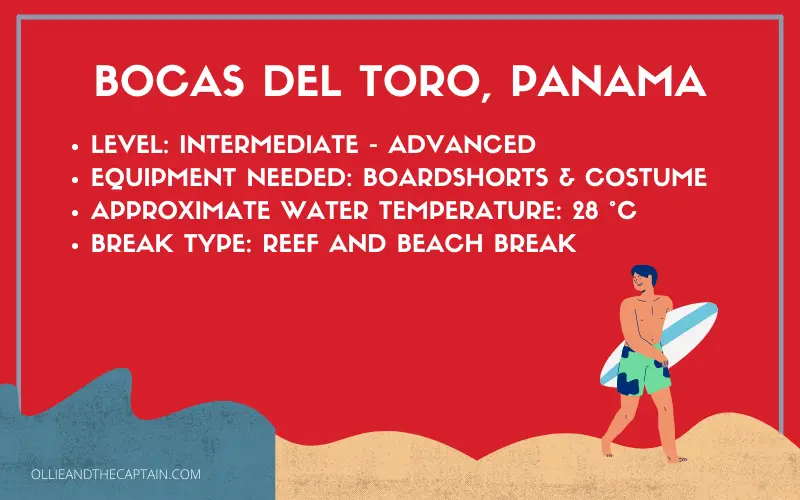 Bocas del Toro is made up of an island archipelago on the coast of Panama. Over the years, it has been idolized as a surfing Mecca, attracting iconic surfers such as Kelly Slater and Mick Fanning. The area itself is loved for its mellow, Caribbean mood, making it a popular tourist destination over and above its surfing potential.
Book an 8-day surf lessons package in Isla Colon, Bocas del Toro, Panama here
December and January offer the most consistent swell. From the beach break at Bluff Beach on Isla Colon which is reserved for advanced surfers, to Tiger Tails which flaunts a right and left reef break that is better suited for intermediate surfers. Note that the majority of the spots require a water taxi to access the break.
Browse places to stay in Bocas del Toro, Panama.
7.   Mirissa, Sri Lanka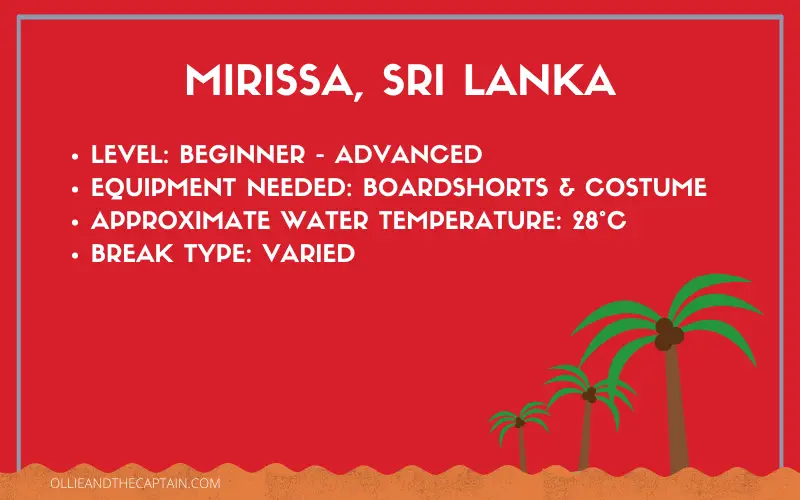 The tropical region of Mirissa in Sri Lanka is another top surf destination in January for those on a budget. It's also an up-and-coming digital nomad hotspot (wink-wink, nudge-nudge). Mirissa has a variety of surf breaks to choose from, suitable for all levels and preferences.
Book an 8-day yoga and surf camp in Mirissa, Southern Province.
Based in the Southwest of Sri Lanka, Mirissa receives the SW swell that dominates in January. The fun reef breaks close to the main spot in Mirissa are a bit shallow, and should only be attempted by intermediate to advanced surfers. However, Weligama is nearby and perfect for beginners.
Browse places to stay in Mirissa, Sri Lanka.
8.   Keramas, Bali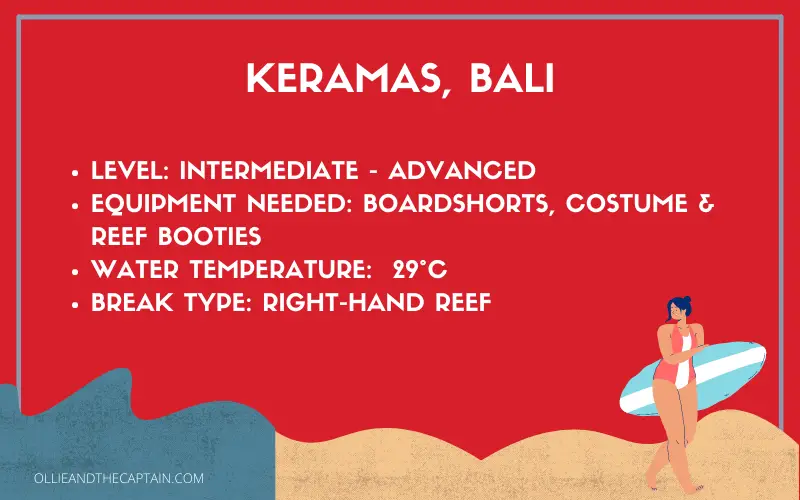 Bali pretty much works throughout the year but is better known for its dry season which runs from May to September. However, Bali's once-secret Keramas spot is one of the breaks that shows its true colors during the rainy season, performing particularly well in January.
Read about the best Bali surf camps (including resorts and surf schools) here.
The reef break offers consistent swell throughout the year, with the best waves being served during the wet season. Boasting a powerful right-hand break, the swell performs best with a north-west to westerly wind.
Browse places to stay in Keramas, Bali.
9.   Ericeira, Portugal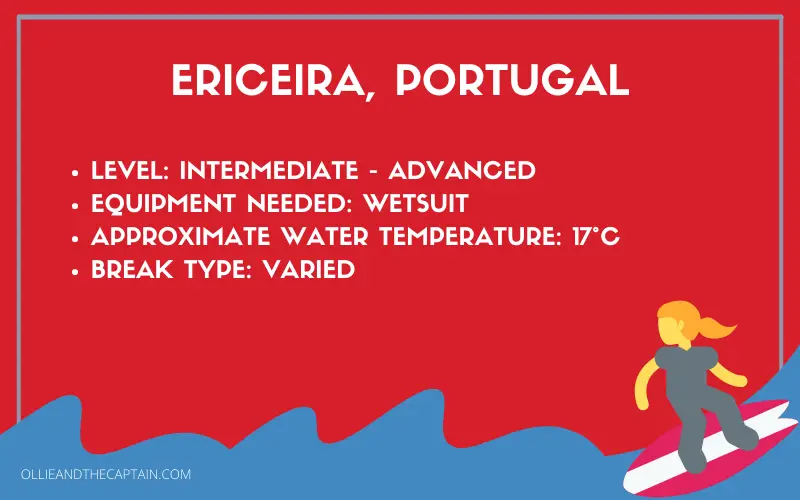 In 2011, Ericeira was named a World Surf Reserve, offering an abundance of waves at a selection of surf spots. September to January is the best time for advanced surfers to visit the area with spots like Coxos, Pedra Branca, and the Cave being some of the most popular spots.
Book a 4-day exciting surf camp in Ericeira, Lisbon, Portugal.
Each of these spots experiences a powerful swell during January, so you can expect deep barrels and intimidating waves. Several of these spots also break over the reef so if you don't back yourself in the tube, you may find yourself on your back.m Ericeira is arguably the coldest surf spot on this list. If you're not a fan of the cold weather, then it's important to stock up on surfing essentials for cold water.
Book places to stay in Ericeira, Portugal.
Pick Your Best Spot to Surf in January!
With each blog in the series, we try to include a range of spots that are suitable for surfers of all levels. You'll notice that several of our January surfing destinations are best suited for intermediate to advanced wave riders. This is because the winter swell in the northern hemisphere is powerful and big. With that being said, there are still beginner-friendly areas in most destinations.
Are you a digital nomad looking for a surf spot to select as your next destination? We've put together a list of top digital nomad destinations for surfers.
Read our list of surfing nomad spots here.