Van life is becoming increasingly popular, with countless people finding a special allure in hitting the road with a map and a surfboard. Renting (or buying) a surfers van provides the opportunity to explore a new location while enjoying the fun swell that it has to offer.
Whether you're a creative person who enjoys the challenge of a DIY van renovation, or you enjoy the convenience of renting a vehicle, there's so much adventure to embrace.
All of the destinations on this list come highly recommended as the best places to work and surf. As surfing nomads ourselves, we find absolute joy when an epic surfing destination also accommodates remote workers! 
Browse more of the best destinations to work and surf for rippable nomads!
* Just to let you know that this article may contain affiliate links. If you click on them we might receive a small commission, at no extra cost to you.
The Joy of a Surfers Van
There are different ways to enjoy a surf trip. One option is to map out a route and book accommodation wherever it suits you. Another option, which is far more fun and spontaneous, involves renting a campervan and moving on a whim, following wherever the waves take you.
Surfers vans allow you to travel with everything that you need, as you need it. Imagine strolling out of the ocean, rinsing off in the sun, and kicking back in the comfort of your vehicle – without losing sight of the swell. 
The flexibility of the transport and accommodation is only the tip of the iceberg.  Not only are surfer vans convenient, but they are also cost-effective. The location independence, affordability, and reduced stress of minimalism make up a winning combo!
The rise of remote work means that a campervan trip can fit in wonderfully with being a digital nomad. If you're an aspiring entrepreneur or one that is well on their way to location independence, then why not plan some of your meetings while on the road?
Need a nudge? Read our blog full of tips on how to become a nomad entrepreneur here.
Different Types of Surfing Vans
The best choice of transport will depend on the size of your group and your time on the road. Ultimately, you'll have the choice of an RV (motorhome), campervan, and surfari wagon. Each offers its own benefits and drawbacks. Consider the following as a starting point. 
RV / Motorhome – the larger size offers more space for bigger groups and longer trips with an increased number of amenities
Camper van/surf van –

 

comfortable and basic, camper vans offer everything that you need for a memorable trip
Surfari wagon – similar to a camper van, but with a vintage flair – perfect for snapping a few pics
Camper van conversions – perfect for the creative, DIY hobbyists with the time to invest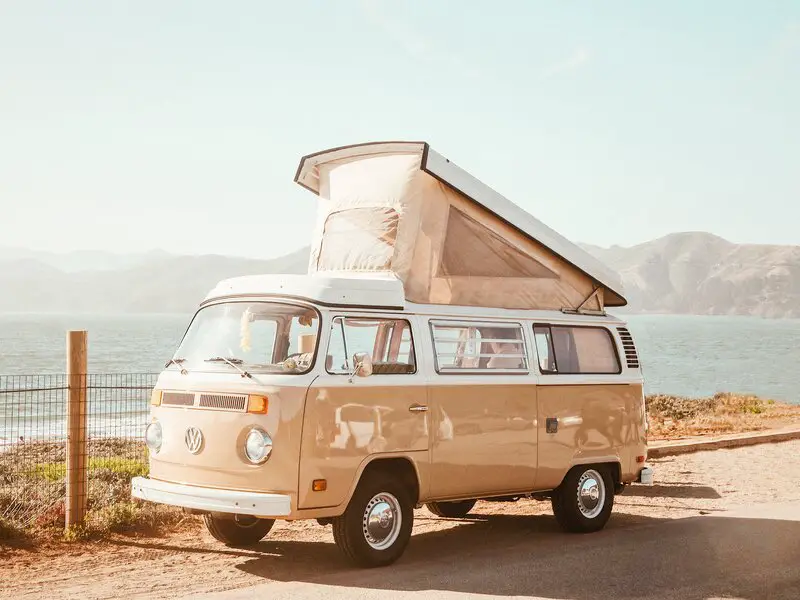 Where To Rent a Surfers Van
Unless you plan to spend a lot of time on the road, or travel frequently, most surfers rent campervans for their trips. Surfer vans are easy to come by, especially in areas where van life is a popular experience. 
The best place to rent a campervan will depend on where you are in the world. 
Some of the locations may have a bit of distance in between them. Make sure that you have a banging playlist or thought-provoking podcast to pass the time.
Check out our blog on the best podcasts on the topic of being a digital nomad here.
Find Surfing Vans for Sale
If you plan on making the van life a more permanent part of your life, then you may be interested in buying a surfers van, renovating it, and hitting the road. The project is especially popular with young couples who aspire to see more of the world before settling down.
When buying a surf van, make sure that you do your research and compare prices. The vehicles are an investment, and it's important to weigh up the pros and cons. 
Top Considerations for Campervan Road Trips
Before you can hit the road, there are a few things that you need to sort out. Luckily these are all pretty easy and mostly just common sense. Here's what you should consider when planning your big surf trip in a campervan…
Consider the surf season and monitor the swell when planning your route
Make sure that you have a valid license that meets the requirement of the state/country
Ensure that your insurance is up to scratch and that you're covered for any accidents
Consider toll roads when calculating an estimated cost for the trip
Be aware of local laws about wild camping
If you plan on working on the road, make sure that you invest in a portable wi-fi device
Keep the vehicle's registration handy at all times
Monitor the speed limits of the area
If you have a smaller van, then make sure that you have roof racks for your boards to open up space
Wondering where the best spots to surf are throughout the year? Read our month-by-month surfing destination guide!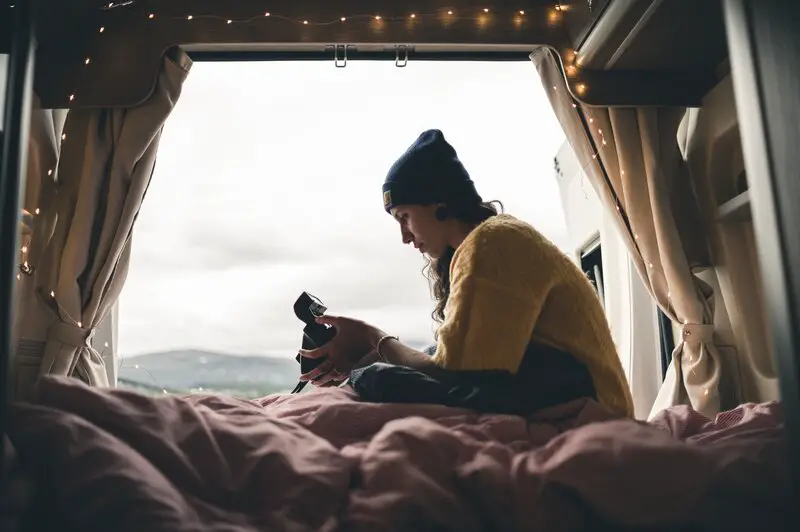 Pick Your Campervan Route for an Unforgettable Surf Trip
One of the best parts of a surf trip is the opportunity to explore the coastlines of top surfing destinations around the world. Here are a few destinations that lend themselves to adventures in a surfers van.
Plan the Route for a California Surf Trip
California is renowned for being an epic surfing destination and is a great place to start your surfing road trip. SoCal is known to have awesome waves, all year round, and a selection of spots to choose from. 
Surfers of all levels will find a fun spot to practice their skills, and a nearby camping site to settle down for the night. There are a few key spots to add to your itinerary, offering amazing surf as well as other activities to enjoy.
Cardiff – a local beach community north of San Diego offering oceanside camping, such as San Elijo
Oceanside – boasting more than five kilometers of surfable coastline, within close proximity to several local campsites
Malibu – home to several iconic surf breaks and gorgeous campgrounds, such as Malibu Creek State Park
Carpinteria – combines surfing and good food, as well as Carpinteria State Park to camp at night
Pismo – offers consistent surf, especially great for beginners, and an epic camping spot at Pismo State Beach

 
Read more about the ultimate surf van for a California road trip here
Campervan Surf Trip in Portugal
Portugal has a reputation for being one of the best places to visit with a surfers van. There's a selection of surf spots that pump throughout the year, inviting wave riders from around the world to rip up the waves. 
Equally as awesome as the choice of surf spots in Portugal is the selection of campsites. Make sure that you book a night at an official surf spot as wild camping is illegal in Portugal! Start planning your route with the following spots.
Espinho – a great place to start your surf trip, with Parque de Campismo de Espinho serving as the local camping ground
Figueira da Foz – renowned as Europe's best right-hand break, surfers can park at Parque de Campismo Orbitur Gala
Peniche – an iconic surf destination in Portugal, Peniche Beach has its own campground with an impressive setup
Ericeira – offers unbeatable waves that keep surfers busy for hours, resting at Mil Regos Camping Park

 

Lisbon – is a cultural hub with some memorable surf spots on the outskirts, and several camping grounds to boot (such as Orbiter Costa de Caparica)
Sagres – boasting amazing surf spots and a selection of camping grounds, such as Orbitur Sagres
Read more about a Portugal surfing trip in a camper van here
Surfing in France with a Motorhome
France is a top destination for renting a motorhome or surfers van and exploring the coastline. Home to some of the most consistent waves in the world, France has a selection of surfing destinations for riders of all levels. 
Surfers vans are easy to find in France, as are the camping grounds to park when night falls. Whether you prefer a larger RV vehicle or a smaller campervan, you're in for a treat. To help map out your adventure, here are a few awesome spots to add to your route.
Yport in Normandy – is a classic surf spot that is less crowded, with the chance to camp at Le Rivage
Pors Peron in Bretagne – offers a clean, consistent wave in winter months and Camping Pors Peron provides easy access
Saint Gilles Croix de Vie in Vendee – campers enjoying the gentle break with consistent, small waves can park at Camping Les Cypres at night
Montalivet in Bordeaux – Camping Le Bonheur Est Dans Le Pre is the campsite of choice near the beautiful surf spot of Montalivet
Le Porge in Nouvelle-Aquitaine – a great beginner surf spot that is close to the esteemed La Grigne campsite

 

Hossegor – France's pride and joy offers a consistent break for all levels, with several campsites to choose from
Bidart in Biarritz – boasts a selection of surf spots for all levels, resting at Camping Erreka each night
Read more about motorhome touring in France here
Surf Van Life in Australia
Australia has a long, expansive coastline that is scattered with unbeatable surf spots. Traveling from one end to another requires more time than most of us have available. However, there are a few segmented routes that offer a lot of fun. Surfers of all levels will find joy in a surf trip across Australia.
Both campervans and motor homes are easy to rent in Australia, and there's also a popular culture of campervan conversions. If you have the time and the money, then it's a fun project to get involved in before hitting the road.
Here are a few spots to start off with.
Mollymook Beach – a gentle beach break that is perfect for beginners, nearby Mollymook Caravan Park
Garie Beach – offers a powerful swell breaking both left and right, and camping in North Era Campground
Crescent Head – a beautiful beach area with a choice of breaks and the opportunity to stay overnight at Crescent Head Holiday Park
Duranbah Beach – a local spot with nearby Kirra Beach Tourist Park to recoup at the end of a long day surfing
Noosa Heads – boasts a selection of unbeatable surf spots, and a comfortable stay at Noosa Sea Scouts
Read more about the surf van life in Australia here
New Zealand Campervan Trip
New Zealand is one of the best surf locations in the world, boasting impressive beach breaks for surfers of all levels. One of the best ways to explore the coastline is in the comfort and convenience of a campervan or motorhome.
One of the best areas to begin your surf van trip in New Zealand is along New Zealand's notorious Surf Highway 45. Unlike other destinations on this list, which are located hundreds of kilometers apart, most of these spots are close together. With this in mind, the same camping grounds can be used to host nomadic surfers for several nights.
With this in mind, there's a lot more coastline to explore once the highway has had its moments.
Fitzroy Beach – one of New Zealand's best-known surfing destinations, conveniently located nearby Fitzroy Beach Holiday Park with lots of fun things to do in the area
Ahu Ahu Road – there's a variety of surf breaks to enjoy in the area, resting your head at Oakura Beach Holiday Park once the day is done
Stent Road – a stone's throw away is Stent Road's surf spots, with plenty of things to do in nearby Oakura
Weld Road – if you're looking for an easy-going wave, then Weld Road has you sorted, perfect for beginner surfers
Kumara Patch – a versatile wave that promises a combination of fast barrels and long, cruisy rides
Read more about a New Zealand surfing trip in a camper van here
Time to Hit the Gas
Is the van life for you? With so much beautiful coastline to explore, renting a surfers van is an awesome way to discover surf spots around the world. Surfers van are awesome as you have everything that you need, as you need it. Moving from one surf spot to another has never been easier – or more exciting!