Costa Rica ranks top on the list of dream surfing destinations. The consistent surf throughout the year and wide choice of breaks make Costa Rica a top place to shred. But that's not all. It's also becoming increasingly popular among nomads.
If you're planning to work and surf Costa Rica, then you'll need to find a productive space to grind when you're not in the water. Keep in mind that living in Costa Rica is not as affordable as some of the neighbouring Central American countries. But if your budget allows, then Costa Rica is a great option to work and surf – and these recommended places allow you to do both with comfort and ease.
There are plenty of dedicated surf camps for nomads taking a break from the laptop. Read our blog here for more information.
* Just to let you know that this article contains affiliate links. If you click on them we might receive a small commission, at no extra cost to you.

Costa Rica Surf Guide
Costa Rica is a magical surfing destination with a relaxed, laid-back vibe. The tropical climate and lush jungle make for a beautiful scene, and long lines of glorious swell frame the region.
The Costa Rica surf season is fairly consistent, promising fun waves throughout the year. Especially around Tamarindo and Santa Teresa. Even so, there is a high season and low season which will greatly impact the budget of the trip.
The low season, also known as the rainy season, runs from May to November. Although rainfall is high, the surfing conditions are arguably better than during the dry season. As an added bonus, accommodation prices are lower and tourism hotspots are less crowded.
The high season, also known as the dry season, begins in December and continues until April. Prices are typically higher, but the weather is more comfortable and the surf is still rewarding.
The water is balmy throughout the year, and you'll only need a pair of board shorts, a rash vest and a swimming costume.
Some of the best surf spots to bookmark include;
Witch's Rock
Ollie's Point
Pavones
Tamarindo
Santa Teresa
Playa Langosta
Playa Grande
Remember to keep your surfing level and the existing conditions in mind before choosing a spot!
Wondering where to surf throughout the year? Read our month-on-month guide here.
Living and Working Remotely in Costa Rica
When you're not spending time practising your cutbacks and getting tubed, then you're probably going to be resting up or having client meetings. It's important to consider location, WiFi connectivity and comfort when choosing a place to live and work in Costa Rica.
Other considerations include your budget, whether you want community or prefer privacy.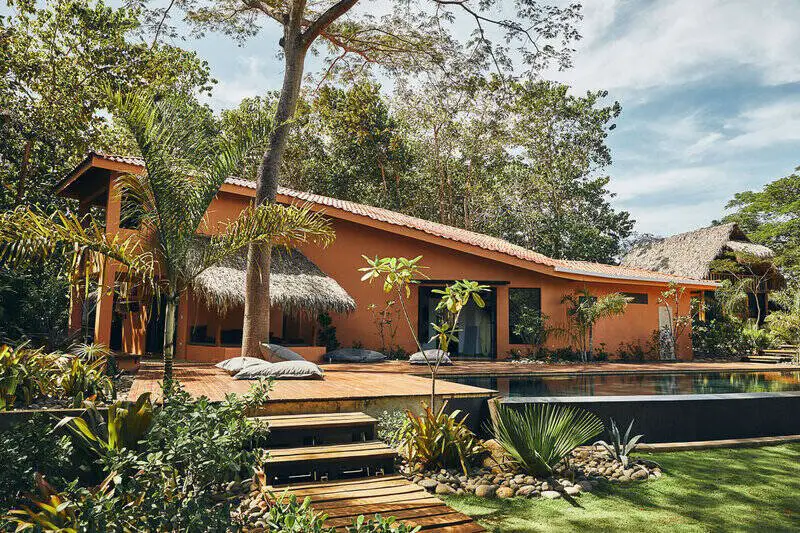 Rapture Surf Camp in Allevanas offers an unbeatable experience, surrounded by like-minded surfing nomads. If you're looking for a crew to bounce ideas off of in the office and zinc up before a session, then Rapture is for you.
The coworking environment offers blazing fast internet and convenient space that promises productivity. A short 10-minute walk from the surf camp is the "little Hawaii" of Costa Rica, an untouched surf spot that offers a variety of different surf breaks.
What we love:
A convenient surf spot for all levels of riders
Incredibly fast internet and a comfortable space to work
Plenty of additional activities on offer such as yoga and weekend activities
Book at Rapture Surf Camp Costa Rica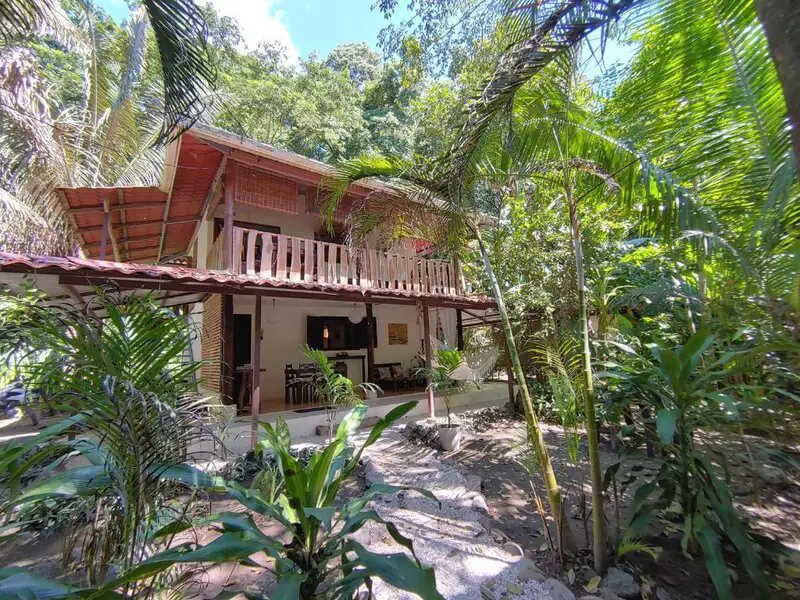 The complex boasts a variety of different apartments, each with a reliable WiFi connection and patio to chill. The units are further kitted with a private bathroom and basic kitchen setup for added convenience.
The location is close to bars, restaurants, shops and, of course, the beach. Nestled in the jungle, the apartments offer you a safe space to retreat and be productive when you're not in the water.
What we love:
Everything that you need for an independent, productive stay
Central without being noisy
A three-minute walk to a fantastic surf spot
Book to stay at Colibri Surf House here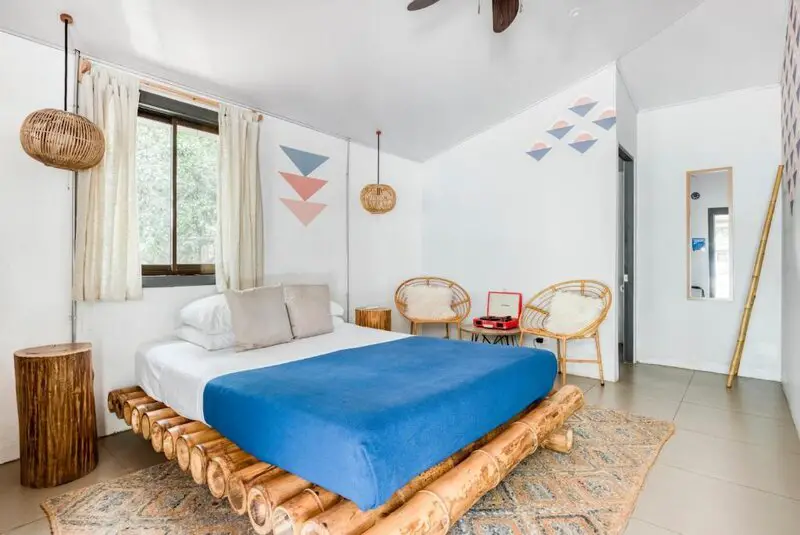 Selina has earned a name for itself as a nomad friendly spot to stay, especially among surfers. Their set-up in Tamarindo is no different, boasting comfortable living quarters, an established workspace and a location convenient for surfing.
There are also daily activities available from the resort, including yoga, salsa lessons and surfing classes. When you're not tapping away at your computer, then you can make new friends in the common areas. On the days that the surf isnt pumping (which it pretty much alwasy is) we recommend that you take a day trip out to Arenal, where you can visit waterfalls or climb a Volcano!
What we love:
An established coworking, coliving arrangement
The balance between socializing and privacy
Close to Tamarindo surf spots
Book your spot at Selina Tamarindo
Outsite Santa Teresa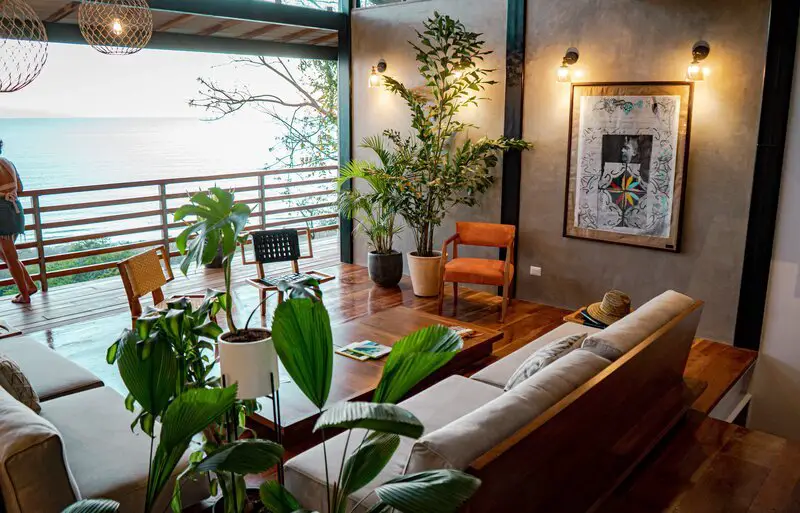 The stunning tropical villa is the ultimate definition of coworking, coliving in Costa Rica. There are eight bedrooms in the villa, each with its own private bathroom, and plenty of common space to relax and connect with fellow nomads and surfers.
There is a dedicated workspace and office supplies, as well as reliable internet. Perhaps one of the best perks of Outsite is the opportunity to wake up and check the surfing conditions before making your way into the water.
What we love:
Sophisticated space to work
Incredible view of Santa Teresa
Opportunity to connect with like-minded nomads
Find out more about booking at Outsite Santa Teresa here 
Vista del Alma Boutique exudes style and elegance, offering comfort and convenience in the middle of the lush jungle. The deck boasts an outstanding view that is perfect to enjoy your morning coffee and answer a few emails.
There is plenty of space to fire up your laptop and the zen mood helps to get you into the zone. Although it's possible to walk to the beach for your daily surf, it's recommended that you drive as the climb up the hill is not for the faint-hearted.
What we love:
Outrageous view of the Costa Rica ocean
Stylish and comfortable in all aspects
Did we mention the view?
Book your stay at Vista del Alma Boutique here
Coasting Costa Rica
These are just a few suggestions on places to stay that will tick all the boxes needed to work and surf Costa Rica. The tropical environment contributes to an easy-going mood that doesn't invite any unnecessary admin.
If you're looking to branch out as a surfing nomad to other parts of the world, then you can read our other blogs in the series here.