As the capital of Vietnam, Hanoi is made up of bustling streets, historical buildings, and fast-paced action. In contrast, Halong Bay boasts emerald waters, an immersive natural experience, and a laid-back mood. It's wild to imagine that the distance from Hanoi to Halong Bay, such different destinations, is less than 180 kilometers.
The close proximity of the two unique destinations means that you can easily travel from Hanoi to Halong Bay in a short amount of time, and experience what both have to offer.
Even better, travelers have options of how to enjoy the journey. There are Halong Bay tours from Hanoi that organize all the details and offer a guided experience. You can also buy a Hanoi to Halong Bay train ticket, or jump on a bus and discover the country as you travel from Halong Bay to Hanoi (and back).
Planning a trip to Hanoi? Read our Hanoi travel guide here before you go!
* Just to let you know that this article contains affiliate links. If you click on them we might receive a small commission, at no extra cost to you.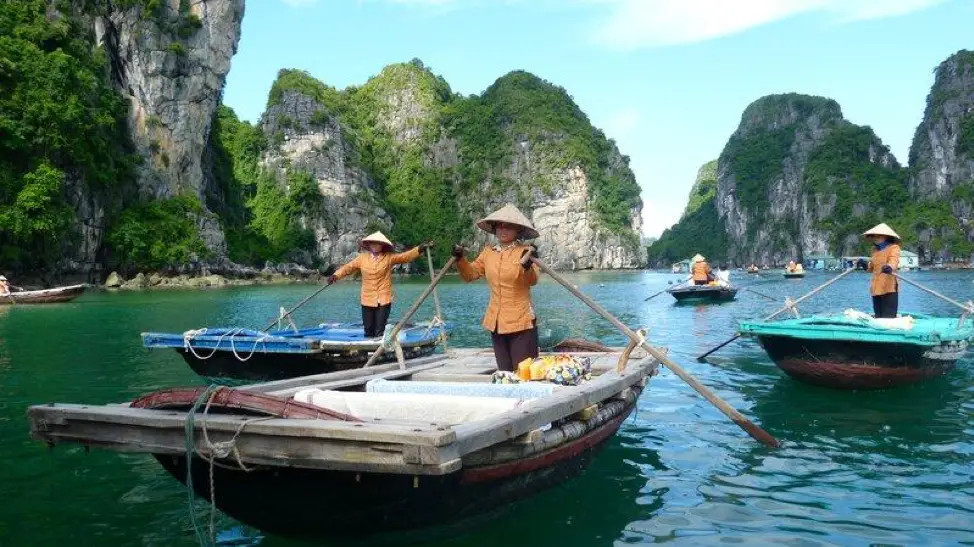 Options To Get From Hanoi To Halong Bay
Your choice of transport will depend largely on what you hope to experience out of the journey. Some people focus on budget, others prioritize time and comfort, while there are others who want as much flexibility as possible. There's an option for everyone.
If you're looking for a single platform where you can compare your options from Hanoi to Halong Bay, then visit here.
Local Bus Hanoi to Halong Bay
Approximate cost: $5 – $10
Estimated travel time: 3 – 5 hours
The local bus allows you to absorb the beautiful scenery as you cross through the landscape but doesn't include the hassle or fuss of having to drive yourself.
Booking a coach is an affordable option, costing roughly $5, and is a great way to rub shoulders with the locals. There are different bus routes to choose from, with the most popular option starting in Hanoi, driving through Hai  Duong, Hai Phong, and Halong Bay. Depending on the route, you can expect the trip to take roughly 3 hours.
Shuttle Bus to Halong Bay
Approximate cost: $10 – $15
Estimated travel time: 2,5 – 3 hours
There are several Hanoi to Halong Bay shuttle bus options, making this option a popular and convenient choice. Tickets will cost you roughly $10 – $15, and in exchange, you'll get a comfortable seat and be picked up directly from your hotel.
Since the opening of a new highway along the route, the travel time has been dramatically reduced so you'll need to budget approximately 2,5 hours.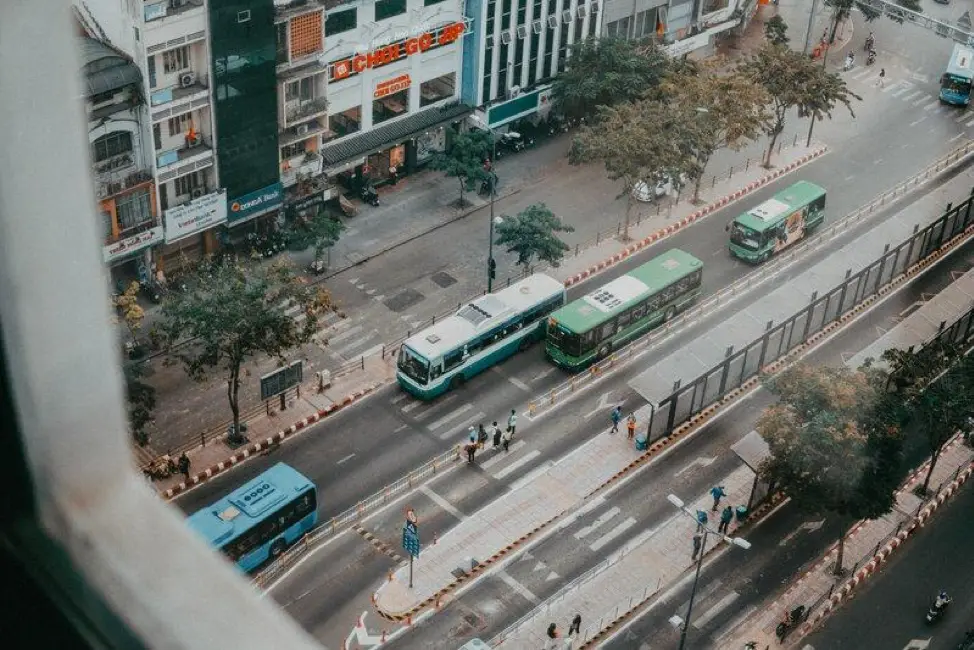 Private Car Transfer from Hanoi to Halong Bay
Approximate cost: $70 – $200
Estimated travel time: 2 -3 hours
Considering that Vietnam is a cost-effective travel destination, you may decide to treat yourself and book a private car to travel the route (and return from Halong Bay to Hanoi after). A private car is more expensive, costing upwards of $70.
A private transfer offers ultimate comfort, flexibility, and privacy. If you're traveling with a smaller group, then this is a great option to kick back, relax, and split the costs. With this option, you can expect to be picked up from your hotel and arrive in Hanoi in approximately 3 hours.
Hanoi to Halong Bay Train
Approximate cost: $4,5
Estimated travel time: 6 – 7 hours
The train offers the most affordable transport option, costing as little as $4,5 per person. While the low cost is a seductive offer, the trip is very slow and you'll need to allocate at least 6 hours for the trip.
If you're not in a rush, or you're limited by your budget, then the train is a great option. It's a fairly relaxing experience, it's safe and you can enjoy the beautiful scenery along the way.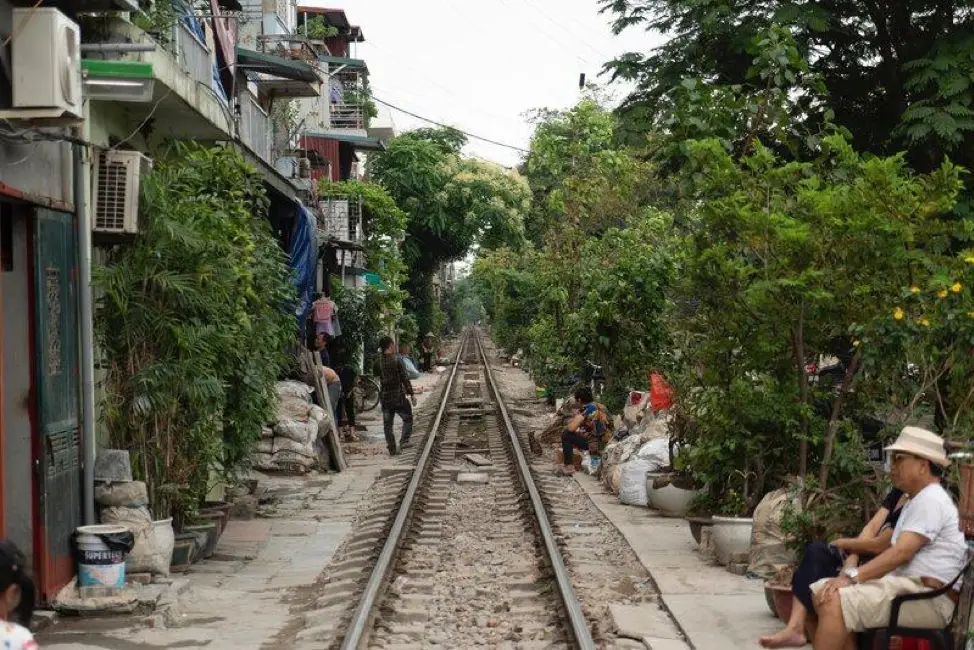 Seaplane From Hanoi to Halong Bay
Approximate cost: $180 – $750
Estimated travel time: 45-minutes
If you're feeling particularly bourgeois, then you can book a seaplane and fly from Hanoi to Halong Bay.  There are options of seaplane providers, and each offers an equally breathtaking view.
The seaplane is the fastest way to get between the two destinations, taking only 45-minutes, but what you save in time, you pay for in cost. The average price for a round trip is approximately $400 per person (ranging from $180 – $750). Even so, it's worth saving up or booking a ticket for a special occasion.
Halong Bay Day Trip From Hanoi
Halong Bay is best experienced for at least one or two nights, however, it is possible to do a Halong Bay day trip. Some companies even offer a Hanoi to Halong Bay tour over a couple of days.
Tours in Halong Bay are popular and loads of fun. Read our blog on the notorious Halong Bay cruise options here.
If you do decide to do a Halong Bay tour from Hanoi, then it's in your best interest to fork out a bit and book one of the quicker, more flexible transportation options. This will give you enough time to enjoy the idyllic destination without rushing.
If you're looking for fun things to do in Halong Bay for a day (or more) then you can begin your research here.
<div data-gyg-href="https://widget.getyourguide.com/default/activities.frame" data-gyg-locale-code="en-US" data-gyg-widget="activities" data-gyg-number-of-items="3″ data-gyg-partner-id="0E12QKH" data-gyg-tour-ids="155931,142593,41363″></div>
Where To Stay Near Halong Bay
Spending the night in Halong Bay is best done on a cruise, where you can enjoy the natural wonderland from the comfort of your boat cabin. However, if you don't have sea legs and would rather rest your head on solid ground, then there is a wide range of places to choose from in the area.
As a guideline, the following areas are great areas to book a place to stay.
Halong – the best spot for first-time visitors
Cai Rong – best for those on a budget
Quan Lan – best for traveling families
Cat Ba – best for adventure junkies
Browse places to stay in Halong Bay here.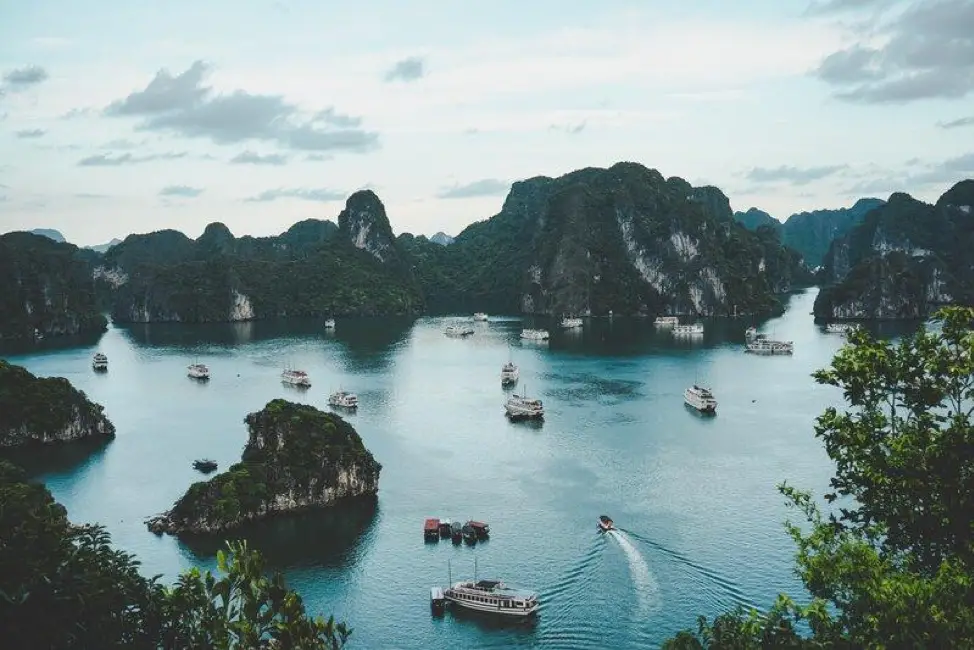 Final Thoughts To Get To Halong Bay From Hanoi
If you were previously wondering how to get to from the city to the beach, we hope that your questions have been answered. At the end of the day, you need to assess your financial budget, your time availability, and your demand for comfort.
Luckily, there's a wide range of options available, meaning that there's something for everyone. And, if you book the seaplane option, make sure to soak up every moment for those of us that only dream of the experience!
Looking for more fun ideas on what to do in Vietnam? Catch up on our blogs here.