California is renowned for the opportunity to hang 10 and live the ocean lifestyle. One of the best ways to explore the California coast is to rent a surf van or RV and let the waves dictate your movements.
There are several beautiful surf spots along the coast that inspire waxed boards, zinc faces, and salty hair. Many adventurers choose to put their money where their mouth is and invest in a camper van. From here, they renovate the space as a haven and allow it to take them from one epic surf spot to another.
However, it's also possible to rent a camper van in California and experience the thrill of a surf road trip.
As you travel along the California coast, make sure to track your surfs with these great apps…
* Just to let you know that this article may contain affiliate links. If you click on them we might receive a small commission, at no extra cost to you.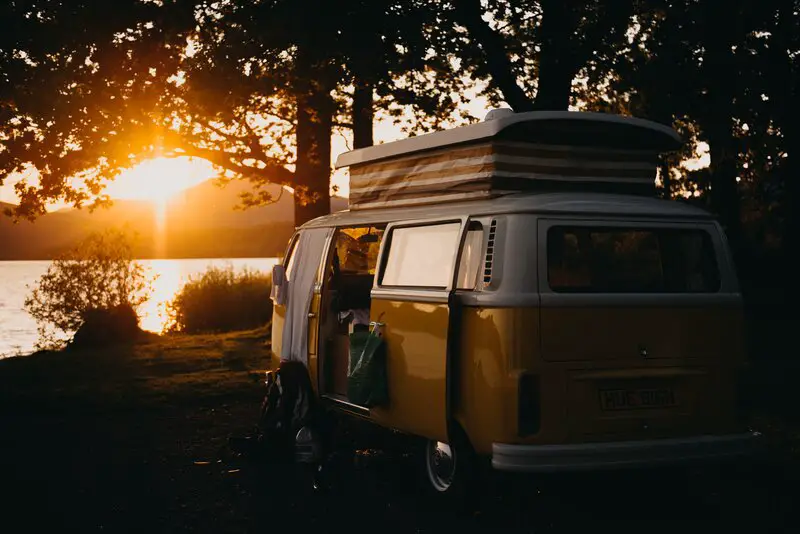 Best Surfer's Vans for A Roadtrip in California
When you're not spending time in the water, you'll be hitting the road or relaxing – in your surfing van! Here are a few of the best surfing vans for sale or rent in California.
Looking for the best places to surf throughout the year? Browse our guide on surfing destinations month by month.
Camper Vans to Rent in California
Comfortable camper vans are one of the most popular methods of transportation for surf road trips in California. Camper vans come with the bare minimum and in an option of sizes, depending on what you need.
Benefits of camper vans for surf trips
Surf vans are compact and versatile, with everything that you need – but not much more.
For a shorter surf trip, you'll have the comfort of a place to sleep, amenities to cook, and privacy to kickback. The vehicles are also fuel-efficient and can fit a surfboard on the roof (with racks).
Where to rent a surf camper van in California
Camper vans are available on several websites, for rent from private owners or agencies. Insurance agreements, costs of rental, and terms of the agreement are all dependent on where you rent the van from.
Escape Campervans rent beautifully painted, unique camper vans that have been decorated by local artists. Travellers Autobarn is another option that includes a choice of campervans as well as RVs.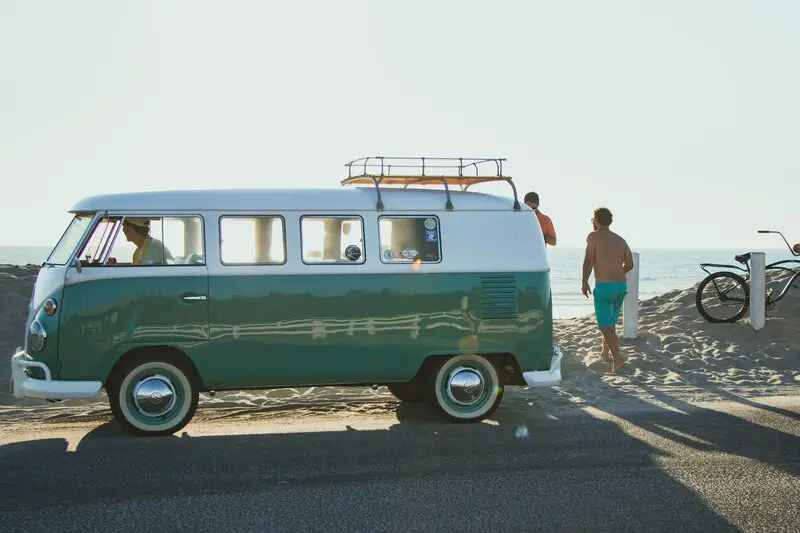 Vintage Surfari Wagons in California
Why get a normal car when you can get a vintage surfari wagon for your surf trip? Get transported back to the 70s with an old-school, retro van and allow it to enhance your surfing road trip in California.
Benefits of Surfari Wagons
The surfari wagon offers a unique experience. Not only are the photograph opportunities next-to-none, but they also offer all that you need in the most basic sense.
The buses usually come with the basic amenities needed. For example, a stove, sink, flat surface, and refrigerator. Depending on the model, you'll be able to fit at least two adults (perhaps more if you don't mind a squeeze).
Keep in mind that the vintage appeal of the buses comes with the loss of modern comforts. It's all part of the experience!
Where to rent a surfari wagon in California
Unlike camper vans, surfari wagons are a little bit harder to come by – but not impossible. The practical and nostalgic vehicles are the perfect addition to your surf trip and are available for rent from Outdoorsy. From bright orange buses to baby blue sanctuaries – there is a wealth of options.
When renting surfari wagons from private owners with Outdoorsy, it's important to note the number of passengers, the free mileage per day, and whether or not pets are welcome. In addition, it's important to note that rentals from Outdoorsy require drivers to drop off the vehicles in the same place as the pick-up.
Browse surfari wagons in California with Outdoorsy here.
RV for Surfing California
RVs are an alternative to camper vans, offering more space and advanced amenities. Renting an RV makes it easier to book campsites as preparation is embedded in the vehicle. Depending on the size of your group, the perfect RV may differ.
Benefits of an RV
There are a few unique benefits to renting an RV. For example, there are extensive amenities such as a bathroom, wifi, and kitchenette. RVs can usually sleep more people, making it the perfect solution for group trips.
Where to rent an RV in California
There are several websites that rent RVs to use on your surf trip. Outdoorsy is a favorite, with rental locations across California, available from existing RV owners willing to share (at a fee). There are different vehicles available, to suit a variety of budgets and needs.
RVs available with Outdoorsy range in size, with each owner having their own set of rules. For example, permitting pets, minimum stay, and discounts for long-term agreements.
Browse RV listings in California with Outdoorsy here.
Five Surf Spots in California Suited for Surfing Vans
Once you've chosen the perfect surfer van or RV, then it's time to map out your route. Here are a few key spots to circle on your map.
There are a few key items to pack on your surf trip. Don't forget the basics – like ocean-friendly sunblock!
1.   Cardiff
Cardiff is made up of a beach community north of San Diego. The area is perfectly set up for oceanside camping and spending hours in the water.
The most popular surfing spots in Cardiff are Swami's or Swami's Reef. Both spots work especially well in the winter months (October to March) when the swell is particularly good for experienced surfers.
One of the greatest campgrounds in the area is San Elijo, located right on the beach. The campground also offers easy access to some of the area's best food options, such as Zumbar and the Seaside Market.
Distance to the next spot: 30 kilometers
2.   Oceanside
Oceanside boasts some of the top spots to surf in Southern California, with more than five kilometers of coastline. One of the best breaks is by the Oceanside Harbor, with consistent waves for surfers of all levels.
There are plenty of surf shops and board rental spots in the area, all within close proximity to the local campsites. Take your pick from Guajome Park, Oceanside RV Park, and Paradise by the Sea RV Resort.
When you're not ripping the waves, there are plenty of other things to do in Oceanside. From pedaling along the Strand, visiting the local surf museum, and visiting the local wineries.
Distance to the next spot: 187 kilometers
3.   Malibu
Malibu is one of Cali's best-known surfing cities, with a lot to offer over and above fun waves. The popular beach town near Los Angeles has several iconic surf breaks, including Surfrider Beach, Topanga Beach, Zuma Beach, and County Line.
Waves are delivered in different sizes, suited for varying levels of difficulty. When choosing where to stay you have plenty of options. With a choice of natural parks in the area, it's a good idea to balance the ocean breeze with some mountain air.
Begin your search for campgrounds with Malibu Creek State Park, which offers access to beautiful trails and outdoor scenery.
Distance to the next spot: 91 kilometers
4.   Carpinteria
Ventura and Carpinteria are two neighboring spots that boast epic surfing and unbelievable food options. Perhaps the best part about these spots is that they accommodate camping vans for nomadic surfers.
Carpinteria State Park, in particular, offers world-class beach breaks and a camping ground. The Santa Barbara destination is a little bit more rugged than other spots, but that's where the comfort of your surfing van comes in. As an added bonus, it adds to the authenticity of the experience.
If Carpinteria State Park's beach isn't ripping on a particular day, then you can explore the coastline. From Ventura, there are several breaks including Rincon, the Cove, and Tarpits.
Distance to the next spot: 150 kilometers
5.   Pismo
The area between Pismo and San Luis Obispo offers amazing sights to see, things to do, and, of course, spots to surf. Pismo's surf spot is consistent, especially on the south side. The spot is especially great for beginners, looking for a fun way to learn the sport.
Are you a beginner surfer? Read our blog on the best beginner surfboards.
When you're not in the water, you'll have a wealth of activities to enjoy in the area. From cycling on the beach at low tide, renting a quad, soaking in the Avila Hot Springs, or hiking up Bishop Peak.
When choosing where to park your van for the night, you'll have a few options. Begin your search at Pismo State Beach.
Tips for Using a Camper Van in California
Before you hit the road, there are a few key considerations to keep in mind.
Take note of the vehicle's floor plan to make sure that there is enough space and amenities
While spontaneity is great, planning your spot at a campsite in advance is essential to avoid disappointment
Traveling during the week will help to avoid the crowds
Prepare your mind and schedule to be flexible with the weather and unexpected circumstances
Stock up on food and supplies to avoid adding expenses to your trip
Review the rules of each campsite, especially pertaining to setting fires and minimum stay
Research the amenities of each campsite so that you're prepared
Enjoy a Surf Trip in California
Little can beat the feeling of planning a surf trip and having everything that you need in a central and convenient space. Picking from a selection of surfer vans and mapping out the perfect trip is the ultimate way to spend a vacation.