Planning on sightseeing in Marrakesh? We spent an incredible, wild, tumultuous 12 days in Morocco. We went on so many adventures and experienced so many new tastes, sights and smells that we decided to share our journey in parts. In addition, we learned a few valuable lessons in Morocco.
Here we give a few snippet moments of our first few days in Marrakech, highlighting some key attractions while sightseeing in Marrakesh.
* Just to let you know that this article may contain affiliate links. If you click on them we might receive a small commission, at no extra cost to you.
Things To Do In Marrakesh
As a city, Marrakesh is bursting with color, flavors, and sights! It's a true hustle and bustle experience leaving you very little time to kick back and relax – there's just so much to do and see! If you're wondering what to do in Marrakesh, look no further than this hit list!
Jemaa el-Fna
This is the main square in the medina. It's the old area of Marrakesh and pulses with activity. We arrived at 10 pm on a Monday night and walked straight into a bright display of lights, chatting, delicious smells and buskers trying their luck. We thought that perhaps it kicked off late and continued until the early hours of the morning, but we were wrong. Jemaa el-Fna is always pumping!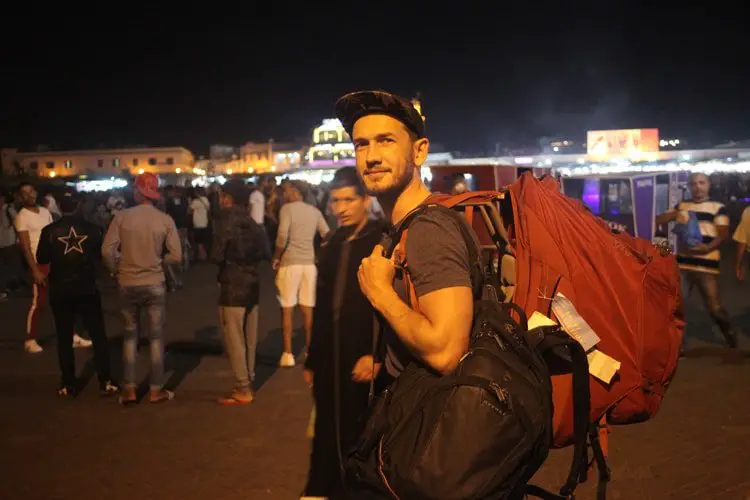 During the day there are snake charmers, monkey's and musicians that fill the square, creating a hive activity. Our favorite time to visit the square was during the evening for dinner. The vibe is incredible and there is so much delicious food to choose from!
Jardin Majorelle
The botanical garden offers an incredible respite from the unrelenting heat of Morocco. The brightly colored buildings are beautiful to look at, and the gardens are breathtaking. While I wouldn't consider the garden "lush" by any means (we are in the desert after all), it was really stunning and cool.
In an interesting turn of events, the garden is not the main attraction, but rather the bright blue and yellow house which is a museum. The museum was once the home of the landscape artist, Jacques Marojelle, in the 1920s!
If you want to avoid the crowds, then make sure you tick this Marrakesh attraction off earlier in the day. The gates open from 8 am (Monday to Sunday) and stay open until 6 pm. Tickets cost USD $7 and is worth every cent! There's also a quaint little coffee shop to enjoy a refreshment underneath the trees.
If you need a little nudge on exploring Marrakesh, then some of these tours may be just what you are looking for!
Koutoubia Mosque
Another one of the top places to visit in Marrakesh is the Koutoubia Mosque. As the largest mosque in Marrakesh, the site attracts far more than just local worshipers. Instead, it has become a point of interest for many travelers from around the world.
The mosque is located on the fringe of the Medina and is easy to walk around. We never entered the mosque ourselves, but we did take the time to appreciate the structure and what it represents. The mosque has become a prominent feature in the Marrakesh skyline, and it's easy to understand why when you see it!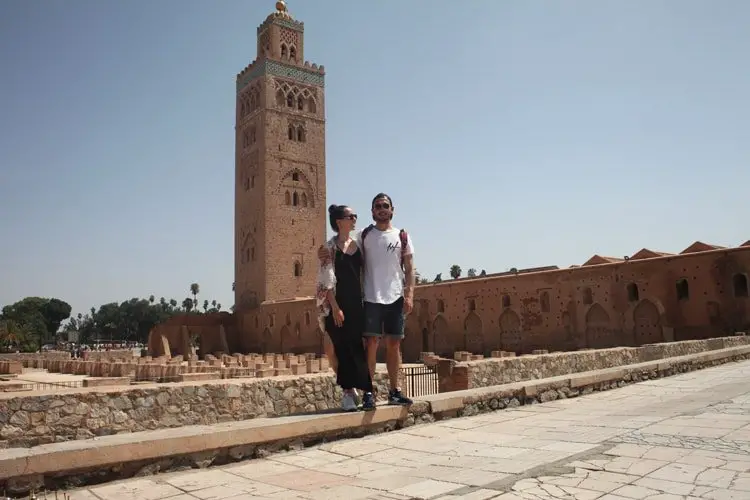 If you want an extra special experience, head on over to one of the surrounding cafes and grab a trestle table on the side of the street. Order a coffee and watch the tall orange building light up with the setting of the sun!
El Badii Palace
The El Badii Palace is quite a sight. The palace was first opened in 1593 and is still standing (albeit not in one complete piece) today! What once housed 300 rooms adorned with gold, turquoise, and crystal, stands in ruins today, but not without maintaining some of its magic.
It is open every day of the week from 9 am until 5 pm, and we'd recommend you go as early as possible! The sun gets quite toasty in Marrakesh and there's lots of the outside area to explore in the palace grounds. USD $ 7 will get you in the walls, and then you've got free reign to climb the balconies, disappear in the underground or stroll the courtyard!
Menara Gardens
To be brutally honest, the Menara Gardens didn't impress us too much, especially after visiting Jardin Majorelle. The area was rather dry and incredibly hot! There weren't many plants around (which was quite misleading given its name). Regardless, this is one of the top things to do in Marrakesh and is worth adding to your list.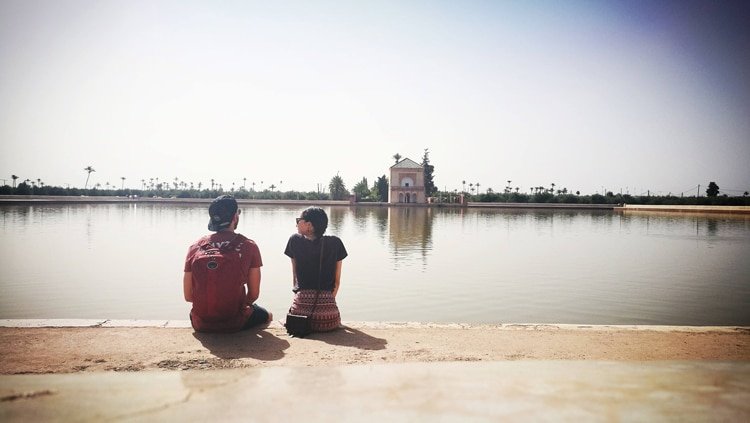 It's free to stroll around the water, but be warned that it is scorching hot and there is no shade. The pavilion offers some cool photograph opportunities but I'd suggest you take your snap and move on, it's not worth sunstroke!
Markets (or Souks)
One of the top things to do in Marrakesh is to explore the souks! They are colorful, full of amazing crafts, leather products, and textiles, and give you an incredible taste of daily Moroccan living. Majority of the souks surround the Medina and the best way to explore is to venture one of the winding paths and see where it takes you. At this point, you should just come to terms that you most likely will get lost in Marrakesh at some point!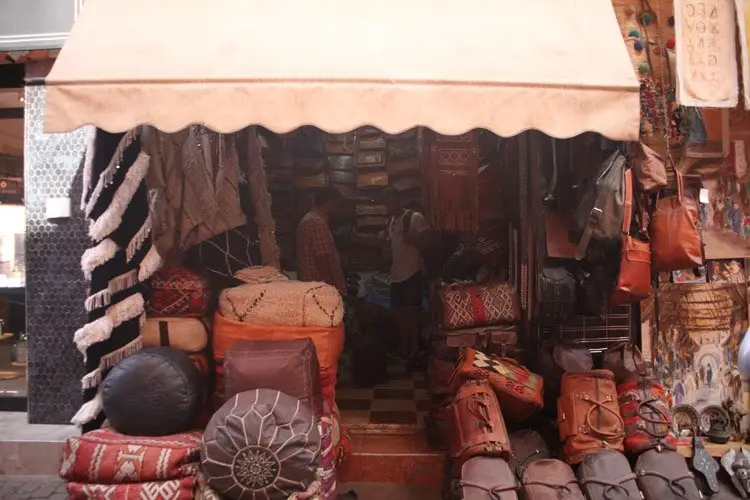 The souks are a great place to pick up gifts or souvenirs to take back home. One word of advice: everything is negotiable. This is how the Morrocans do business – they negotiate!
Nikki Beach Club
The overpriced entry to Nikki Beach Club was our brat treat for ourselves – and we loved every second! When you've been trudging from one attraction to another in the heat of the day, a lounger by a pool and some sick beats feels very close to heaven!
While many riads in Marrakesh have swimming pools, our riad didn't. As a result, we parted all too easily with the USD $40 for entry and a sunbed (in a certain section). But there was shade, we budgeted on drinks and snacks and soaked up every single moment!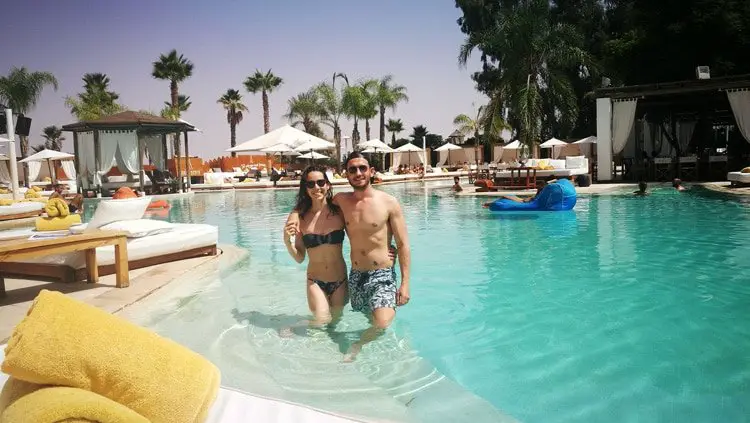 Would we do this again? Not without a little bit of external influence from the heat of the sun. However, if you have the budget to treat yourself, then do it!
Day Trips from Marrakesh
If you want to explore a little bit further than Marrakesh, you're in luck! There are so many incredible day trips to take from the city!
Ouzoud Falls
Three hours from Marrakesh, the Ouzoud Waterfalls are mind-blowingly beautiful. The trip is both refreshing and insightful, showcasing the desert beauty that surrounds the walls of Marrakesh!
Desert Tour
Did you even go to Morroco if you didn't do a desert tour? Ride a camel, watch the sunset and make your way over Arabian dunes – coming home with a stiff butt! We did a three-day desert tour of the Merzouga Desert, but there are shorter day trip options available!
Atlas Mountains
The Atlas Mountains are unlike anything that you've ever seen. And we can say this because we've seen some crazy stuff! The roads themselves are pretty nerve-racking so we suggest you book a tour. Our journey through the Atlas Mountains was part of our desert tour, but it is worth a trip on it's own!
Final Thoughts on Sightseeing in Marrakesh
Marrakesh was one of our biggest culture shocks, but it was rewarding in every way possible! The city is so beautiful, full of history and culture.
If we can leave you with one final piece of advice – pack tons of water, wear a hat and regularly apply sunblock!