With every romanticized motorbike dream comes the "Born to be Wild" lyrics,
"Get your motor runnin'
Head out on the highway
Lookin' for adventure
And whatever comes our way"
(Steppenwolf, 1969, Track 5)
These words have never rung more true than while on the Ha Giang loop in Vietnam. The sense of freedom that comes from the open roads of the province of Ha Giang, the northernmost province of Vietnam, seems to be unmatched.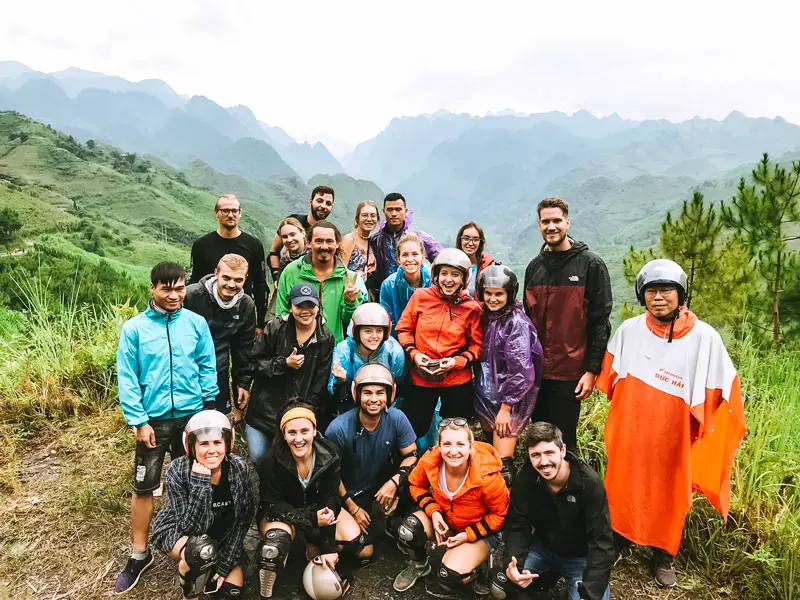 Still an untouched part of this southeast Asian country, Ha Giang, is still not quite on the tourist map. Therefore, it revels in its wild beauty. The greenest mountains scattered with small villages and waterfalls are some of the most breathtaking scenery I have ever seen, and brought our group to tears, literally, every day.
Those "pinch me moments" seemed to happen every minute and we were left mumbling to each other, in astonishment, "Can you believe this is the life that we're living?".
Another spot that makes for a picturesque bike ride is Nusa Penida, Indonesia, check it out here.

How To Get To Ha Giang
Starting in the town of Ha Giang, travelers are not given a taste of what is about to come.  Generally motorcyclists make their way to this smaller, slightly unappealing town, from either one of the country's capitals, Hanoi, or the more popular mountain village of Sapa.
The most affordable and convenient form of travel in Vietnam is their famous night buses.  Throwing travelers straight into a scene from Harry Potter, these buses have beds which appear to swing around the winding roads of the mountains, en route to the beginning of your adventure.  Similar buses can also be taken during the day for those who worry more about their 8 hours, and worry less about missing a day of action.
These buses can almost always be booked through the accommodation where you are staying.  They cost the low price of roughly VND 180 000 – VND 250 000, which is around USD $7,80 – USD $10,70 (for both Sapa/Hanoi to Ha Giang).  The buses throughout Vietnam are definitely the most affordable way to travel.  The bus from both Sapa and Hanoi is between 6-7 hours.  We left at 8pm and arrived just after 2am.
Check out this link to compare and book tickets from Hanoi or Sapa to Ha Giang!
* Just to let you know that this article contains affiliate links. If you click on them we might receive a small commission, at no extra cost to you.
Things To Note For Your Night Bus Trip:
Your shoes have to be removed before entering the bus and placed into a plastic packet provided.  If bare feet don't sit well with you, pack socks.
There is no space assigned for your day pack (big bags go into the storage under the bus) so if you would like to optimize your legroom take out only the essentials (headphones, water, sleeping mask, jacket, etc) and place your day pack with your large luggage.
Blankets are given on the buses but the AC can be turned up really high at times. If you are prone to being on the chillier side, I suggest packing a jacket.
Pack toilet paper! The toilets are all in reasonable condition but toilet paper is often the essential that is missing. If you're happy to drip dry, skip this suggestion.
If you are over 6 foot I would recommend getting a day minibus or limousine bus instead of a sleeper bus as you just won't be able to fit in the bed very comfortably.
Where To Stay In Ha Giang
Once in Ha Giang, the options of where to stay and rent your bike are endless.  The loop is gaining popularity, and as a result, businesses have popped up to accommodate the demand.  Staying in a hostel is your best bet to ease into the type of traveling the Ha Giang Loop requires.  Staying in hostels allows you to join a group if you are a solo traveler, or increase your group size if you're with a buddy or two.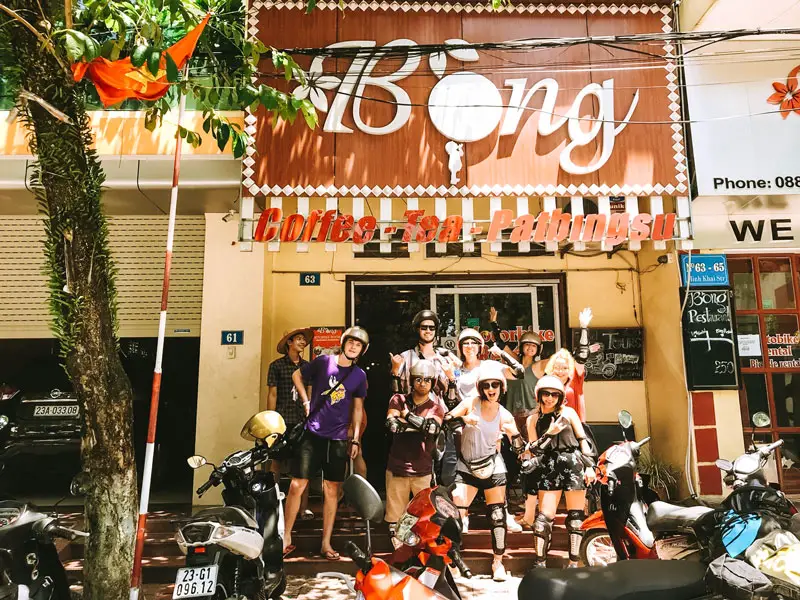 The most popular of these hostels in Jasmine Hostel, although we opted to go with Bong Hostel instead.  Because the town of Ha Giang has little to offer and people are quite literally revving to go, travelers tend to spend one night there at a push.
Some of my girls and I decided that we would book at LiLa Inn for the few hours of sleep we would get from arriving in Ha Giang at 2 am from Sapa, and meet fellow travelers at Bong Hostel in the morning. LiLa Inn was the most affordable hostel we could find, coming in at a mere USD $2,20, which meant we weren't fussed about its facilities if we were only there for a few hours.
Riding The Ha Giang Loop
The loop can be conquered in different ways.  Solo riding and easy riders are the two most prominent ways of tackling the open road.
Rent a Bike:
The motorbikes used are generally 125cc semi-automatics and can be found at almost all of the hostels as well as bike rental shops around Ha Giang.  Motorbikes rented at Bong are rented per bike, and not per person.  The bikes were rented at USD $25 for a four-day adventure, with insurance coming in at an extra fee.
No driving license was required or any other official driving documents.  Our group had a varied amount of experience among them, ranging from people who owned their own motorbikes back home to some who had only ever ridden a few times in their lives.  All you need to rent a bike in Ha Giang is your passport, cash and all the excitement!

Easy Riders:
If, like me, you are not comfortable riding two-wheeled modes of transport, there is a great option of getting an "easy rider".  This means a local drives while you sit on the back of the bike, able to take in the scenery of the loop.
The great thing about having easy riders in the group is that they know the route, know where the stops are, and know where to take you to spend the night.  They assist the whole group if there are falls, bikes acting up and add an incredible amount of local knowledge and banter.
Our group had about four easy riders, which meant they drove at different intervals among the group.  One rider led the pack, one brought up the rear and two were split somewhere in the middle.  This meant solo motorcyclists could decide their speed throughout the day and ride in the pack accordingly.  If you felt Hells Angels inspired you could sit in the front of the pack.  Feeling a little more chilled and contemplative? You could take it all in driving slower.
Additional cost
Of course, getting an easy driver is a little more costly because of the service you are getting.  Hostels vary with their payment and agreement plans with their drivers.  For example, through chatting with fellow travelers, I learned some agreements mean you have to buy your driver lunch every day on top of the fee you have already paid.  However, through Bong Hostel, everything is included for your driver.
The cost of my easy rider, Ong (the man, the legend), came in at roughly USD $50. This is double a bike rental, but worth every penny.
Ha Giang Loop Tour Duration:
The great thing about doing the loop is that you can do it in as much time as you want.  I have heard stories of people doing it in two days, but most commonly, and most recommended, is doing it in four days.  Four days is enough to complete the entire loop, unlike the three-day option where instead of going around Ha Giang, you cut down through the middle of the province.
The four-day option is also a good balance of being able to see the whole loop but not spend weeks on a bike.  Riding, as well as sitting on the back of a bike, is tiring.  Your body gets stiff and your mind gets fatigued.  Four days feels like a week when doing the loop.
Where Do You Stay On The Loop:
The Ha Giang Loop is remote, therefore, you will not be finding resorts or hotels along the way.  What you will find, or in our case, be taken to, are the heartwarming homestays of the local Vietnamese.
A homestay is set up similarly to a hostel, in that there are dorm rooms and private rooms, but differ in that their owner stays there too, often with their families.  What it also means is that when you eat dinner at the homestay, it is in the style of 'family dinner'.
Guests pay per person, roughly VND 90 000, USD $3,80, and a wide variety of dishes are brought to the table for everyone to share and enjoy.
This style of dinner really brings the group together and creates a sense of community and comradery. This tightens the bonds of the tourists and locals.  It is very special and is something you dearly miss once the loop is over.
What this style of dinner also means is that the infamous Happy Water follows.  A Vietnamese rice wine that holds a moonshine-esque quality.  Varying in taste and alcohol percentage, this home-brewed liquor is given for free during meals.
Bearing in mind, rice wine can never be drank alone. It is drunk by all locals and travelers together, following the very high energy, enthusiastic chant of:
một, hai, ba, /zo/!
hai, ba, /zo/
hai, ba, uống
= 1, 2, 3, cheers!
2, 3, cheers
2, 3, drink!
Homestays, like hostels, vary.  Sometimes there are beds, other times there are mattresses on the floor separated by curtains.  The joy in this is that each stop is a surprise, each homestay has its own energy, and every night brings with it its own set of memories to follow the day of riding.
What To Pack:
If you are doing the loop in less than a week riders leave their large backpack or luggage at the hostel they left from and pack their smaller daypacks for the ride.  You're up in the mountains, so a variety of gear is needed.
I suggest packing some clothing for cooler weather and some for warmer weather.  Because of the typhoon happening in Vietnam at the time of our trip, day 2 of our journey was very rainy.  You can buy plastic ponchos along the way if you do not have wet weather gear, which was a great help to many of our riders.
On hot days I wore a crop top and shorts and on colder days I wore leggings, a vest, a thermal long sleeve, and a rain jacket.  Packing light, including small things to layer is a good idea.  Things like a buff, a scarf/lungi, and extra socks.  I rode in sneakers, although some members of our group did opt for sandals.
All in all, my packing list looked something like this:
2x crop tops
1x thermal
2x t-shirts
1x buff
1x lungi (Indian sarong)
2x leggings
1x pair of rubber slip slops (to shower in)
3x shorts
1x pajama t-shirt
1x swimming costume (for the waterfall on day 4)
Enough underwear
1x camping towel (most homestays provide a towel)
Enough socks for the trip plus a few extra
Limited toiletries
Camera, charger, and other electronics you may want (e.g. power bank)
Headphones (although I didn't take a pair, many riders did, and I was jelly)
Passport and wallet (passports are needed to check into homestays)
Hostels also give you a set of elbow and knee pads on departure, along with your helmet, for safety.  All in all, pack as light as possible.  The lighter you pack, the lighter your bike, the easier it is to ride.
For a different kind of packing guide, check out this digital nomad packing list.
Post Ha Giang Loop:
After an action-packed four days on the roads, your body is tired and your heart is bursting.  Memories of high fiving children as you ride past, rock jumping into waterfalls, nailing the countless hairpin turns, going through rain and sunshine, seeing the Chinese border, eating street food, dancing your nights away drinking happy water, and seeing the most unbelievable landscapes, it is recommended to take a night or two in Ha Giang to process it all.  I could not recommend NoMadders Hostel enough!
NoMadders Hostel
Tucked away, just outside of the town of Ha Giang, this jungle surrounded accommodation is THE place to decompress.  You may not realize it, but you have just spent four days out of the craziness that is Vietnamese cities. Away from the hustle and bustle, the traffic, the noise, the pollution, and the color.  Jumping right back into it after the loop may pull focus from what you have just experienced.
We found NoMadders because of their pool and couldn't have been more pleasantly surprised. Especially when we found out that paradise continued at our last night in Ha Giang (last three actually, since we found ourselves unable to leave).  Family dinner, happy water, and lush surroundings, are all the things you miss about the loop, and all the things this hostel has to offer.
Book your spot at NoMadders here!
Phi goes above and beyond to make you comfortable after your life-changing trip.  Offering a hike through a local village and rice paddies for sunset, and assisting you in getting to a nearby waterfall, this stop only heightened our loop experience.
Final Thoughts on the Ha Giang Loop
If any form of an epic adventure has ever been on your bucket list the Ha Giang loop is for you.
As the inspiring Isabelle Eberhardt said, "A subject to which few intellectuals ever give a thought is the right to be a vagrant, the freedom to wander. Yet vagrancy is deliverance, and life on the open road is the essence of freedom. To have the courage to smash the chains with which modern life has weighted us (under the pretext that it was offering us more liberty), then to take up the symbolic stick and bundle and get out."