Looking for a Hanoi travel guide? Hanoi is one of two capital cities in Vietnam, and just as Hanoi and Ho Chi Minh are split between north and south, so are travelers' opinions about which city is the best.  My heart fell for the north, but like every large Asian city, tips and tricks are most definitely needed to navigate around before the romance of the city is really felt.
This Hanoi travel guide shares some of the quirky and most loved things I learned about Hanoi.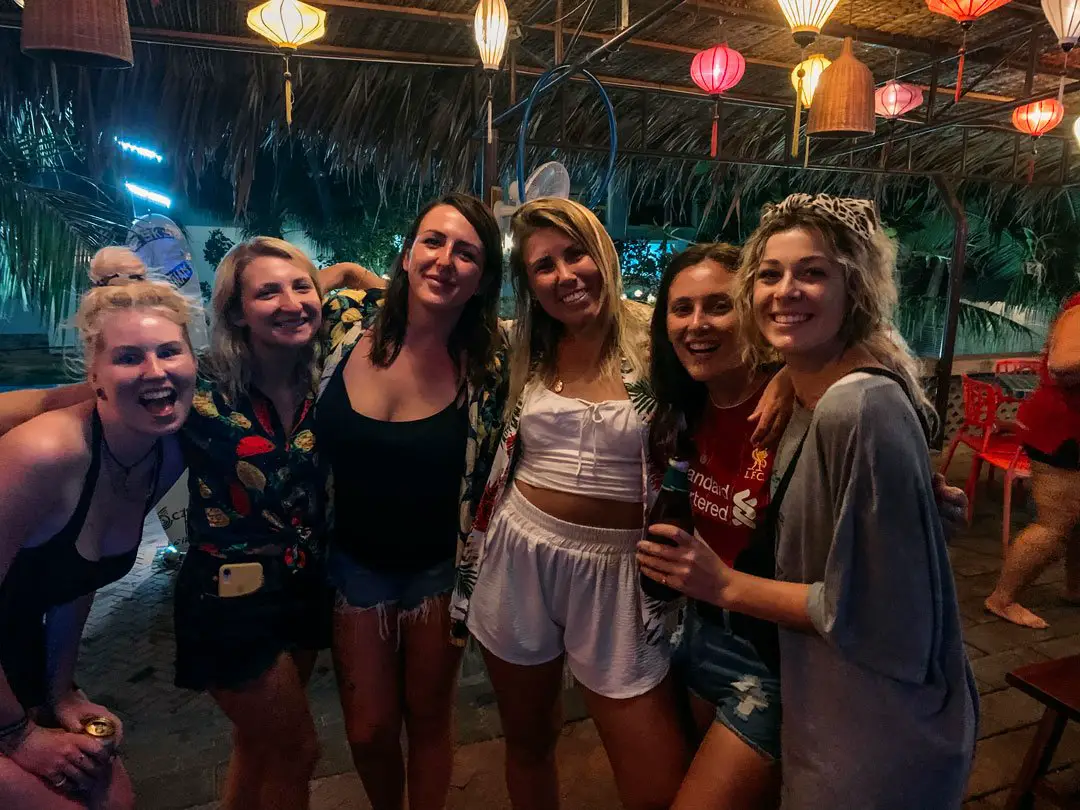 Getting Around Hanoi
The two most overwhelming things after a long haul flight into a chaotic capital city in South East Asia are the humidity and the taxi hustle.  I generally have a rule that I organize an airport transfer through my accommodation when I first land in a new country.  I crumble under lack of sleep and I find this way of doing things helps me not to crack under pressure.
Modern Travel
In Vietnam, there are some great apps to assist in transportation.  The two main players being Grab and GoViet.  Both are alternative options for the previously arranged airport transfer. Grab/GoViet are fantastic ways to get a well, fair priced ride.  Vietnam is amazing for Wifi, and a connection can be found almost everywhere, beginning with the airport.
Local Travel
There is also the option of public transport.  Buses leave from the airport every 20 minutes (5 am – 10 pm) to the Old Quarter (see Where To Stay) for VND 10 000 (USD $ 0,50).  Once you are in the Old Quarter it is then either a quick Grab ride away or a 20-30 minute walk to your accommodation.
Offline Travel
Another fantastic option to get around, especially if walking is in question, is to download the app maps.me.  Maps.me allows you to download the maps of cities to then later use them offline if connection or sim cards are a worry.
Where To Stay When You Travel Hanoi
I generally travel, especially when backpacking, in a real 'go with the flow' kind of way (eye roll).  I really don't like planning for more than a few days in advance and try to leave as much room as possible to do whatever I feel like in the moment.
Having said this, I always book my first two nights' accommodation in a new city before arriving.  As a rule of thumb, when I have little to no knowledge of a new country, I pick the old quarter to stay in.
I find booking in the old quarters in cities usually the best and cheapest place to stay.  It is the heart of the city and exudes vibrancy and life.  The medina in Marrakech is an example of this, and Hanoi is no different.
For tips on navigating your way through Marrakech check out this guide.
I booked my first two nights in Old Quarter View Hanoi and was immediately blown away by how clean and functional this hostel is.  These qualities, however, are no different from the long strip of hostels found on the same street.  I stayed in a few of them during my time in Hanoi and was equally excited about all of them.
* Just to let you know that this article contains affiliate links. If you click on them we might receive a small commission, at no extra cost to you.
Party Hostel
The hostels, like people, all have different personalities and have reputations for different things.  The most infamous of these hostels is the chain of  Vietnam Backpacker Hostels.  VBH, as it's more belovedly referred to, are scattered throughout Vietnam and are known for their wild parties.
Once you have stayed in one VBH you are connected to them all.  Their staff act like a family and move between the hostels, giving you a feeling like you are a part of a group of people as you move down or up the country.
Be warned: The VBH parties are wild! If you're not down for a lot of free shots, wild drinking games, taking shotguns, and losing your voice from screaming absurd things, then the hostels may not be for you.
Tour Hostel
All hostels in Hanoi offer great tours, but my favorite was  Hanoi Buffalo Hostel.  This hostel boasts an amazing chill area, a great restaurant, and a pool (which is always a massive drawcard).  This hostel still has a great social atmosphere, but it did feel more relaxed.  The tours on offer are all professionally executed and are at great prices.

Things To Note About Hanoi's Hostels
FREE BEER is served at almost all hostels EVERY DAY! I could not wrap my head around this when I first found out. This fact still gets me excited.
Do not pee in the swimming pools. And no, it's not just a hygiene thing (although that is important too, folks).  Swimming pools in Vietnam do not have pumps to clean them (something about electricity and water not being friends) and therefore a lot of chemicals are used to keep the water crystal.  This, along with the amount of traffic the pools get, creates bacteria that swims upstream and causes infection. Backpacker myth you may ask? Either way, be decent and don't pee.
Free tours are also offered at all the hostels which are a great way to meet people and get to know the city.
Pack earplugs. If either drunk late-night arrivals or the sounds of very loving fellow travelers bother you then use earplugs.  Another option is to use your headphones to listen to Tibetan singing bowls or the likes.
Pack an eye mask. Most hostels in Hanoi have a curtain around the beds which is great for privacy and light but if you need total blackout then an eye mask is your best friend.
What To Do In Hanoi
The city of Hanoi is loud and noisy and busy and beautiful.  It grabbed my attention immediately and kept it throughout my stay there.  There is so much to do and see but I definitely have a top three highlights for this city.
Street Food Tour
The food is one of the many things that drew me to Vietnam, so when a good friend of mine suggested doing a food tour at the beginning of my trip, I booked it immediately.  The logic behind this being that you get to understand the food, the names of the dishes and how to eat them at the beginning, and then you know what to order the rest of your trip.  I am not one for tours but I couldn't have been happier than to follow this advice.
Vietnamese is a difficult, very foreign language and their food as diverse.  Learning about the culture and language while enjoying different foods was an absolute highlight.  My most exciting and new discovery was definitely the Vietnamese egg coffee.  The Vietnamese coffee, in general, is the best coffee I have ever had, but this egg coffee is something to note.
I booked my tour through The Old Quarter View Hostel and it cost $25.  This included all 8 meals, a variety of drinks, and an amazing local tour guide, Ming.  I thought this was very reasonable and was happy to pay it for the very personal experience (we were a small group of 3).   Hostels offer a free walking street food tour, however, these tours are often not vegetarian-friendly, and, of course, you have to pay for your own food.
If you want the help of a knowledgable, local guide to share the golden nuggets of Vietnamese food, take your pick from the following tours:
Train Street
The famous Train Street in Hanoi is definitely a fun and Instagram worthy experience.  It is a street full of restaurants and homes, that a train passes through, at an almost uncomfortably close distance, twice daily.
I would recommend getting there early, ordering a drink and enjoying not only the beauty of the street but also the excitement that comes with a train passing right through it.  The street is crowded by the color of the crumbling old buildings, juxtaposed by the greenery of the jungle-like trees making their way through the spaces.  The energy of the street results in singing and laughter heard from all parts.
However, since being in Vietnam just a short two months ago, I have read that train street is being shut down because of safety violations.  I have no doubt that the Vietnamese will create a solution for tourists to continue enjoying this vibrant spot.
Enjoy Nightlife In Hanoi
Hanoi is without a doubt one of the most social cities I have ever been in.  It is bursting with travelers, solo, and groups, who are experiencing life right alongside locals.  The old quarter is full of bars.  There is quite literally a road called Beer Street.  This presence of liquor creates an unmatched vibe to 'eat, drink and be merry'.
The late nights are all completely worth it for every laugh (of which there are many), dances, and hilarious tales that come with any alcohol-fueled night.  Google translate comes in handy when getting into conversations with locals at any number of the bars.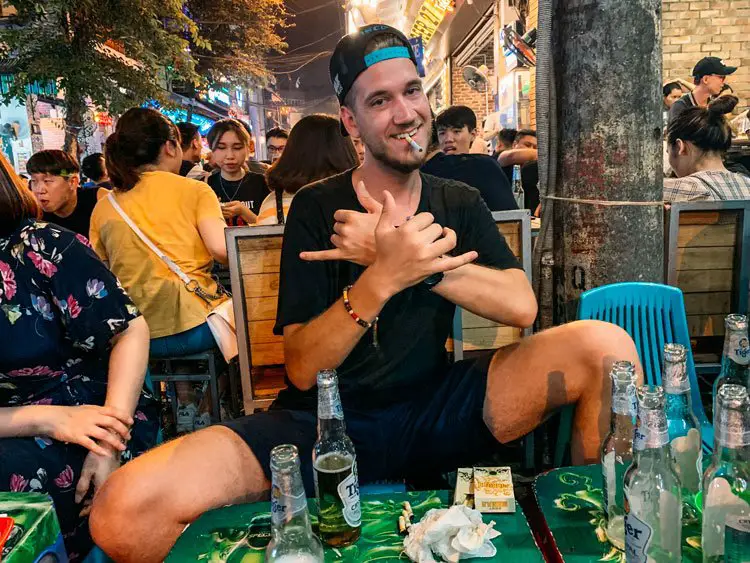 Final Tips For Your Hanoi Trip
When crossing the street walk at a slow, steady, confident pace and the cars, scooters, and bikes will go around you. Trust me, it works!
The lower the stool, the better the food. The local restaurants in Hanoi have the tiniest little stools.  The smaller, the better.
Pack a rain jacket. The skies open up frequently throughout the day.
Understand the Vietnamese Dong (VND) before going on your first night out. The VND has a lot of zeros in it and can cause so much confusion when you first arrive.  Try and familiarise yourself with it before your first drunk payment to avoid losing your change. Note that the VND 500 000 and the VND 20 000 are almost the same color, an easy mistake even when sober.
For tips on the rest of your Vietnam adventure check out how to conquer the Ha Giang Loop.
Oscar Wild said, "Travel improves the mind wonderfully, and does away with all one's prejudices."  Hanoi is just one of the many spirited cities that does just that.