Depending on which part of the world you call home, December is typically synonymous with a white winter or, if you're like us, the festive season is celebrated in the sun! With so much merriment already in the air, it's the perfect time to enhance the festivity by planning an epic surf trip.
If you're wondering where to surf in December, then this blog is a great place to start. We dive into nine surfing destinations around the world that promise hours of fun and groovy waves.
Read our guide on where to surf throughout the year, month-by-month.
* Just to let you know that this article may contain affiliate links. If you click on them we might receive a small commission, at no extra cost to you.
Best Places to Surf in December
From the tropical heat of Barbados and Costa Rica to the chillier waters in the Algarve, you're set for a surfing adventure in every corner of the globe.
If you're a digital nomad who loves to surf, then we'd recommend keeping the following surfing destinations in mind. They are perfect for surfing nomads!

1.   Taghazout, Morocco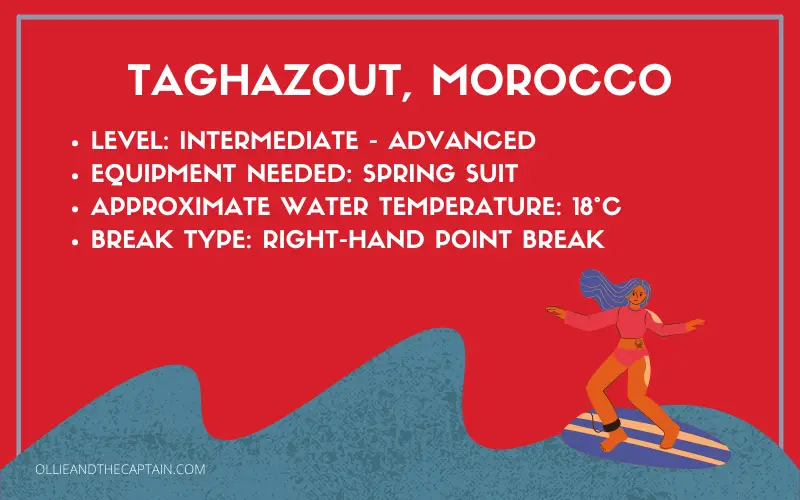 Morocco is known as Africa's Mecca for surfing. In December, the region experiences consistent, decent size swells that build up from the Atlantic. While there are some spots for beginners, spots like Anchor Point and Imousane work particularly well for intermediate to advanced surfers.
Book a 6-day surf and yoga holiday in Taghazout.
The crowds are fairly manageable in December, which means that there's a decent lineup for the regular right-hand point breaks that makes Taghazout such a revered spot. As a little town, Taghazout has become increasingly popular with surfers and the community has responded well.
If you're working remotely while planning your surf trip to Taghazout, then you can find comfort in knowing that there's also choice of comfortable rooms and internet cafes.
Browse places to stay in Taghazout – all of which are close to the swell!
2.   Christ Church, Barbados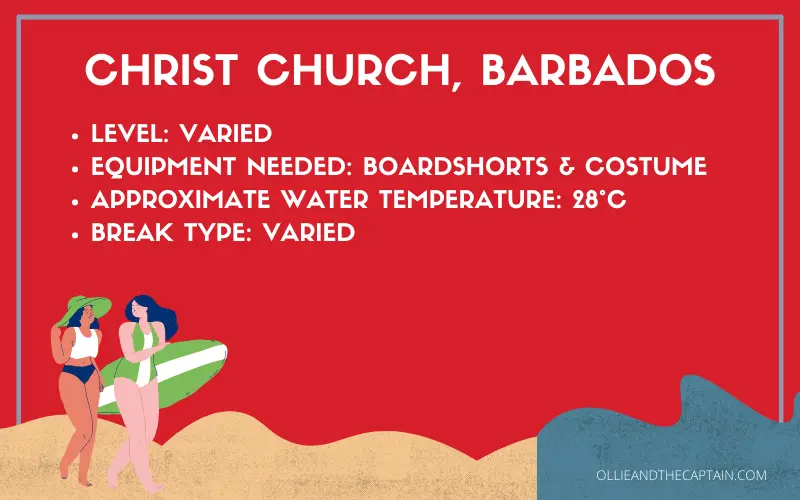 The Caribbean encapsulates the perfect tropical image including warm waters, palm trees, and, of course, epic surfing. There are several spots to surf around the island, with a few spots to take special note of. In December, Soup Bowl works particularly well for intermediate to advanced surfers, offering a hollow right-hand wave over a shallow reef.
 Freights Bay, located on the south coast and closer to Christ Church, is a friendlier spot for beginners. Overall, the eastern coast is more rugged, while the western side is calm. Either way, the North Atlantic storm swell is consistent throughout the month, sending northerly swells to the island.
Browse places to stay in Barbados nearby various surf spots.
3.   Pohnpei, Federated States of Micronesia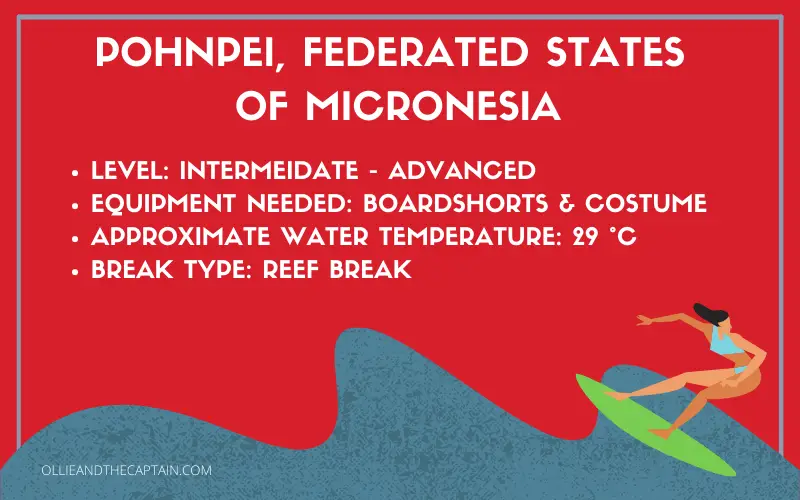 All surf spots on Pohnpei are off-shore reef breaks that need the help of a boat to access. This makes Pohnpei an expensive surf trip in December, but also the perfect Christmas gift to yourself.
The North Pacific and typhoon swells create a build-up of intense waves, making the area very dangerous for beginners, but lots of fun for the experienced guys. If you name a legendary professional surfer, then they've probably had their hand at P-Pass, a break that ranks number five in the world.
Most of the waves are generated near passages and are shallow on the inside. Another detail that they have in common is their crystal clear delivery. If you're confident and experienced on your board, then this is a trip worth saving up for.
Book a place to stay in Micronesia.
4.   Mirissa, Sri Lanka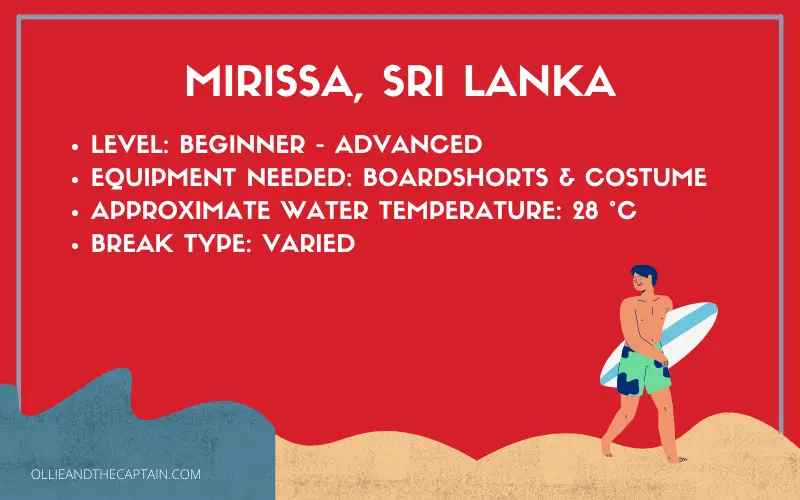 The beauty of surfing Mirissa in December is that there's a break for all levels. The water is warm, and the mood is pleasant. Located in the South of Sri Lanka, Mirissa receives the swell during December, offering a variety of beach and reef breaks.
Book an 8-day yoga and surf camp in Mirissa, Southern Province.
While experienced surfers venture off to enjoy the perfect reef-setups, there is also the option of mellow and playful waves for beginners and longboarders. Other aspects that make a surf trip to Mirissa a top choice are affordability, temperate climate, and a general good atmosphere. What's not to love!
Browse places to stay in Mirissa, Sri Lanka.
5.   Fuerteventura, Canary Islands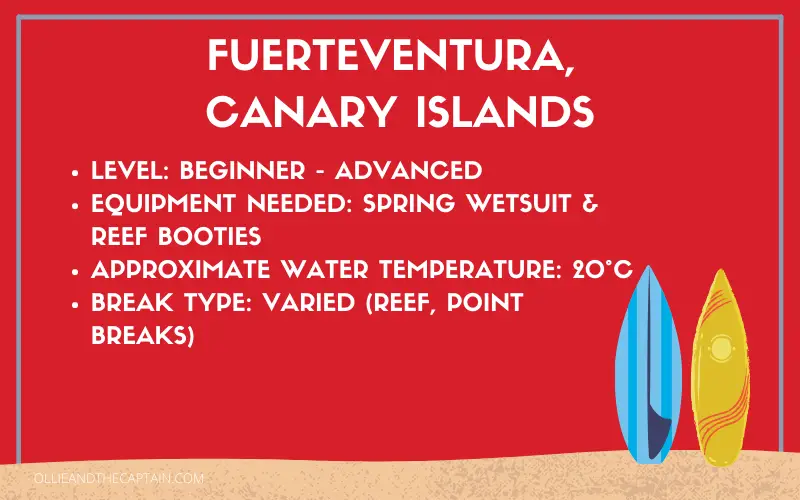 The Canary Islands are typically a year-round surfing destination that boasts particularly good swell in December. For extra comfort, we'd recommend organizing a wetsuit for surfing in December, as well as booties for those pesky urchins and jagged rocks.
Book an 8-day all levels surf camp in Corralejo, Fuerteventura.
There's a choice of waves to choose from in Fuerteventura, each advocating a unique sell. Los Lobos is the longest wave in the Canary Islands, El Hierro offers pure power, and The Bubble is a versatile wave that spits surfers both left and right.
According to Matt Kibby, and quoted on the Surfline, "Surfline's climatology database shows that of the top 100 swell events dating back to 1979, nearly 70% of them occurred between December and February".
Browse places to stay in Fuerteventura for easy beach access.
6.   Brisbane, Australia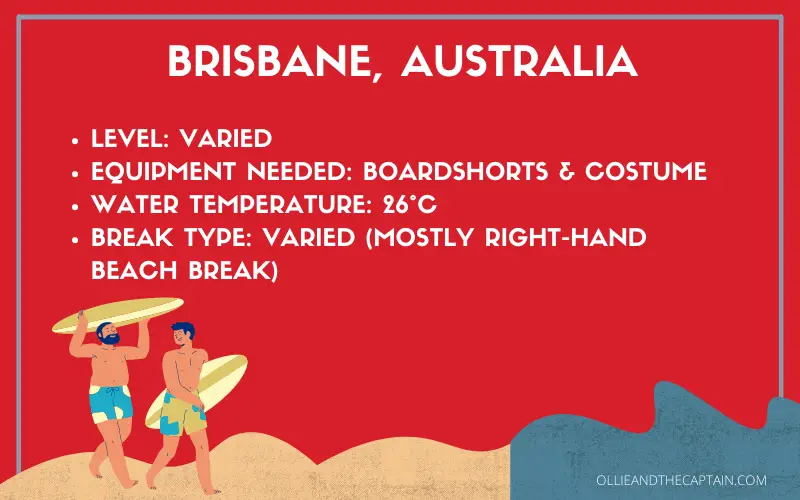 Not all epic surfing destinations in December are based in the Northern Hemisphere. Brisbane, in Queensland, Australia, is an awesome place to go surfing around Christmas in the Southern half of the world. There are several spots scattered around the city, with some more memorable than others – such as Noosa.
Book a 7-day multi-activity surf camp in Brisbane, Queensland.
Noosa and surroundings have something for everyone. First Point is a top choice for longboarders, Tea Tree Bay is a fantastic secret spot, Sunshine Beach is a fast and fun wave, and Alexandria Bay is strictly reserved for advanced surfers.
Browse available places to stay in Brisbane, Queensland.
7.   Siargao, Philippines
The Philippines has 7,641 islands. That's a lot of space to explore! How do you choose one for a surfing trip? Start in Siargao, and see where you go from there. The surf season in Siargao typically peaks from September to November, but December still promises fun and consistent waves – minus the crowds!
Book an 8-day ultimate training surf camp in General Luna, Siargao. 
The most popular spot for surfers is Cloud 9, however, there are many other spots to try out. If you're visiting, make time for Jacking Horse, Quicksilver, Daku Reef, and Tuason's Point.
Planning a trip to the Philippines? Check out our guide here.
Browse places to stay in Siargao Islands, Philippines, for sensational surf.
8.   Algarve, Portugal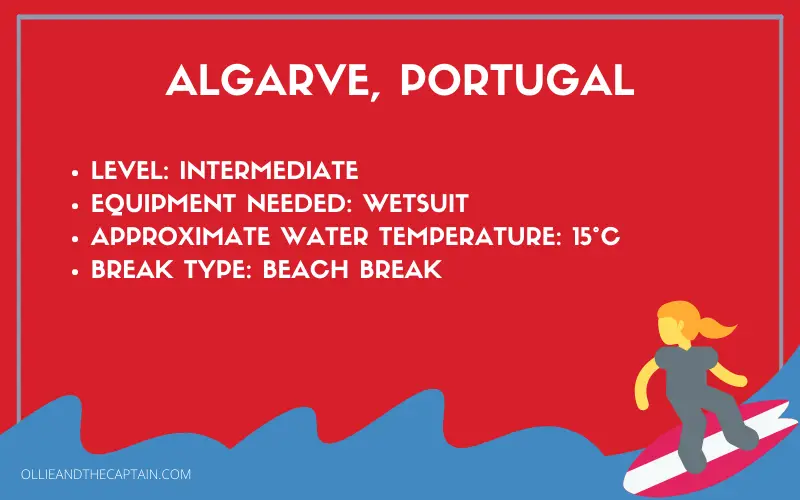 The Algarve holds a special place in our hearts. Scattered with rippable surf spots, there's something for everyone to enjoy, regardless of their level. With this in mind, the Algarve is particularly suited to intermediate surfers in December.
Book an 8-day marvelous surf camp in Praia da Luz, Algarve.
In December, the water is slightly cooler, so you'll either want to pack a wetsuit or budget one into your trip's expenses. There are several places around the Algarve to surf, with Sagres leading the pack with the best options (in our humble opinion).
Read our Sagres surf guide here.
Browse places to stay in the Algarve, Portugal, for a memorable surf trip.
9.   Tamarindo, Costa Rica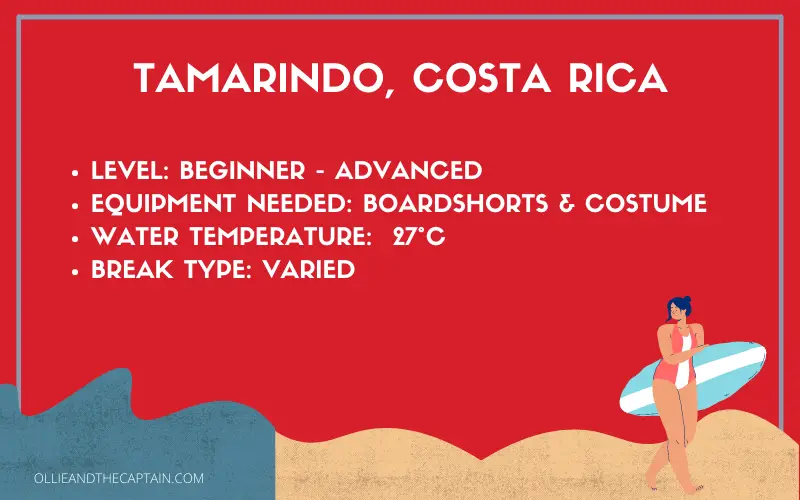 Tamarindo's surf spots fire from December to March, with the winds blowing offshore and the area experiencing its dry season. December is also the overlap for prime beginner and intermediate waves with larger waves that are better suited for more experienced surfers.
Book a 6-day surf camp in Tamarindo, Guanacaste.
Tamarindo is located in Guanacaste, on Costa Ricas's western coast. The whole town is geared towards surfing and the parties that come along with the lifestyle. There may not be as many barrels as most shredders would like, but the waves are consistent, fun, and big on days when it works.
Browse places to stay in Tamarindo, Costa Rica.
Surf in December to Your Heart's Content
December is supposed to be the season of giving. So don't neglect yourself! Grab your buddies or plan a solo mission and venture off to one of the many spots that work particularly well in December.
Winter swell is notorious for being big, fun and push you to step up a level, so don't hold back! If you have any other surfing destinations that you recommend for December surfing, then let us know! Drop us a message on Instagram and we'll add it to our list.
Looking for the perfect surfing conditions at other times of the year?