If you look on any list of things to do in Buenos Aires, Tigre Delta will come up high on the list. Known as Buenos Aires' waterside gateway, Tigre Delta is a small city that offers a relaxing escape from the hustle and bustle of Argentina's capital.

The beautiful canals, stilt houses, and small-village mood combine to create a charming and quaint atmosphere. If you want to disconnect from the large city and reconnect with nature, then a trip to Tigre Delta should be on your bucket list.
We've put together all that you need to know to help you plan your day trip to Tigre Delta from Buenos Aires. At the end of the day, you can take your pick from one of the well-established tours, or go on a DIY Tigre Delta tour mission.
Where Is Delta Tigre?
Tigre Delta is a short train ride away from the city center of Buenos Aires. To be more specific, the distance can be measured as 28 kilometers or one hour away (mas or menos).
Located north of the city center, Tigre lies on the Paraná Delta and flows into the Río de la Plata. Still a part of the Greater Buenos Aires area, the Argentinean island is made of a mainland connected to several small streams and rivers.
Needless to say, if you want to enjoy a quick and easy day break from Buenos Aires, Tigre is a top choice!

What's the Appeal of Tigre?
Translated into English, "tigre" means "tiger". At first, this may seem like a bit of a strange name for such a fanciful city but the area quickly acquaints you with its heritage by showcasing tiger-themed art all over the city. You'll find a pair of beady tiger eyes peeping from signposts, graffiti art and on business branding.
But it's fascinating name is just one of the many reasons that Tigre is so great. On weekends, the city floods with visitors, but its charm remains intact. There's a strong sense of community and the local businesses operate with pride. The city itself is incredibly beautiful, and the canal-side area is delightful.
In addition to the atmosphere and reputation of the city, it's worth a trip just to see the environment. The delta is made up of several islands that are home to several stilt houses as well as dozens of thriving plant species.
There are also several species of wildlife. In fact, the area was once used to hunt the local jaguars (hence the name). The houses along the banks are accessed by boat and the families that live in the area have set up a very unique lifestyle.
The appeal of Tigre Delta is in its story-book layout, heritage, and ambiance. As water lovers, we found the location a special pull – perhaps you'll find something else that you find especially charming!

How to Get to Tigre Delta from Buenos Aires
There are several ways to get to Tigre Delta from Buenos Aires – including the Mitre Train, Tren de la Costa, a bus, a commuter boat and by car. If you're feeling particularly energetic, there is even the option to cycle the route.
The most popular options are the train, the bus and to drive.
Mitre Train
The most affordable way to get to Tigre from Buenos Aires is to hop aboard the Mitre train. The entire trip is done in less than an hour and will cost as little as $18,5 ARS (less than $1 USD) with a Sube card, and double the cost without.
Make your way from your accommodation to Retiro Station and hop onto one of the Tigre-bound trains that depart every 20 minutes.
Tren de La Costa
The coastal train is a treat of a journey. There are two types of tickets. One makes stops along the route, allowing travelers to hop on and off as they please, and the other goes directly to the destination.
The train has a reputation for being a bit more exclusive as it travels along the river – but don't expect anything like the Rovos Rail in South Africa.

Bus
Another affordable option is to take bus number 60. The bus departs from various points in Buenos Aires and will cost you approximately $40 ARS (less than $1 USD). The only downside of this option is that it takes slightly longer, totally about 1,5 – 2 hours.
Taxi or Uber
If public transport is not your cup of tea, then you can also catch a taxi or an Uber to Tigre Delta. You can expect to pay a fair amount more, but nothing that will break the bank.
The cost of a taxi is estimated to be around $1200 ARS ($20 USD). Where it costs you in money, it will save you in time and comfort. The trip is less than 30 minutes.
A more affordable private transportation option is to catch an Uber. This cost is less than half of that of a taxi, costing approximately $540 ARS ($9 USD) and takes the same amount of time (i.e. 30 minutes).
Top tip: Depending on traffic, all options can take a little bit of time. We enjoy packing a book, Sudoku or downloading a podcast to help us make the most of the time.

What to Do in Tigre
When we went to Tigre, we had one main aim and that was to go on a boat tour through the canals. However, we decided to make the most of the day and tick off a few other highlights in the area.
There are several great activities to enjoy and sights to see. Here are some of the most popular.
Take A Boat Tour
A boat tour of the islands in the delta is hands-down the best thing to do in Tigre. You can choose to hop on board a catamaran but the true appeal is in the Italian-inspired wooden boats. They are full of character, move like a boss and are super comfortable.
There are several tour providers scattered along the canal, but all seem to have agreed upon a set price of $350 ARS ($6 USD) for an hour-long tour. We suggest that you walk along the ticket booths and see which boat is leaving next and book your ticket from them.
Of course, if you book one of the conveniently designed tour packages from Buenos Aires, then your ticket will be included and the admin sorted for you.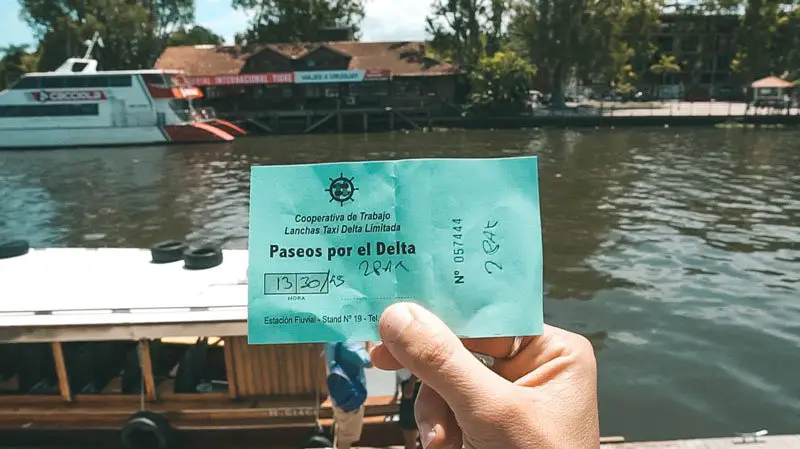 Top tip: None of the tour operators accept card payments. You need to buy your ticket "efectivo" i.e. cash. We found three ATMs nearby and had hassles with all of them.  If you want to avoid having to walk from one to another, wait in queues and pay heavy bank fees – then bring some cash along!
The boat tour itself is really fantastic. There were two options made available to us. One meandered through the canals, sharing glimpses of the stilt houses, lush vegetation, and picturesque environment.
The other route is along the main river. We can't comment much on this route, but we were encouraged by the ticket provider to choose the first – and don't regret our decision one bit.
In addition to the beautiful scenery and fascinating buildings in the canals, there is also an audio guide that shares genuinely interesting information about the area. Our boat tour made the trip to Tigre completely worth it in itself.
* Just to let you know that this article contains affiliate links. If you click on them we might receive a small commission, at no extra cost to you.

Museo de Arte Tigre
We were immediately drawn to this building. Its design is so intriguing and its riverside location adds so much charm.
The museum has rotating exhibitions and is a beautiful rendition of blended architectural styles. Visitors under 12 years old can enter for free, but otherwise, admission is as little as $120 ARS ($2 USD).
To be honest, we only got a view of the exterior of the building while on our boat tour (which is quite a sight in itself).
But if you want to explore the interior and the grounds, then you can do so between 9 am and 7 pm from Wednesday to Friday, and between 12 pm and 7 pm on weekends and public holidays.
Parque de La Costa
We floated past the amusement park and stared on in wonder. The park has quite an impressive set-up and adds quite significantly to the unique atmosphere of Tigre Delta.
With several rides, a Ferris Wheel and amazing views of the waterfront, the amusement park promises to be a great day out for the family. It's open every day of the week – except for Wednesdays – from 11 am to 7:30 pm.
Daily admission costs $1480 ARS ($24 USD).

Dine Along the Waterfront
While the water may not be as blue and beautiful as Gili Trawangan in Indonesia, the waterway is very picturesque. In addition, the roadside that runs parallel is very charming, leafy and – I'd go as far as saying – surreal.
There are several restaurants and cafés scattered along the waterfront which promote tasty local food and an incredible view. We shared a meal at TBC Resto y Café and while the food was pretty average, the atmosphere (and beer) was great!
If you're spending the day in Tigre, then you'll no doubt need a meal at some point. Choosing a spot along the waterfront is definitely a great option.

Walk Around the City
There's a lot of culture and heritage in Tigre Delta. It's known for its unique vibe and the reason for this becomes apparent upon arrival.
If you have the time, walk around the city and appreciate the old buildings, museums, and events that are happening all around.
Some key attractions to pop into if you get the chance are:
Museo Naval de la Nación
Boulevard de Tigre
Museo de la Reconquista
Delta Terra Natural Reserve
Note: We had the Museo de Mate on our hit list and were super excited to learn about the popular drink that Argentineans are so obsessed with. However, when we arrived it looked very locked up and abandoned.

Final Thoughts on Delta Tigre
We dedicated a full day to exploring Tigre and only managed to scratch the surface. While we did the tour DIY-style, we feel that we could have learned a lot more about the history and heritage of the area with a guide.
Luckily, Google came to our aid and filled in some of the gaps and contributed to a fantastic day. If you're spending any time in Buenos Aires, we'd highly recommend making the trip to Tigre. It really is a one-of-a-kind city that promises some very unique experiences.